Med school alum cherishes ties to his community
Brian Privett turned his childhood curiosity about ophthalmology into a career-long commitment to community leadership and service to Iowans.
For Brian Privett, MD, serving a close-knit community as an ophthalmologist has been a lifelong ambition—but doing so in Cedar Rapids, Iowa, came as a bit of a surprise.
Privett, who completed his residency program at the University of Iowa in 2011, grew up in Kennett, a small town in the Missouri Bootheel. Kennett did not have many specialty physicians, but one of the few was an ophthalmologist who was a neighbor of Privett's. At an early age, he took notice of the doctor's effect on the small community and began to see himself in the ophthalmologist's shoes someday.
"I wanted to work with my hands. I wanted to do something that really seemed to have an impact," Privett remembers. "People value their vision, and I noticed that people really seemed to appreciate his work."
The idea stuck. Privett attended medical school at the University of Missouri and became the first in his family to earn a medical degree. When it came time to choose a residency training program, he asked his fellow eye docs for advice.
"A lot of other ophthalmologists I considered mentors during medical school suggested that I look at the University of Iowa," Privett says. "Later I learned that Iowa is one of the top-ranked ophthalmology residency programs in the country."
After his interview at the University of Iowa Carver College of Medicine, he was confident his mentors had steered him in the right direction.
"It had great faculty and a tradition of innovation in our field across the entire world," Privett says.
"It's like I had always hoped for. When I'm out and about in town, I'll see patients at community events, and they'll come up and say 'hi.' It's just kind of nice to feel that sense of being a part of the community."
Carver College of Medicine alumnus who practices ophthalmology in Cedar Rapids, Iowa
'Everyone had those Midwestern values'
Privett remembers his residency training at Iowa as a time when he was exposed to fascinating cases, the like of which he has rarely seen since.
"There are so many things that you see coming through Iowa, as the tertiary care center in the state, that you're never going to see in the rest of your career," he says. "Those three years in residency were the most academically interesting years of probably my entire life."
He found Iowa to be a nurturing training environment.
"Everyone had those Midwestern values," Privett remembers. "The faculty had high expectations, and they pushed me, but they did it in a respectful and mission-driven way. They made everyone feel like they were a part of the team, so that you wanted to step up and continue that high-quality tradition that Iowa had come to be known for. It was a very kind place to learn."
A leader in ophthalmology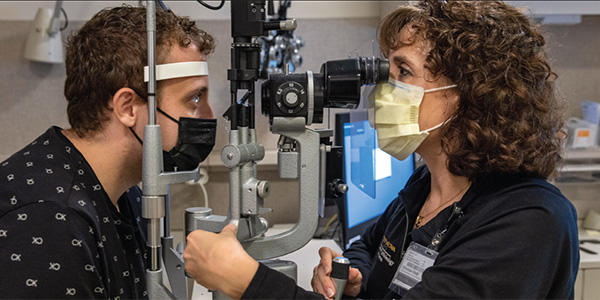 The Department of Ophthalmology and Visual Sciences is again ranked among the nation's best, according to U.S. News & World Report. The 2022-23 Best Hospitals rankings recognized the department at No. 7, which is the highest ranking of an eye program in the Midwest.
During residency training, he met his wife, Julia, a 2007 graduate of Iowa's physician assistant program.
"She would tell you that her program is even higher ranked than the ophthalmology program is," he jokes.
The couple began to think about where to settle down. Brian wanted to find a place with the small-town charm of Kennett; Julia wanted to live someplace with the bustling energy of her home near Detroit.
"We never really planned on staying in Iowa. We looked all over the country," he says. "I knew I wanted to join a group that was going to be fair and not take advantage of me, and we needed to find a place that still had that small-town feel but also the amenities and entertainment that you might find in a city."
Privett consulted his friends and mentors who were faculty at the University of Iowa to ensure he was making the right decision.
"That's another advantage of practicing near where you train," he says. "I was able to get recommendations from my faculty mentors. You can get the inside scoop before you actually sign a contract and join a practice."
Ultimately, they decided to put down their roots in Cedar Rapids. The Privetts now have two children, ages 9 and 6.
"Cedar Rapids seemed like a great place to raise children, and that's turned out to be true," Privett says.
In addition to his roles as a father of two and an ophthalmologist, he also leads two local Cub Scout dens and serves as Cubmaster of the local pack.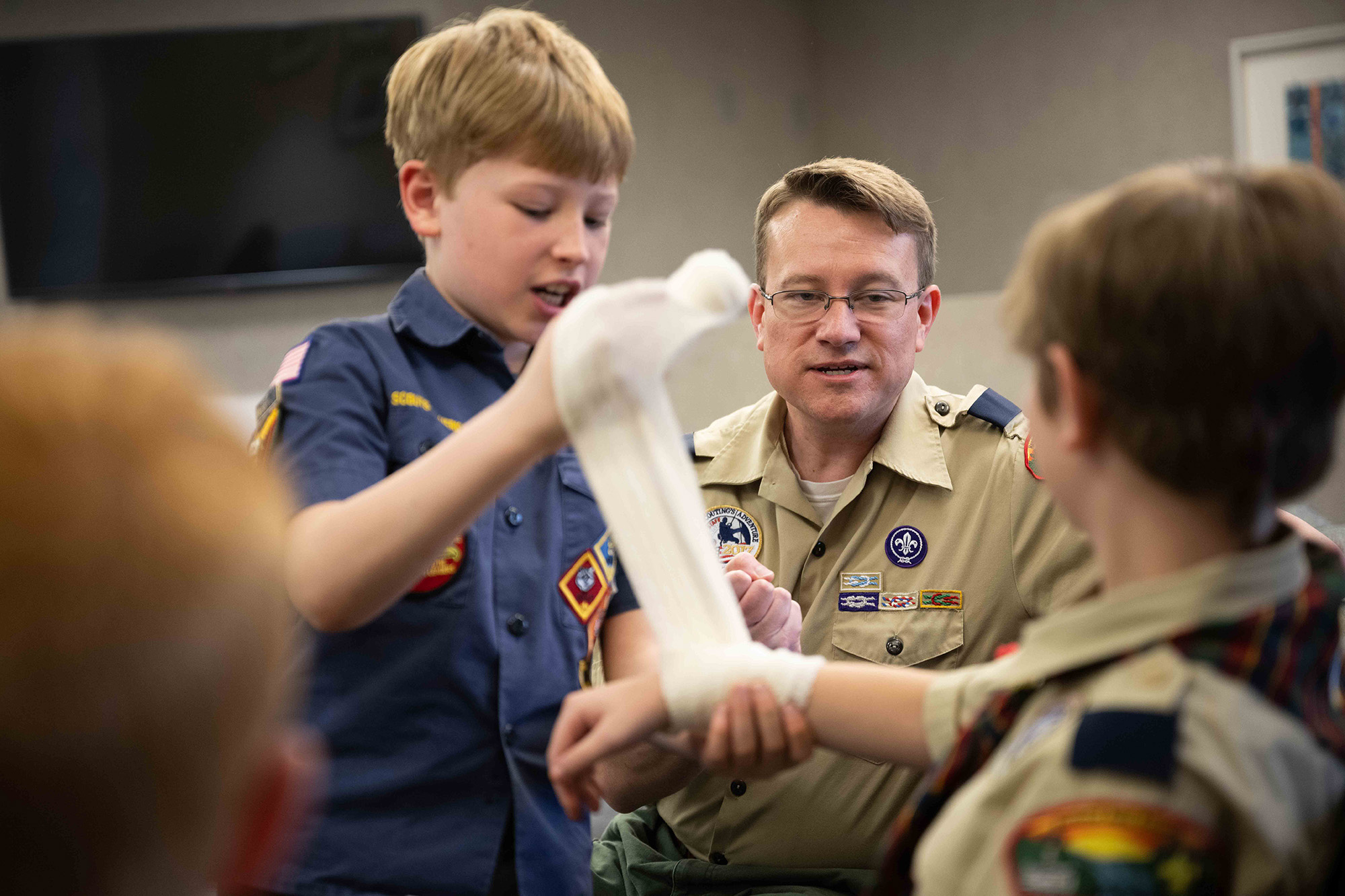 Physician as advocate
Privett has practiced at the Iowa Eye Center in Cedar Rapids for 11 years. He appreciates that the job allows him both to develop rapport with patients that he cares for year after year, and to perform procedures like LASIK and cataract surgery.
"It's like I had always hoped for," Privett says. "When I'm out and about in town, I'll see patients at community events, and they'll come up and say 'hi.' It's just kind of nice to feel that sense of being a part of the community."
The ability to use advanced technology, or what Privett calls "toys and gadgets," is another draw of the field.
"Obviously the eyes are very small, so a lot of our work involves microscopes, lasers, and technology for measuring the eye and doing diagnostics in the office," he says. "I would say that the majority of ophthalmologists do have some interest in technology.
"There's also an interesting number of ophthalmologists that are interested in photography; we have a very visual field. We look at images a lot in our learning, and a lot of the knowledge of how optics work goes well into learning the hobby of photography."
As for Privett, his interests lie elsewhere: his career has been defined by advocacy. In his first year of practice, he joined the Iowa Medical Society (IMS).
"We advocate for physicians, but we also advocate for patients and for health care in general," he says. "Not everyone who's making decisions about health care knows a lot about health care. Legislators need to hear from physicians, and we can serve our patients better if we're advocating on their behalf."
Brian Privett, MD, hosts Doc 2 Doc, a monthly podcast on medical issues impacting the practice of medicine in Iowa. Each episode focuses on a different current event, and features a topic expert. 
He served on the board of the IMS for nine years and served a one-year term as president of the statewide organization, starting in April 2020.
"The beginning of the pandemic was a challenging time to be the leader of that group," Privett says. "We were very involved with communicating between various public health entities, hospitals, and physicians. But I think it was an important time to make sure that physicians' voices were being heard at all levels.
"We pivoted to doing a lot more public health initiatives than what IMS had done in the past. We had to be nimble, and we had to change the way we communicated, and who we communicated with. We were able to help physicians, whether they were a part of a big system or an independent physician in rural Iowa, communicate back to the Statehouse, and in some instances at the federal level."
The experience has taught him the importance of advocacy in medicine—in short, that "advocacy does work." He is motivated to impress that message upon other Iowa physicians.
"When you start working in advocacy, you meet other physicians that are like-minded and have the passions that you have," Privett says. "Once you get involved with it, you wish every physician would be involved in advocacy because you've become more optimistic that when we come together in an organized way, we can create change."
He has continued to share his optimistic message after his presidential term ended through hosting the monthly IMS podcast, Doc 2 Doc. In the podcast, he interviews physicians from across Iowa about topics related to advocacy and to health care more broadly. Recent episodes have included a highlight on the opioid epidemic in Iowa with an addiction medicine psychiatrist and a special feature on physician workforce issues.
"I find it really intellectually interesting, but I also get to communicate with different physicians across the state of Iowa, which I enjoy," he says. "It's something I plan to continue doing as long as people keep listening."