Following a passion to care for women in rural Iowa
Emily Boevers discovered her love of labor and delivery at the University of Iowa Carver College of Medicine. Now, she's practicing medicine 10 minutes from where she grew up.
Emily Boevers loved the hard-science courses she took as an undergraduate student at the University of Northern Iowa, but it was a sociology course that put her on the track to becoming a doctor.
"It was called the Social Construction of Health and Illness, and it discussed the impact of public health and how socioeconomic determinants of health help set people up for prosperity and positive lives," Boevers says. "It was an eye-opening and transformative learning experience for me. When I think back to what put me on this trajectory, that is what I always come back to."
The course not only led Boevers to attend the University of Iowa Carver College of Medicine, but it also played a role in her choosing to become an obstetrician-gynecologist (OB-GYN) and returning to her rural Iowa community to practice medicine.
The Roy J. and Lucille A. Carver College of Medicine is a highly ranked medical school where students learn to become accomplished clinicians and top-flight researchers and educators. Students come to Iowa to study medicine in a program that uses case-based learning as the basis of their education.
Having grown up in Readlyn, Iowa, which has a population of about 800, Boevers says she relates to issues such as maternity care deserts—areas where services are limited or absent.
"For anyone who likes that small-town life or can see themselves potentially enjoying that, I think it's important to try to commit to solving that issue," says Boevers, who is now an OB-GYN at the Waverly Health Center, 10 minutes from where she grew up. "I think it's important that we consider our calling and go where we're needed. And this feels like a place where people are needed."
Boevers says choosing the University of Iowa for medical school was an easy decision. She was drawn to the college's ranking among the best in the nation and the many opportunities it offered.
"The medical students are so well integrated into the hospital system," Boevers says. "So, there's those clinical learning opportunities, but there's also research and extracurricular opportunities at the University of Iowa that allowed me to differentiate myself, pursue my personal interests, and build a network of people who have served as mentors and supporters of me since."
She also appreciated that family medicine rotations took place outside the hospital setting and in smaller communities.
"You really got to see the difference between practicing in a community and practicing in a large academic institution," Boevers says.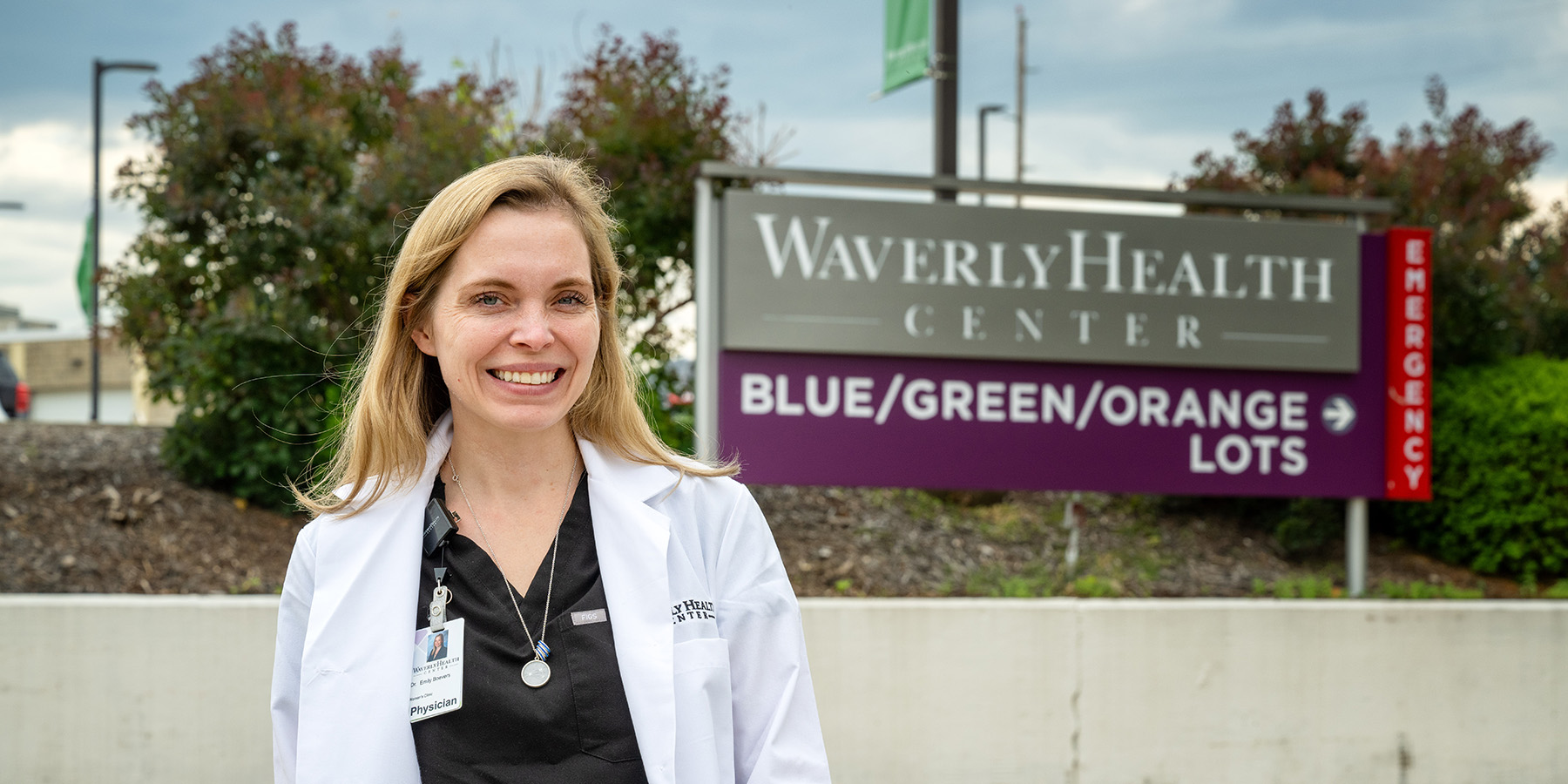 "Women are the people who are taking care of their families and their communities disproportionately. Women are often putting their own needs on the back burner to take care of the people around them. I want to be here to take care of women."
2018 Carver College of Medicine graduate
Boevers says when she started medical school, she did not plan to become an OB-GYN. Between graduating with an undergraduate degree and medical school, Boevers spent a couple of years doing research in cervical cancer screening and prevention at the University of Washington. While she says she enjoyed it, she didn't feel at the time that was where she wanted to go with her medical practice.
But during her last rotation in med school, she fell in love with labor and delivery.
"It also circled back to the social determinants of health that had initially attracted me to medicine. There are so many issues surrounding access and so many socioeconomic factors that impact maternal health care, as well as infant and child health care," Boevers says. "OB-GYN really became the whole picture for me. It was the perfect place for me to land."
Tackling food insecurity among pregnant women
One in five pregnant women face food insecurity. Upstream Initiative, a student-run program in a high-risk pregnancy clinic at University of Iowa Hospitals & Clinics, aims to improve health outcomes by addressing the issue head-on.
It was during her rotations that she met Craig Syrop, MD, an OB-GYN at University of Iowa Hospitals & Clinics. Syrop and his colleagues, along with a group of interdisciplinary undergraduate and graduate students, including Boevers, started the Upstream Initiative. The program connects pregnant UI Hospitals & Clinics patients with state and federal resources, as well as those in their hometowns, to address food insecurity and transportation needs.
"Upstream helped shape me, not just in going into OB-GYN but choosing to practice in a more rural area," Boevers says. "I got very lucky to run into great mentors like Dr. Syrop and work with people who really took time to develop me and help me find my way."
Boevers says she continues to keep a hand in academic pursuits, including currently working on a project with a medical student. Helping foster a thirst for knowledge is something she says she learned from her professors at the University of Iowa.
"I saw my mentors both doing the work of their specialty and helping to support students, and that made a big impact on me," Boevers says.
Boevers graduated from Iowa with a medical degree in 2018 and completed her OB-GYN residency at the University of Kansas Medical Center in Kansas City, Kansas. She says she loved training there, but it helped cement her desire to practice in a smaller community where she could get to know her patients better.
During her residency, Boevers and her husband, Cody, who is from Fort Dodge, Iowa, and went to Wartburg College in Waverly, had three children.
"We know they didn't really understand it, but we kept telling the girls that, while we lived in Kansas, they weren't Kansans. They were Iowans," Boevers says, laughing. "We knew that we wanted to be closer to home."
One year out of her residency, Boevers says she is focusing on providing the best care possible for her patients. Great patient care will always be her priority.
But long term, Boevers says she also wants to help make sure that Iowa is a place where patients can reliably get the care they need and that the state is a great place for physicians to practice.
"'How can we improve the practice environment here in Iowa? How can we make sure that we're taking really great care of our moms and our pregnant individuals?" Boevers says. "That involves being an outspoken advocate for women. I've said it before, and I'll say it again: Women are the people who are taking care of their families and their communities disproportionately. Women are often putting their own needs on the back burner to take care of the people around them.
"I want to be here to take care of women."
While Boevers has been at Waverly Health Center only a year, she's already enjoying getting to know her patients and helping bring the next generation into the world.
"There's already been a couple people I met last year when they were thinking about having a baby, and now, they're back pregnant," Boevers says. "I'm looking forward to sharing those special life transitions with people. We get to be with people on one of the most important days of their life. What more could you ask for?"