Saving his tongue: Alum works to keep his language alive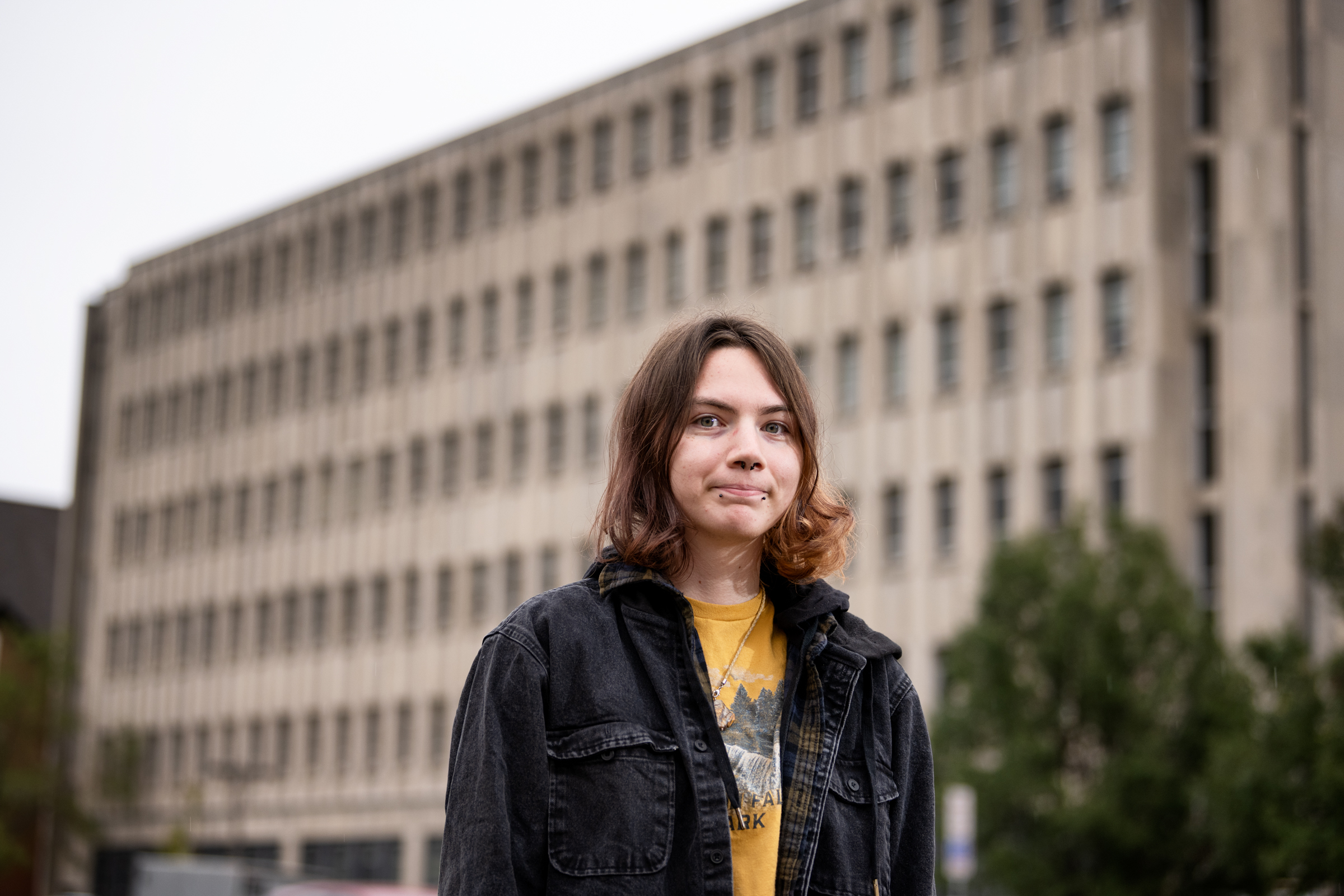 Holden Day's great-grandparents were forced to give up their Potawatomi language and culture; the Iowa-trained linguist wants to honor them and their heritage by saving Potawatomi from extinction.
Holden Day remembers hearing the stories as a child, passed down from his great-grandparents, native Potawatomi tribe members who learned their language and lived their culture in the first years of their lives.
But in the times in which they lived, when Indians were expected to abandon their past and assimilate, speaking their language and living their culture was a dangerous thing. Government officials took them from their families as children and forced them to live in boarding schools, literally beating the language and culture out of them. They would speak English like other Americans, and they would dress, act, and live like other Americans.
The trauma stayed with them for the rest of their lives. When they got older, married, and started their family together, Day says neither would speak a word of Potawatomi or say anything about their old lives, for fear the government would take their children away too and force them to endure what they did in the boarding school.
Latino Native American Cultural Center
Founded in 1971, the Latino Native American Cultural Center aims to develop and foster a sense of belonging where students can authentically engage with their personal, academic, cultural, emotional, and spiritual identities in a safe, trusting, loving, noncompetitive, nonjudgmental, yet challenging space. Over the years, this center has become home to many students and student organizations that sponsor conferences, powwows, study groups, community educational programs, boycotts, and rallies to address community and campus issues.
Three generations later, the trick almost worked, as none of their descendants grew up speaking their language or living their culture.
"My great-grandparents felt they had to hide the language and the culture from their kids, and they couldn't talk about what happened to them in boarding school," Day says.
Only about a dozen native fluent speakers are still alive, all of them aged and most living in northern Wisconsin. But Day wants to change that and bring the language back to more Potawatomi. He was introduced to the language as a child and has continued to learn more about it. Day eventually came to the University of Iowa to major in linguistics, learning how to keep the Potawatomi language and culture alive and how to teach it to others.
Day says he knew little about the language until he was about 10 years old and attended a summer camp near his hometown of Benton Harbor, Michigan, that his Pokagon Band held for Potawatomi kids in the area.
"They taught us the language and some stories about our culture, and I became obsessed with it for a while," he says.
"It feels good to be a part of reviving my language, and I feel like this is what I'm meant to do. Maybe in a generation, the kids will be speaking Potawatomi again."
University of Iowa alumnus, linguistics
But as happens with adolescents, he eventually lost interest and moved on to other things. It wasn't until he took a class in Potawatomi to fill an elective while attending Southwest Michigan Community College that his interest revived.
"It transformed my life," he says. "That was a difficult time for me, but reconnecting with the language and my culture gave me something to rededicate my life to. I saw how much it helped me, and I wanted to provide those options to other Potawatomi."
Day transferred to the University of Iowa for its linguistics program, thinking it could help him learn how to preserve the language and teach it to others. He took advantage of his time at Iowa to further connect to his heritage through friendships with members of other tribes. He was active in both the Native American Student Association and the Latino Native American Cultural Center, and was also active in UI Students for Disability Awareness and the UI Trans Alliance.
Iowa's linguistics department has an outstanding national reputation. It enjoys the advantages of a liberal arts college atmosphere as well as instruction from nationally and internationally distinguished scholars. Class sizes are small, and students may participate in faculty research projects.
He served for a semester as the Native American senator on the University of Iowa Student Government. As a senator, he helped write the proposal to have Native American languages taught at Iowa—a proposal that was later passed by the full UISG.
Day graduated in August 2020 and returned to Michigan to continue his work as one of the few researchers who studies Potawatomi. He says that unlike some Native American languages that have been studied extensively in recent years, such as Ojibwe, Potawatomi has relatively few speakers and so only a few people study it. His own research has allowed him to work with Laura Welcher, a renowned linguist from San Francisco who specializes in saving endangered languages, and Kevin Daugherty, a fellow Potawatomi from Michigan who taught at the summer camp Day attended as a child.
Day now works with the Pokagon Band to develop lesson plans for teaching the language, plans that will be used in classes at a community college, high school, and community center in Michigan. He and Daugherty are also working with the band to expand classes to other locations, though those plans are on hold due to the COVID-19 pandemic.
Day says he's not yet fluent in the language himself, but knows enough to have basic conversations. While the language is still endangered, he says the efforts of linguists to preserve and revitalize it mean it's on the road to recovery, even as those few surviving native speakers pass on. He says efforts to preserve it will continue for generations.
"It feels good to be a part of reviving my language, and I feel like this is what I'm meant to do," Day says. "Maybe in a generation, the kids will be speaking Potawatomi again."