Representing, advocating for fellow Native students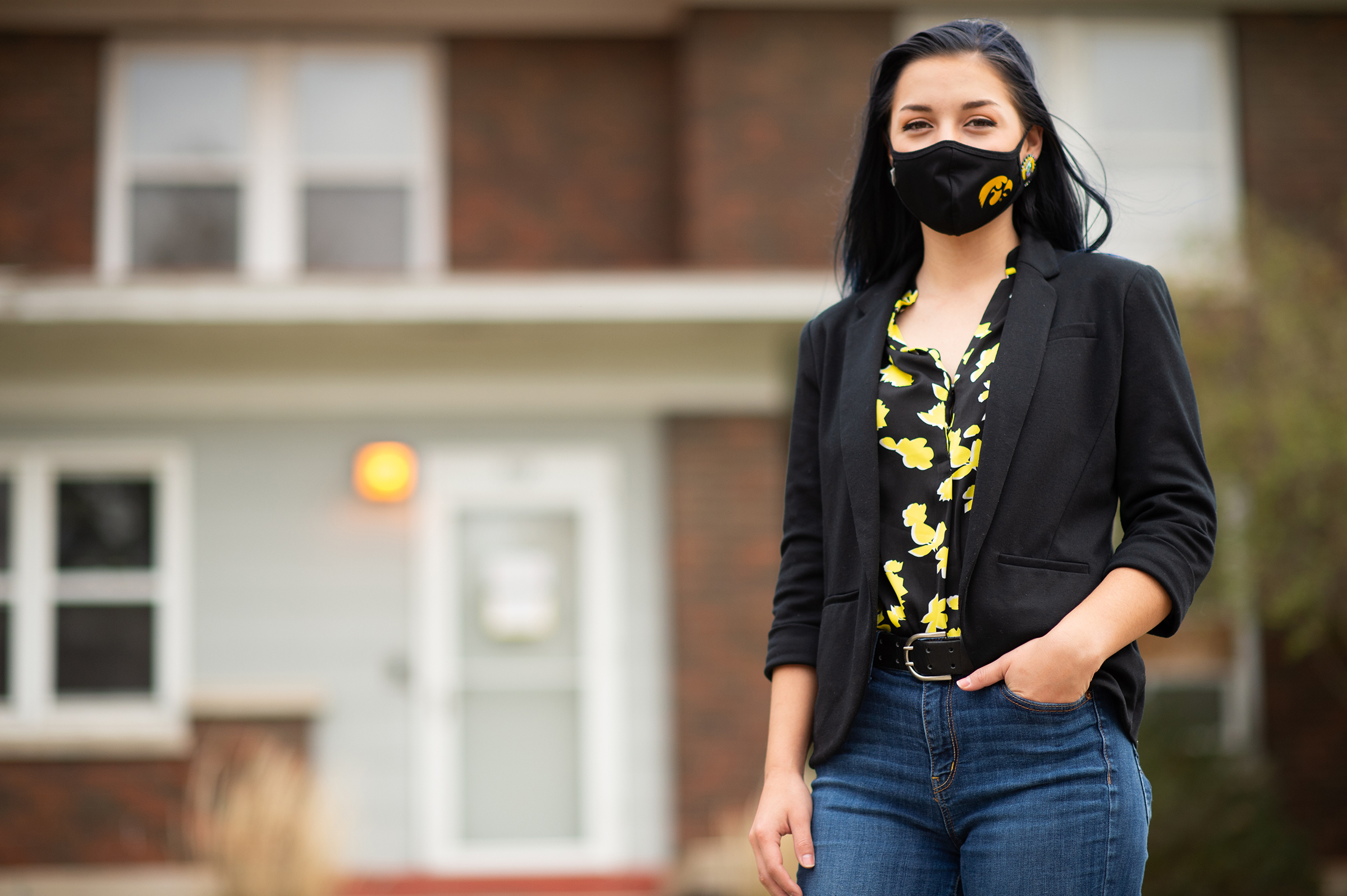 Iowa undergraduate Keely Driscoll is passionate about learning about other cultures—and helping people better understand her own.
Keely Driscoll was just a kid when she attended her first classes at the University of Iowa. It wasn't as a student, though.
Her mom, Leah Slick-Driscoll, was working on her MA in social studies education with a focus on history, and Keely would sometimes go and sit on the floor next to her, quietly playing games on her mom's phone. Her mom, who also received her BA in history from Iowa, was a part of the Native American Student Association (NASA) as well, so Driscoll also spent a lot of time playing with other members' children at the Latino Native American Cultural Center on campus.
So, it shouldn't be surprising that Driscoll followed in her mom's (and dad's) footsteps by becoming a Hawkeye. The Tama resident and descendent of the Meskwaki tribe is now in her third year at Iowa.
"Coming to Iowa has been my dream since childhood," Driscoll says.
Driscoll's mom now teaches social studies with a focus on Native studies at the Meskwaki Settlement School—where Driscoll attended elementary school—and has been a great influence in Driscoll's life and studies.
"My mom has been a huge mentor to me. She teaches Native history, but not from the book," Driscoll says. "She teaches accurate history. I'm lucky to have learned these things and to understand that I can't always trust everything I read. There are inaccurate depictions in anthropologists' work, even on the university level, and that's not something a lot of people talk about."
Driscoll continues to further her understanding of Native history and Indigenous cultures at Iowa as she works toward a degree in international studies and certificates in sustainability and Native American and Indigenous studies.
"Being part of NASA is important because I grew up in that community. Even though people in NASA are from different tribes or different states, it's comforting to know other people are going through the same experiences."
University of Iowa undergraduate student
"I've always been interested in other cultures, and specifically cultural competence, because I've noticed a lot of cultural differences even from Tama to Meskwaki," Driscoll says. "Navigating the two cultures is something that Natives must do as dual citizens living in the United States today. That's made me more interested in other cultures here in the U.S. and around the world."
While Driscoll learns about other cultures around the world, she also wants the university and wider community to know more about her own. One initiative she is currently working toward  came about because of a class she's taking this semester.
"I'm taking a postcolonial studies class with Claire Fox, and the first day she went through the syllabus and talked to us about available campus resources, and then she put up the university land acknowledgment," Driscoll says. "That was so shocking to me. I had seen it before but never in the context of a classroom here. I can't even describe how I felt when I heard that. It's important that people understand that the University of Iowa was built on Indigenous and Native land. It's not taught or often acknowledged. And now that I've seen it can be done within a classroom context, I want to make it more common in other classes."
Like her mom, Driscoll also is involved in NASA, this year serving on the executive board.
"Being part of NASA is important because I grew up in that community," Driscoll says. "Even though people in NASA are from different tribes or different states, it's comforting to know other people are going through the same experiences."
For nearly two years, Driscoll has worked as a student assistant for the Native Center for Behavioral Health in the College of Public Health, where she says she enjoys being part of the center's work in developing programs to support the behavior health workforce in Native American and Alaskan Native communities across the country.
The University of Iowa Acknowledgement of Land and Sovereignty
The University of Iowa is located on the homelands of the Ojibwe/Anishinaabe (Chippewa), Báxoǰe (Iowa), Kikapú (Kickapoo), Omāēqnomenēwak (Menominee), Myaamiaki (Miami), Nutachi (Missouri), Umoⁿhoⁿ (Omaha), Wahzhazhe (Osage), Jiwere (Otoe), Odawaa (Ottawa), Páⁿka (Ponca), Bodéwadmi/Neshnabé (Potawatomi), Meskwaki/Nemahahaki/Sakiwaki (Sac and Fox), Dakota/Lakota/Nakoda (Sioux), Sahnish/Nuxbaaga/Nuweta (Three Affiliated Tribes) and Ho-Chunk (Winnebago) Nations. The following tribal nations, Umoⁿhoⁿ (Omaha Tribe of Nebraska and Iowa), Páⁿka (Ponca Tribe of Nebraska), Meskwaki (Sac and Fox of the Mississippi in Iowa), and Ho-Chunk (Winnebago Tribe of Nebraska) Nations, continue to thrive in the State of Iowa and we continue to acknowledge them. As an academic institution, it is our responsibility to acknowledge the sovereignty and the traditional territories of these tribal nations, and the treaties that were used to remove these tribal nations, and the histories of dispossession that have allowed for the growth of this institution since 1847.
Consistent with the University's commitment to Diversity, Equity and Inclusion, understanding the historical and current experiences of Native peoples will help inform the work we do; collectively as a university to engage in building relationships through academic scholarship, collaborative partnerships, community service, enrollment and retention efforts acknowledging our past, our present and future Native Nations.
Driscoll says the opportunity to work for such a research center or in the College of Public Health has been one of the greatest surprises of her college career.
"I knew nothing about the Native Center for Behavioral Health before I got here," Driscoll says. "I've been so surprised by the number of national centers located at our university."
Driscoll's work and activism extends beyond campus. She has been involved with Vote Mob, which works to provide people the information and resources they need to get out and vote, and Seeding Sovereignty, an Indigenous women-led activist group.
It was through Seeding Sovereignty that Driscoll became a featured speaker in February 2020 at a Climate Crisis Parade in Des Moines, Iowa. She also helped organize transportation for people who wanted to attend the parade.
"It was an amazing experience," Driscoll says. "It helped me expand my connections and meet other young people who are doing similar things. Climate work is really important to me and central to a lot of my studies. I was so happy to be a part of that."
Driscoll also spoke Oct. 12 at an Indigenous People's Day in downtown Iowa City hosted by the Great Plains Action Society and in collaboration with Humanize My Hoodie.
Driscoll says she's been lucky to have wonderful mentors both on and off campus. One of those is Jacki Rand, associate professor in the Iowa Department of History and a citizen of the Choctaw Nation of Oklahoma.
"She inspires me to want to do a lot of the work she does," Driscoll says of Rand. "She is an amazing professor."
Along with currently taking one of Rand's classes, the two were part a full Indigenous cast for a staged reading last spring of Reconciliation, by playwright Marisa Carr. The production was the inaugural event of the Iowa Department of Theatre Arts' Borderless series.
"Keely moves through the world with intellectual curiosity and careful thinking, a trait she shares with her mom," Rand says. "She brings that to the classroom and to our community gatherings on campus."
Driscoll isn't 100% certain about what she wants to do after graduating from Iowa, but she does hope to go to law school to study federal laws and policies regarding Native Americans. But more immediately, she is looking forward to Native American Heritage Month, even though this year's events will be impacted by COVID-19.
"I cherish this month because it's a time we can start opening up discussion," Driscoll says. "Last year we had a rally on the Pentacrest where we talked about Indigenous issues like the land acknowledgment, decolonization, and MMIW (murdered and missing Indigenous women), which is really prevalent right now with national bills recently passing to address MMIW.
"This month is also an opportunity for native people on campus to get together, celebrate, and say we're a community and we're here, we're here on campus."