Home state perfect fit for UI-educated neurologist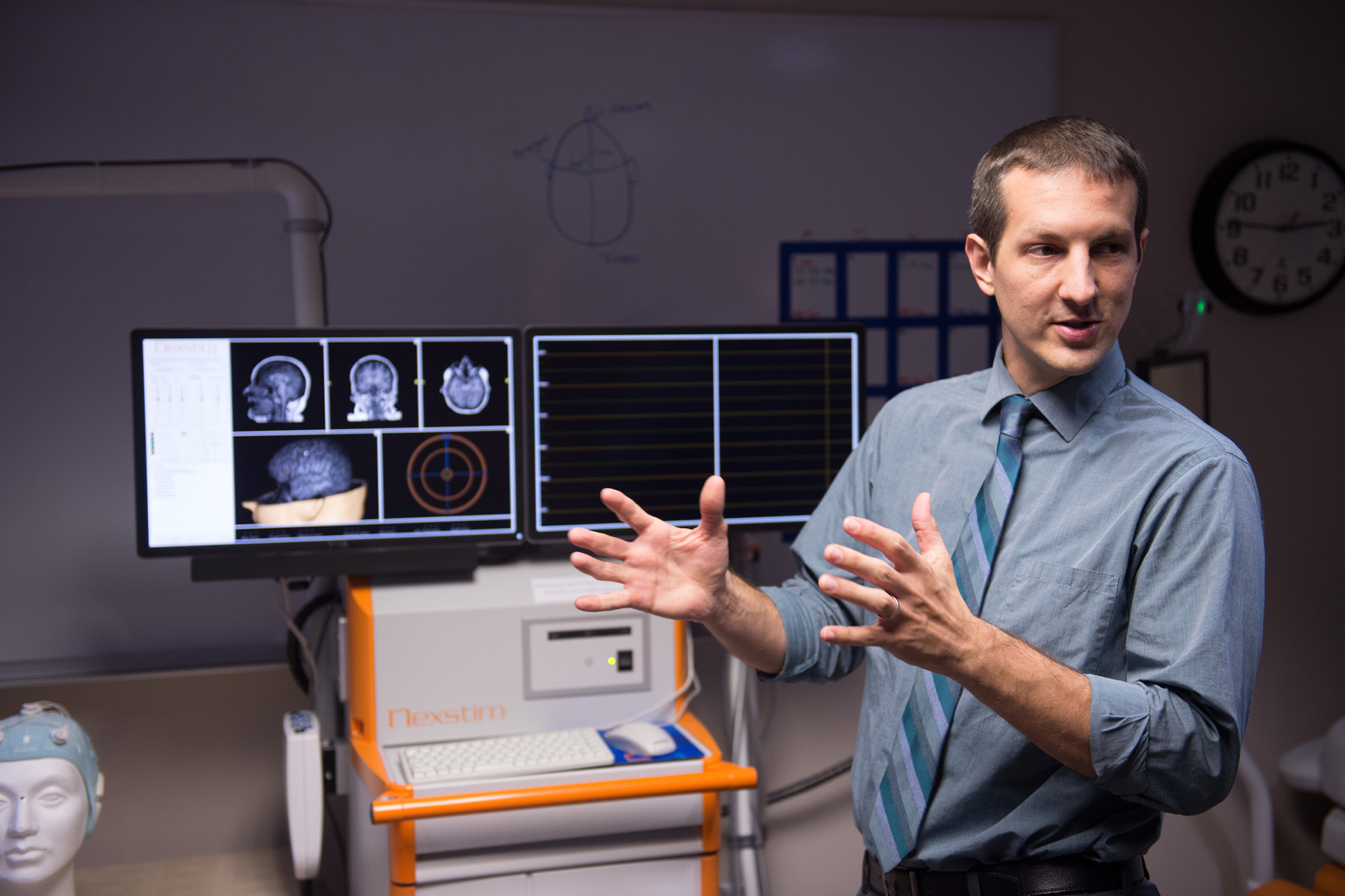 Aaron Boes brings expertise in noninvasive brain stimulation from Harvard University to the University of Iowa.
Pediatric neurologist Aaron Boes has practiced medicine on both coasts, but he says the positive training experience he had at the University of Iowa—he earned a BS in health and human physiology from Iowa in 2003 and completed an MD/PhD in neuroscience in 2009—drew him back to the heartland and the UI campus.
After completing a residency at the University of California at San Diego followed by a residency and fellowship at Harvard University, the Emmetsburg, Iowa, native joined the UI faculty in 2016 with appointments in pediatrics, neurology, and psychiatry.
"My time at Iowa is really one of the main motivations for coming back," he says. "I've lived in San Diego and in Boston, and each place has its own unique advantages. What I really love about Iowa, and the reason I wanted to come back, is the combination of a very strong and collaborative work environment and ease of lifestyle. Housing is affordable, for example, and I don't spend an hour commuting to and from work. Also, the schools are excellent for my children, and there are always interesting things going on around Iowa City."
At the University of Iowa, Boes is one of nearly 100 researchers affiliated with the Iowa Neuroscience Institute, which was established in 2016 with a $45 million grant from the Roy J. Carver Charitable Trust and support from the UI Roy J. and Lucille A. Carver College of Medicine. He brings to the group expertise in neuroimaging, and he hopes to apply that knowledge to the development of novel treatments for brain disease.
His current area of research involves transcranial magnetic stimulation, or TMS. It's an area he first learned about during his doctoral work in neuroscience and pursued further in his postdoctoral studies.
"TMS is a way to focally stimulate the brain—and it can have therapeutic effects," he says, explaining that the technique allows him to modulate how active the brain is in targeted regions. "Right now, it's mostly used to treat depression, but really there's no limit to the number of brain-based disorders you can treat."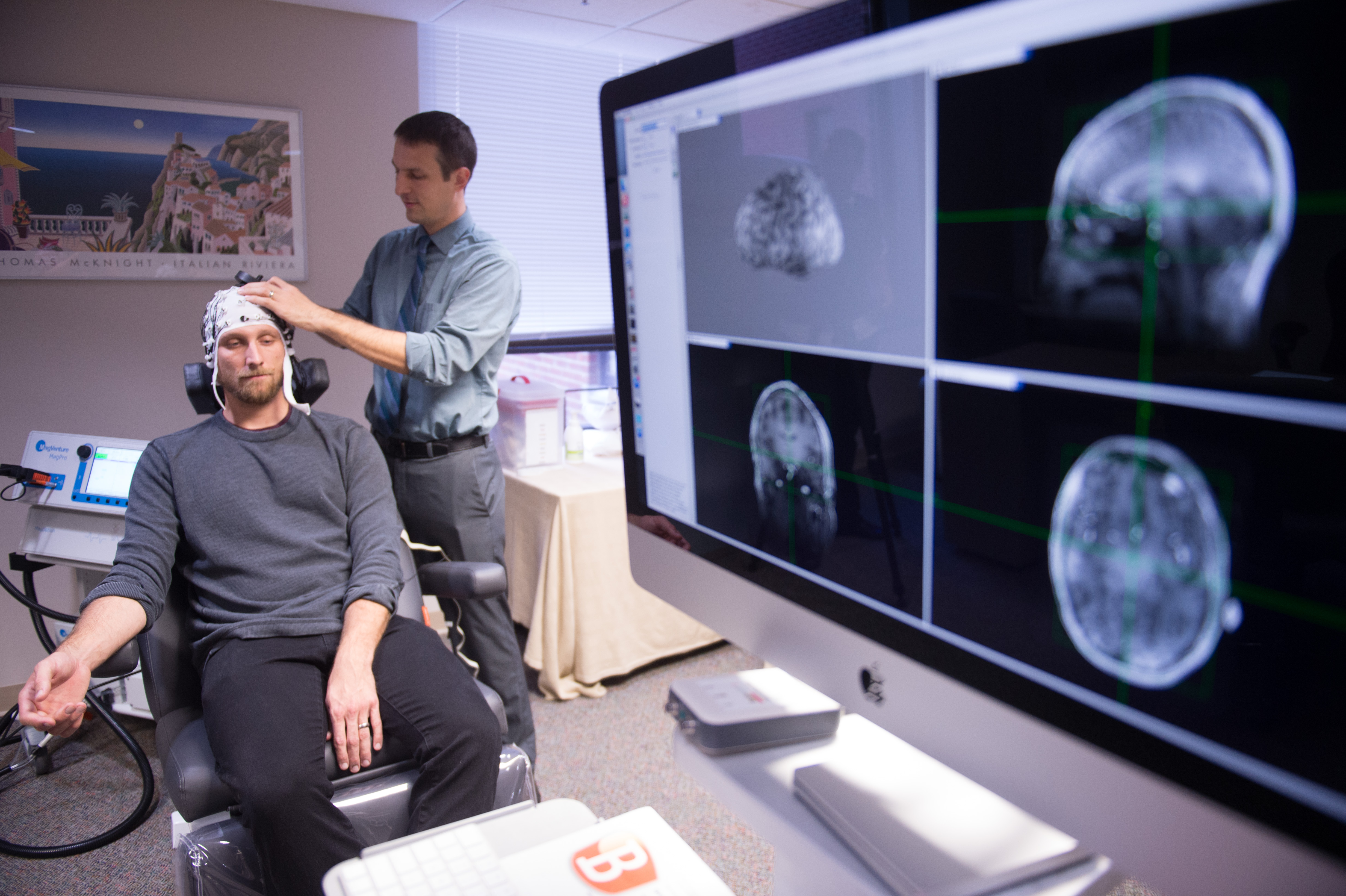 As the director of the Iowa Brain Stimulation Program, Boes works with patients at University of Iowa Hospitals and Clinics who have medication-resistant depression. They come in for TMS treatments five times a week for five to six weeks, and more than half see an improvement. He also oversees two clinical trials in collaboration with UI neuroscientist Krystal Parker to determine whether patients with schizophrenia or bipolar disorder also could benefit from the treatment.
Boes says he is hopeful and enthusiastic about the possibilities.
"It's one of the few areas where there is a relatively rapid turnaround in terms of understanding whether something is going to have the effect that you intend it to have," he says. "It's been an exciting area for research, and it's really at its infancy."
Boes says he was drawn to neuroscience as an undergraduate after reading a book by Antonio Damasio, an internationally known neurobiologist who conducted research at the University of Iowa and now is at the University of Southern California.
"Damasio is one of the thought leaders in cognitive neuroscience—and the main motivation for me to get involved in neuroscience research and to continue doing it," he says. "It's had a lot of impact on some of my current research, too, specifically looking at outcomes from stroke."
Iowa, Boes says, is the perfect place for him to practice medicine and conduct research.
"There is strong support for the Iowa Neuroscience Institute from both from the university and from UI Hospitals and Clinics. There are many opportunities for internal funding, and new investigators are being recruited," he says. "It's a very dynamic and exciting place to work."