The international reach of the University of Iowa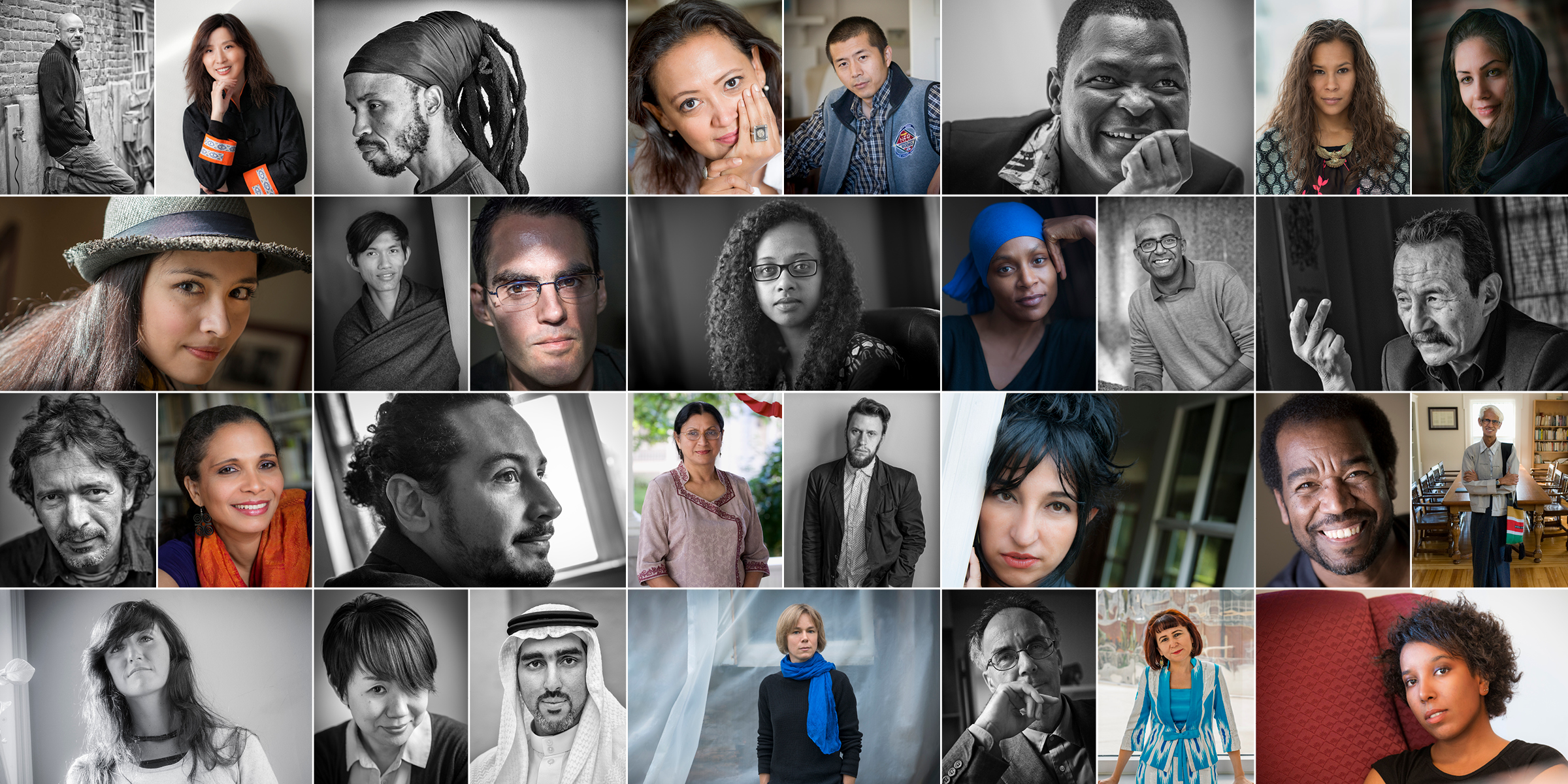 The University of Iowa's International Writing Program celebrates more than 50 years of writing, cultural diplomacy.
International writer portraits
For decades, the International Writing Program at the University of Iowa has helped make Iowa City a nexus for writers of all ages, walks of life, levels of success—and countries of origin. This environment has enhanced the lives of UI students and Iowa City residents, and for the last several years the IWP has taken the richness of Iowa City's writing culture to other countries. 
"We used to say 'The world comes to Iowa,'" says Christopher Merrill, the program's director since 2000. "Now we say, 'Iowa goes out to the world.'"
In the last 15 years, Merrill has explored ways to encourage literary forms of cultural diplomacy. The U.S. Department of State has provided vital diplomatic and financial support to the IWP since the program's inception, and the two entered a new partnership in 2007 to create Lines & Spaces, which organizes reading tours to what the State Department calls "countries of strategic interest." That first year, American writers went to Syria, Jordan, Turkey, and the Palestinian territories, and have since gone to Venezuela, Congo, South Africa, the Ukraine, and recently Cuba, and most recently, Rwanda. In 2012, the IWP started the Digital Learning Program, which offers online creative writing workshops, as well as massive open online courses (MOOCs) with unlimited enrollment to anyone around the world with an internet connection. The IWP has offered more than 10 MOOCs to more than 64,000 students from 197 countries.
"Literature can be a way to introduce different cultures to each other and to find connections. This is cultural diplomacy."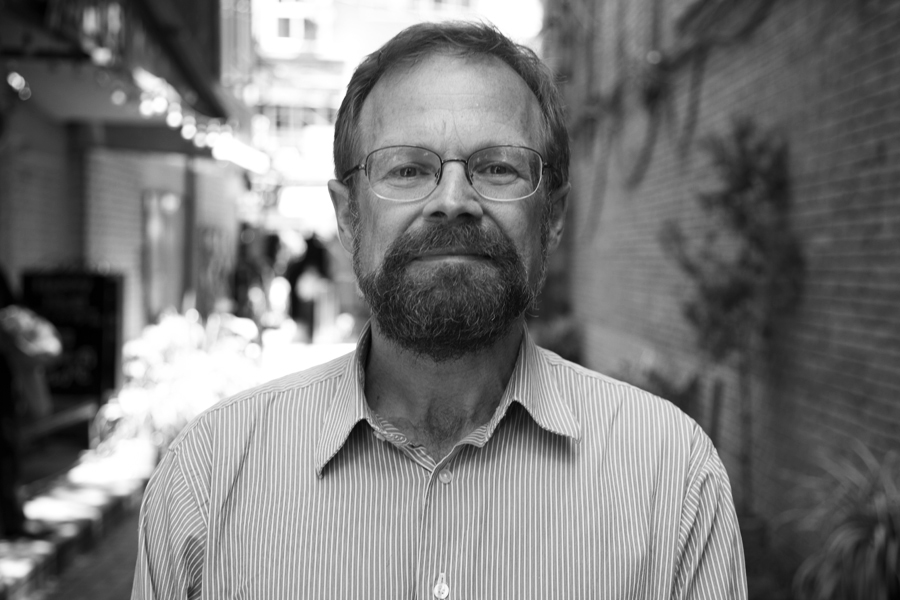 Director, International Writing Program
Above left: Chris Merrill introduces our program at the Haiti PEN Center in 2013; above right: Chris Merrill reads from the Berenstain Bears in Juba, South Sudan, in 2013 
In addition, the IWP hosts international conferences for writers, the most recent taking place in Tangier, Morocco. The IWP collaborated with international writers to translate Walt Whitman's Song of Myself into 15 languages; built writer networks in Central and South Asia for a project called Silk Routes: Heritage, Trade, Practice; and in the program Between the Lines the IWP now hosts 16- to 19-year-olds from the Arabic-speaking world, Russia, and the U.S. for what Merrill calls "a sort of miniature IWP."
"In one way or another, we're trying to share our common love of the creative process with as many different audiences in as many different parts of the world as possible," says Merrill. "Literature can be a way to introduce different cultures to each other and to find connections. This is cultural diplomacy, which goes both ways. We host writers here, we bring writers there."
While the number of programs and participants is impressive, Merrill prefers to measure the success of the IWP with something difficult to quantify: the expansion of a writer's vision, the perspective and insight that enables great writing. Merrill recalls a story about the Turkish novelist Orhan Pamuk, who attended the IWP in 1985.
"When he was here, he wrote his breakthrough book, The Black Book," says Merrill. "The story is he would stay up all night writing, and the other writers saw very little of him during the course of the day, but what he was doing was finding those deep reserves within himself that would translate into his own literary vision. Now look where he stands."
Pamuk won the Nobel Prize in Literature in 2006.
The list of influential writers who have attended the IWP is impressive. Mo Yan, who attended the IWP in 2004, was the first China-based writer to win the Nobel Prize in Literature in 2012. South Korean writer Han Kang attended the IWP in 1998 and won the Man Booker International Prize for fiction in 2016. An IWP alumnus from 1984, Sebastian Barry, recently was named the new Laureate for Irish Fiction.
Of course, not every writer involved in the IWP is famous. The IWP hosts 30 to 35 writers in Iowa City each fall. They bring with them a variety of success and renown, and range in age from 24 to 70. Usually, each is the only person participating from their home country, and they represent a variety of backgrounds, genres, and traditions. Most of the visiting writers work in more than one genre, and Merrill notes that the idea of being "just" a novelist or "just" a poet is uncommon outside the U.S.
Encountering this rich variety of differences and perspectives is very much intentional, says Merrill. The IWP is unique not only because it is the largest and oldest international literary residency program in the world, but because encountering diversity at the UI helps writers expand their vision.
"It's not just a place for writers to come and kick back and read and write," says Merrill. "We consciously create a series of events designed to bring the writers together so that deep conversations can take place."
During fall, when IWP participants visit the UI, Iowa City residents have nearly weekly access to some of the world's best writers. The visiting writers give public readings at Prairie Lights and Shambaugh House, as well as deliver panel presentations at the Iowa City Public Library. They also participate in a translation workshop and give lectures to undergraduate students in a class called International Literature Today.
A fall 2017 IWP participant from Pakistan, Ramsha Ashraf, notes that the program's diversity deeply affected her.
"Other than writing, I was experiencing a very different dimension of life that comes from living with people you don't know," says Ashraf. "You have different notions of privacy, you have a different notions food, you have different notions of dressing—so it changes you. You don't even feel it, but it changes you…Now, after writing something, I read the script and I can feel the change. It's there."
Tilottama Mujamder, a writer from India who also attended in fall 2017, says the IWP changes a writer's identity.
"I was a Bengali writer," Mujamder says. "Now I have an international panorama…It's a new discovery about myself too—what I am and how I am."
Since its inception in 1967, more than 1,400 writers from more than 140 countries have visited the UI as part of the International Writing Program.
Click the pins on the map above to see a list of IWP participant names from each location and then click the name to read a short bio.
Visiting Iowa challenges many writers' preconceptions. Participants often note how hospitable Iowans are, and that the American life depicted through Hollywood, television, and Washington, D.C., does not match what they encounter in Iowa City. In addition, the IWP often leads to unlikely friendships, says Merrill. Palestinian and Israeli writers, for example, sometimes become friends.
"What happens when you bring together writers from lots of different places is that they discover what they hold in common, and they can articulate what divides them," Merrill said in a recent interview for the Los Angeles Review of Books. "We hope from the cultural diplomacy perspective to create some reservoir of goodwill."
Since its inception in 1967, more than 1,400 writers from more than 140 countries have visited the UI as part of the International Writing Program. Nine years after the IWP began with just 12 participants, its founders, Paul and Hualing Nieh Engle, were nominated for a Nobel Peace Prize. The nomination primarily was sponsored by IWP alumni who appreciated the Engles' efforts to build "mutual respect and understanding for all forms of human creativity."
Merrill is intent on continuing that tradition.
"As I say to the visiting writers on their first day," says Merrill, "I hope they will leave with many new pages written, many new impressions—not just of our country but of the literary traditions of their fellow writers—and then many new friends."