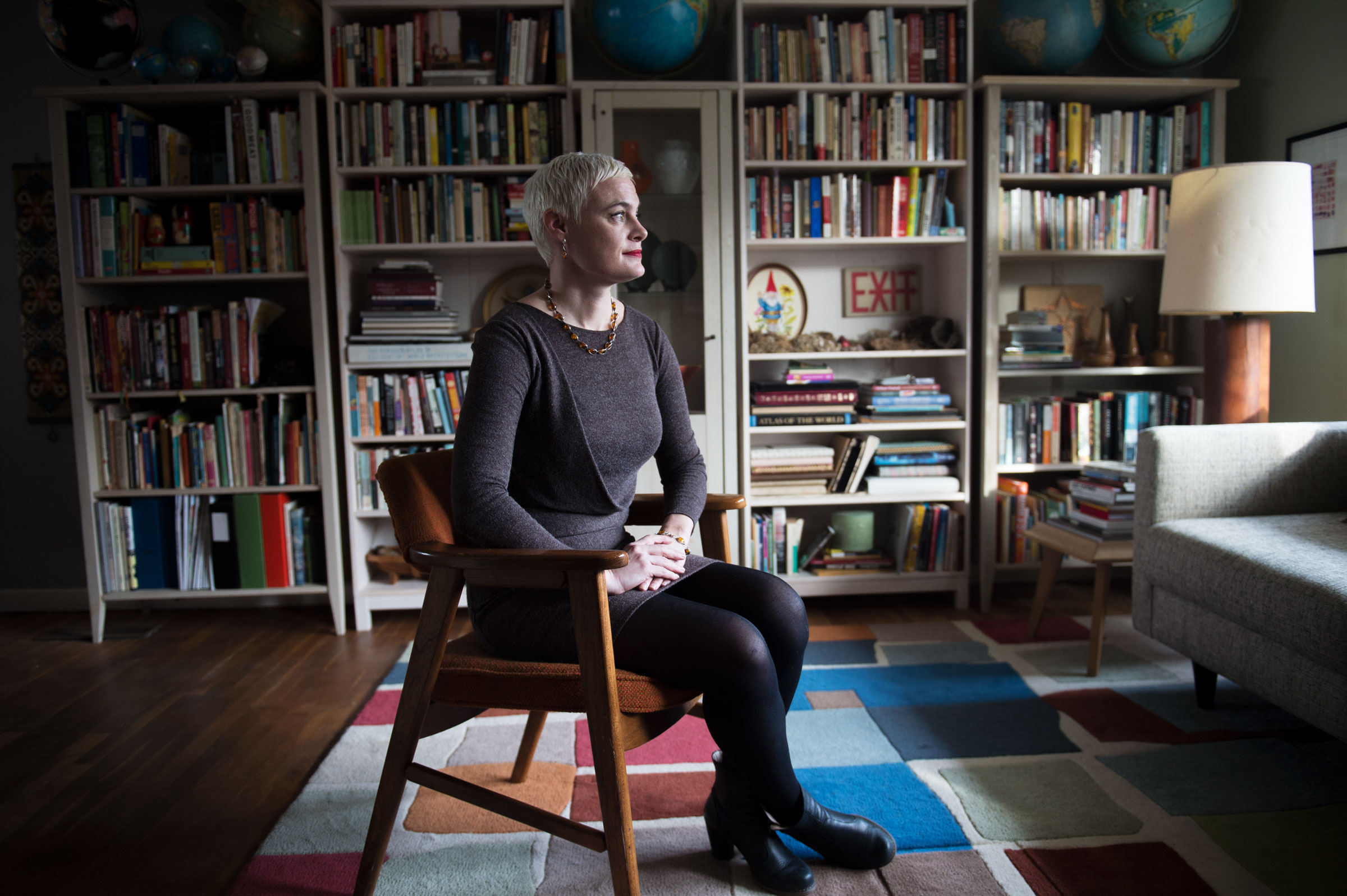 Inara Verzemnieks returns to the University of Iowa's Nonfiction Writing Program.
In 2010, Inara Verzemnieks left what she called "the best job in the world" to become a graduate student in the University of Iowa's Nonfiction Writing Program (NWP). She was an award-winning journalist of 13 years, but also living a life defined by constant deadlines and constricting word counts. She was dissatisfied and looking for the next step in her career. The UI program offered her three years to not only write a book, but the experience and training to teach at a university when she was done.
She accepted.
"I used to say that what I loved about the newsroom was that everyone had the same shared delusion: they were all so into the idea of writing and producing great work," says Verzemnieks. "I wanted to find that again somewhere else, and I felt Iowa was going to be the place, possibly, that would reveal that to me. And it did. It changed my life."
Verzemnieks, 44, is now an assistant professor at the NWP, which, in addition to being widely regarded as one of the top programs of its kind in the world, also distinguishes itself as one of the first programs in the country to teach and study the genre of nonfiction writing. For two-and-a-half years, Verzemnieks has taught and guided students who, like she herself, came to the UI to work on their writing.
Starting out as a police reporter, Verzemnieks bounced around the newsroom until she landed a role as a features writer chronicling the arts and culture of Portland, Oregon. For her feature work for The Oregonian, she was named a finalist for the Pulitzer Prize in 2007. She especially enjoyed what she called the "sofa beat." She would go into someone's home, sit on their sofa, and learn the intimate and often overlooked details of their life.
"That felt like a gift," she says, "whenever anyone would open their home to me."
At the same time, she felt a growing desire for change. She wanted to write longer, more involved stories, stories too long to fit within the columns of a daily newspaper. It was fairly common for writers to take on freelance work in order to explore long-form journalism, but that seemed to leave something out for Verzemnieks; she wanted to teach.
"I am absolutely committed to the idea that every undergraduate who takes a class with me will receive a world-class education, my complete investment and attention and interest, and that they do not have to go to a private college to deserve this."
Assistant professor, Nonfiction Writing Program
Informally, she was known as the go-to person in the newsroom whenever a reporter was stuck on a story or needed a second pair of eyes on a lead. She spent a decade mentoring students at a high school journalism camp where she became a co-director. Hosted at Oregon State University, the camp provided an opportunity for underrepresented students from Oregon and southwest Washington to interact with working journalists and produce a newspaper.
Verzemnieks is still in touch with the very first student she mentored at the camp, Yuxing Zheng. With Verzemnieks' guidance and friendship, Zheng went from being a 15-year-old with an interest in journalism to a staff writer at The Oregonian to a board member for Quill and Scroll, an international high school journalism honor society.
"I always felt that that was like the greatest thing that I did every year," says Verzemnieks, looking back on her time as a camp mentor. "I felt most myself."
Verzemnieks' interest in teaching at a public university grew from how she earned her own education. She describes herself as having "less than stellar grades" in high school, meaning she was "not someone who was going to have a lot of financial support for college."
Regardless, she enrolled in the University of Washington in Seattle and supported herself working two jobs.
"So I have a very personal perspective on the power of state schools," Verzemnieks says, "and it is an intense source of pride for me to know that the best writing programs in the country are based at a public institution. I am absolutely committed to the idea that every undergraduate who takes a class with me will receive a world-class education, my complete investment and attention and interest, and that they do not have to go to a private college to deserve this."
Eight years after leaving Portland, Verzemnieks has accomplished much of what she set out to do. In addition to teaching at the UI, she freelances for publications such as Tin House, The New York Times Magazine, and Creative Non-Fiction.
She also wrote a book, Among the Living and the Dead, which she began writing while a student in the NWP. The New York Times called it an "intimate and poetic book" and a "thoughtful and eloquent memoir." It follows her journey into her family's past and the history that led to her unusual and often grim childhood.
Verzemnieks' mother mistreated her. Her father grew up as a refugee confronting the violent aftermath of World War II, then encountered perhaps too many echoes of his childhood while serving in Vietnam; he struggled to cope. She was raised by her grandparents, Latvians who'd been at the mercy of Germany and the Soviet Union during World War II. After the war, they fled to Tacoma, Washington, where they settled with a small community of Latvian expatriates. While a student in the NWP, Verzemnieks won a Stanley grant to return to Latvia and experience the land her grandparents talked about, a country whose flag she'd been told to salute as a child but, according to maps, didn't seem to exist. Where Latvia should have been, bordering the Baltic Sea, appeared only the Soviet Union.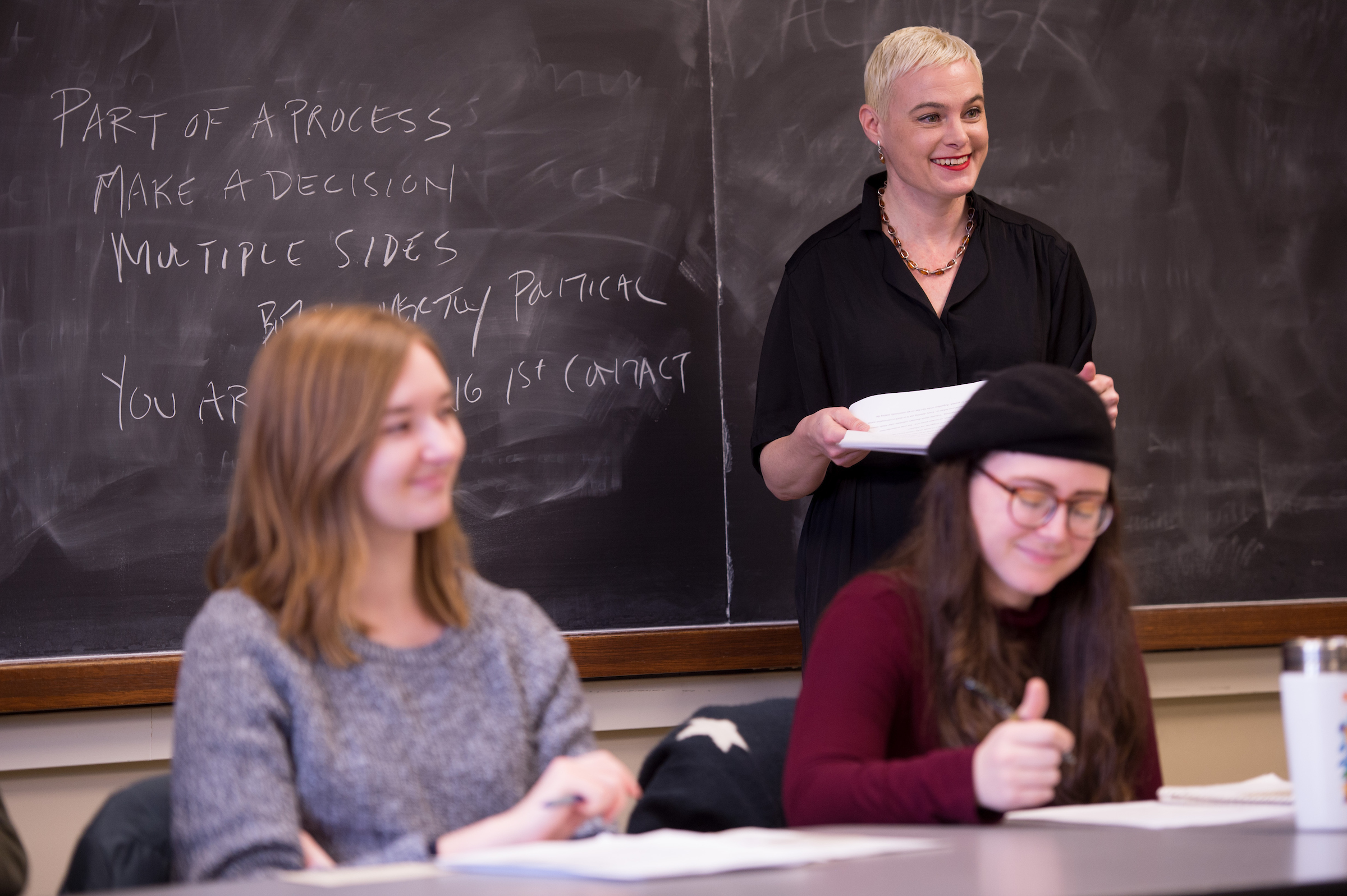 Teaching and Writing in Iowa City
Verzemnieks describes teaching at the UI as a "rare academic job that leaves room for writing—and writing at a high level—because we have such manageable teaching loads." She teaches one graduate and one undergraduate course each semester, and says she feels supported in her projects by the UI and inspired to write by her students, who she enthusiastically boasts are "the best."
"It is an incredible experience to feel so committed to chasing a particular obsession, a specific question in one's own art, and to then share that with a room full of students, to watch the way their minds spark and fire over these challenges and concerns," she says. "Every teacher will tell you the greatest thing about the job is when you feel you are not just teaching, but you are also learning with and from your students. That is what I feel with our grad students every day."
Deadlines still are part of Verzemnieks' life, and although she says finding the time to write is still one of the biggest challenges she faces, she thinks that is just part of what it means to be a writer.
Verzemnieks writes at home, usually accompanied by her two black cats, Georgie Best —after the Irish soccer player—and Inspector Rebus—after a character from a Scottish mystery series. Aside from the artifacts one might expect to find in a writer's study—multiple dictionaries, a book collection, and a framed jacket cover of her first book—Verzemnieks' home office, like the rest of her house, is filled with items of surprising personal significance and warmth.
Next to her laptop are an owl figurine her father brought back from Japan and a vase made in her family's hometown in Latvia. Hanging above her desk are antique black-and-white family portraits and a piece of cloth embroidered in Siberia by her great aunt after being forced out of Latvia. Three typewriters, one of which belonged to her grandfather and one of which belonged to a young man who aspired to be a writer but died unexpectedly, sit proudly on nearby shelves. The latter was a gift to Verzemnieks from the young man's mother.
Elsewhere in her house, Verzemnieks has a door covered in refrigerator magnets from states and countries around the world, mementos of her travels or gifts given to her from the travels of others. She owns a small collection of globes, one of which is the first globe she ever saw that featured Latvia as its own country.
As Verzemnieks tells stories about the items that decorate her home, it is clear that the care with which she's decorated matches the care with which she teaches writing and writes about others. Writing, she says, is about "what it means to see other people," about witnessing the deep, complex, and meaningful parts of lives that can be as easily overlooked as a piece of embroidered cloth. For Verzemnieks, it's important to see those parts of people's lives and then reflect it in her writing.
"I realize now that it is that same instinct that drives me as a writer and also as a teacher, that same idea, that what I am able to do with my work is I am able to still the world," she says. "I am able to still the smallest moment in people's lives. I am able to put them out there so that other people can see it too."