'MasterChef' gets a taste of what this Hawk is cooking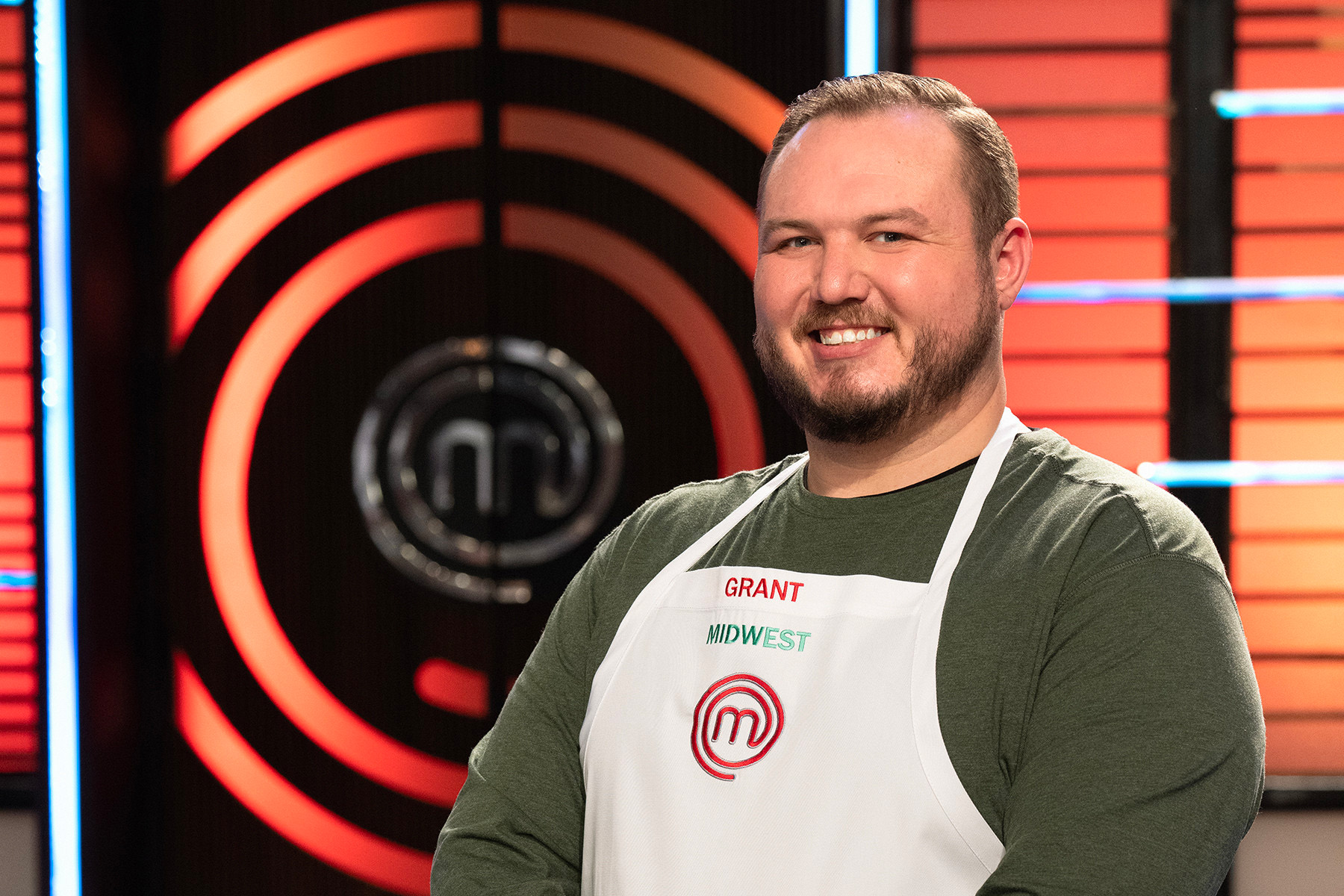 Grant Gillon, who graduated from the University of Iowa in 2012, beats out 20 other contestants to win long-running food competition show.
Grant Gillon was not the average college student heating up ramen noodles in the microwave. Although he didn't have a lot of time to spend in the kitchen while studying at the University of Iowa, Gillon says he enjoyed making food for himself and his friends whenever he got the chance.
But the 2012 Iowa graduate admits he was a long way away from making creamy ravioli al uovo, pork medallions and fennel, and coffee and beer-infused torn stout cake, the meal that ultimately earned him the trophy Sept. 20, 2023, on the 13th season of Fox's MasterChef.
"I think I would have told somebody that they were crazy if they said 11 years ago, 'Hey, you're going to be on MasterChef and you're going to meet Gordon Ramsay and cook food for him,'" says Gillon, who now lives in his hometown of Altoona, Iowa. "Just the fact that I've had this opportunity, I'm so blessed. I'm so humbled by it. I just really appreciate every opportunity I've been given."
Gillon became more serious about cooking only in the past few years, but he says he's been a Hawkeye his whole life. His parents met as students at Iowa, and his older sister also attended the university.
"I always knew the University of Iowa was going to be home for me," Gillon says.
Initially unsure what he wanted to study, Gillon participated in the Courses in Common program, which allowed him to take a number of different classes with a group of fellow first-year students.
"That really helped ease me into the college atmosphere," Gillon says. "And through that, I kind of figured out where I wanted to land, what really interested me, and where my passions lay."
Turn a love of sports into a career
Students with a degree in sport and recreation management can find a variety of career opportunities, including community recreation, intercollegiate athletic departments, high school programs, the commercial fitness business sector, and minor and major league sports teams.
Gillon graduated with a BS in leisure studies, with a focus on recreation and sport business, which is now known as the sport and recreation management program. The program's foundation was laid while Gillon was a student.
"I had been working at golf courses since I was in high school, and I wanted to be a teaching professional. I wanted to run a golf course and I wanted to give lessons," Gillon says. "So, sport and recreation management really made sense to me. I could not only do my golf thing on the side, but really learn how to run the business side of things. That's what really interested me and what Dan Matheson was bringing to us with the new sport and recreation management program. I was just really excited to be a part of it."
"One of the biggest impacts, not just in my college career but my life as a whole, was being a part of University of Iowa Dance Marathon. … That's something that I hold near and dear to me—and I've got the logo tattooed right here on my arm."
2012 University of Iowa graduate
Matheson, professor of instruction and program director for sport and recreation management, says Gillon will forever be a part of the program's foundation.
"Grant's enthusiasm for the subject matter and his gregarious nature helped create bonds among students and faculty that established a close-knit, community feeling in the program that has carried through and been built upon over the years, even as SRM has expanded to about 500 undergraduates," Matheson says. "Without Grant and his peers in the early days, the SRM program wouldn't be what it is today."
Quick Q&A with Grant Gillon
What's your favorite dish to cook?
My favorite dish to cook is stuffed pasta, whether it's an agnolotti or ravioli or mezzaluna. Any of those just really get to show off my Italian heritage.
What's a dish you haven't made yet but plan to in the future?
There's an old-school dish that I still haven't given a try. It's Julia Child's beef Bourguignon recipe. I've got to give it a shot here soon.
What is a dish or a technique that you're still working to perfect?
You know, I still can't crack an egg with one hand. I've been on MasterChef, and I've been cooking for years, but these big mitts don't do best around those little eggs. But one of these days I'll get it perfect.
What is your go-to cookbook or chef to go to for a recipe?
My go-to chef is the one and only Gordon Ramsay. He has such a wealth of knowledge. He's been in so many different kitchens throughout his career. He's the absolute best to learn from.
Is there a food from the University of Iowa residence halls that you loved?
The Bosco Sticks late-night at Burge Residence Hall hit every single time.
Where is your favorite place to eat when you return to Iowa City?
My favorite place to eat when I go back to Iowa City—it's a staple—is the Hamburg No. 2. I've got to go for breakfast, get a cup of coffee, and just enjoy the time there. I also went to Joseph's Steakhouse for the first time in March, and it was incredible.
Gillon says having someone like Matheson take him under his wing is something he'll never forget.
"He has such a wealth of knowledge, and he comes with a laundry list of accolades working for the NCAA and working for the New York Yankees," Gillon says. "He didn't have to be there; he wanted to be there. He wanted to teach students and he wanted us to learn all that knowledge that he had accumulated over his career. Dan has always been that great teacher, that great professor, but also a great friend."
Gillon says he has enjoyed seeing the evolution and growth of the Iowa sport and recreation management program over the years.
"I was a part of the very first year of the sport and recreation management program, and now seeing all these opportunities students get to learn with professional sports teams and really just tie in everything that they're learning in the classroom is absolutely incredible," Gillon says. "It's something you don't see at a lot of schools. The opportunities that these kids have is just second to none."
Gillon says he loved his time at the University of Iowa. But one activity especially stands out—and he has the tattoo to prove it.
"One of the biggest impacts, not just in my college career but my life as a whole, was being a part of University of Iowa Dance Marathon," Gillon says. "I started my sophomore year as a dancer, was a morale captain my junior year, and then senior year I was able to serve on the executive board as a sponsorship director. It was like a little internship, and I learned so much. But I was able to do it not only for myself and for the university, but for the kids at University of Iowa Stead Family Children's Hospital. That's something that I hold near and dear to me—and I've got the logo tattooed right here on my arm."
After graduation, Gillon went to work in the golf industry, and quickly learned that golf was a sport he loved to play but didn't necessarily want to work in. So, he switched over to the hospitality industry, working for a few hotel brands. But he was furloughed during the COVID-19 pandemic as people traveled less.
It was about that time that Gillon was starting to take cooking more seriously—and it helped him land his current job as director of sales at Kinship Brewing Co. in Waukee, Iowa.
"My now boss at Kinship Brewing Co. happened to see my food photos on social media and reached out to see if I wanted to be a chef at the brewery," Gillon says. "I said I had never worked in a kitchen before. But I told him I liked craft beer and I could sell it for him, so how about we figure something out? The rest is history."
Gillon says MasterChef is one of his favorite cooking competitions, and one that he and his wife, Emily, always watched.
"I always thought that it would be cool to try, but that was for someone else, not 'Grant from Altoona.' I was confident in what I did in the kitchen, but they were on another level," Gillon says. "My wife has always been a great supporter of everything I do, and she said, 'Grant, you have to do this. You have to take this opportunity to apply and just see what happens.'"
Grant Gillon's recipes for your next tailgate
Sweet and Spicy Caramelized Onions
1 large yellow onion, sliced
1 tablespoon butter
2 tablespoons honey
2 tablespoons sriracha
1 tablespoon stone-ground mustard
Over medium-low heat, melt butter in a large skillet and add sliced onions.
Lightly salt onions and continually move them around the pan until softened.
Once soft, add honey to the pan and keep it moving. 
When a golden color is achieved, remove from the heat and stir in sriracha and mustard.
Serve on your favorite brat, dog, or burger.
Bonus alternative
Mix together 1 cup sour cream + 1 cup mayo.
Chop sweet & spicy onions and add to mixture.
Season with salt, pepper, garlic powder to taste.
Garnish with chives.
Serve with chips, pitas, or even as a sandwich spread.
Easy Cheese Sauce
1 pound block cheese of your choice (I choose Monterey Jack)
12-ounce can evaporated milk
2-3 slices American cheese
Shred 1-pound block of cheese.
Add 12-ounce can of evaporated milk to a saucepan over medium-low heat.
Slowly add in most of the cheese, stirring to incorporate each time.
Add 2-3 slices of American cheese to help emulsify the sauce.
How to use this sauce:
Add pickled jalapeños and cumin for a delicious queso dip.
Pour over cooked noodles for a creamy mac & cheese.
Put it on literally anything you want to put cheese on!
What happened next was a whirlwind. Gillon sent videos of himself cooking and then flew out to Los Angeles to be part of the final casting process.
This season, MasterChef: United Tastes of America divides the home cooks into four regions of America—Northeast, Midwest, West, and South. To earn their aprons and proceed, the contestants had to wow the judges with a dish that represented their region. For Gillon, that dish was roasted corn agnolotti with lemon, butter, and chives.
"When I was really learning to cook, I studied Gordon Ramsay. So, the opportunity to meet him in person and present a dish to him has been an incredible full circle," Gillon says. "It's been a surreal experience and one that I'll never forget for the rest of my life."
Matheson says he has enjoyed following Gillon's journey over the years.
"The SRM program helps students and alumni determine how sport and recreation should fit into their professional and personal lives," Matheson says. "Whether helping set up recreational golfers with the best equipment to meet their needs or helping members of his community find satisfaction in their free time through the microbrewery he now sells for, everywhere Grant has worked during his career has had a connection to the recreation industry. And now on MasterChef, Grant is taking one of his own recreational hobbies—culinary arts—to the highest level on a competitive stage.
"I'm very impressed but not surprised that Grant made it through such a competitive process to be selected for this season of MasterChef. He has an engaging personality and an ability to tell a compelling story that's been there since he was a student in my classes. I'm sure the communication skills he sharpened at Iowa helped separate him from dozens of other talented chefs."
While cooking classes were not part of his studies at the University of Iowa, Gillon says what he learned at Iowa did come into play on MasterChef.
"The University of Iowa taught me about dedication and hard work," Gillon says. "Knowing that you have a job to do and nobody's going to do it for you—that's something Iowa really showed me."
Gillon says he doesn't have any solid plans for his future in cooking but is exploring the possibility of opening his own farm-to-table restaurant in his hometown of Altoona.
"Whatever I end up doing, my goal is to bring communities closer to the local producers of the food we eat and always try to educate the consumer as much as possible," Gillon says.
In the meantime, he urges University of Iowa students to take advantage of every opportunity presented to them. He says he is living proof of what can happen if they do.
"Figure out what you're passionate about," Gillon says. "If a class or club seems interesting, try it. Seize each and every moment."