Improving the dream for herself and others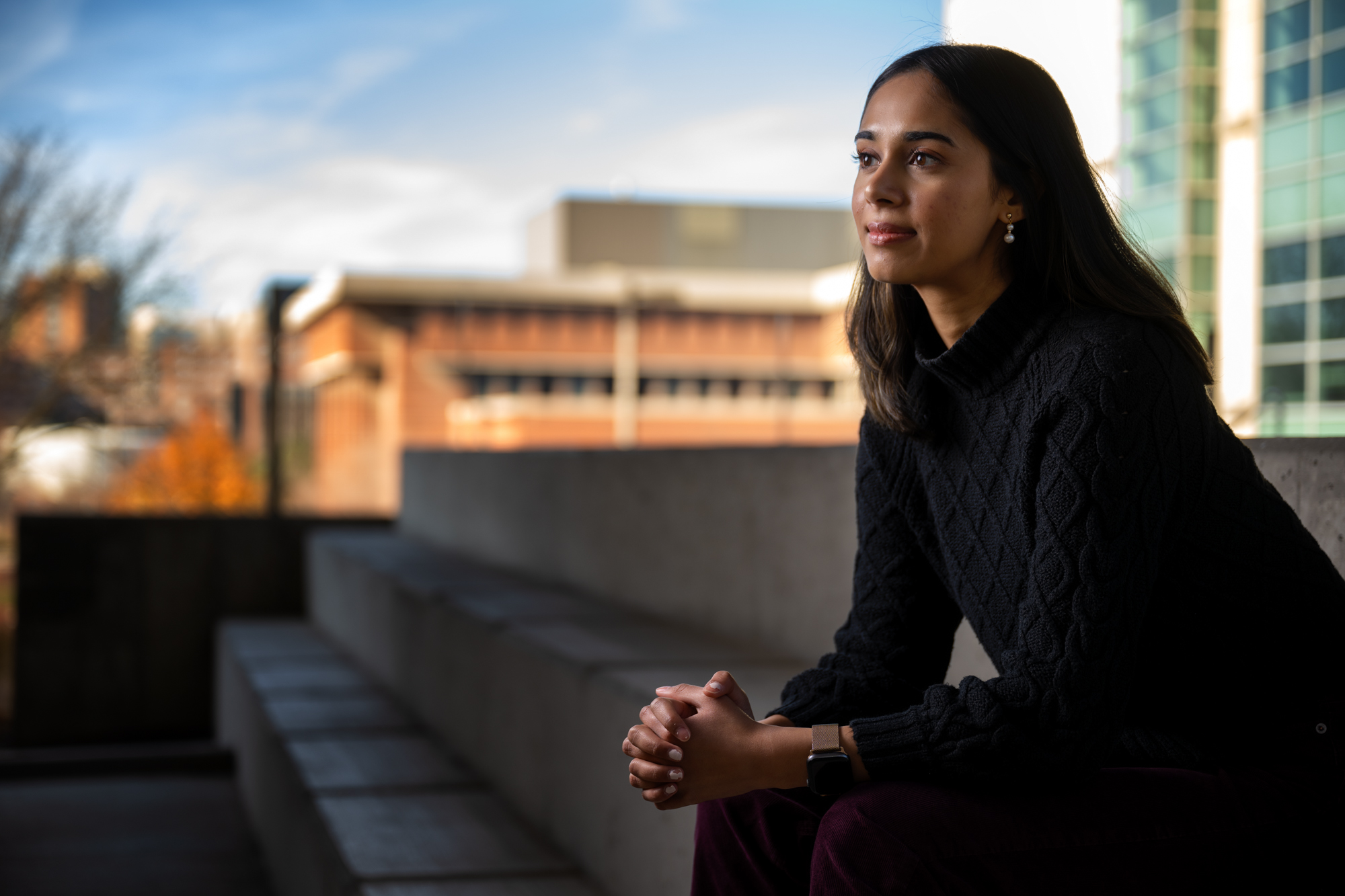 University of Iowa biomedical engineering graduate Pareen Mhatre works to make the world a better place for heart disease patients and for those in immigration limbo.
Pareen Mhatre has logged an impressive list of accomplishments during her University of Iowa tenure: research in a campus lab studying blood viscosity, mentorship in both the Society of Women Engineers and Women in Science and Engineering, leadership in the student organization Indian Student Alliance, volunteer work at University of Iowa Hospitals & Clinics, and community outreach with the nonprofit Backpack Project, among other activities.
For these efforts, the senior biomedical engineering student was honored with the university's 2022 Distinguished Student Leader Award. What Mhatre's résumé doesn't reveal, however, is the constant fear of deportation she faced as an undergraduate.
Mhatre, who graduated in December 2022 with a BSE in biomedical engineering and a minor in business administration, came to the U.S. from India when she was 4 months old, a dependent on her mother's student visa and, later, work visa. When dependents of long-term visa holders turn 21, as Mhatre did in 2021, their legal immigration status expires, even if a pending green card application exists. Mhatre was one of the lucky ones to secure a student visa and remain in the country, thanks in part to her advocacy with Improve the Dream, a youth-led organization working to prevent children like her from aging out of the system.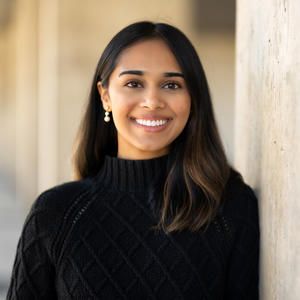 Degree: BSE in biomedical engineering with a minor in business administration
Hometown: Iowa City, Iowa
Future plans: Has accepted an associate clinical specialist position in Abbott's electrophysiology division in Minneapolis
"I realized in high school that I would be considered an international student no matter what college I went to, and I thought that was unfair. So, when some members of my family stumbled upon the link to Improve the Dream, I looked into it and learned that there were more than 250,000 children in the United States who shared my documented status and were excluded from the protections of the DREAM Act," says Mhatre, who has given congressional testimony to tell her story. "I thought maybe the reason my immigration status ended up the way it did was because of a loophole. It turns out it's not a loophole—it's just a problem."
Due to a backlog of green card applications, Mhatre has no clear path to citizenship. But through Improve the Dream she is working with Sen. Joni Ernst and Rep. Mariannette Miller-Meeks on a bill that would protect people brought legally to the U.S. as children, known as "Documented Dreamers." An amendment doing so was passed by the House in 2022 as part of the National Defense Authorization Act.
"Because it is a bipartisan issue, I have high hopes that both sides of the aisle will come together and fix a seemingly small problem that has such a big impact," Mhatre says.
"I feel like the faculty pushes students to think outside the box and do other things, and that isn't restricted to the classroom. It might be doing another project in a lab, or starting a business venture, or adding a minor that's not related to engineering. The education offered at the University of Iowa is top quality. I feel well prepared for the workforce—and for life."
fall 2022 graduate, biomedical engineering
'Teen Vogue': Pareen Mhatre is shaping the future
While pursuing an undergraduate education in biomedical engineering, Pareen Mhatre has worked as an immigration advocate, testified before Congress, and spoken at the introduction of a House bill. In 2021, Teen Vogue included her in its annual "21 Under 21" list of young people who are shaping the future.
In Mhatre's case, that impact could include significant developments in the design of health care technologies. A family history of heart disease inspired Mhatre to study biomedical engineering and work on cardiovascular devices. Through the UI College of Engineering, she has learned essential problem-solving skills and had opportunities to put them into practice.
"Biomedical engineering is a very vast field, and I feel like I've been learning about something new every single day," says Mhatre, whose projects have included designing personal protective equipment for UI baseball players and developing hospital protocol for testing the blood of COVID-19 patients. In 2020, she interned with Iowa MADE, where she helped to test, assemble, and distribute face shields.
Mhatre says her time at Iowa has inspired her to think bigger.
"Living in Iowa and volunteering at the hospital, I have met so many patients from across the Midwest, and it has made me realize that there isn't enough access to quality care. I would like to play a small part in making sure that patients from rural populations and minority communities get the care that they deserve, that any human deserves," she says. "My undergraduate experiences—from studying biomedical engineering and volunteering at the hospital to shadowing physicians and even working in immigration advocacy—have shown me how important it is to me to give back to my community."
Students in the University of Iowa's Roy J. Carver Department of Biomedical Engineering learn to analyze and solve problems in biology and medicine by applying traditional engineering principles. Graduates consult with physicians to design and evaluate prosthetic devices, work with new materials for implants and tissue-generated implants, perform computer analysis of medical images, and use computers to analyze genetic structures and functions, among other things.
Suresh Raghavan, professor of biomedical engineering, says Mhatre is a leader, not only through her academic work but also in her immigration advocacy.
"Pareen has that rare ability to take challenges she has faced and turn them into opportunities for change. She truly exemplifies the slogan, 'Be the change you want to see in this world,'" he says. "As she moves toward the next stage of her career in the biomedical device industry, I am so proud of this young woman of color. She will make our world a better place."
Mhatre, who in January 2023 began work in Abbott's electrophysiology division in Minneapolis, says what she has enjoyed most about the University of Iowa is the people and the support network she has found on campus. In particular, she says, the College of Engineering is true to its word when it encourages students to "Be an engineer… and something more."
"It's comforting to know that my major doesn't have to be my life. I've done a lot of extracurricular work that I'm proud of, especially the immigration advocacy, and the college encourages that," she says. "I feel like the faculty pushes students to think outside the box and do other things, and that isn't restricted to the classroom. It might be doing another project in a lab, or starting a business venture, or adding a minor that's not related to engineering. The education offered at the University of Iowa is top quality. I feel well prepared for the workforce—and for life."