An aim to better understand the unexpected
After meeting the University of Iowa's supportive community of prestigious epilepsy researchers, doctoral candidate Alex Petrucci has made great research advances in her exploration of sudden unexpected death in epilepsy.
Not all Hawkeyes need to blast "Back in Black" to make an entrance.
Alex Petrucci, who will graduate from the University of Iowa in December 2022 with a PhD in neuroscience, knows what it is like to walk into a room with fellow UI researchers and immediately draw the attention of peers. Decades of institutional research around epilepsy will command that sort of respect.
"Here at Iowa, we have such a great core of epilepsy researchers. We arrive at conferences and people say, 'You're the Iowa group,'" Petrucci says. "Instantly, I feel like part of a larger community through this affiliation. Honestly, that's the best feeling in the world."
Petrucci's research at Iowa explores sudden unexpected death in epilepsy (SUDEP)—deaths in people with epilepsy that are not caused by injury, drowning, or other known causes. This topic has made headlines in recent years, most prominently following the 2019 death of Disney Channel actor Cameron Boyce at age 20.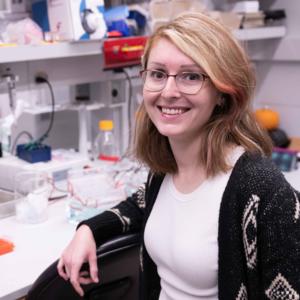 Degree: PhD, neuroscience
Hometown: Austin, Texas
Future plans: Start a postdoctoral position at the University of Utah, conducting epilepsy research
"Over one-third of epilepsy patients will continue to experience seizures despite medical treatment; this patient population is at greatest risk for SUDEP," Petrucci says. "We cannot predict if SUDEP will occur, determine when it will occur, or prevent its occurrence. Identifying potential risk factors and underlying brain mechanisms is critical to improve our understanding of SUDEP and save lives."
In the lab, Petrucci focuses on a particular SUDEP risk factor: decreased brain activity after a seizure. While neurological researchers long have known that brain activity decreases post-seizure, the mechanisms that underlie that suppression are not understood. Using mouse models, Petrucci examines how the signaling molecule serotonin and the dorsal raphe nucleus—a brain region that sends serotonin signals—might influence recovery of normal brain activity after seizures.
"It's a long way from going to humans," Petrucci says. "But these are the first steps we need to take to build up to clinical application."
Petrucci's mentor, Gordon Buchanan, the Beth L. Tross Epilepsy Professor and associate professor of neurology in the Carver College of Medicine, and affiliate of the Interdisciplinary Graduate Program in Neuroscience, praises the work Petrucci does in his lab.
"Alex has a passion for studying epilepsy, and has single-handedly advanced the use of several powerful techniques in our lab," Gordon says. "She is well on her way to making research advances to positively affect the lives of patients with epilepsy."
"Here at Iowa, we have such a great core of epilepsy and SUDEP researchers. We arrive at conferences and people say, 'You're the Iowa group.' Instantly, I feel like part of a larger community through this affiliation. Honestly, that's the best feeling in the world."
fall 2022 graduate, PhD in neuroscience
Petrucci's personal experiences had some influence on her research focus. She dealt with rolandic epilepsy in adolescence; during seizures, she might say things that didn't make sense, or she would stare for an extended period of time.
"I was grateful to outgrow it, but it has given me perspective," Petrucci says.
That perspective motivated Petrucci to volunteer with the Epilepsy Foundation during her early days as an Iowa graduate student. Through that volunteer work, Petrucci attended a local event called the Iowa Seizure Smart Conference. Attending that conference cemented her academic path, thanks to the accessibility of Iowa researchers.
On Iowa's collaborative nature: "Sometimes I'll hear horror stories on social media from other places, how lab competition brings down the work or stifles productivity, or how research projects have to be completely redesigned just because you can't get your hands on a piece of equipment. That just doesn't happen here. If I need equipment or if I need help, I can run up a flight of stairs or I can walk 20 feet down the hall and get what I need, and no one looks at you funny about it!"
On her mentor, Gordon Buchanan: "He figures out what you want to do and who you want to be, and tailors his mentorship around that. He supports what you want to do, and he guides you toward that path. The fact that he takes the time to do that for students is amazing."
On the benefits of conducting research: "One of the most important things you can learn from research is how to accept and grow from failure, and realize that failure isn't necessarily a bad thing. Your hypothesis was wrong? Hey, sometimes it doesn't work out. In those moments, you learn to handle pitfalls with grace and dignity. And remember: In science, it is important to take what you have learned and move forward from it."
"At this point, my path in science was not set in stone," Petrucci recalls. "I was speaking with the head of the Iowa chapter of the Epilepsy Foundation, talking about my uncertain future. She nodded toward Gordon Buchanan, who had just finished a presentation on SUDEP, and said, 'You could always go talk to him.'
"My response was, 'Just go up and talk to him?' Eventually, I got up the courage to do just that—and that's when he got up to leave. I've only got a few seconds to do something, so I stop him and just start rambling! 'I'm going to be a neuroscience student in the spring; I'm interested in rotation; can we talk?'"
Buchanan met with Petrucci a couple of weeks later, and a rotation was established. She ended up staying in Buchanan's lab after the rotation ended, "and he hasn't been able to get rid of me since," Petrucci jokes.
The takeaway Petrucci would share with students interested in science and research: Find the courage to have that conversation—even if you have to jump in someone's path to have it. Iowa researchers are willing to engage.
"I've served on outreach committees, and I've heard high school students say they're interested in shadowing scientists," Petrucci says. "To them—or college students, or whoever—I say this: If you send an email to a researcher that says, 'I'm interested in what you do; would you want to talk about it?' the reaction almost always will be, 'Do I want to talk about the things I love? Of course!'"
After commencement, Petrucci will begin postdoctoral work at the University of Utah in Salt Lake City, remaining in the epilepsy research field. She continues to draw inspiration from people she has met—the families of those who deal with epilepsy, and those who have lost loved ones to the disease.
"SUDEP's somber note is driven home when you attend a conference on epilepsy and meet the families and caregivers of victims," Petrucci says. "I love my research. I'm passionate about it. But when someone is choking back tears while thanking you for the work you're doing, you clearly realize what it means to others."