UI impacting future of women in dentistry since 1887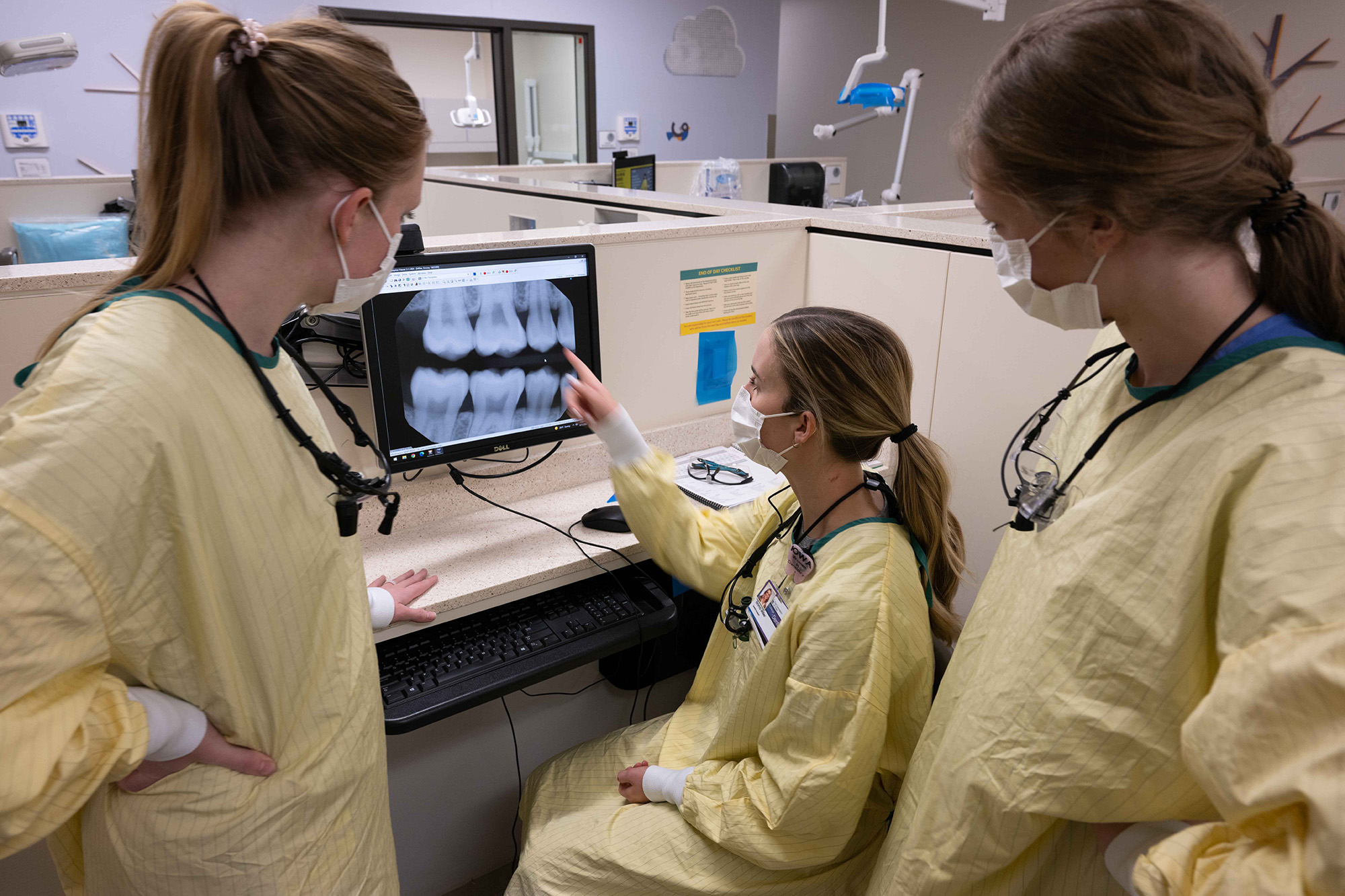 The Class of 2024 is the first in the University of Iowa College of Dentistry's history to have more female students than male students—helping move the national dentistry workforce closer to gender parity.
The valedictorian of the University of Iowa College of Dentistry Class of 1887 stood out for more than academic achievement. Jessie Ritchey was the first female graduate of the then 5-year-old dentistry program. A couple of years later, she would become the first female faculty member in the college—as well as one of the first female dental faculty members in the country.
Dentistry historically has been a male-dominated field. But starting with Jessie Ritchey and continuing to this day, Iowa has proven itself a trailblazer for women in dentistry.
The UI College of Dentistry Class of 2024 made history by becoming the college's first to have more female students than male students. In addition, 2020 was the first year that female applicants outnumbered male applicants. The overall fall 2021 enrollment included 168 women and 164 men.
"If you look at dentists who are over 40, most of them are men," says Rachel Hart, a third-year dental student from Cedar Falls, Iowa, and co-vice president of the UI chapter of the American Association of Women Dentists (AAWD). "But in dentists who are 40 and younger, there are far more women, and that's a great thing. It's been proven time and time again that patient outcomes are better when their providers look like them and can relate to them. There's still improvement that can be done, especially in racial equality in the field. But female dentists tend to more closely mirror racial diversity in their population than male dentists, so while there's still work to be done, it's exciting to see progress."
The American Dental Association Health Policy Institute (HPI) estimates that the percentage of female dentists in the workforce grew from 24.1% to 34.5% between 2010 and 2020. Based on the growth seen in women graduating from dental school, this number will continue to grow, with the HPI predicting gender parity in the dentistry workforce by 2040.
Women's History Month spotlight on UI faculty
In honor of Women's History Month, female faculty members from across the university are highlighted for their areas of research expertise; contributions they have made to create positive change on campus, in the state, and around the world; and longstanding careers at Iowa.
Hart and her classmates, Emma Miller and Michaela Bobenhouse, all received undergraduate degrees from Iowa and say they decided to enroll in the College of Dentistry in part because of the support they received as women interested in a STEM field and the female faculty they met.   
"I had a great role model in my mom, who is a professional in health care, so I never felt like I couldn't do it. But still, it can be intimidating to go into a STEM field," says Miller, a fourth-year dental student from Cedar Rapids, Iowa, and president of the UI chapter of the AAWD. "I really appreciated the fact that most of my classes at Iowa have been pretty close to 50-50 in men to women. And then during my interview for dental school, it was great to meet and speak with female dentists who are succeeding and thriving in their profession and community."
Kari Maas graduated from Iowa with a DDS in 1998, and after some years in private practice, returned in 2015 as a faculty member. Maas grew up in Northwood, Iowa, and knew from an early age she wanted to be a dentist. While her high school had an excellent science program and many of the 40 students with whom she graduated went into health care fields, she says her guidance counselor was less than enthusiastic about her plans.
"I told him I was thinking about becoming a dentist, and he said most dentists are male and maybe I should look into dental hygiene or dental assisting instead," Maas says. "That made me mad and made me even more motivated to go to dental school."
"I feel like Iowa has always been really encouraging of women to go into whatever program they want. We have lots of programs for women in dentistry, and I personally love to discuss the field with women and girls, including my 13-year-old daughter."
UI College of Dentistry graduate and current faculty member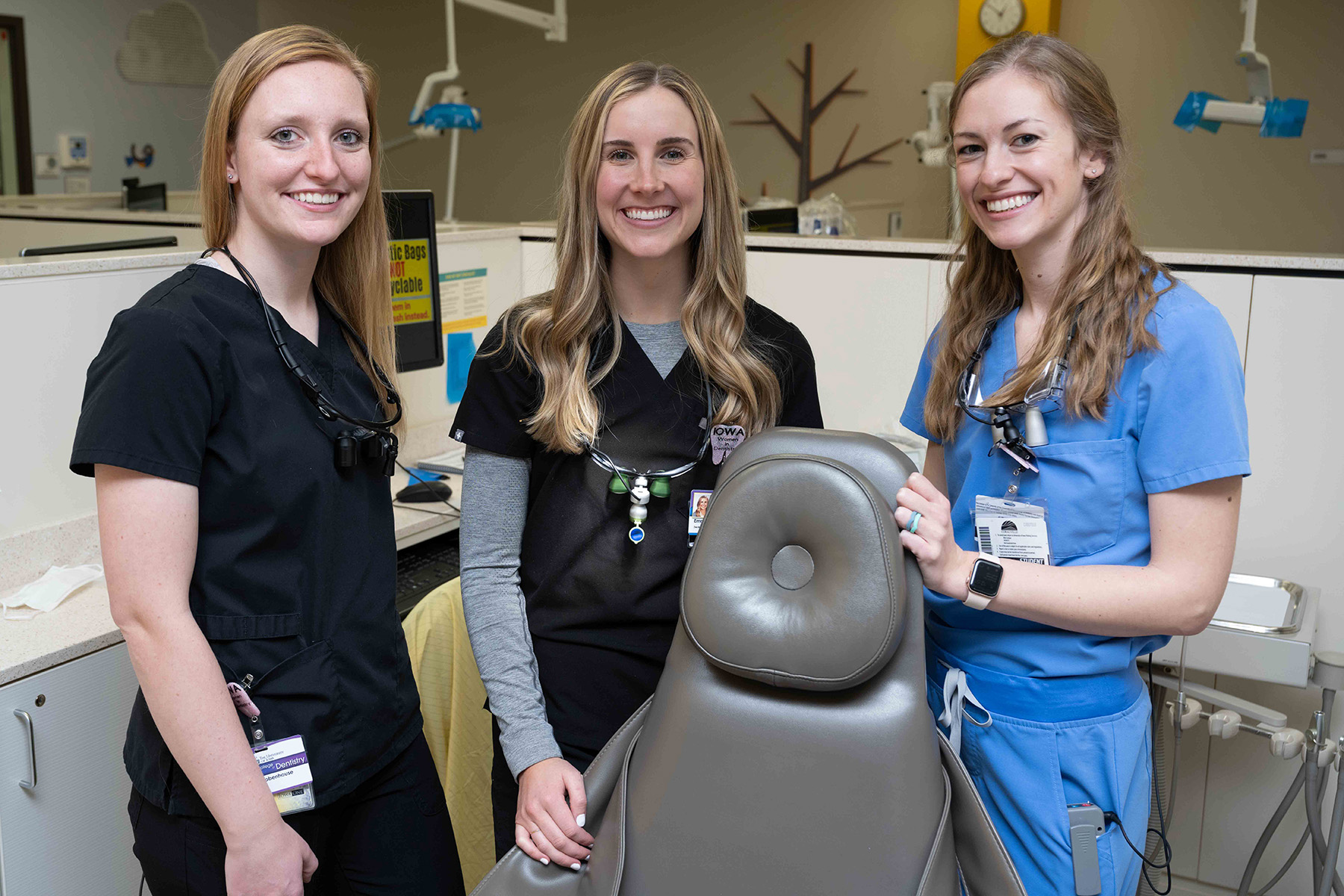 When she started at Iowa in the fall of 1994, Maas says her class' percentage of women was 44%—the highest the College of Dentistry had ever had.
"I feel like Iowa has always been really encouraging of women to go into whatever program they want," Maas says. "We have lots of programs for women in dentistry, and I personally love to discuss the field with women and girls, including my 13-year-old daughter."
Maas says dentistry is a fantastic field for many reasons, but one that she thinks particularly appeals to women is that dentists' schedules are generally more flexible and more easily allow for a better family-work balance.
"I have friends who are physicians who have different hours and different call commitments that make that balance a little more difficult," Maas says. "I wanted more flexibility to be home and be able to go to my children's school events, and dentistry has allowed me to do that."
Firsts for women at the University of Iowa
Iowa was the first public university in the U.S. to admit men and women on an equal basis, and inspiring women have led the way ever since:
1873: Mary Hickey Wilkinson, one of the first women in the U.S. to receive a law degree, graduated from the College of Law.
1886: The University of Iowa's first bachelor's thesis, "A Brief Description of Nine Species of Hepaticae Found in the Vicinity of Iowa City," was written by a woman, Mary F. Linder. One year later, Iowa's first master's thesis, "The History of the Common Frog," also was written by a woman, Rose B. Ankeny Edgar.
1887: Jessie Ritchey becomes the first woman to graduate from what is now known as the College of Dentistry.
1912: The first African American women to graduate from the State University of Iowa were Letta (Cary) Bledsoe and Adah (Hyde) Johnson. Both were from Des Moines and received their degrees from the College of Liberal Arts on July 26.
1924: Eve Drewelow earned Iowa's first Master of Arts degree in painting, following the University's decision two years earlier to accept creative work in lieu of theses for graduate degrees.
1940: The nation's first Master of Fine Arts degrees were awarded to three students: (Alice) Elizabeth Catlett Mora, Jewel Peterson, and Harry Edward Stinson. Catlett Mora, a sculptor, was also the first African-American woman to receive the MFA.
1941: Lulu Merle Johnson became the first African American woman to receive a PhD from an Iowa institution and among about a dozen black women in the nation to achieve such status at that time.
1954: Jewel Limar Prestage became the first African American woman to receive a PhD in political science from an American university.
1971: Lilia A. Abron became the first African American woman in the nation and third woman at the University of Iowa to receive a PhD in chemical engineering.
1983: C. Vivian Stringer became the first African American to coach a Big Ten women's basketball team.
Bobenhouse, Hart, and Miller all cited work-life balance as a benefit of going into dentistry, but they also say they were drawn to the relationships they could form with patients and their families.
"There are a lot of areas of health care where you maybe see a patient once or twice, but in dentistry, you usually see your patients twice a year," says Bobenhouse, a third-year dental student from Des Moines, Iowa, and co-vice president of the UI chapter of the AAWD.
"It appealed to me that you get to build relationships with your patients and see families grow and take care of that same family for potentially decades," adds Hart.
Maas says early in her career, it was common for a patient to express surprise that she was the dentist, or to ask for a second opinion from a male dentist.
"I was talking with a younger faculty member who said she hadn't experienced that, which I thought was terrific because it means we're making progress," Maas says.
Progress doesn't mean that stereotypes don't still exist, the students say.
"I think we've all experienced telling someone outside your family or friends that you're in dental school and they just assume it's to be a dental hygienist," Hart says.
The students say classmates—female and male—speak up and support them when they get questions from patients in clinic.
"I've had classmates say, 'Yes, she's going to be your dentist and she's one of the best,'" Miller says.
The three dental students say they feel strongly about participating in organizations such as AAWD during and after college, both for themselves and for future generations of women dentists.
"Representation matters. Seeing women who are succeeding in their careers in addition to dealing with the responsibilities of raising a family and being able to talk through those experiences with them is really rewarding," Miller says.
"People always say, 'You can be whatever you want to be,' which is true of course, but there's a difference between actually seeing women do these jobs and just being told that you can do them," Bobenhouse says.
As Bobenhouse, Hart, and Miller finish their final semesters of dental school, they say they feel confident that they'll be ready to provide expert care for their patients.
"Iowa's curriculum model prides itself on getting you clinical experience from the very first year," Hart says. "Dentistry is kind of unique in health care in that once you graduate, it's not unusual that you could be on your own, potentially as the only DDS in the building. I talked to a few Iowa graduates before I started dental school and they said that from their very first day, they felt prepared and ready to go."
For Bobenhouse, graduation also will mean she's one step closer to one of her goals. "I always knew I wanted to practice in Iowa," Bobenhouse says. "I'm from Iowa and I want to give back to Iowa."
Women's History Month spotlight on UI faculty
In honor of Women's History Month, female faculty members from across the university are highlighted for their areas of research expertise; contributions they have made to create positive change on campus, in the state, and around the world; and longstanding careers at Iowa.
Ann Campbell, Tippie College of Business
Ann Campbell defines what it means to be a successful woman in business—owning who you are, being confident in your ideas, and applying your vision to positively impact the world. In a male-dominated industry, Campbell not only holds a leadership position, but has already contributed to cutting-edge discoveries in her field. Now as the department executive officer of business analytics in the Tippie College of Business, Campbell is empowering today's business students to find confidence in their own abilities.
Since joining the UI faculty 2000, Campbell's research has led to major advancements in the areas of vehicle routing and the logistics of disaster relief. Her findings helped resolve some of the largest operations challenges of today—including the barriers faced by delivery services like UPS and the pricing issues inspired by e-grocer companies. Campbell's work earned her the National Science Foundation CAREER Award in 2003 and the Martha and Dennis Hesse Research Fellowship in 2004.
Under Campbell's leadership, the Department of Business Analytics has become one of the most active academic departments in the college. She's a proud advocate for the Women in Analytics Leadership Conference and has plans to establish a new event to help women in business transition into academia. Campbell was also the key player behind a major international analytics award that was presented to the Tippie College of Business in 2021. The college received the UPS George D. Smith Prize, which recognizes excellence in preparing students to practice in the areas of analytics or operations research. 
Susan Assouline, College of Education
Susan Assouline has been a champion for gifted education and talent development throughout her career. Her ability to recognize students with great potential and supporting them in their academic endeavors has made an invaluable impact on many lives. Assouline is currently the director of the Belin-Blank Center, holds the Myron and Jacqueline N. Blank Endowed Chair in Gifted Education, and is a professor of school psychology in the College of Education. She continues to distinguish the University of Iowa as an international leader in gifted education and talent development—strengthening Iowa's reputation as a destination university. 
Assouline's primary research interests include academic acceleration and talent development through the above-level testing process. She co-developed the Iowa Acceleration Scale, a tool designed to guide educators and parents through decisions about grade-skipping students, and co-edited A Nation Empowered: Evidence Trumps the Excuses Holding Back America's Brightest Students. In recognition of her work, Assouline received the National Association for Gifted Children's Distinguished Scholar Award, the UI Award for Faculty Excellence, and the UI Leadership in Research Award.
After 31 years at the Belin-Blank Center and 44 years as an educator, Assouline will step down from her role as director at the end of this academic year.
Caterina Lamuta, College of Engineering
Caterina Lamuta, assistant professor in Mechanical Engineering, is an early-career faculty member and researcher at Iowa, securing grant funds to make groundbreaking discoveries in marine technology. By creating cephalopod, or tentacle-like muscles, Lamuta and her research team have the resources to produce actuators—devices used to move and control a machine attached to marine vehicles to improve underwater manipulation. Her research thus far has received the Young Investigators Award from the Defense Advanced Research Projects Agency, one of the most prestigious awards professors can receive early in their careers.
Lamuta has also received grants from the U.S. Navy's Office of Naval Research, NASA, the National Science Foundation, and the U.S. Air Force Office of Scientific Research totaling $2 million. In 2019, Lamuta used the funding from the Office of Naval Research to create soft smart skin, which performs texture, color, and shape modulations to camouflage marine vehicles for the U.S. Navy. Lamuta hopes her advancements in marine technology will create opportunities for breakthroughs across a range of industries.  
Peggy Nopoulos, Carver College of Medicine
Peggy Nopoulos, MD, is the first female chair of the Department of Psychiatry at the University of Iowa. After holding the position of chair and DEO on an interim basis, she now oversees 90 faculty and more than 300 staff. Nopoulos is internationally known for her research on Huntington's disease, a degenerative and ultimately fatal illness. Her research program aims to uncover the complex role of the gene linked to the disease. Her research lab recently received an $18 million grant from the National Institute of Neurological Disorders and Stroke, which will be used to expand a decade-long study to five additional sites and enroll children across the country who are at risk for developing Huntington's disease.
As a female in medicine, Nopoulos believes it's important that women are supported and encouraged. With substantial involvement in clinical care, education, and research, she serves as a role model for women in every industry. In addition to female empowerment and student success, Nopoulos is also an advocate for mental health. Her goal as department chair is to draw awareness to lack of support and lack of access to care faced by people with mental health issues.
Susan Vos and Mary Ray, College of Pharmacy
Associate Dean of Student Affairs Susan Vos and Associate Dean of Academic Affairs Mary Ray have reorganized two units within the College of Pharmacy to better support its programs and students. The new Office of Professional Education was created in 2019 and has since been transformed into a one-stop-shop that prepares students for success.
In a college that's been predominately led by men, this change in leadership to Vos and Ray has been a monumental shift—creating a culture centered around diversity, equity, inclusion, leadership, and transparency, while inspiring female students—which comprise 65% of the college's enrollment—to become leaders in pharmacy. While Ray and Vos each have individual duties within the college, together their team approach to student success and development has proven successful in helping professional students and the PharmD program.
Renée Anthony, College of Public Health
Renée Anthony, associate professor in the College of Public Health's Department of Occupational and Environmental Health, is committed to the success of her students both before and after graduation. Rather than courses focused on lectures, Anthony takes her students beyond theory into real, meaningful practice—incorporating laboratory, field projects, and other activities whenever possible. The goal of this experiential learning is to ensure graduates have the tools and confidence they need to protect the health of those they serve in the professional world. 
Besides Occupational Safety, Anthony also teaches courses in Occupational Health; Quantitative Exposure Assessment; Rural and Agricultural Medicine; and Work, Health and Environment. Her contributions to the field have been nationally recognized, earning her the 2015 Alice Hamilton Award, which recognizes an outstanding woman who has made a lasting impact in occupational and environmental hygiene through public and community service, social reform, technological innovation, or scientific advancements.
Monica Correia, College of Liberal Arts and Sciences
Professor Monica Correia, director of undergraduate studies for the Studio Division and head of the 3D Design Program, uses her international experience to bring career-building opportunities to the classroom. In recognition of using her work to not only bring the world to Iowa, but to also share Iowa with the world, the College of Liberal Arts and Sciences and UI International Programs jointly awarded Correia the 2021 International Engagement Teaching Award.
Correia's commitment to her program and student success has not only been recognized in Iowa, but around the world. In fact, Iowa's 3D Design Program has four times been invited to exhibit its work in Milan, Italy, alongside the world's most respected and successful designers. Correia has also led her students to several international exhibitions as part of Design Plural, a series of biennial exhibitions in Rio de Janeiro, Brazil; Caldas da Rainha, Portugal; and Istanbul, Turkey.
Adrien Wing, College of Law
Adrien K. Wing is the associate dean for the international and comparative law programs and the director of the UI Center for Human Rights. Additionally, she is the Bessie Dutton Murray Professor at the UI College of Law, where she has been a member of the faculty since 1987. As a powerful advocate for women and equality, she presently teaches International Human Rights, Law in the Muslim World, Sex Discrimination Law, and Critical Race Theory. She's a member of the UI's interdisciplinary African Studies faculty and North Africa/Middle East faculty groups.
Wing's dedication to her studies and her expertise extend far beyond the classroom. The author of more than 100 publications, she is well-known as an expert on women's rights in the Middle East, Africa, and the United States. Her extensive knowledge of international law, and gender and race discrimination led her to advise the creation of the South African, Rwandan, and Palestinian constitutions.
Jennifer Teitle, Graduate College
Jennifer Teitle is the assistant dean for graduate student professional development in the Graduate College. She supervises the Graduate College's student services and helps the university integrate professional development into existing graduate curriculum. She also offers personalized consultations on career planning and strategy to help students achieve their academic, personal, and professional goals.
Teitle's long list of contributions to the Graduate College community include establishing the Three-Minute Thesis competition, building and maintaining professional networks for students, and developing the Graduate Student Success Center. In 2021, Teitle's efforts earned her the prestigious Associate Deans Leadership Award, which recognizes individuals who have demonstrated creativity and innovation in response to institutional challenges, built internal and external partnerships for the graduate school, advocated on behalf of graduate education; fostered inclusiveness, and engaged student voices. She is one of two people from UI to receive this national award.
Lisa Segre, College of Nursing
Lisa Segre, professor in the College of Nursing, is dedicated to ensuring the mental well-being of new mothers in Iowa. For more than a decade, her research has focused on evaluating a nurse-delivered depression treatment for new mothers called Listening Visits, which were first developed in the United Kingdom before being implemented and evaluated for clinical practice in the United States. To date, hundreds of Listening Visits have been conducted, gaining a great deal of acclaim for successfully improving interventions and outcomes in the community and in the neonatal intensive care unit.
Segre's advanced knowledge in maternal depression screening and treatment programs has consistently proven her to be a highly effective teacher and mentor. In 2021, she was selected to receive the College of Nursing's second annual Distinguished Scholar Award, which recognizes outstanding faculty contributions in nursing science, education, and/or practice through scholarship. Recipients have a proven track record of providing leadership in advancing research and/or scholarship in a field that contributes to nursing science knowledge and practice improvements.