Iowa students help create Maquoketa neighborhood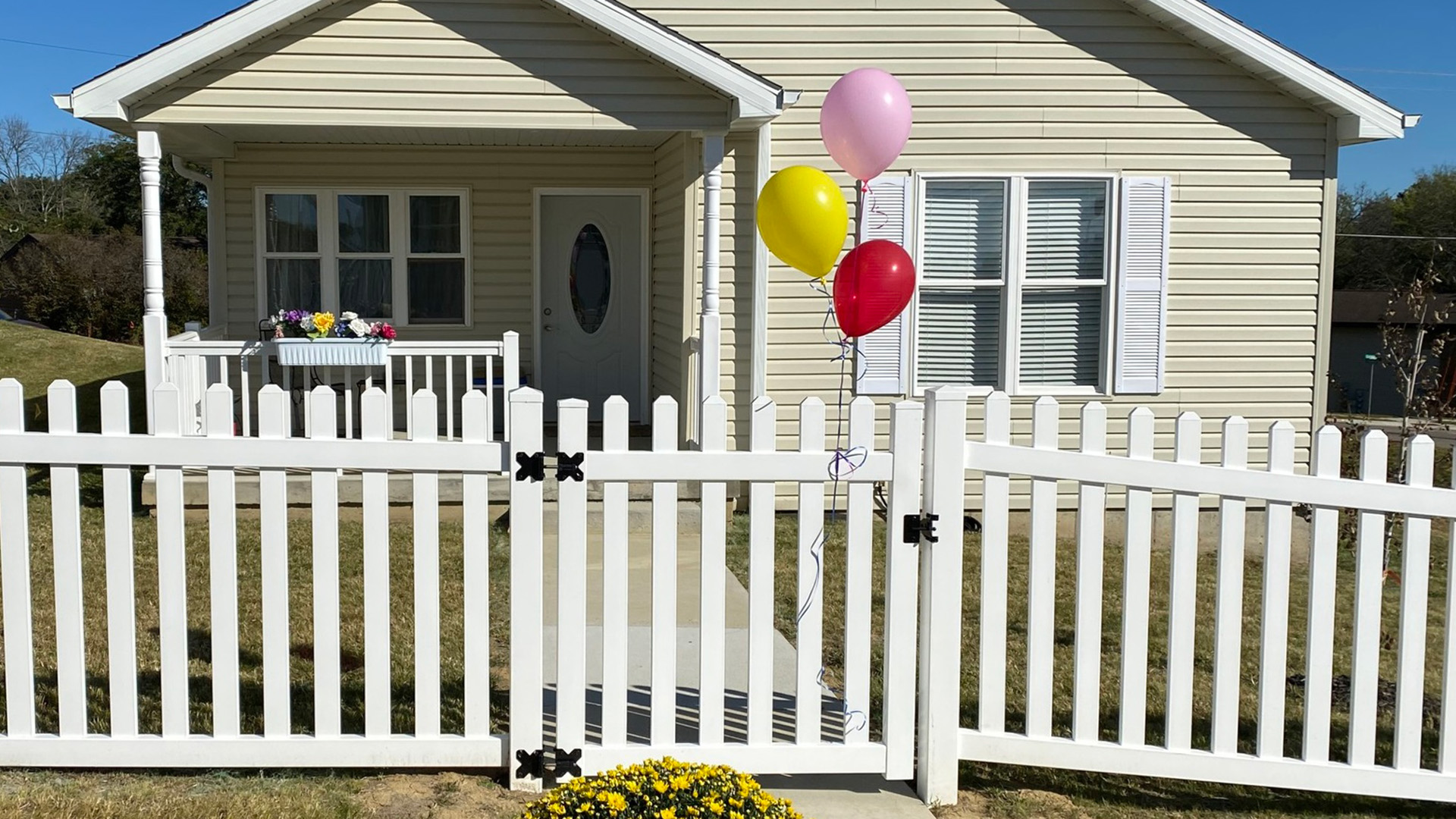 The original designs for a 10-home "pocket neighborhood" that opened in fall of 2022 were created by University of Iowa engineering students, as part of a project associated with the Iowa Initiative for Sustainable Communities.
courtesy of the Iowa Initiative for Sustainable Communities and the East Central Intergovernmental Association
Bear River Cottages, a new pocket neighborhood in the northwest quadrant of Maquoketa, Iowa, that features 10 homes built around a shared green space, is rooted in original designs created by University of Iowa civil and environmental engineering students.
The new residential neighborhood, which had its ribbon cutting ceremony in fall 2022, contains two- and three-bedroom homes with approximately 1,000 square feet and price tags of $150,000. The homes, which promptly sold and now have current residents, came into existence as part of a project that dates to 2017, involving an extensive slate of partners.
During the 2017-18 academic year, Iowa students Morgan Kinney, Mayra Corona, and Tanner Schropp worked on the original design plans for their senior capstone project. Their efforts were done in conjunction with the Iowa Initiative for Sustainable Communities' (IISC) partnership with the East Central Intergovernmental Association (ECIA).
The project was part of a request by the city of Maquoketa to attract more families to the area and provide much-needed affordable housing. Using information from a 2015 housing study, city administrators knew they would need at least 300 single-family, workforce-affordable homes by 2025.
The town, which has about 6,000 residents and is located equidistant between the larger communities of Dubuque and Davenport, attracts visitors to its namesake caves and other outdoor activities. Like many smaller Iowa communities, it struggles to maintain and grow its population.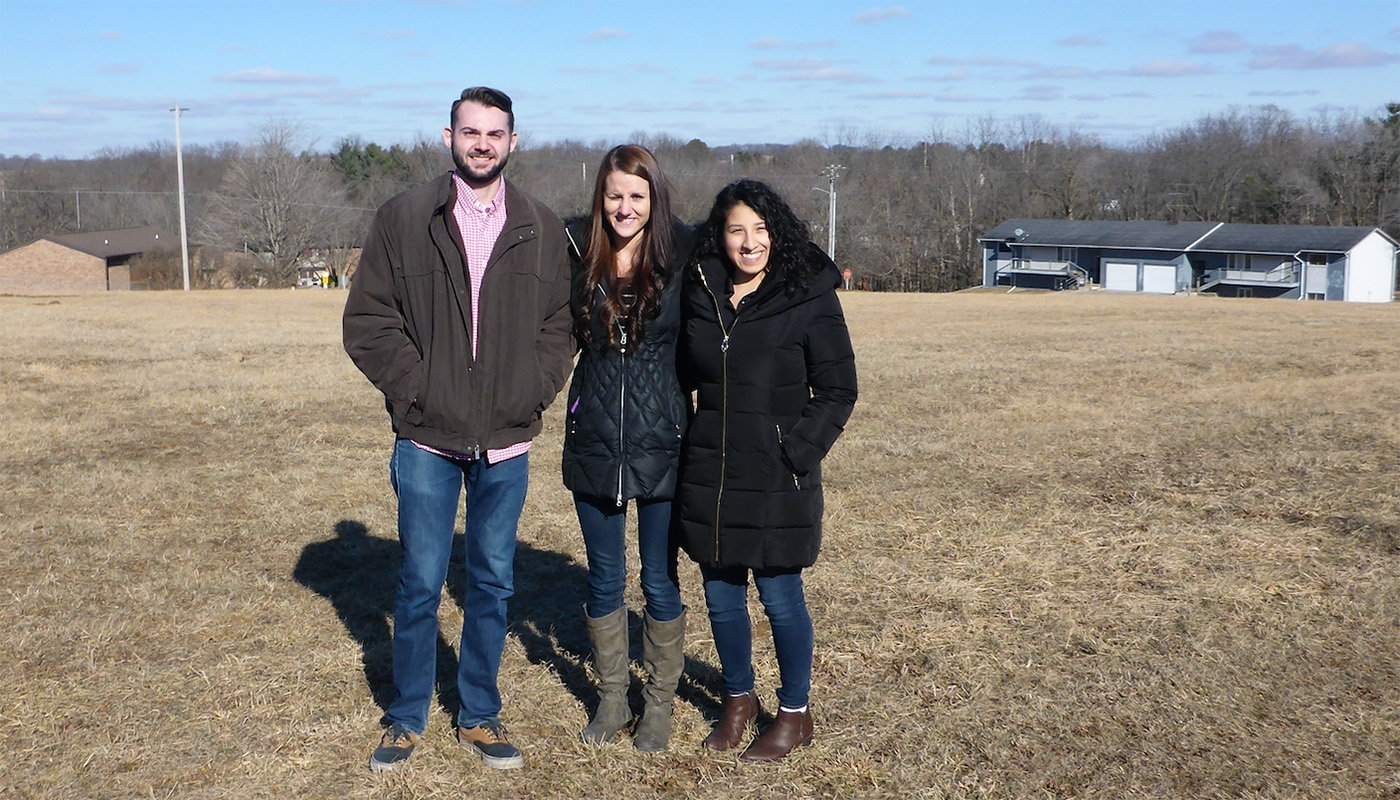 The pocket neighborhood was one of about 20 projects completed by the Iowa Initiative for Sustainable Communities in partnership with the East Central Intergovernmental Association (ECIA).
Other projects included:
A land bank feasibility study by the College of Law's Community Empowerment Law Project
A storytelling and community development plan co-led by students in the School of Planning and Public Affairs and the Center for the Book that led to creation of a splash pad in the town of Delmar
A strategic communication plan for ECIA developed by students in journalism and mass communication
Student plans reduce overall costs
Maquoketa City Manager Joshua Boldt knew the city's request would be a challenge for the students. Each home needed to have the same square footage, use the same siding, and yet not look the same. "You had to create as lean of a home as possible while still giving each structure its own character," Boldt says. "That's not easy to do without making it really boring!"
The students' work was spot on. Their plans led to a concept design by commercial engineers that the city was able to pitch to the Iowa Economic Development Authority and the Federal Loan Home Bank to gain assistance for low-income home building. The two organizations, along with IISC, were among 16 partners that combined forces to make the development a reality.
The students' plans for the pocket neighborhood, which they defined as "a condensed housing development guided by the intention to create a more tranquil and sustainable living environment while providing a strong sense of community," addressed issues of grading, sewer service, stormwater management, and utility extensions. Boldt says their work was of such high quality that the costs for official plans from a commercial firm were significantly less than they would have been otherwise.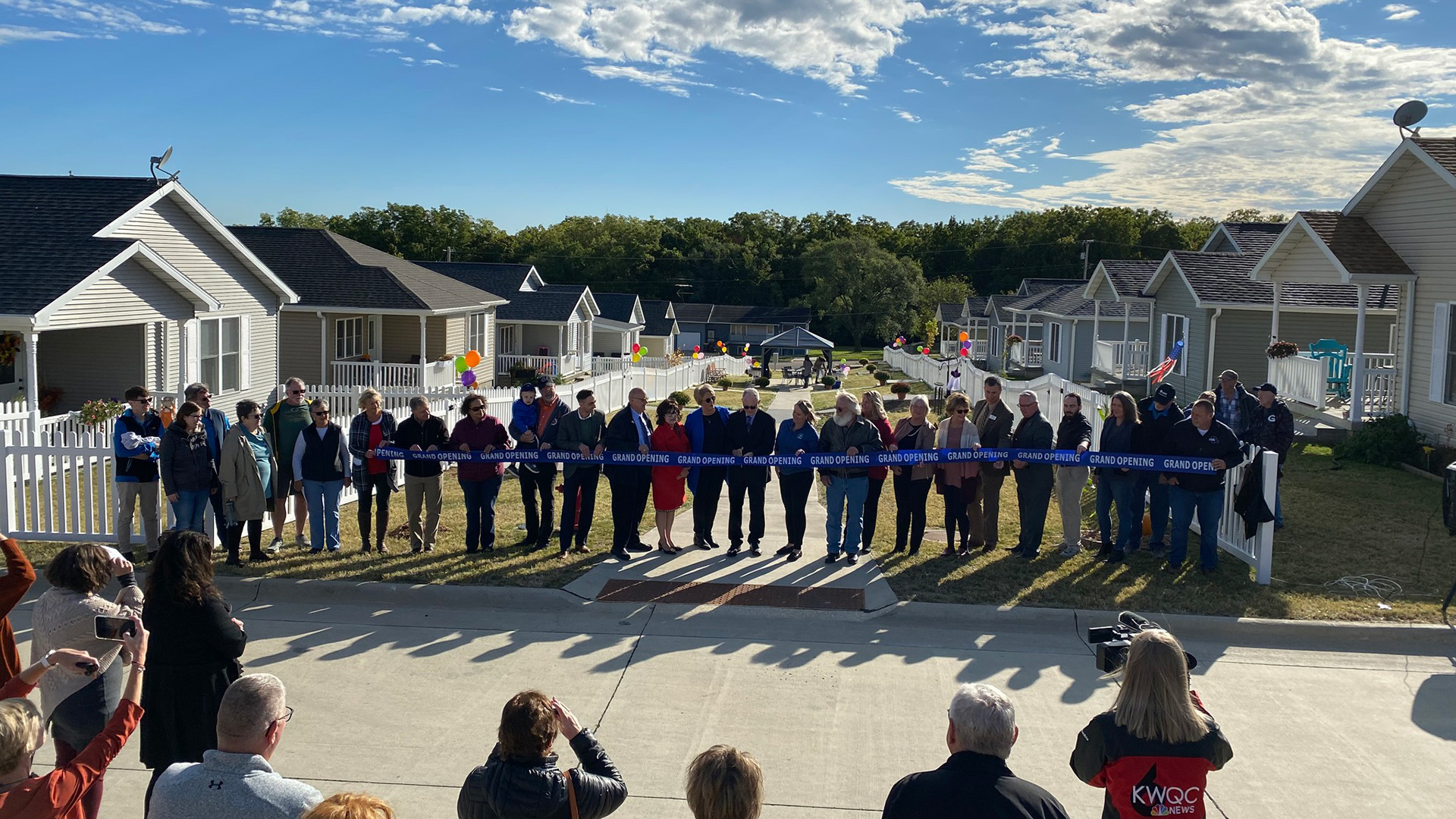 IISC part of network of statewide partnership
Along with financial contributions from partners, other ways in which the neighborhood was made possible included lowering of the interest rate by the Iowa Finance Authority, waiving of extension costs for each home by the Maquoketa Municipal Electric Utility, and sales of the land for just $10 by the Jackson County Board of Supervisors. It truly took a village to build a village.
The project broke ground in 2019 and homes were ready for buyers in fall 2022. At the ceremony in September, Debi Durham, director of the Iowa Economic Development Authority, said, "It proves that we can grow our population one family at a time with the right housing for our robust workforce and investing in the economy where jobs are thriving."