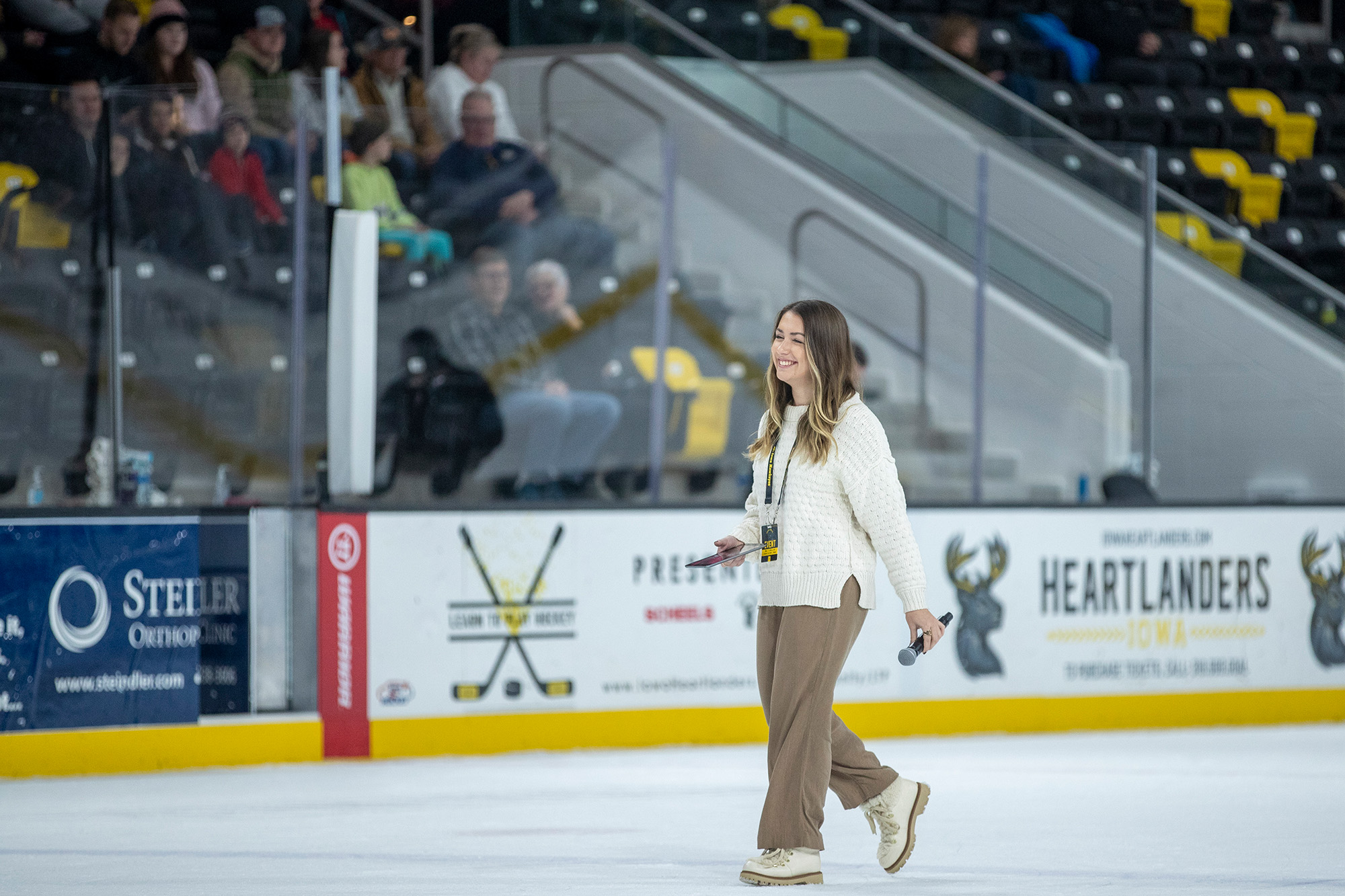 As a University of Iowa undergraduate, Maddie McCarron is already zeroing in on her goal of covering sports for a major media organization in a metropolitan area.
David Scrivner, Matt Jansen, Jason Rubin, and University of Iowa Athletics
In 2015, high school freshman Maddie McCarron cheered from the stands as her older brother, Riley, a wide receiver for the Iowa Hawkeyes, competed for the Big Ten football championship in Indianapolis. When Iowa returned to the title game in 2021, McCarron was there once again. This time, she was reporting from the sidelines as part of the Fox Sports social media team.
It was a welcome turn of events for McCarron, now a third-year University of Iowa student majoring in journalism and sport and recreation management. Leery of following in her brother's footsteps in Iowa City, where she had spent significant time supporting him, the aspiring journalist and Dubuque, Iowa, native almost didn't apply to Iowa. A formal campus visit, however, changed her mind—and she is grateful for the opportunities that have followed.
"Paul Jensen, the internship and placement coordinator in the UI School of Journalism and Mass Communication, gave us a tour of the journalism building and really sold me on it. He told me, 'This is the place that's going to give you opportunities, the place that's going to make your dreams come true,'" she says. "As cheesy as that sounds, it's 100% true."
McCarron already has built a formidable résumé. In addition to freelance work and a social media internship for Fox Sports, she has an internship with the sports information office in UI Athletics, where she helps with communications for field hockey, women's basketball, softball, football, and other programs. She also works as a tutor at the UI Gerdin Athletic Learning Center, has been a sports reporter for Daily Iowan TV (DITV), and has written for numerous magazines. In fall 2021, she began a part-time job as in-game host for the Iowa Heartlanders, a new minor league hockey team based in Coralville, Iowa.
Working behind the scenes at Hawkeye sporting events has been an opportunity to learn the business, McCarron says—and it's fun.
"Sometimes I get caught up in the game, cheering from the press box, and then I remember, 'Oh, I've got to tweet that or someone's going to beat me to it,'" she says. "It's a really fun job, and getting that perspective, working with the athletics department versus being on the outside when I would watch my brother play, you learn a lot."
Students in the University of Iowa's School of Journalism and Mass Communication learn from leading scholars and practitioners, enjoy top-tier facilities, and gain real-world experience. Graduates are prepared for successful careers in many different fields and have gone on to win Pulitzer Prizes, Peabody Awards, and Emmy Awards. Learn more…
Students majoring in sport and recreation management at the University of Iowa build their curricular studies to match their career aspirations. Graduates find employment in municipal recreation, campus recreation, college athletic administration, armed forces recreation, private clubs, nonprofit organizations, professional sport organizations, and more. Learn more…
During her first year on campus, McCarron asked to shadow Laura VandeBerg, a 2016 UI graduate and current in-game host for Hawkeye Sports, at an Iowa women's basketball game. Not only did VandeBerg oblige, she later recommended McCarron for the Heartlanders job.
When she reported for duty on the hockey team's opening night, McCarron says her knees were shaking.
"I was thinking of everything that could go wrong: What if I slip on the ice? What if I freeze on the microphone? But I ended up having so much fun," she says. "The crowd was screaming and cheering, and I didn't realize how nervous I was. I felt I could do it all day long."
It's the type of job McCarron plans to pursue after graduating in December 2022. The end goal, she says, is running social media for Fox Sports or another media outlet, covering a national football championship game or perhaps even the Super Bowl. She'd like to serve as an in-game host on the side. McCarron credits her journalism classes for teaching her storytelling techniques and her DITV experience for giving her the skills to be successful in front of a camera.
"When you're doing DITV, you're reading off a screen for the most part, but there are times when the prompters go down and you just have to roll with it and ad lib," she says. "It's a skill I had to develop, one that really transitioned to my work with the Heartlanders because we don't have scripts. They'll tell me, 'This is the intermission game you're going to do. Good luck!' I've gotten a lot more comfortable doing that now. I don't really know what I'm going to say before I go out there—I just need to make sure I mention who's sponsoring the game."
"The professors at Iowa … push you to your limits, and that's invaluable. Communication in every form—whether it's writing, talking, or presenting—is a skill that you can apply to any job. I think the most successful people in any career are the best communicators."
University of Iowa student in journalism and sport and recreation management
Taking advantage of opportunities outside the classroom not only gives students real-world experience, says Jensen, it also helps them shape their career goals.
"Maddie has a ton of nuggets on her résumé already. By getting involved in a variety of extracurricular activities, from internships to job shadows to volunteer work, students get a strong sense of what they want to do—and what they don't want to do—and the sooner they figure that out, the better," says Jensen, who organizes a series of webinars for students featuring young journalism alumni. "A journalism degree can lead to so many interesting careers beyond the traditional newspaper and television jobs. We have graduates working for the White Sox and for the White House."
University of Iowa junior Maddie McCarron recalls two different experiences getting caught up in celebrations at Kinnick Stadium: "I stormed the field as a kid when my brother played here, but getting to do it for a job was unreal. Seeing my content posted on the Fox Sports Instagram page put me on cloud nine. That was a really cool moment for me, personally and professionally."
No matter where her career path leads her, McCarron says she feels well prepared by her experiences on and off campus.
"The professors at Iowa help you fine-tune the skills you have to make you the best—to make you the most eloquent speaker when you're on TV and the prompter goes down, or to make sure the story you are writing is going to be on the front page above the fold," she says. "They push you to your limits, and that's invaluable. Communication in every form—whether it's writing, talking, or presenting—is a skill that you can apply to any job. I think the most successful people in any career are the best communicators."
McCarron says support from the network of Hawkeye faculty, staff, and alumni has shown her that "teamwork makes the dream work."
"You can't get that far on your own," she says. "You need a little help from the right people and the right mentors, and the University of Iowa is the place that's going to help you get there."