Caring for COVID-19 patients who are isolated at home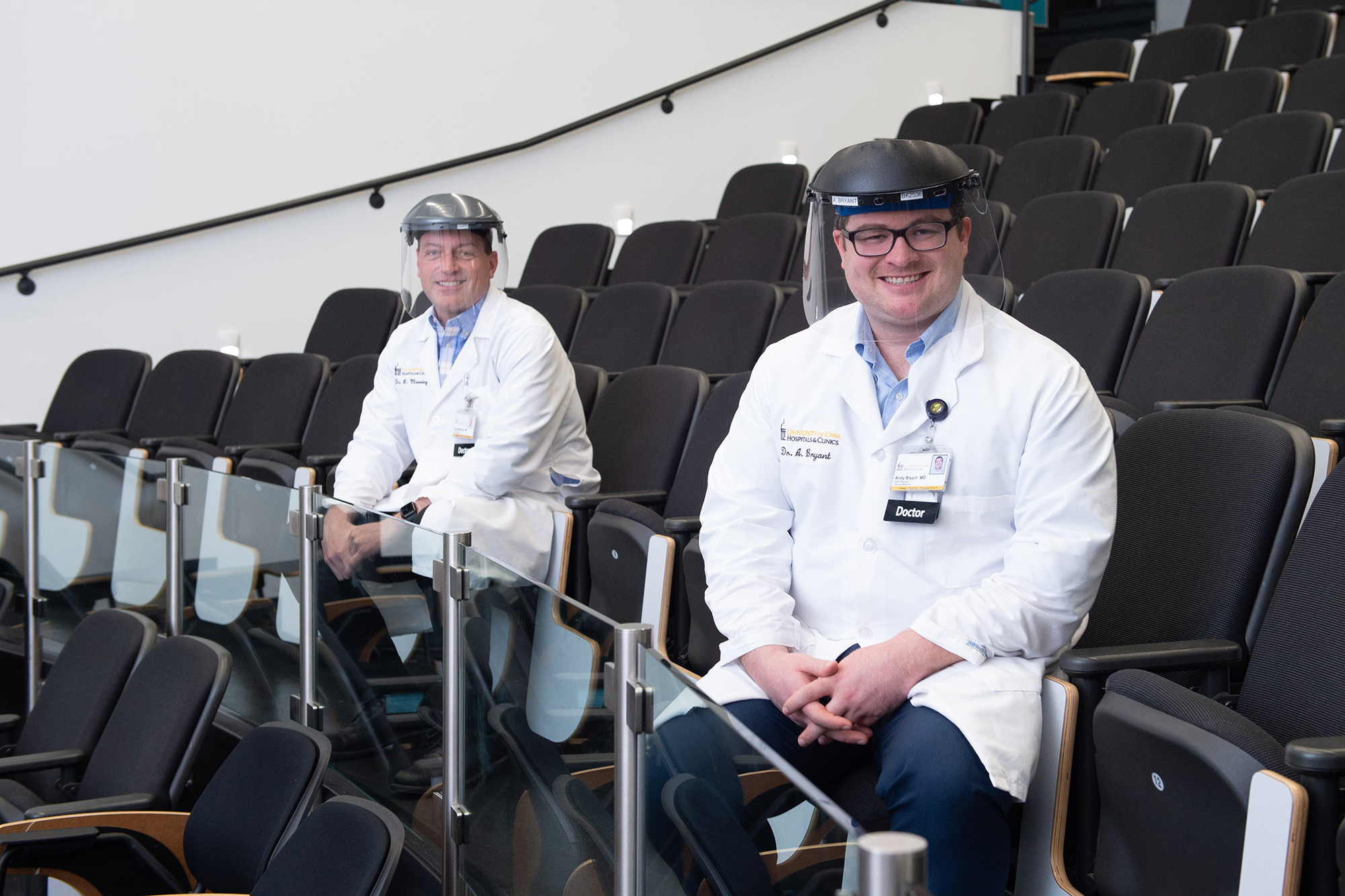 Dr. Bradley Manning and Dr. Andrew Bryant discuss the University of Iowa Hospitals & Clinics program that provides direct daily care and support to patients with COVID-19 who are self-quarantined.
Bradley Manning, MD, and Andrew Bryant, MD, normally manage the care of patients who are in the hospital, but these days they are also making virtual house calls. As COVID-19 reached the United States, it became clear there would be a need to closely monitor people who tested positive for the disease but, because the infection is so contagious, keep those patients at home unless more intensive treatment became necessary.
To achieve this, the two clinical assistant professors of internal medicine and hospitalists with UI Health Care helped develop a program that provides direct daily care and support to non-hospitalized patients with COVID-19. The multidisciplinary Home Treatment Team (HTT) at University of Iowa Hospitals & Clinics includes nurses, physicians, pharmacists, and support staff who use telemedicine to monitor and care for these patients as they recover at home.
"It's really difficult for these patients," Bryant says. "They are sitting at home feeling isolated. They are scared and worried no one is watching. To have a physician or nurse check in as frequently as they have been has helped put our patients more at ease and reassured them that we are monitoring and caring for them."
High-risk patients diagnosed with COVID-19 at University of Iowa Hospitals & Clinics who are well enough to recover at home receive a monitoring kit that contains a blood pressure cuff and a pulse oximeter (to measure blood oxygen and heart rate), along with instructions for self-isolation and which symptoms to monitor. The patient logs their vital signs—temperature, blood pressure, and oxygen levels—and is "visited" daily by a health care provider from the HTT who contacts them by phone.
This approach helps patients beat the disease without having to come into the hospital. Monitoring the patient's progress in real time can help prevent disease complications, but it also allows the team to quickly intervene if a patient's condition worsens.
"I think most people's inclination is to stay home until they absolutely have to come to the emergency room," Manning says. "This way, your doctor can say, 'I talked to you yesterday, and today you are much sicker. We think you're at the point that you require hospital-level care.' We can take the burden of making that decision off of them."
The real-time monitoring also has allowed the team to quickly adapt care based on observations they make about how COVID-19 affects people. Early on, for example, they realized about half of their patients were experiencing an unpleasant taste, making it uncomfortable for them to consume adequate food or fluids and leading to dehydration.
"I strongly suspect that there are patients who wouldn't have volunteered that they weren't eating or drinking or had a weird taste in their mouth," Manning says. "But the team noticed it early and it's informed their advice to patients. We can't prove this, but we suspect that patients are doing better because this was noticed early by the team. Everything has to change in real time because we're learning new things about this disease every day."
"Everybody who is following these guidelines, staying home, and socially distancing is a hero. They are protecting health care workers, and they are giving their loved ones and themselves a better chance at making it through this pandemic because they are allowing us to take care of folks in a controlled setting that is not totally overwhelmed. People are losing their jobs and taking pay cuts and facing challenging situations at home. I know it's devastating, but I want them to know that these sacrifices are being noted by health care workers. It's not for nothing. Everyone is being a hero in their own way."
UI Hospitals & Clinics is one of only a handful of hospitals across the country using this innovative approach to care for patients with COVID-19 who do not need in-hospital care. Manning and Bryant say that while using telemedicine for disease management has been done on a limited basis in the past, this experience will push the concept forward in the future.
"Our ability to do this remotely will allow us to reach a larger proportion of patients that would otherwise not be managed," Bryant says. "Taking this paradigm and applying it to other diseases will be something we'll see more of in the future because now we can figure out ways for patients to have the necessary supplies at home to be able to have a physician check in on them at home. I think that will relieve some of the burden on our emergency departments and patients unnecessarily needing to come in because we can remotely monitor them at home."
Bryant says it's been remarkable how quickly the UI team was able to take the HHT from an idea to an actual program.
"It's been uplifting to see such collaboration between all the different specialties and health care providers, and everyone work toward a common goal of taking care of patients in a unique way," Bryant says. "It's made me very proud to work at an institution that has this philosophy in which everybody rolls up their sleeves and works together to take care of patients."
While the team at UI continues to provide care for COVID-19 patients—both in the hospital and in their homes—Manning wants people to know that even though there has been a lot of talk about how health care workers are heroes, they aren't the only ones.
"Everybody who is following these guidelines, staying home, and socially distancing is a hero," Manning says. "They are protecting health care workers, and they are giving their loved ones and themselves a better chance at making it through this pandemic because they are allowing us to take care of folks in a controlled setting that is not totally overwhelmed. People are losing their jobs and taking pay cuts and facing challenging situations at home. I know it's devastating, but I want them to know that these sacrifices are being noted by health care workers. It's not for nothing. Everyone is being a hero in their own way."