Manufacturing drugs for coronavirus treatment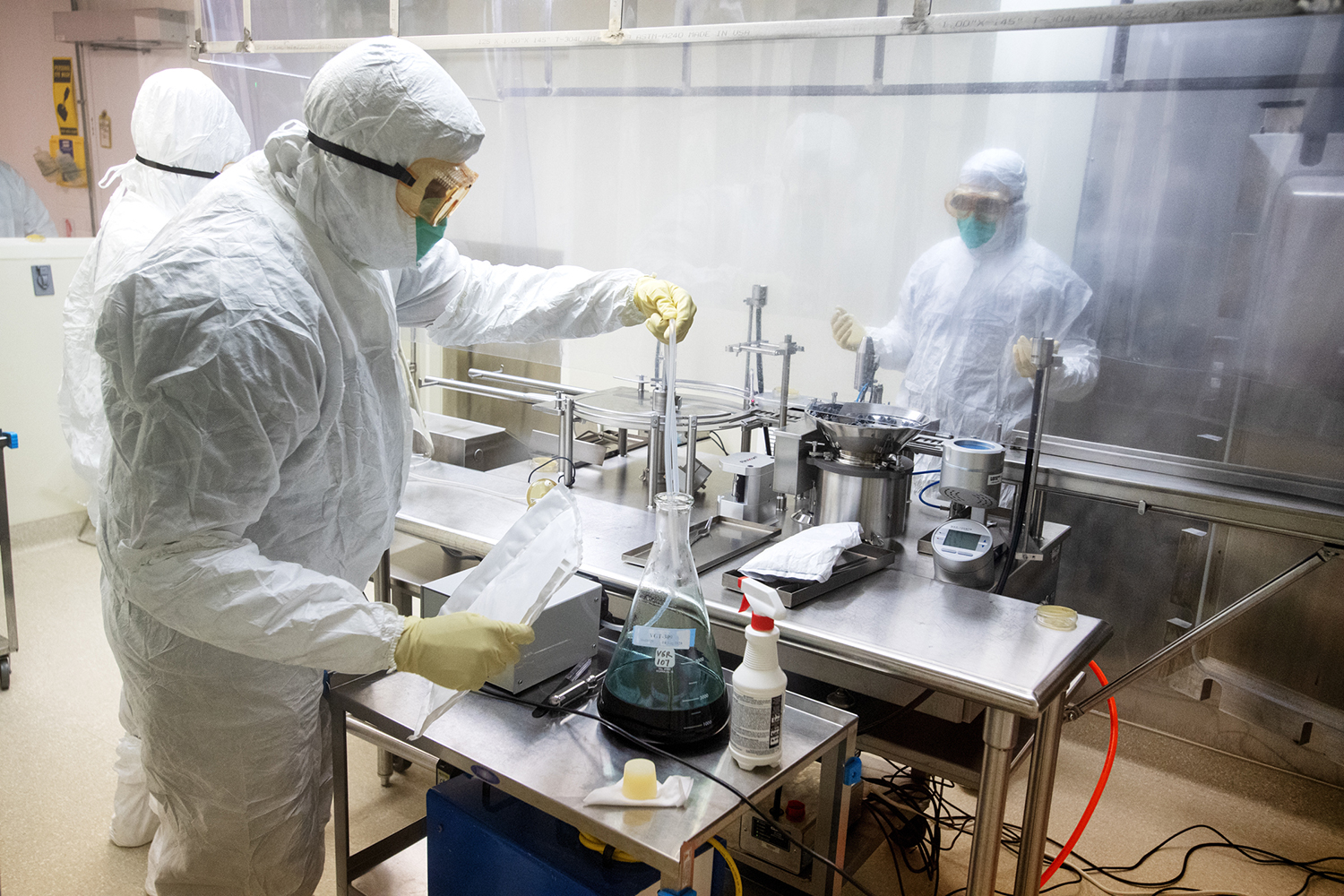 The University of Iowa has emerged as a preferred manufacturer for companies seeking new drugs to treat patients with the novel coronavirus. UI Pharmaceuticals has partnerships with four firms—and likely more to come—to manufacture and test their drug products for potential treatments.
The University of Iowa has been enlisted to produce and test drugs that could be used to treat the novel coronavirus.
University of Iowa Pharmaceuticals (UIP), in the College of Pharmacy, is producing and testing drugs for four separate companies—with likely more partners to come—that seek a treatment for symptoms arising from the novel coronavirus that swept into the United States in early spring. UIP has completed a drug-manufacturing contract with one firm and is in various stages of coronavirus drug manufacturing partnerships with three other companies.
With each company, UIP has expedited its manufacturing, testing, and evaluation of coronavirus drugs, with staff working extra hours and weekends to fulfill the coronavirus drug contracts while keeping pace with dozens of existing agreements not related to medications for the COVID-19 pandemic.
"We are very happy to announce that we're in this fight and that we are able to contribute," says Dennis Erb, UIP's managing director. "It's an emergency situation, and you've got to do the right thing."
Cutting-edge labs, collaborative spaces
For more than 125 years, the University of Iowa College of Pharmacy has led the way in educating pharmacists and pharmaceutical scientists. With a new, state-of-the-art building, Iowa pharmacy will continue to deliver a contemporary pharmacy education and prepare its graduates to be the health care leaders and scientists of the future.
UIP signed its first coronavirus drug treatment contract in April, and immediately began working with its client, Constant Therapeutics, LLC. Since then, almost exclusively by word-of-mouth referrals, UIP has added additional coronavirus drug treatment clients, with contracts in hand through August.
"We do what needs to be done to improve the quality of life for people," says Erb, who earned his doctorate in pharmaceutics from Iowa in 1984 and spent more than three decades working for the multinational drug manufacturer Merck. "This is one of those situations where it was so urgent, and there was an unmet medical need."
UIP's executives expect more companies to approach them for coronavirus drug production and testing, citing the organization's track record of working with smaller, startup firms that are seeking to progress their drugs into clinical trials.
"As more and more is learned about the virus and how it infects people, there will be more drug firms that identify a potential hook for their medication to act on, and therefore there should be more people approaching us in the future," says Randy Yeates, UIP's director of business development and project management.
UIP's manufacturing chain is full, but it has made an extra effort to squeeze in coronavirus drug manufacturing. About 85 people work at UIP—in manufacturing, drug formulation and development, as product specialists, as facility engineers, as chemists performing assays, and as analytical scientists—and collectively work on as many as 100 projects for 85 entities at any given time. Add on the coronavirus drug work, and UIP expects to hire more staff as drug contracts increase and as it readies to move into a new production space at the College of Pharmacy, which opened its new building last January.
"We have taken the position that anything that deals with COVID-19, we are going to give it a priority," says Erb, who joined UIP last year. "We find a way, and we have been able to satisfy everybody at this point."
Constant was the first coronavirus drug firm to approach UIP. The Boston-based firm wanted to manufacture and test a drug that could be used to repair viral damage to blood vessels and the lining of tiny air sacs in the lungs.
Elizabeth Wagner, chief operating officer for Constant, says her firm chose UIP for its pricing, its ability to work on the order in Constant's timeline, and UIP's expertise in formulating liquid solutions from drug powders in sterile vials.
UIP completed the entire order for Constant—including manufacturing, testing, and stability studies—in eight weeks, or half the time of a typical production schedule.
"We didn't have the drug to start, and we had been in talks with several institutions about running clinical trials," Wagner says. "And especially now, with cases rising in many places, having the drug available to ship to these sites as soon as their protocols are approved is important. Timing is of the essence, as it is with most things in life."
"We are very happy to announce that we're in this fight, and that we are able to contribute. It's an emergency situation, and you've got to do the right thing."
managing director of UI Pharmaceuticals
Wagner says Constant plans to contract again with UIP to produce another batch of its drug as well as placebo vials.
"They have been a good resource for us," she says.
"That's one of the reasons why companies such as Constant come to us," Erb says. "We have very unique manufacturing capabilities. We can do sterile products at very small scales, 500 vials if somebody wants it, all the way up to 4,000. And, we are building a new facility that will be operational in summer 2021, where we will be able to manufacture up to 20,000 vials in a batch."
Representatives from the other coronavirus drug companies that have contracted with UIP—Pulmoquine Therapeutics, TrueBinding Inc., and Vasomune Therapeutics, Inc.—cite UIP's expertise, experience, and customer service as reasons for choosing Iowa.
"UIP was responsive to our timelines and delivered high-quality results," says Douglas Hamilton, president and chief executive officer for Vasomune Therapeutics, based in Toronto, Canada. "In doing so, it was clear they were a good fit and could address the needs of smaller companies like Vasomune."
Yeates says UIP treats every customer as a major client.
"Every customer approaches us with their baby," Yeates says, "and we treat their babies like our babies."
There is a personal fulfillment too.
"I'm a pharmacist by training; most of my staff are pharmacists by training," Erb says. "This is why we went into pharmacy. It's to help people. You want to be able to contribute to something that is bigger than what you can do on your own."