Developing at-home method for collecting COVID-19 testing samples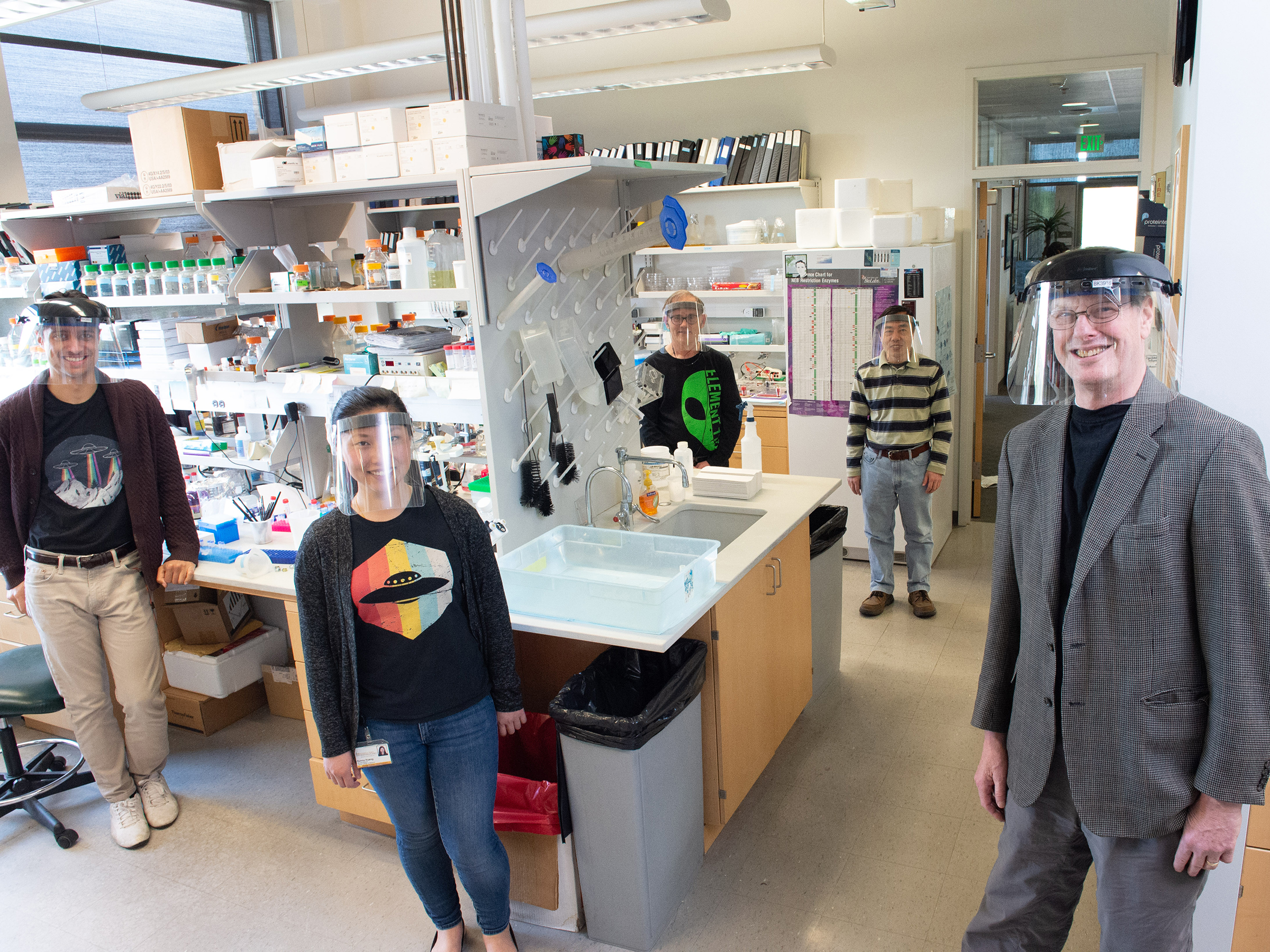 University of Iowa genetics expert Val Sheffield has converted part of his lab to help fight the coronavirus pandemic by creating a simple specimen-collection method that skips the swab and removes the need for medical personnel. All people have to do is spit in a cup.
Val Sheffield (right), the Roy J. Carver Chair in Molecular Genetics in the Carver College of Medicine, with members of his research laboratory (from left) Calvin Carter, Sunny Huang, Charles Searby, and Qihong Zhang.
Val Sheffield, MD, PhD, is well-known for his groundbreaking work in identifying and understanding the function of genes that cause a variety of human disorders.
But as scientists across the country began to suspend or limit the work in their labs in mid-March due to the growing COVID-19 pandemic, Sheffield realized that his lab had the resources necessary to help with testing for the disease.
While Sheffield was able to quickly procure reagents—the chemical ingredients needed to detect whether the coronavirus is present—and get testing up and running in his lab within a couple of days, it became apparent that there were some major limitations to COVID-19 testing.
These challenges include a lack of Food and Drug Administration-approved swabs and health care workers trained to collect the samples, and the capacity of laboratories nationwide to conduct the tests.
With FDA-approved swabs used in testing for the COVID-19 virus in short supply nationwide, Carver College of Medicine researchers are studying whether saliva samples from patients—collected at home and without the need for trained medical personnel—may provide an effective alternative.
 
A call for participants
UI Health Care researchers are looking for study participants who have tested positive for COVID-19 to validate methods for collecting saliva samples without using swabs. Please email val-sheffield@uiowa.edu or calvin-carter@uiowa.edu or phone/text 319-321-6997 or 347-893-0094.
"We're rationing testing, and we can't be rationing testing," says Sheffield, who is the Roy J. Carver Chair in Molecular Genetics in the Carver College of Medicine. "If we're going to reopen the economy and we don't have the ability to test lots of people, there's going to be a spike in cases."
Current COVID-19 sample collection requires a trained health care employee to insert an FDA-approved nasopharyngeal swab into a patient's nose, or an oropharyngeal swab inside a patient's mouth and throat. So, Sheffield and his team devised a simple method for collecting samples from patients for COVID-19 testing that doesn't require nasal swabs or medical personnel to collect the specimens.
"I thought the best thing would be to just have people spit in a cup," Sheffield says, "and they can do this on their own in their homes. We would drop off the sample collection kit, they would collect the sample following the instructions given and put it in a provided biohazard bag, which would then be collected and taken back to the lab."
The process is simple. First, a person snorts in order to move cells from the nasopharynx to the back of the throat. Next, they cough to clear their throat to move cells from the back of the throat (oropharynx) to the mouth. Then, they spit everything into a little container. Finally, they pour the contents of a second container into the one with their saliva. This virus-inactivation solution kills most, if not all, live virus in the sample so that it is not infectious when handled by laboratory staff.
"We worked with Dr. Stanley Perlman, who is an expert on coronavirus, to test the solution, and he found that it kills 99.9% of the virus," Sheffield says. "We can't prove that it's 100%, but it's probably 100%."
"I believe in science. I believe we will get a vaccine. I believe there will be other pandemics down the road, and hopefully we learn from this one. Hopefully we will learn how to ramp up for things more rapidly, such as testing and how to develop vaccines rapidly. That's my hope."
the Roy J. Carver Chair in Molecular Genetics in the Carver College of Medicine
Early results have proven the saliva method of testing to be accurate.
"It is extremely sensitive," Sheffield says. "In fact, we could detect viral RNA in a person three weeks after the beginning of symptoms and a week after they were cleared to return to work. That's not to say they were still infectious, but the test could still detect RNA particles from the virus." RNA is ribonucleic acid, which is involved in protein synthesis in all living cells and carries the genetic information of many viruses.
Sheffield submitted documentation April 1 to the FDA to begin the process of receiving approval for the sample-collection method. The team received permission May 7 from the UI Institutional Review Board (IRB) to begin the final study necessary for FDA approval. This study will involve testing a small number of known COVID-19 patients and control subjects once a day for five days, and then once more about a week later.
Sheffield, who is a professor in the medical genetics and genomics division of the Stead Family Department of Pediatrics, hopes the sample-collection method receives FDA approval in the next month and can begin to help separate the well from the sick, as well as provide information needed to track and contain the disease.
Allowing people to collect their own saliva at home will help them avoid potentially risky contact with people at testing sites, plus help keep health care workers healthy and also preserve quantities of personal protective equipment (PPE).
"This method doesn't require a health care worker to lean in close to swab a patient's nasal cavity, which often makes the patient sneeze," Sheffield says. "I know it makes me sneeze."
Sheffield looks forward to returning full time to his genetic research—for which he recently was elected to the 2020 class of the American Academy of Arts and Sciences—but he hopes the world learns from the current health care crisis.
"I believe in science," Sheffield says. "I believe we will get a vaccine. I believe there will be other pandemics down the road, and hopefully we learn from this one. Hopefully we will learn how to ramp up for things more rapidly, such as testing and how to develop vaccines rapidly. That's my hope."