Examining the value of virtual care for our veterans
Too many veterans struggle with mental health issues, and too many die by suicide. Iowa doctoral student Priyanka Vakkalanka is studying how telehealth can help some of them, especially those in rural areas.
Every day, an average of 17 United States military veterans die by suicide.
That statistic, from the Department of Veterans Affairs, is worth repeating: every day, an average of 17 United States military veterans die by suicide. Consider the number of veterans who try and fail, and the numbers are even more tragic.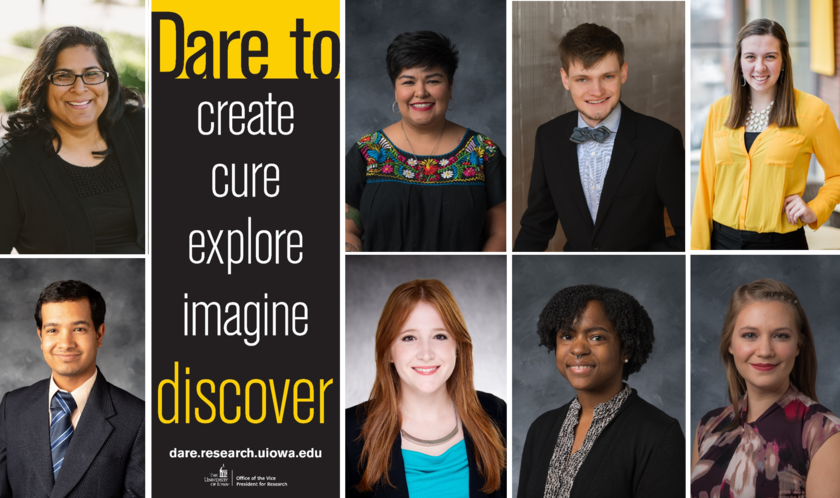 Priyanka Vakkalanka is one of 52 students featured in the University of Iowa's Dare to Discover campaign highlighting researchers across campus.
Priyanka Vakkalanka hopes that her research can help veterans whose mental health has deteriorated to a point where they consider taking their own lives. Vakkalanka was introduced to the military and veterans' health when she worked for the U.S. Navy and Marine Corps Public Health Center after receiving a master's degree from Johns Hopkins University.
Her initial work there focused on infectious diseases, but her interests moved toward addressing veterans' mental health and rates of suicide. Now a doctoral student in epidemiology in the University of Iowa College of Public Health, Vakkalanka's work focuses on veterans in rural areas, and how telehealth services can be used to support and treat those who are struggling with mental health issues.
Rural areas are losing doctors and hospitals at an alarming rate as population declines in those parts of the country make it difficult for the health care industry to continue to offer viable services. Mental health services have been especially hard hit, with 90 of Iowa's 99 counties now designated as mental health professional shortage areas. 
Telehealth services offer one possible solution. Telehealth provides remote access to health care providers via the web, so patients in rural areas can meet with a doctor or therapist hundreds of miles away on their computer or phone screens. Numerous studies, including some from the University of Iowa, show it's a cost-effective way to provide health care services to underserved rural areas.
Vakkalanka's research seeks to measure the success of telehealth in providing mental health services to veterans. What's the retention rate for patients? Are they more or less apt to continue treatments via telehealth than in-person outcomes? What's their relationship with their providers like?
"Telehealth is not the answer to all of the access problems in rural health care, but it's one tool in the toolkit," Vakkalanka says. "If telehealth reduces barriers in rural areas and keeps veterans in treatment, then that's a positive outcome."
"It surprised me how collaborative people are here at Iowa and how much everyone takes an interest in students. I've worked a lot of different networks here."
She says that both health care providers and patients—in particular, the VA—are pushing for expanded telehealth services, so research like hers is especially important in developing new policies.
Veterans' mental health is just one of Vakkalanka's research interests. She also studies mental health and suicide among all populations, rural health care in general, and occupational health. That wide array of interests is what brought her to the UI, which has a culture of encouraging cross-discipline collaboration.
"It surprised me how collaborative people are here at Iowa and how much everyone takes an interest in students," she says. "I've worked a lot of different networks here."
Public health professionals promote healthy lifestyles to combat cancer, diabetes, and obesity; develop vaccines to stop the spread of infectious diseases; ensure the safety of the food supply, as well as new drugs and medical technologies; implement programs that protect workers' health; and shape policies that ensure quality health care.
The University of Iowa College of Public Health is Iowa's only accredited school of public health and is ranked among the top 20 schools and programs of public health in the nation.
As a result, she's been able to pursue her interest in veterans' health by working with researchers at the VA Hospital, and she's a fellow in the Heartland Center for Occupational Health and Safety, studying opioid use in veterans. Vakkalanka also works in the Department of Emergency Medicine at University of Iowa Hospitals & Clinics, helping emergency medicine researchers design studies and analyze data.
"She supports and collaborates with a lot of different investigators while also developing a nice dissertation prospectus," says Ryan Carnahan, associate professor of epidemiology in the UI College of Public Health and Vakkalanka's doctoral adviser. "She's an incredibly productive student who does good work, and we're excited about where she's going."
Vakkalanka says Carnahan is one of the main reasons she decided to come to Iowa. She happened to call him one day out of the blue when she was still looking at doctoral programs, and he spent an hour on the phone with her talking about the program.
"I thought, if he was so invested in talking to someone he's never met, he would be a great adviser," she says. "I am fortunate enough to have support all around me here at the university."