Daring to disrupt disease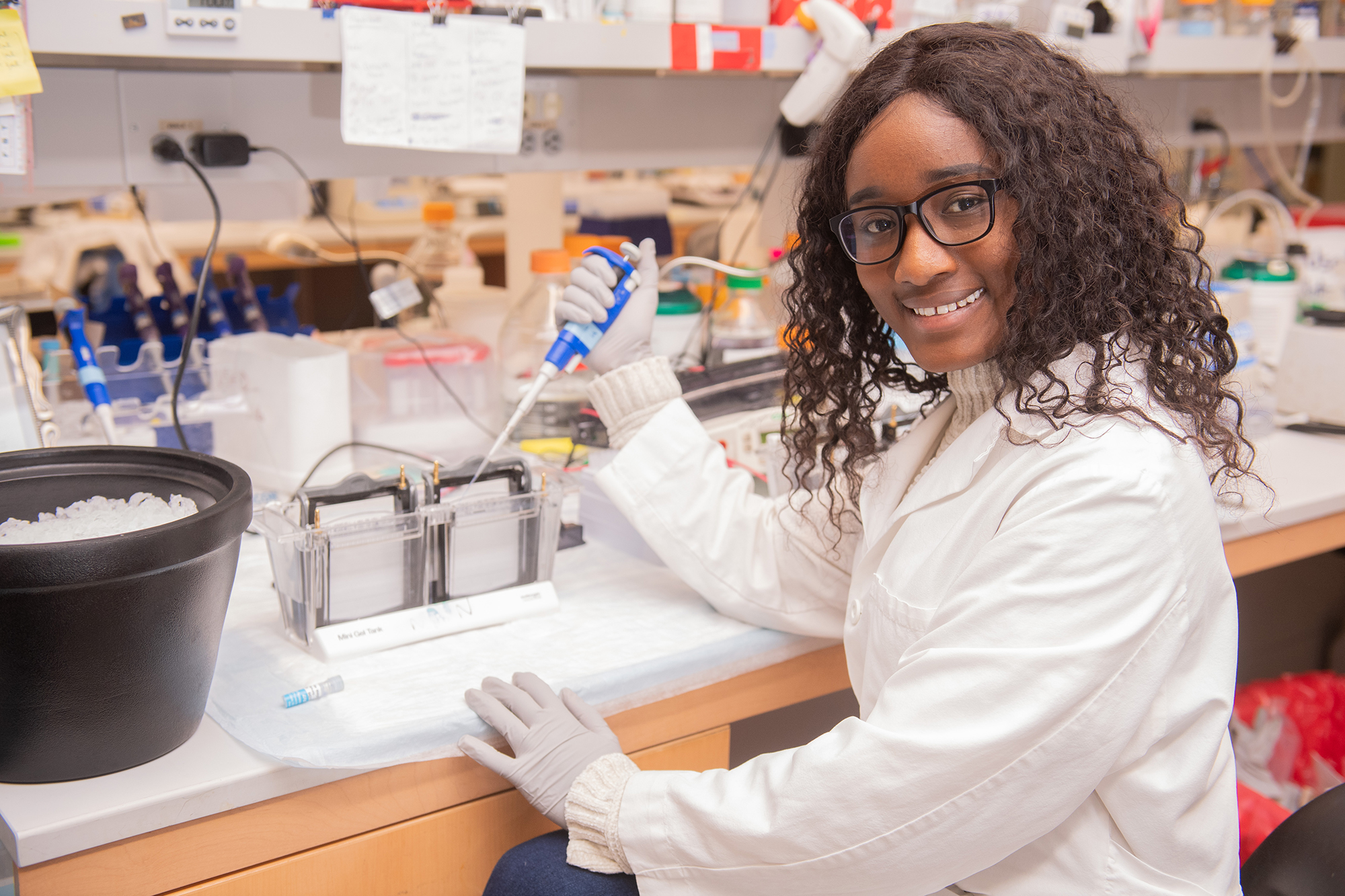 As a young girl in Kenya, Margaret Mungai aspired to become a doctor. Now, the University of Iowa biology major not only is poised to attend medical school, she is aiming to advance novel treatments for disease as a physician-scientist.
With a growing curiosity about the pathology of medical disorders, Margaret Mungai figured that working in a research lab would be beneficial to her education at the University of Iowa. But the senior biology major didn't expect it to alter her career plans.
From a young age, she knew that she was interested in medicine. Growing up in Nairobi, Kenya, Mungai often accompanied sick relatives on hospital visits, and she saw firsthand how patients' lives improved after treatment. She longed to be part of that.
Margaret Mungai is one of 21 undergraduate students featured in the University of Iowa's Dare to Discover campaign highlighting researchers across campus.
But working in a campus lab starting her sophomore year showed Mungai that she can make an even larger impact through research and discovery. She still plans to attend medical school and treat patients, but she also wants to also make medicine better by working to find novel treatments for diseases such as diabetes, cardiovascular disease, and neuronal disorders.
"As a child, I always looked up to doctors in their white lab coats. I saw people go into hospitals and come out feeling better. Helping patients was something I wanted to get involved with. I knew I wanted to try research in college, but I was not sure if I would like it," says Mungai, who successfully connected with a lab team after attending a networking event for prospective student researchers. "I quickly realized, however, that I could combine medicine and research for a career as a physician-scientist. That was a surprise for me. I love the whole process of research, from going through the hypothesis, the experiments, and the problem-solving, to getting results and analyzing them."
Mungai works 20 hours per week in the Abel Research Lab, led by E. Dale Abel, director of the Fraternal Order of Eagles Diabetes Research Center on the UI campus. She is studying mitochondrial dysfunction in people with Type 2 diabetes. It is one of the diseases she frequently encountered when she job-shadowed at hospitals through a school program called Career Opportunities in Health in Des Moines, where she and her family had moved in 2009.
"One of the things I like about this lab is that you do not start out doing dishes. Instead, you are matched with a postdoc or faculty member and work with them to learn basic lab skills and get one-on-one mentoring," she says. "I also like how large and diverse the lab is. There are so many people I can talk to and get advice from. When I was preparing for one of my first national conferences, Dr. Abel had me present my research at one of our weekly lab meetings, and then the whole lab went through each slide to make sure the presentation was good. I like that no matter what level of study you are in—undergrad, graduate student, postdoc—he is really invested in each one of us."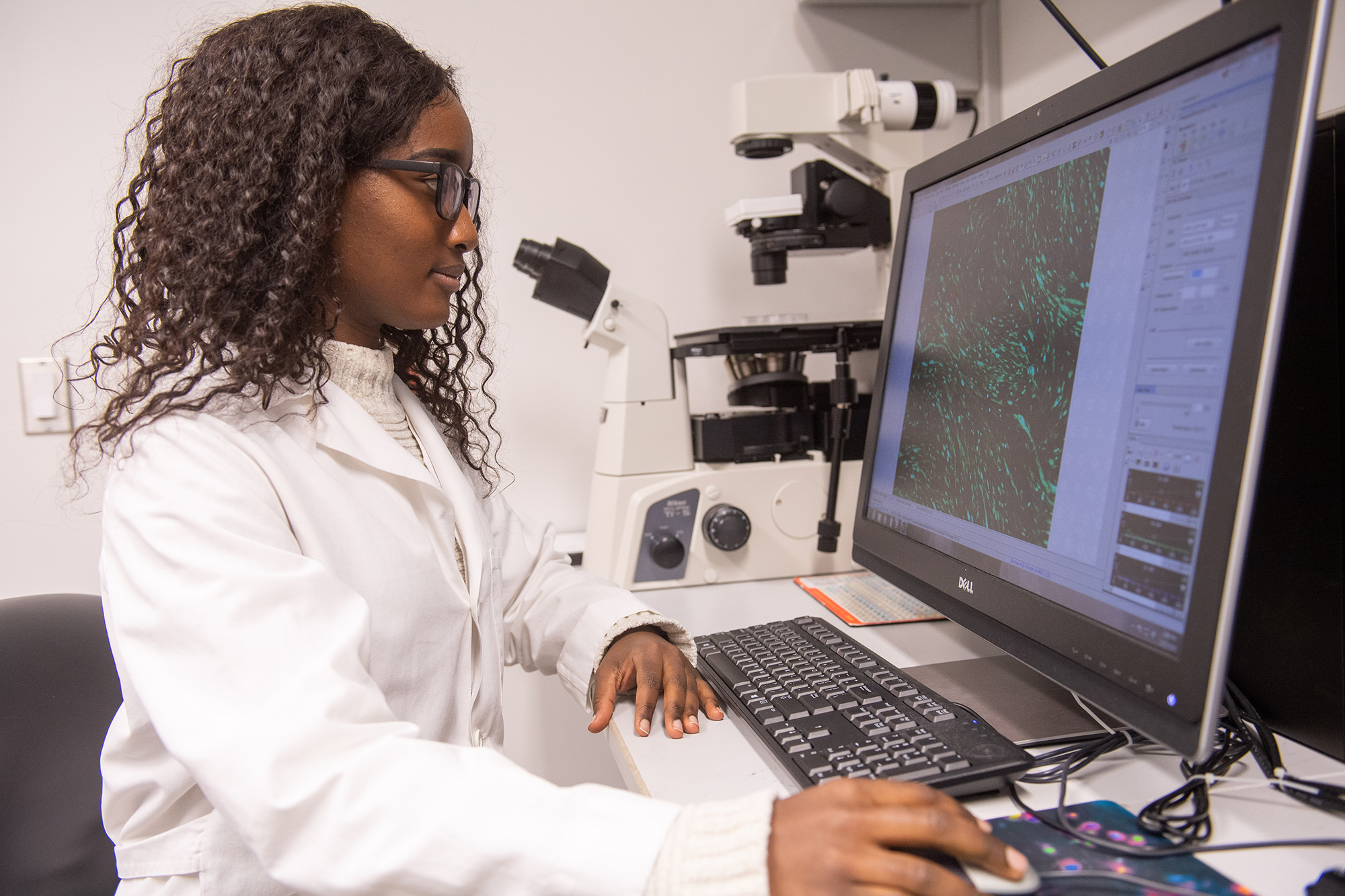 "I was not expecting someone to go above and beyond to make sure I was prepared not only for research but also for my career."
senior biology major and student researcher
Extracurricular means extra learning
In addition to working part-time in a research lab, University of Iowa senior Margaret Mungai volunteers with the UI Mobile Clinic and Iowa City's Free Medical Clinic and has been active in the student organizations Medicus and Women in STEM Ambassadors. She says these activities have complemented her education.
"They continue to fuel my interest in medicine," she says. "Not only am I learning in class about biology and various neurological diseases, I also go into the community and witness firsthand how these diseases are affecting people. And then I go into the lab and see how we might improve the treatment options. They all connect to show me how a future as a physician-scientist would be."
Equally important to Mungai has been her "match" in the Abel lab, postdoctoral research fellow Antentor O. Hinton Jr.
"Dr. Hinton has been monumental in guiding me along my journey: helping me find conferences that fit my interests, checking my résumé, mapping an individual development plan for me, teaching me research techniques, and making sure I'm prepared for the future. I was not expecting someone to go above and beyond to make sure I was prepared not only for research but also for my career," she says. "I am appreciative of the opportunity that Dr. Abel has allotted me—I am very fortunate, like so many other students. I love this lab and this atmosphere and the challenge. They are always pushing me beyond my limit."
Hinton says he learns as much from Mungai and the undergraduates he works with—four or five each semester—as they do from him.
"As a postdoc, I'm required to do research, and that's it—but the highlight of the lab is mentoring. As an undergraduate, Margaret has insight and a high level of thinking. She asks critical questions based on the literature and brings novel ideas to the lab," he says. "I am so proud of my students. Working with them makes me better. They challenge me and show me my flaws. That helps them grow, and it helps me grow. It improves my own training and shows me how to run a lab."
As Mungai approaches commencement in May—she'll earn a BS in biology with a minor in Spanish—she reflects on her experience as a Hawkeye.
"There is more to Iowa than just the academics—there is football and Hawkeye spirit and the Iowa Wave—and that's what I love. I took a piano class because I have always wanted to learn how to play piano. It fulfilled one of my Gen Ed requirements, and I completely enjoyed it," she says. "There is just so much more here. When I was in Armenia last summer for a research opportunity, half of my closet was Iowa gear. No matter where you go, you will always be a Hawkeye."
Mungai remembers clearly how her Iowa journey began years ago during her first campus visit.
"It felt like home. The tour guide we had and the people we met around Iowa City were welcoming and really helpful," says Mungai, who hopes to stay in Iowa City and earn an MD and PhD through the UI Carver College of Medicine's Medical Scientist Training Program. "I especially liked how everything I was interested in—top-tier research and the hospital—was in close proximity. It was just perfect for me."