From patient to participant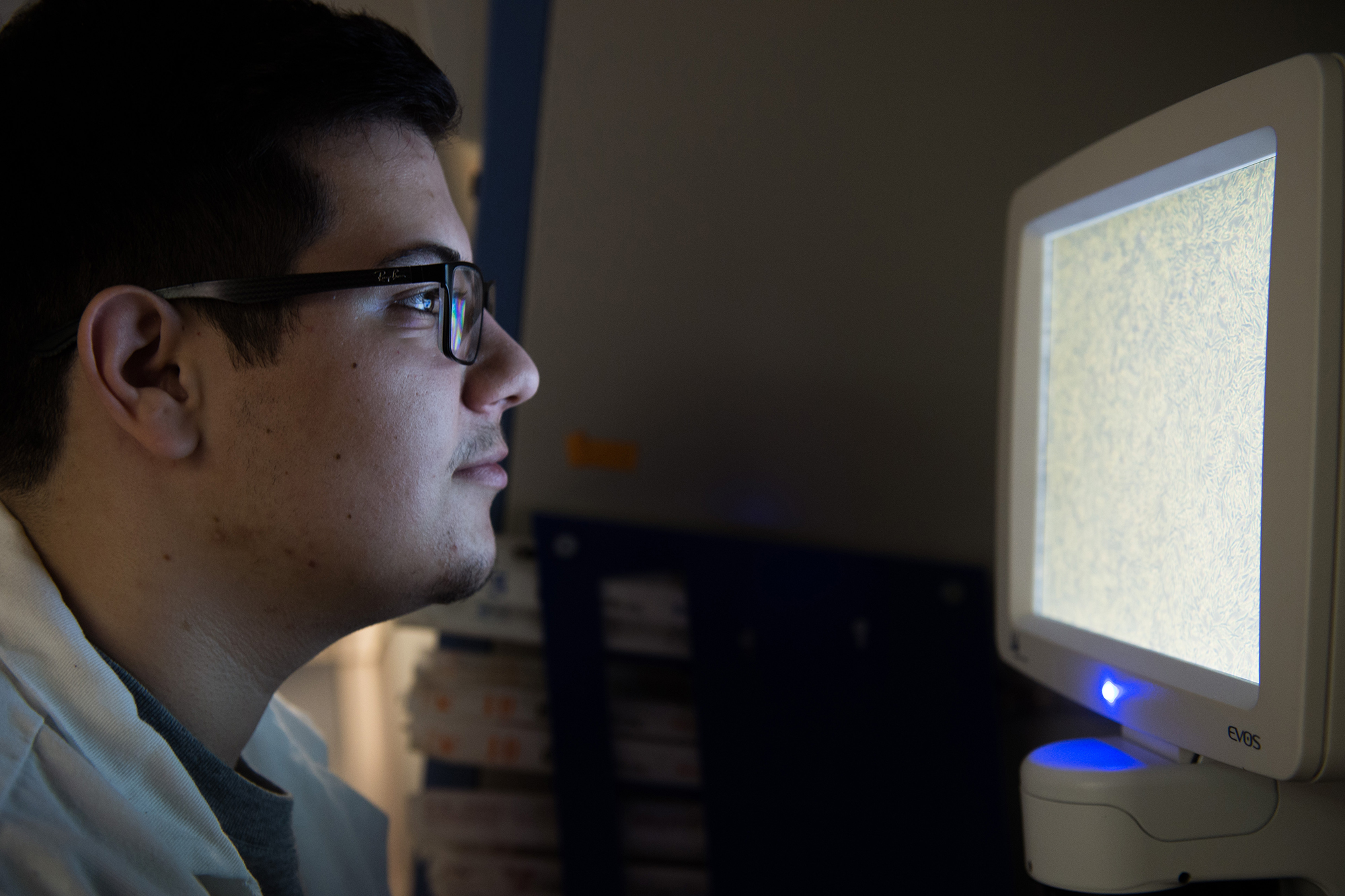 A childhood diagnosis of diabetes helped cement Eric Ortiz's desire to work in health care. After years of seeking medical treatment at the University of Iowa, he eventually enrolled as a premed student. Now, the biology major is researching the disease and is poised to pursue a career in public health.

Eric Ortiz learned as a child not to take one's health for granted. At age 4, he was diagnosed with Type 1 diabetes and he frequently traveled to Iowa City from his hometown of Waterloo, Iowa, for treatment at University of Iowa Hospitals & Clinics.
The UI junior hopes his experience as a patient coupled with his science education and lab experience will position him to help decrease the incidence of diseases like diabetes.
"I want to use what I know to make other peoples' lives better, like others did for me," says Ortiz, whose father is an ob-gyn and whose mother is a nurse. "I'm drawn to patient interaction, but I also love the prospect of finding something new. That really makes me want to get involved in research and discovery."
"[Dr. Sebag and his staff] really take the time to show me things around the lab. Not only are they teaching me how to take care of cell lines, run experiments, and use the technology, they are setting me up to make my own discoveries in the future."
Ortiz came to Iowa knowing that its strong reputation in the health sciences would be a springboard for a career in a health care profession. He quickly realized that lab experience would be crucial to a successful career, and he didn't have to look far to find the perfect fit: the UI Fraternal Order of Eagles Diabetes Research Center. Ortiz emailed several of the center's investigators, and Julien Sebag, an assistant professor of molecular physiology and biophysics studying receptors that regulate blood sugar levels, invited Ortiz to join his lab.
Ortiz spends 10 to 12 hours per week in the lab and earns academic credit for the time. He says he has been surprised by the amount of individual attention he receives from Sebag and other staff.
"I expected my position here to be job-like, that they'd set me up in front of a dishwasher," he says. "But instead I have found that they really take the time to show me things around the lab. Not only are they teaching me how to take care of cell lines, run experiments, and use the technology, they are setting me up to make my own discoveries in the future."
Ortiz has been accepted into the university's Master of Public Health program and eventually wants to attend medical school. He says he is motivated to improve lives by helping to increase access to health care in areas of need like his hometown, where the poverty rate is above the national average. Although he'd like to stay in Iowa, he says he will go anywhere he can make a difference.
"Through medicine, public health, and research, I think I can make the biggest impact, especially in understanding diabetes and cancer in underrepresented groups like the Latinx and African American communities," he says. "I hope to find new patterns that ultimately will lead to increased access."
Ortiz says the UI has been a great place to start a career in health care. In addition to volunteering in the UI Stead Family Children's Hospital and being involved in UI Dance Marathon, he had the opportunity to participate in the UI Carver College of Medicine's Summer Health Professions Education Program, or SHPEP, a free, six-week enrichment program that aims to encourage high-achieving undergraduate students from underrepresented backgrounds to pursue health professions.
That experience was influential, Ortiz says.
"Through a number of speakers and job-shadowing opportunities, it showed us firsthand how we could help in the profession to change health disparities and it gave us valuable tools for building relationships and networking."
Denise Martinez, clinical associate professor of family medicine and associate dean for cultural affairs and diversity initiatives in the UI Carver College of Medicine, oversees Iowa's SHPEP, one of 12 such programs across the country. She says Ortiz was a perfect candidate for the UI program, which accepts 80 students each summer.
Dedicated to diabetes research
With two dedicated floors in the Pappajohn Biomedical Discovery Building on the University of Iowa campus, the Fraternal Order of Eagles Diabetes Research Center aims to advance knowledge of the mechanisms of diabetes and its complications though cutting-edge research. Learn more at medicine.uiowa.edu/diabetes.
"Eric has a passion for working with populations that are underrepresented in health care, identifies as Latino, and is from Iowa. On top of that, he likes research and what he is learning in school, and he wants to improve the health care system," says Martinez, adding that she would not have gone to medical school herself had it not been for her participation in SHPEP as a University of Washington undergraduate. "The data show that program participants from rural communities, for example, are more likely to serve in a rural community and, likewise, participants with a minority background are more likely to serve minority communities. That really helps to fill in the gaps in health care."
Although he may not continue in diabetes research, Ortiz says he is hopeful that answers about his disease will come.
"Having diabetes definitely made me become independent a lot sooner. It changed my perspective on life," he says. "Working in a lab, I see that even if you don't find what you are looking for, the unexpected can be good. Even when results prompt more questions, the knowledge gained can help us understand. Those little steps are crucial to medical advances."
Produced by the UI Office of Strategic Communication