Engineering medical breakthroughs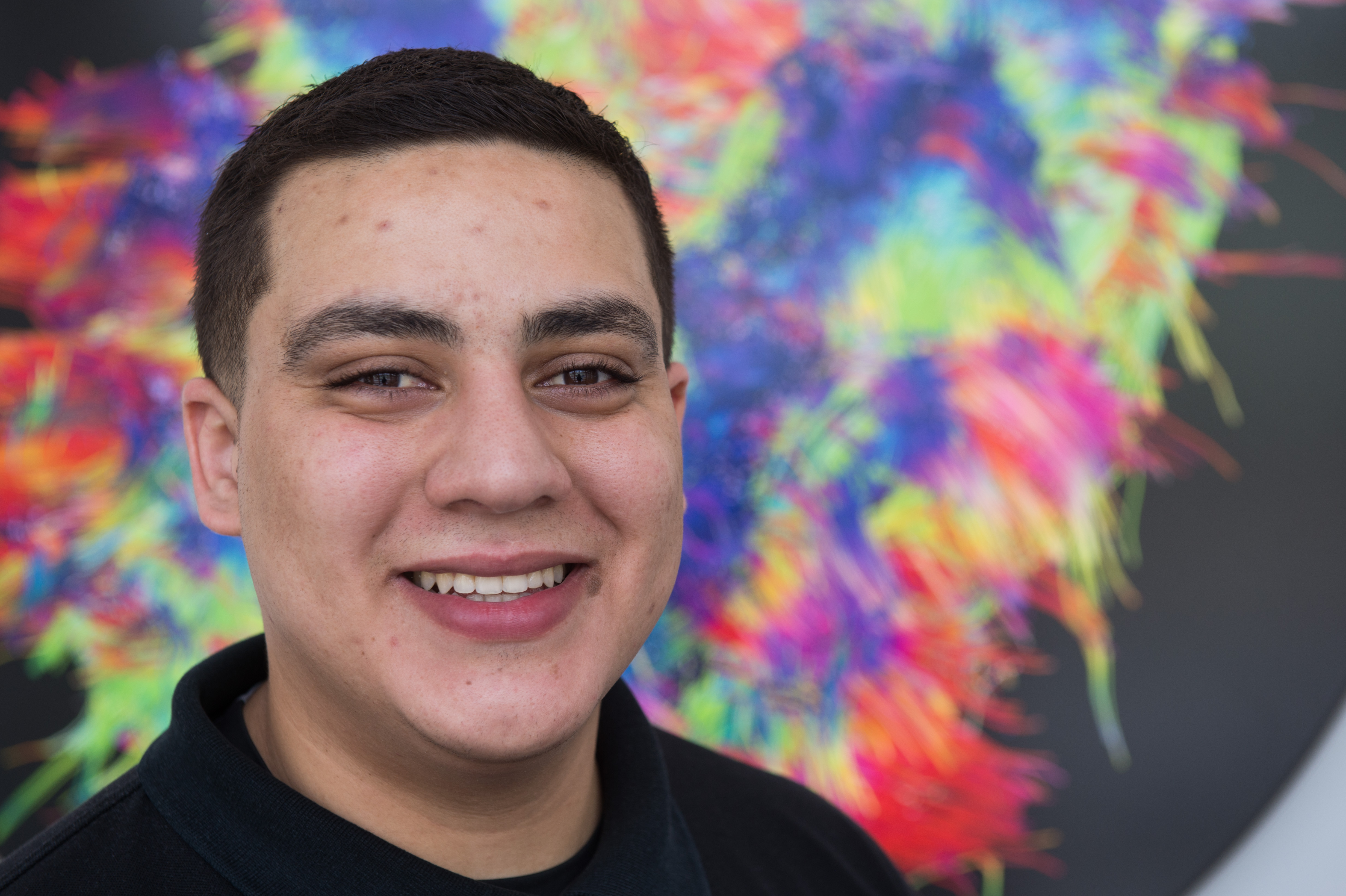 Marco Nino wants to develop a medical device that will save lives. The University of Iowa senior says his course work in biomedical engineering and experience working in a campus neuroanatomy lab are preparing him to do just that.
When Southern California native Marco Nino announced to his family that he was going to attend the University of Iowa, many asked him the same question: "Why?"
A cousin had earned a PhD in pharmacology at Iowa, so Nino was aware of the university's health science programs. Long interested in science and medicine, he was taking pre-engineering classes at a community college near his hometown of San Dimas and was intrigued by the collaboration between Iowa's engineering and medical colleges. So he applied as a transfer student.
You might have noticed the splash of color behind Marco Nino in our lead photo. The Carver College of Medicine, the Pappajohn Biomedical Institute, and Central Microscopy collaborated on a gallery of biomedical images, displayed along the ground level of the Carver Biomedical Research Building. Each image is accompanied by a brief description, explaining what you're looking at and what it means for researchers. The image behind Nino is a visualization of the wiring of the human brain.
And if Nino had any lingering doubts about leaving the West Coast for what some dub "flyover country," they were swept away when he and his mother visited campus in November 2016 and attended a Hawkeye football game.
"Iowa beat Michigan at Kinnick Stadium that weekend, and it was thrilling," he says. "I loved the welcoming environment and the friendliness of the people. I'm even a fan of the cold—I like the change of seasons."
What Nino most appreciates about Iowa, however, is that he feels he is being prepared to do exactly what he wants to do: work in research and development at a medical device company that focuses on cardiovascular implants.
"I have a strong urge to participate in the discovery of the next breakthrough in medicine," he says. "Heart disease is the leading cause of death in America. Our lifestyle and diet don't help, so cutting-edge medicine will be the one to bring it down."
After completing a couple of semesters of biomedical engineering coursework, Nino began looking into medical research on campus. He was working part-time at an equipment rental agency but knew lab experience would be crucial for earning a spot in a PhD program and landing a good job. So when he recognized the name of a principal investigator in the Carver College of Medicine on a truck rental agreement, Nino struck up a conversation when the researcher returned the vehicle. The customer was Joel Geerling, an assistant professor of neurology, and before long, Nino was spending 15 hours a week working in his lab, designing and building equipment to run experiments.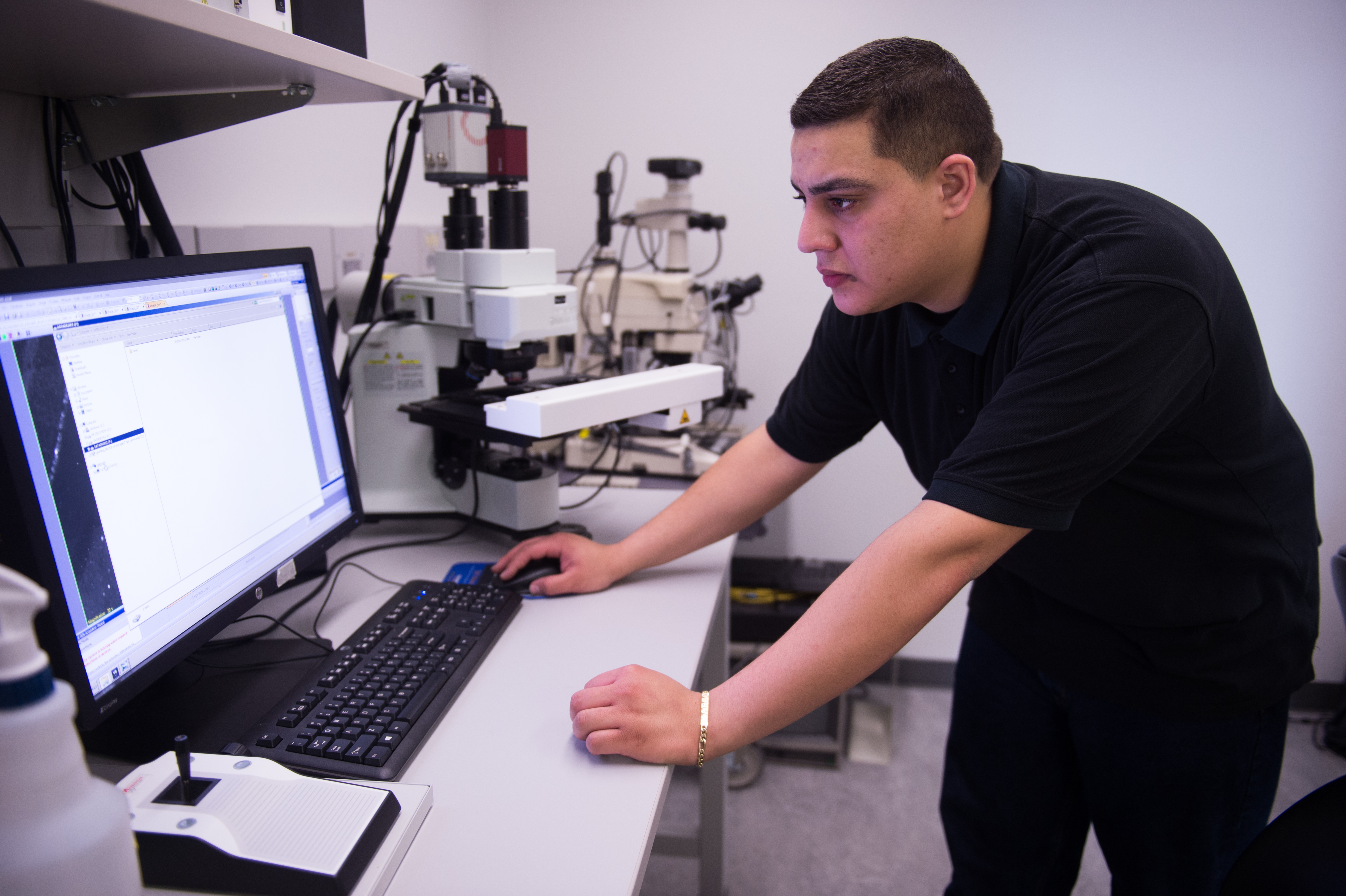 Geerling's lab is studying disorders of wakefulness and analyzing the neuroanatomy that regulates arousal to learn more. Understanding these brain networks better, Nino says, may lead to better clinical treatments for individuals with disorders of consciousness like insomnia, delirium, or mania.
"I was able to help in the lab right away," Nino says. "Dr. Geerling definitely took a risk with me, entrusting me with expensive equipment, but he let me run with it and I can't thank him enough."
Nino says the experience has taught him a lot—above all, the importance of patience, discipline, and teamwork.
"I like the hands-on and interdisciplinary nature of what we do. For example, I bring an engineering background while a PhD student in the lab brings a biology background, and we collaborate with people studying neurocircuits and behavior," he says. "The challenging part is having the patience it takes to do science. You might have a hypothesis, do lots of preparation for an experiment, and then find out you are completely wrong. But sometimes that is even more beneficial. It's definitely taught me discipline."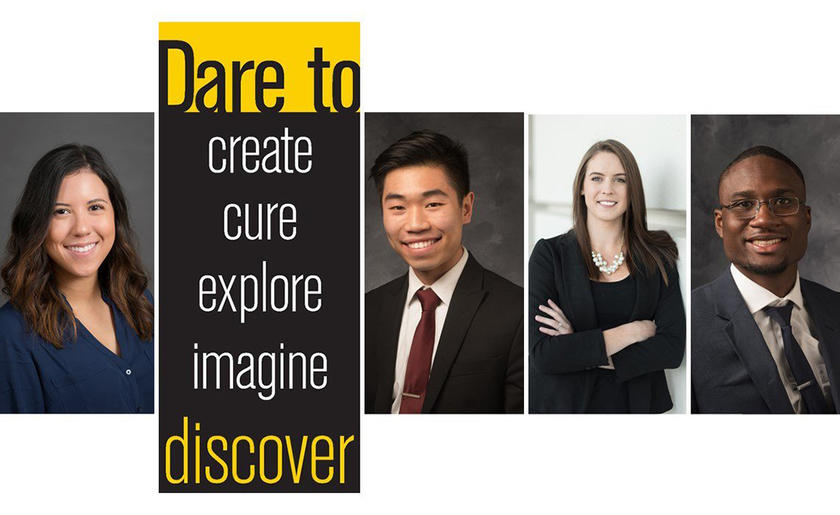 Marco Nino is one of 13 undergraduate students featured in the University of Iowa's Dare to Discover campaign highlighting researchers across campus. To learn more, visit dare.research.uiowa.edu.
Geerling says having an engineer in his lab has been an asset.
"Marco has a focused, persistent approach to solving technical problems and building solutions," he says. "He applies what he has learned in his biomedical engineering coursework directly to building, creating, and fixing things in my neuroscience lab. Not only is he easy to work with, he takes initiative and improvises circuits and devices that allow us to perform more and better experiments."
As he approaches graduation, Nino says he thinks people in his hometown and beyond would be surprised by the capabilities and prestige of University of Iowa faculty and staff. Iowa is one of four doctoral programs in biomedical engineering that he has applied to, and he says he would be happy to stay in Iowa City.
"I admit that the diversity in the student population here shocked me," says Nino, a first-generation college student. "I thought there would be fewer minorities like me, but there are many different ethnicities and nationalities represented here. There is major diversity in the community, even down to the food—if you want a particular meal, for example, you can go downtown and find it."
"The University of Iowa," he says, "has been the perfect home for me as I prepare to become a biomedical engineer."