Aiming to make your future travels easier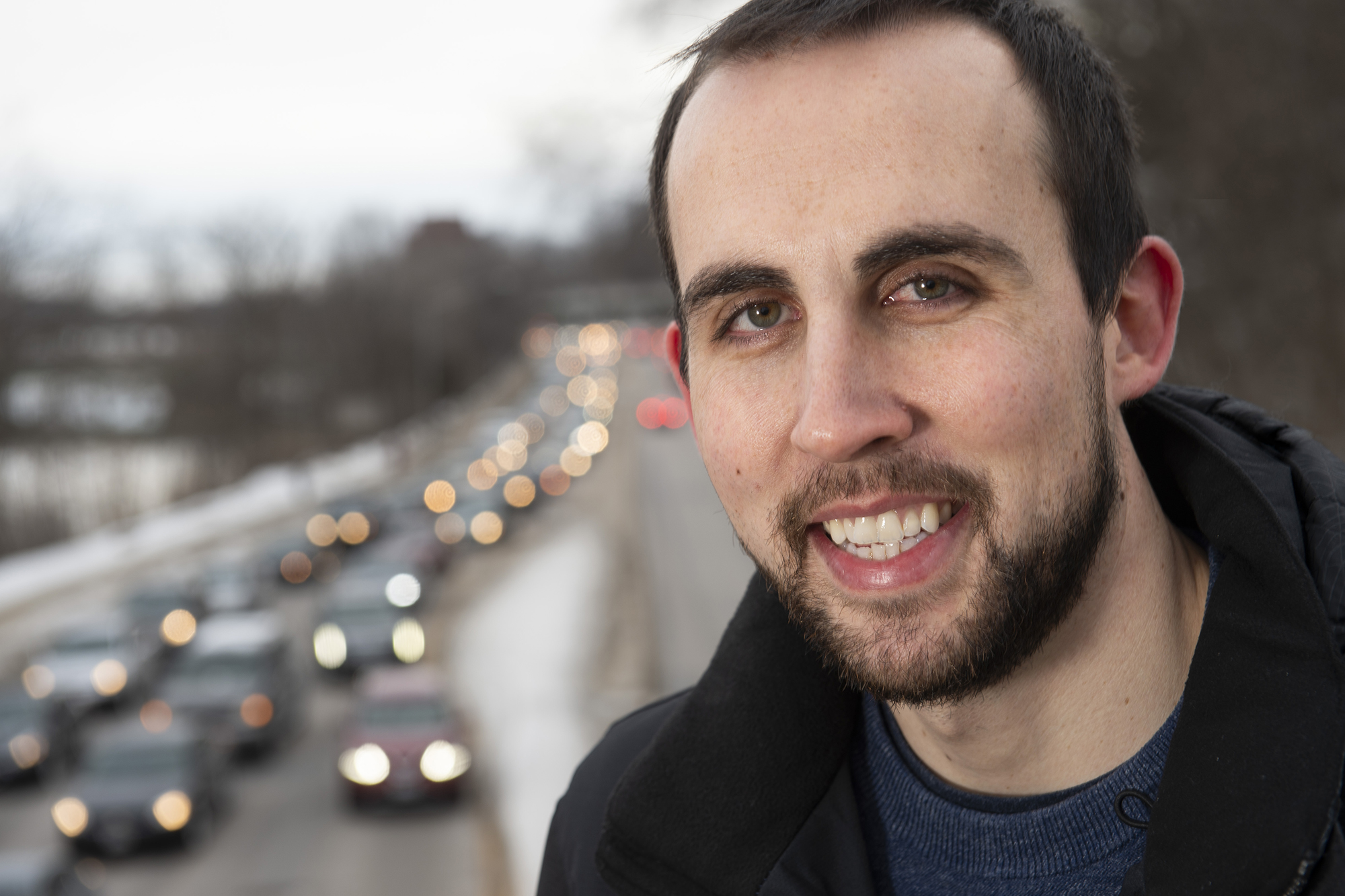 Travelers, take heed: A University of Iowa doctoral student is researching the reliability of itineraries that involve multiple modes of travel, identifying the easiest way to get from points A to C by going through B.

Michael Redmond visits Omaha often. His wife lives there—she's a resident at the Children's Hospital of Omaha—so he's grown familiar with Interstate 80 while riding the bus in the six years since he became a student at the University of Iowa.
Sometimes, he laments, too familiar.
"It wasn't very reliable," he says of the bus. "It broke down a lot, and so I was left just staring off into the cornfields waiting for repairs."
Like most people in that situation, he thought to himself, "There has to be a better way." Unlike most, he's actually trying to find one.
The management sciences doctoral student in the UI Tippie College of Business is researching the reliability of itineraries that involve multiple modes of travel. Using transportation network data provided by airlines, Google Maps, the U.S. Department of Transportation, and a public transit agency, he identifies the easiest way to get from A to D when the passenger has to make stops in B and C.

"His work is easy to explain to people because we can all relate to it, and we can understand his explanations. When he presents his research at conferences, a lot of people nod their heads and say, 'Why hasn't anyone done this before?'"
Tippie professor of management sciences
For instance, a family in Iowa City is sick of this year's never-ending winter and decides to take a cruise to the Yucatan in Mexico. If they book a flight from Cedar Rapids, what's the likelihood they'll make it to Miami on time to make their ship if they fly through O'Hare or Dallas–Fort Worth airports? How about Charlotte or Atlanta?
What if they get a cheap flight on Southwest Airlines through Des Moines? Then what's the likelihood they'll be on time once they've incorporated the added driving time and a connecting flight through St. Louis? How does that change if they take an Uber or a taxi to the airport? How about a bus? Given all that, what time do they have to leave home to make sure they get to the airport on time?
"It's always a pain to figure out how much time to build in just to get to the airport, so we want to help with that too," says Redmond.
Ultimately, he says, travel agents or online booking companies like Priceline or Kayak could use his work to provide an extra level of customer service. Travelers looking at itineraries would see not just the times and prices but also an easy-to-understand score predicting the likelihood that the flights will arrive on time. While many web companies offer a similar metric now, he says it isn't as deep as what he's developing and doesn't incorporate nearly as much data.
Airlines, transit agencies, and other passenger-transportation companies could also use his research to identify bottlenecks in their own networks and make changes to improve efficiency.
The Sioux City, Iowa, native has always had an interest in operations and analytics, though that's not how he started his career. After earning bachelor's degrees in Spanish and mathematics and a master's in secondary education from Creighton University, he worked as a K–8 teacher at a small Catholic school in Omaha.
But the school closed after two years, and rather than jump into another teaching job, Redmond used the opportunity to reconsider his future. Deciding he'd like to try a career in business, he researched the analytics and operations tracks of several MBA programs and, after meeting faculty and directors during a get-to-know-us event in the Kinnick Stadium press box, realized the Tippie College of Business was a perfect fit. He earned an MBA in supply-chain management and analytics in 2015.
PhD in management sciences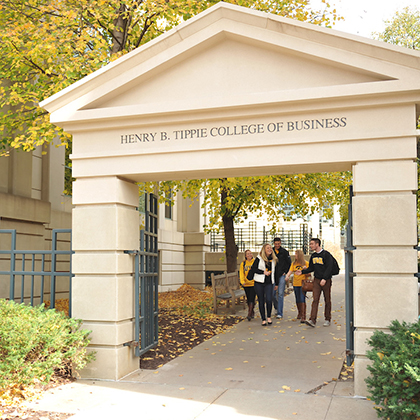 Data—namely, the generating of data—has exploded. All that data creates a great challenge. Businesses need better ways to get insights from the data. We help make that happen. The University of Iowa Tippie College of Business is a leader in business analytics research and education.
"But that wasn't enough learning for me, and I had to keep going," Redmond says.
The taste of analytics he had as an MBA student showed him that Tippie's program was world-class and was the place where he could dive even deeper into research as a doctoral student. Additionally, he would have the chance to go back to his teaching roots by leading undergraduate analytics-discussion labs. Redmond was accepted into Tippie's doctoral program in management sciences; he's scheduled to graduate in 2020.
Ann Campbell, Tippie professor of management sciences in the Tippie College of Business and Redmond's adviser, says his goal when he entered the doctoral program was to use data to solve real-world problems. Although transportation logistics produces enormous amounts of data, most researchers prefer using models or other constructs in their work. Redmond's research sets itself apart in that it uses that underutilized data.
"His work is easy to explain to people because we can all relate to it, and we can understand his explanations," Campbell says. "When he presents his research at conferences, a lot of people nod their heads and say, 'Why hasn't anyone done this before?'"
The most complex part of Redmond's research so far is airline schedules. He examined reams of data from the U.S. Department of Transportation about on-time arrival and departure rates and built an algorithm that will predict the likelihood of a flight being late or arriving as scheduled. It considers factors such as the time of day of the flight, type of aircraft, transfer time, the airport's on-time arrival and departure rate, and a raft of other, ever-changing data points.
Redmond says the biggest challenge airlines face is delay propagation, or how a flight delay ripples through a network and causes more delays until finally a plane has to sit on a runway in Mumbai because there's a snowstorm in Chicago.
Adding to the problem is that most passenger travel is concentrated during early morning and early evening hours, when customers prefer to fly. That means airlines overschedule flights during those periods while under-scheduling lesser-used late morning or mid-afternoon periods. When a serious delay propagation occurs in the morning, Redmond says, it leads to delays all day long.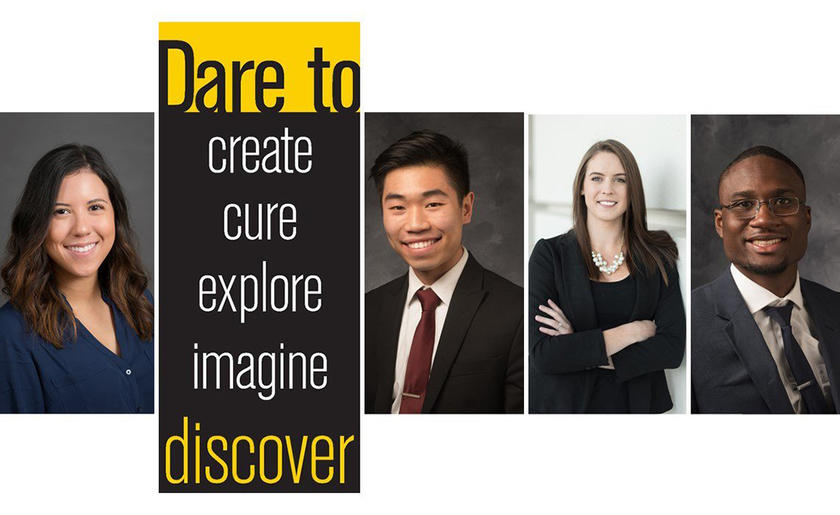 Michael Redmond is one of 42 students featured in the University of Iowa's Dare to Discover campaign highlighting researchers across campus.
And speaking of weather, his algorithm also accounts for seasonality. Not the daily weather forecast, but historical weather patterns that recognize, for instance, Minnesota is subject to nasty winter weather, so January flights through the Minneapolis–St. Paul airport might be delayed, which could cause a delay propagation throughout the country because MSP is a Delta hub.
Redmond's work has led to esteemed recognition in the field. He's the recipient of a prestigious Transportation Science and Logistics Society travel grant that he'll use this summer to visit Germany. There, he'll spend a month examining data from a municipal transit line to see if his research can be extended to improving the travel experience for bus passengers.
Redmond said he hopes his research will do more than just improve travelers' customer experiences. He hopes his work has environmental and urban-planning benefits too.
"There's a lot of public distrust in the transit system because of delays and holdups," he says. "Adding transparency about reliability and responding to trouble spots builds peoples' trust in the system and increases ridership."
Produced by the UI Office of Strategic Communication