Transplant gives man new life—and a new purpose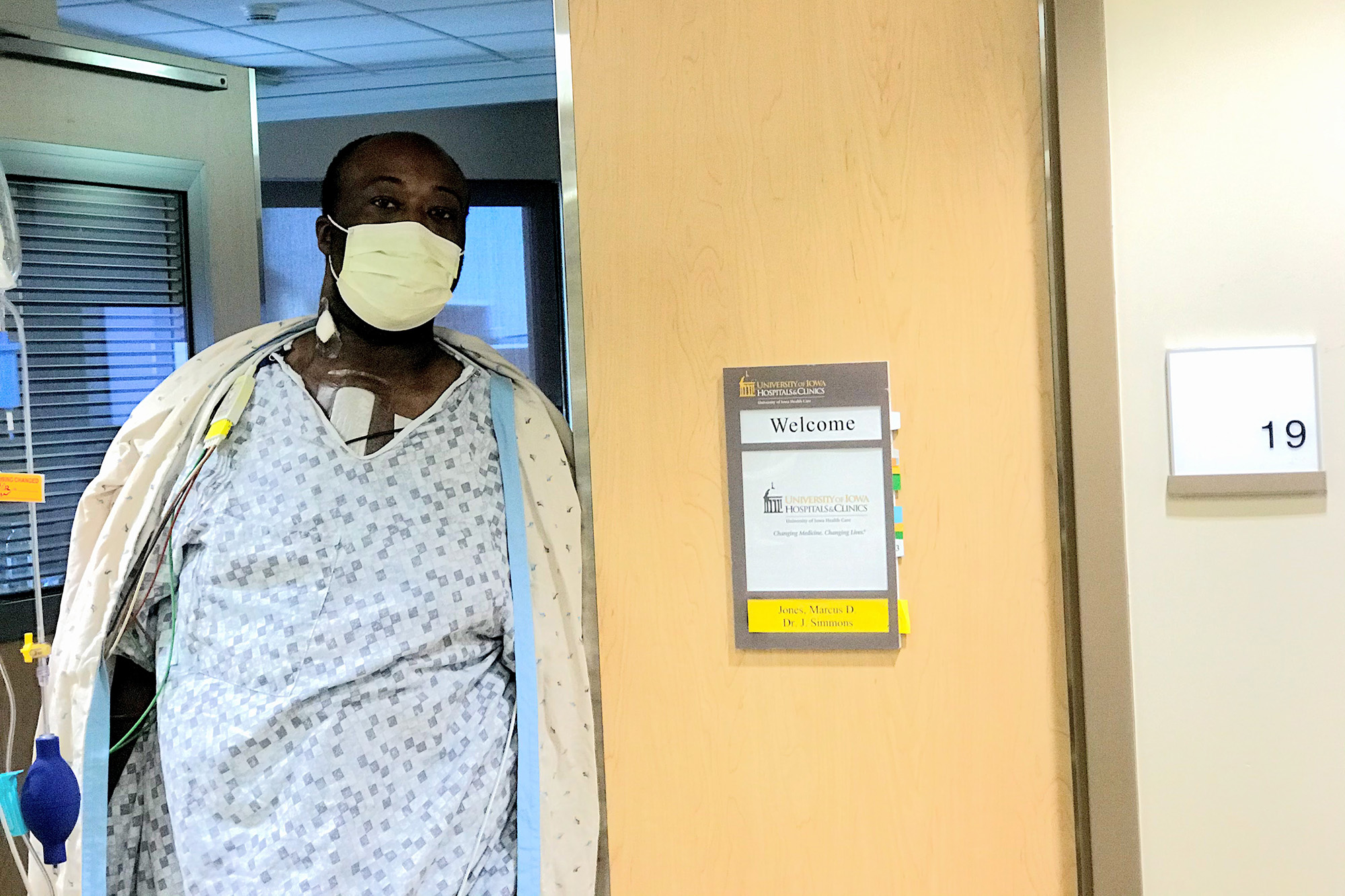 Dealing with heart failure at 36, Marcus Jones feared he would miss some of the best moments of fatherhood. A heart transplant at University of Iowa Hospitals & Clinics gave the Waterloo, Iowa, man a path toward the life he'd longed for.
University of Iowa Health Care Marketing and Communications
As his heart failure worsened over several years, Marcus Jones, of Waterloo, Iowa, expected to need a heart transplant someday. He didn't expect it to happen at age 36.
But after heart problems sent him to his local hospital in September 2020, Jones' doctor referred him to the University of Iowa Heart and Vascular Center, where advanced heart failure cardiologist Michael C. Viray, MD, diagnosed him with end-stage heart failure.
Jones needed a heart transplant as soon as possible. He lived through weeks of anxiety, cautious optimism, and health setbacks before the UI heart transplant surgery team performed a successful transplant in late October.
Throughout his rehabilitation, as his health returned and his life improved, Jones devoted himself to spreading the word about organ donation. He wants to make sure others get the kind of lifesaving second chance he was so fortunate to receive.
"It was a blessing to get a heart—a blessing to be as young as I am," Jones says. "I recognized just how beautiful life is."
Expert diagnosis detects a serious decline
Heart failure usually develops slowly over time, but the signs and symptoms of congestion from fluid buildup can come suddenly.
Heart failure happens when the heart muscle weakens or stiffens until it loses its ability to pump oxygen-rich blood to the body. Long-standing high blood pressure, coronary artery disease, diabetes, obesity, viral infections, and toxins such as alcohol and certain drugs are common contributors to heart failure.
Marcus Jones, seen here with his son, went home 30 days after his transplant to get back to enjoying life with his family and to begin telling the world about the importance of organ donation.
When Jones arrived at UI Hospitals & Clinics, Viray conducted a thorough evaluation to determine how serious his heart failure was.
An ultrasound showed the heart was weak. But his cardiac index—a parameter obtained during a heart catheterization that shows how well the heart delivers blood to body—was especially concerning.
"It was the lowest I've ever seen," Dr. Viray says. "It indicated the heart was barely functioning."
Further testing confirmed that Jones needed a heart transplant.
"Young people with heart failure can feel good for several years before they reach a tipping point, after which they get sick fast," Viray says.
A full life interrupted by heart failure
Jones had battled heart failure for years. That didn't stop him from getting the most out of life—raising his family while working as a human resources officer, attending graduate school, and enjoying time with his fiancée.
He took the right medications, exercised regularly, and ate a healthy diet. Yet his toddler could outrun him. Jones knew his heart was getting weaker, and he feared he would miss some of the best moments of fatherhood.
Jones struggled with anxiety as he tried to come to terms with his diagnosis. He says his visit with Anthony Panos, MD, director of heart transplant surgery at the UI, helped him begin to see the bigger picture.
"That's when it truly hit me. I was on my way to a longer, healthier life," Jones says.
'Many highs and lows'
Although Jones' blood type gave him some advantage, the wait for a donor heart is never predictable.
"Dr. Panos prepared me to have many highs and lows," Jones says.
A blood infection forced him off the waiting list for a week. Then, because his heart failure was so severe, cardiologists had to implant an intra-aortic balloon pump to help his heart pump more blood than it could on its own.
Iowa's only Blue Distinction Center for transplant
The University of Iowa Organ Transplant Center is a multi-institutional, multidisciplinary center designed to put the patient at the center of the care team. Through our statewide services, experts are brought together in one place to serve our patients' needs and to help restore them to normal living.
"I laid flat on my back for several days with the balloon pump, which was not easy," he says.
Visitor restrictions during the pandemic prevented Jones from seeing his son, but one day in October, a nurse saw him on a video call singing "Happy Birthday" to the toddler. With special permission, the nurse arranged a 30-minute visit with his son that brought Jones a little joy during a difficult time.
"I hadn't seen him for a month," he says.
Feeling the improvement immediately
In late October, a matching donor heart became available. Cardiac surgeons Marco Ricci, MD, and Arun Singhal, MD, performed the transplant.
The next day, Jones began the life he'd been looking forward to starting.
"From the first post-transplant day, I could feel the improvement with my heart," Jones says. "The team at the UI was so supportive and incredibly knowledgeable. I can't say enough about the team who saved my life."
He went home 30 days later and continued his cardiac rehabilitation—walking, biking, lifting light weights, and doing other exercises to recover and stay healthy.
He also launched an initiative called Heart Transplant Motivation. He has recorded a series of podcasts to tell his story and to advocate for organ donation.
"I tell anyone who is healthy, sign up to be an organ donor," Jones says. "It's amazing how many lives organ donors can save."