Learning at Iowa, staying in Iowa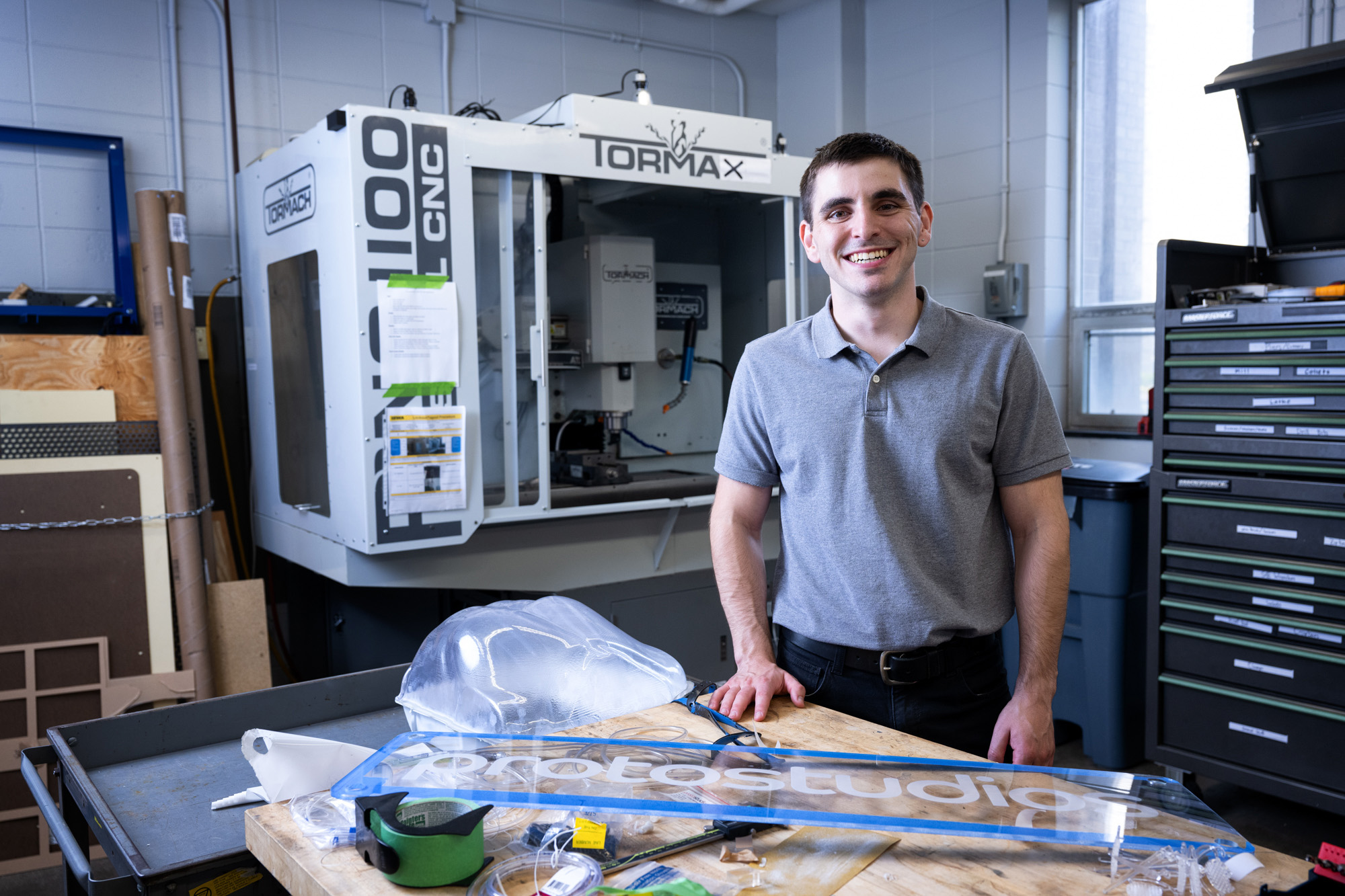 At Iowa, engineering grad Max Swartz found a supportive academic environment and opportunity for hands-on work in a prototyping shop. This helped him achieve his goal: landing a job in his field back home in northeast Iowa.
Before stepping foot on campus, Max Swartz had his college blueprint: graduate from the University of Iowa with an engineering degree and return home to northeast Iowa as a working professional.
Swartz was able to find the right path, experience, and profession to accomplish his goal, coupling the engineering curriculum at Iowa with hands-on experience at a state-of-the-art prototyping facility called Protostudios.
"I've known for a long time that I would want to move back to northeast Iowa after college, and this was a big motivator for going into industrial engineering," says Swartz. "I wanted to make sure I could get a job and help build industry in my home region."
With options in agriculture, health care, and manufacturing, Swartz knew industrial engineering was a flexible field for him. And after growing up in the Hawkeye State, the University of Iowa felt like the place to earn his degree.
"Iowa offered the best scholarships, and I liked the size of the College of Engineering," Swartz says. "Ultimately, I knew I would have a good support system at the University of Iowa."
Dental education meets Iowa innovation
University of Iowa dental faculty seeking better teeth for teaching purposes found a perfect partner in Protostudios. The on-campus rapid-prototyping organization, known for transforming inventors' ideas, delivered consistent, durable simulated teeth.
Swartz graduated in December 2021 and moved back to the Decorah/Waukon area, where he works at Iowa Rotocast Plastics Inc., which manufactures products for the food and beverage industry and lists Anheuser Busch InBev, PepsiCo, Gatorade, and Coca-Cola among its clients.
"I do various things, ranging from more traditional industrial engineering work, such as time and efficiency studies and simulations, to tasks more on the mechanical side, such as designing and 3D printing fixtures for various processes," says Swartz. "Lately, I've been working on setting up an autonomous robot that will be used for internal material handling and transportation."
Swartz can work with confidence on a variety of projects, leveraging his experience at Protostudios when he was a student.
"At Protostudios, I was able to physically work directly on whatever I was creating, and I was able to spend time figuring out how to do different operations or use different machinery on my own," says Swartz. "This was very valuable to me: I learned how machinery worked and I learned how to better teach myself new things."
Protostudios, which opened in 2017 thanks to a $1.5 million grant from the state, assists inventors, entrepreneurs, medical faculty, staff, students, and others in the Iowa City area and across the state by turning their ideas or sketches into functional prototypes. Protostudios uses high-tech devices in 3D printing, machining, and circuit board fabrication to create prototypes, and its services can be used through consultation and training or in greater depth with design and manufacturing.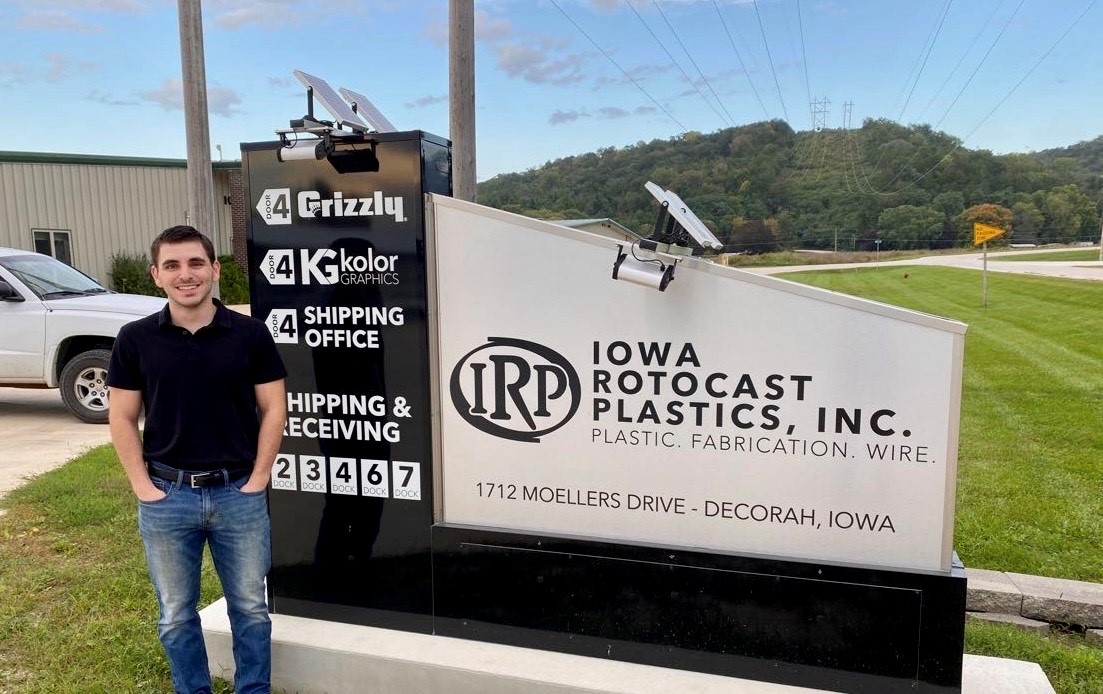 "I've known for a long time that I would want to move back to northeast Iowa after college, and this was a big motivator for going into industrial engineering. I wanted to make sure I could get a job and help build industry in my home region."
2021 UI College of Engineering graduate from Waukon, Iowa
Protostudios has three locations around campus, each with its own capabilities and specialties: one in the MERGE office on the Iowa City pedestrian mall, another in Van Allen Hall, and a third office in UI Hospitals & Clinics.
As a junior, Swartz applied for a Protostudios job he found on Iowa's student employment website and joined the staff shortly after. In his role as a student prototyping associate, Swartz primarily helped out with the prototyping of products and devices for clients, working machining metal parts and 3D printing for some projects.
"Student workers are essential to Protostudios," says Spencer Kuhl, Protostudios' director of operations, who supervises and trains the students. "They are tasked with nearly every operation that our senior prototype developers conduct."
The art of exploring different interests
While Max Swartz was working toward his goal of obtaining an engineering degree and finding a job in the field, he was able to entertain other interests while living in Iowa City.
"I definitely leaned into some interests that I had, and I am glad I did," says Swartz. "I had taken a few art classes in high school and decided to minor in art at Iowa. There are so many good classes and clubs available. It was the perfect time to try out new things without making a huge commitment."
Students have access to more than a dozen operations, including waterjet, laser cutting, vacuum molding, vacuum casting, CNC milling, bandsaw, drill press, 3D printing technologies and more.
In many cases, Swartz created a physical object based on a sketch or a computer-aided design (CAD) drawing that included dimensions. On his final, and biggest, project with Protostudios, Swartz dealt with the client, estimated and tracked expenses, purchased supplies, and more for assemblies totaling over $20,000.
"Looking back, I think Protostudios definitely helped me land my current role, because having hands-on experience is a big plus," Swartz says.
Additionally, the staff members at Protostudios helped Swartz with interview prep and helped him understand the details of a job offer, giving the Iowa grad the upper hand heading into the job market.
"Spencer (Kuhl), Chuck (Romans), and Neil (Quellhorst) at Protostudios were all great mentors, not only helping me learn technical skills, like computer-aided design and computer numerical control machining, but also in group collaboration and career guidance," says Swartz. "There are mentors everywhere if you just start asking people you know questions about their own paths."