The MBA program that knows no boundaries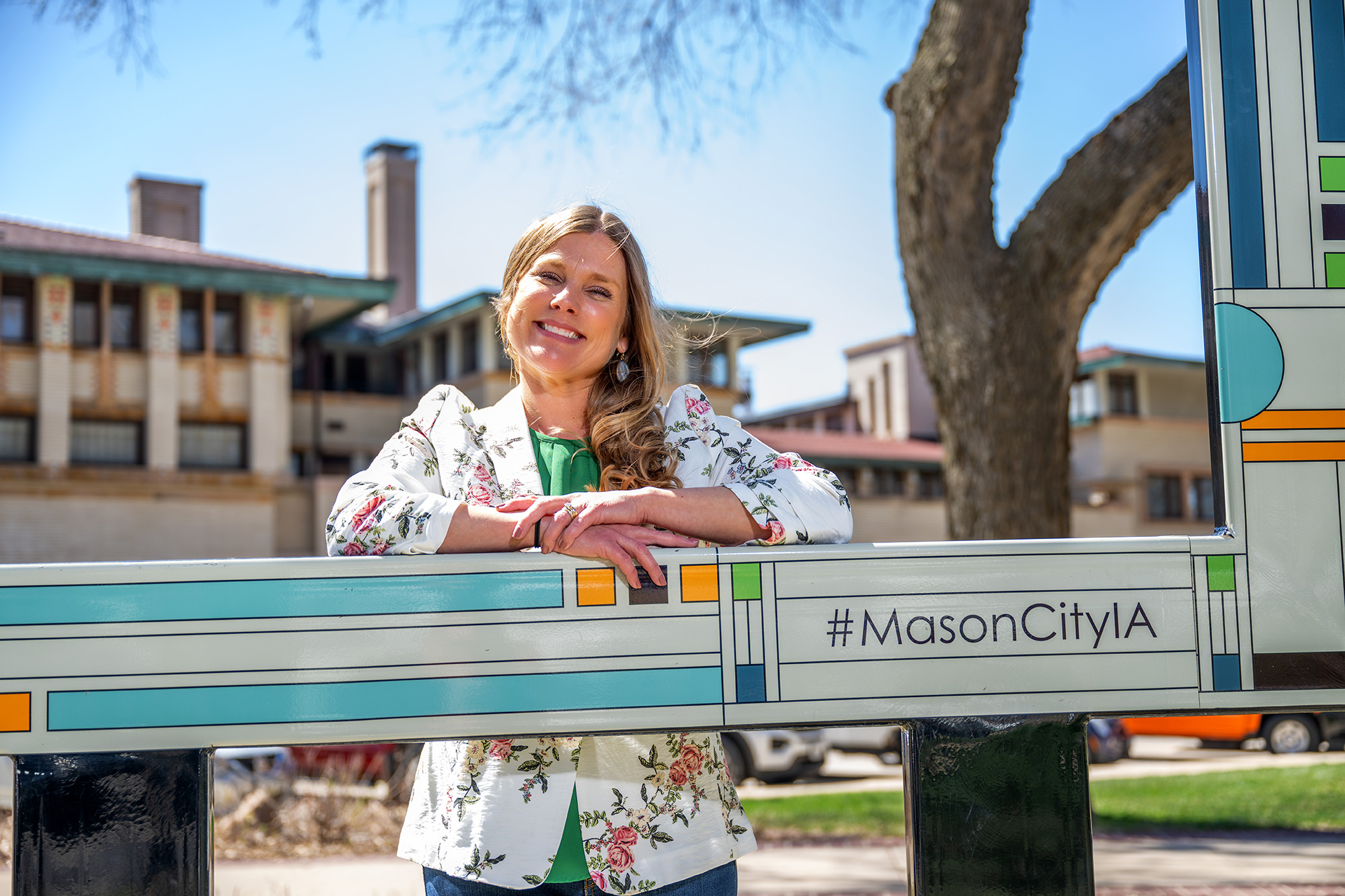 With online and in-person options, the Iowa MBA is the top-ranked offering in Iowa, training business leaders in counties across the Hawkeye State (and beyond).
Amber Kraft has business in her DNA. Growing up in Mason City, she listened to her father, the owner of an office equipment store, talk about product trends and advertising. Later, as a teen, she helped him with bookkeeping and inventory management.
Kraft, shown in the photo above, studied business administration and finance in college and, after graduation, went to work full-time for her dad. A few years later, she took a job with Anderson Merchandisers, an in-store service provider. Kraft excelled, and in 2017, after a series of promotions, she felt ready to tackle the ultimate business degree—the MBA.
Location: Mason City, Iowa
Credentials: Iowa MBA 2023; Leadership and Innovation Certificates
Position: Manager, Retail Operations, Anderson Merchandisers
Why Tippie?: "The online Iowa MBA is a good fit for my family and me. I am delighted with the quality of the coursework, and even though I'm not in the classroom with my professors, I can easily connect with them offline. The same goes for classmates. The networking is great."
But finding an MBA program was more difficult than expected. The local MBA program Kraft initially enrolled in canceled her cohort due to low enrollment. Other programs were too far away or expensive, so Kraft was forced to put her dream on hold. A few years later, when she heard about a 100% online MBA at the Tippie College of Business, Kraft was elated; she knew she'd finally found her MBA home.
"I've been dreaming of getting an MBA since I graduated from college," says Kraft, who started her MBA journey in 2022 and will graduate later in 2023. "Now, I'm getting the education I need for the next phase of my career. I'm confident I'll be prepared to move up the ladder and to take on whatever comes next."
Kraft isn't the only Iowan making good on her career goals. Thanks to the Iowa MBA flexible program structure—with in-person, online, and hybrid learning options available—getting an MBA in Iowa has never been easier.
"We're hearing from Iowans who say they have run out of excuses," says Jen Blackhurst, associate dean for graduate management programs at Tippie. "All the challenges they thought were there—travel, time away from the office and the kids—have just dropped away."
"We're pulling in students from a wider field than ever. Iowa MBA students are ready for an adventure, and we're helping them embark on that adventure."
associate dean for graduate management programs at Tippie
Highly ranked, easy to access
Ranked No. 9 among public universities with online MBA programs by the Princeton Review (2023) and No. 1 part-time MBA in Iowa by U.S. News & World Report (2023), the Iowa MBA has increased enrollment by nearly 70% since 2022, the year it started offering a 100% online option.
The switch, initially triggered by the COVID-19 pandemic, has helped the school reach students in 67 of 99 Iowa counties and even some in neighboring states and foreign countries. The online format is especially popular among female executives.
"In the past five years alone, we have trained students from 600 different Iowa companies," says Blackhurst, who meets regularly with business leaders to gauge training needs in the state. "We're incredibly grateful to be able to help so many Iowans upskill quickly and easily."
The switch from in-person to online didn't happen overnight, says Blackhurst, but the urgency to serve Iowans during the COVID-19 pandemic and beyond motivated Tippie professors and administrators to pivot quickly. This meant a lot of behind-the-scenes changes. Professors mastered teaching in the digital environment, which requires different lecturing skills and class preparation, and administrators worked to ensure across-the-board course consistency.
"During the pandemic, there was a huge demand for online education because people were stuck at home, and we wanted to meet that demand," says Blackhurst. "But what we found out pretty quickly was that, even as things improved, students still wanted the convenience of online learning. They wanted to take high-quality courses and engage with top-notch professors, but they wanted to do it from home."
average salary increase reported by Iowa MBA grads
new Iowa counties reached since online classes were offered
approximate number of students reporting an earned promotion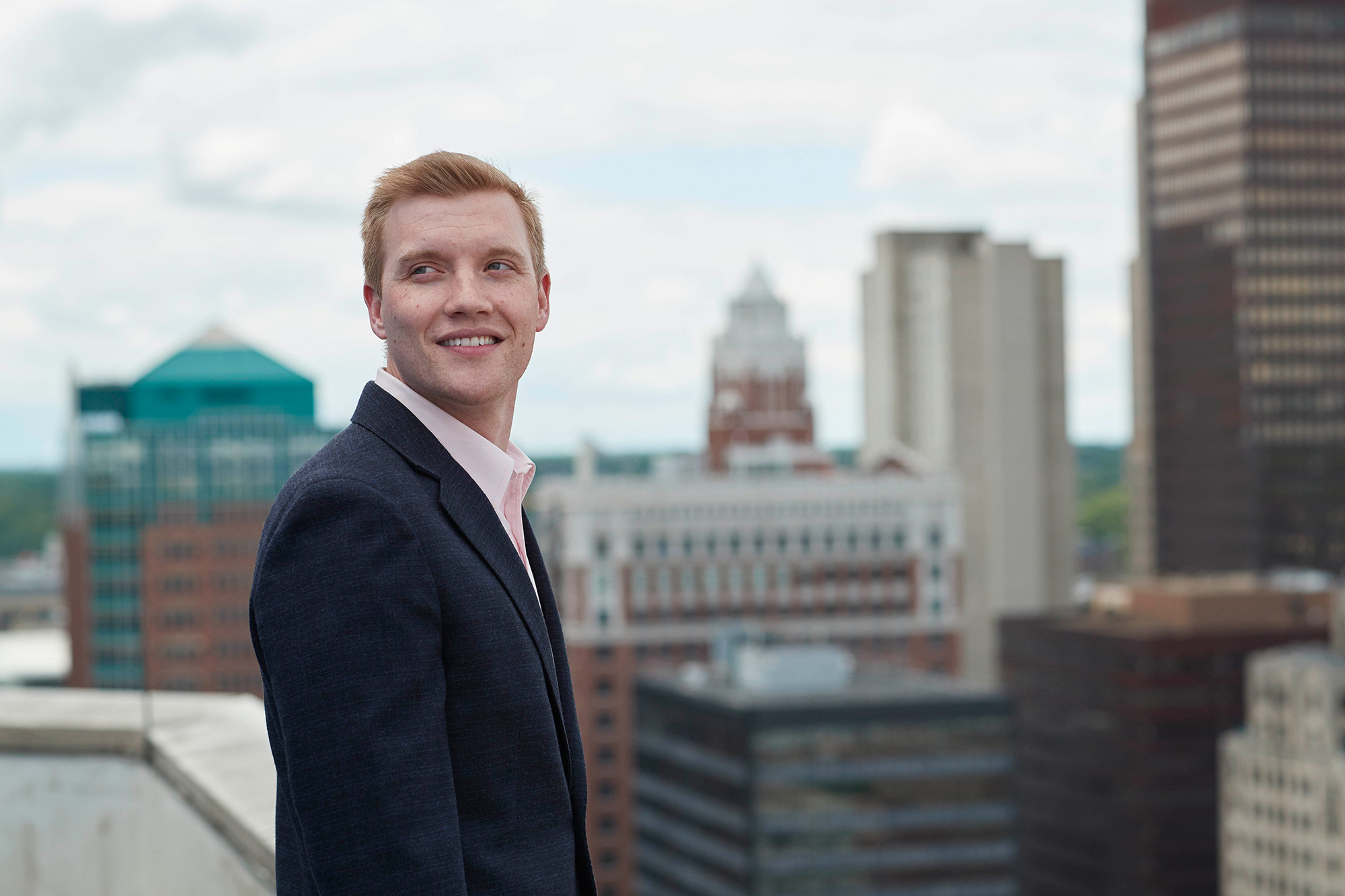 Fueling big ambitions
For Kraft, the opportunity to pursue an MBA at a top university and do it from her home office, where she can still monitor the activities of her two teenage children, was appealing. More than halfway through her MBA program, Kraft says she already sees the benefits of an advanced degree. She's more confident talking about financial reporting and marketing, subjects she explored at Tippie.  
"I know that with the Iowa MBA, I'll be better positioned to leave my mark," says Kraft, a retail operations manager at Anderson Merchandisers who works directly with Haleon, a standalone arm of global pharmaceutical firm GSK. "I'm glad I decided to invest in myself."
Location: Des Moines, Iowa
Credentials: Iowa MBA 2018
Position: Director of Real Estate Development, Ryan Companies US, Inc.
Why Tippie?: "The outstanding reputation and the flexibility of the program. You get to pick and choose your courses and tailor your path to fit your own schedule. I found the workload to be very manageable, even with a busy family life."
Des Moines resident Dustyn Curran (MBA '18) also is glad he committed to an MBA, even with two young children at home. Not long after he completed his degree, he was promoted to director of real estate development at Ryan Companies US and named a Forty Under 40 business leader by the Des Moines Business Record.  
"For career growth, the finance courses have been really impactful," he says. "There's a whole different language in finance, and being able to speak that language has been a real benefit to me."
Energizing the local economy
The Iowa MBA always has been "high touch," and that hasn't changed, even with the online format. To provide students with even more specific career skills, Tippie has added a handful of certificates that can be completed along with an MBA. Recent additions include responsible resource management and financial decision-making. A certificate in risk management and insurance will be added in fall 2023.
Tippie's custom executive education program also is an excellent resource for Iowa's business community. For example, when corporate leaders at HNI, a leading manufacturer of workplace furnishings and residential building products, wanted to break down organizational silos, they asked the Tippie Leadership Collaborative to design a six-month leadership academy for 20 high-potential managers.
"We're pulling in students from a wider field than ever," says Blackhurst. "Iowa MBA students are ready for an adventure, and we're helping them embark on that adventure."  
In-person, online, or a mix of both. You decide. Keep your career on the fast track while you earn an MBA in our top-ranked part-time program.