Trusting the process, a step at a time
When twins Noelle and Blaire McDaniel's clubfoot treatment proved a bit tricky, their parents never lost faith in their University of Iowa Stead Family Children's Hospital team, or the revolutionary approach developed at Iowa.
As the music starts, Noelle McDaniel stops, rises to her knees, and starts swinging her arms and bopping up and down. Her twin, Blaire, soon joins in on the dancing, their "Free the piggies" onesies in honor of World Clubfoot Day on full display.
The music stops and the girls drop to all fours and continue scooting across the room—unhindered by the open-toed boots connected by a bar on their feet.
"They don't get in their way one bit," says Jill McDaniel, mother to the 1-year-olds who both were born with clubfoot in both feet (known as bilateral clubfoot). "They bulldoze through everywhere."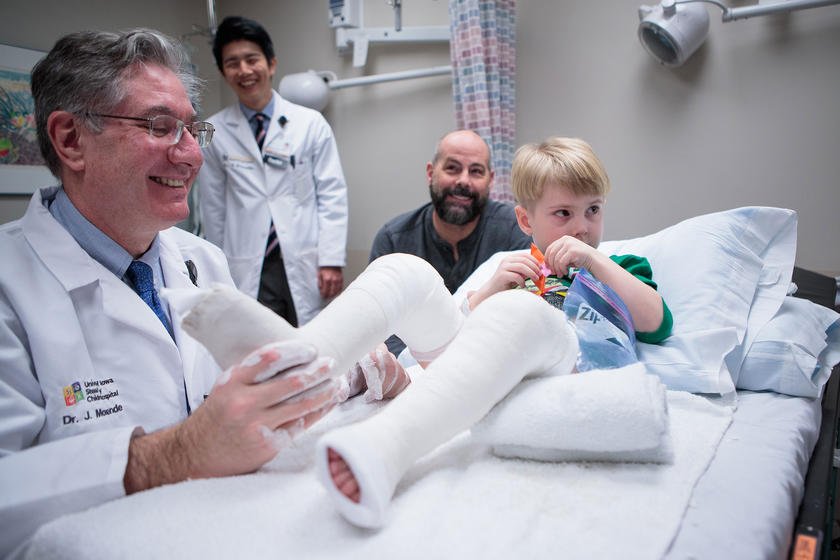 Iowa's Ignacio Ponseti revolutionized clubfoot treatment with his gentle, nonsurgical approach. Now his successor, UI doctor Jose Morcuende, is on a lifelong mission to bring the Ponseti Method to the rest of the world.
Despite a few bumps along the way, the McDaniel twins soon will be racing through the house and yard and everywhere else on their feet. This is in large part thanks to University of Iowa Stead Family Children's Hospital pediatric orthopedic surgeon Jose Morcuende, MD, the world's leading practitioner and teacher of the Ponseti Method. The revolutionary clubfoot treatment was developed at UI Hospitals & Clinics by Morcuende's mentor, celebrated orthopedic physician Ignacio Ponseti, MD.
About one in 1,000 babies is born with clubfoot in the United States each year. Morcuende treated about 525 patients with clubfoot from 2021 to 2022, but the McDaniel girls were unusual.
"Clubfoot tends to run in families, but we don't see a lot of twins who both have it," Morcuende says.
While clubfoot sometimes is diagnosed during pregnancy, Jill and Brandan McDaniel, who live in Colona, Illinois, were surprised to learn the girls had the condition shortly after they were born in June 2021.
"I had heard good things about Iowa City and Dr. Morcuende. We didn't want to trust just anyone with our girls' feet. We wanted the best, and we were truly given the best."
whose twins were treated at University of Iowa Stead Family Children's Hospital for clubfoot
"The girls went in the NICU after delivery and Brandan was sending me photos. I asked what was wrong with their feet," says Jill McDaniel, who is an OB nurse in Moline, Illinois. "The doctor came in and said they both had bilateral clubfoot. We had no idea. It was very shocking."
A physical therapist recommended they contact either University of Iowa Stead Family Children's Hospital or another facility a similar distance away.
"I had heard good things about Iowa City and Dr. Morcuende," McDaniel says. "We didn't want to trust just anyone with our girls' feet. We wanted the best, and we were truly given the best."
How the Ponseti Method works
1. Diagnosis
Typically identified before birth during ultrasound tests, clubfoot is characterized by one or both of the child's feet twisting inward and down. Clubfoot in most infants can be corrected in six to eight weeks using the simple non-surgical method developed by the late UI doctor Ignacio Ponseti, MD.
2. Adjustments
Once a week, the doctor gently stretches the ligaments, joint capsules, and tendons in the child's feet, incrementally guiding them back into proper alignment. This is most effective in the first few months of life but can be performed at any age until adolescence.
3. Casting
After manipulating the feet each week, the doctor applies a plaster cast to retain the degree of correction and soften the ligaments. The casts extend from the toes to the upper thigh, with the knee positioned at a right angle. In most cases, five to seven casts are needed to fully straighten the feet.
4. Healing
Before applying the final cast, which is worn for three weeks, the doctor makes a small puncture in the back of the ankle and snips the Achilles tendon, the cord that joins the heel bone to the calf muscle. By the time the cast is removed, the Achilles has regenerated to a proper length and allows for a better range of motion.
5. Bracing
After casting, clubfoot tends to relapse without proper maintenance. To preserve the corrected position, patients wear a brace—open-toed boots that position the feet outward at about a 60-degree angle and are connected by a shoulder-width bar. The painless brace is worn 23 hours a day for two to three months, then while sleeping for the next three or four years.
While most babies begin clubfoot treatment a few weeks after birth, Morcuende wanted the McDaniel twins, who each weighed just over 5 pounds at birth, to reach about 8 pounds before they started casting.
Casting, which moves the feet incrementally outward toward normal alignment, generally takes six to eight weeks. Noelle's and Blaire's feet, however, proved to be a little trickier, slipping and wriggling loose from the casts.
"I told them that it was going to be OK. Every foot is different, and some are more challenging and require a little more work," Morcuende says. "But we have a 100% correction rate. I assured them we would get there and it would be just fine."
He recommended that they take a break from casting for a couple of months to allow the girls' feet to get a little bigger before continuing.
"There were a lot of tears from everyone," McDaniel says. "They knew we were frustrated, but Dr. Morcuende and his team reassured us and encouraged us to trust the process and not give up. So that's what we did."
Casting resumed in January 2022 and went exactly as it was supposed to, with the girls graduating to their boots and bars in April. After wearing the boots and bars for all but a few hours each day, they were given the go-ahead in early July to wear them only while sleeping, which they'll do until they are 4 or 5 years old.
"Now they're off to the races," Morcuende says. "They have all been such troopers throughout everything."
The McDaniels are looking forward to the twins learning to walk and being able to better keep up with their older sister, Iris, who is 2. They also are grateful that they trusted their daughters' care to Morcuende and the UI Stead Family Children's Hospital team.
"It's been crazy, but I'm so thankful we went to Iowa City," McDaniel says. "We would drive there once or twice a week and everyone was so welcoming and kind—they became like family. You can tell they all love what they do."
Expert hands to treat clubfoot
The University of Iowa is the home of modern treatment for clubfoot. The late Ignacio Ponseti, MD, developed the Ponseti Method for clubfoot treatment, which has been accepted worldwide. Parents of infants born with clubfeet may be reassured that their baby, when treated by expert hands, will have normal-looking feet with normal function.
McDaniel also has used her experience with her daughters to help her own patients.
"It's not common, but if there is a clubfoot diagnosis, I'm a good reference to use for parents," McDaniel says. "It's nice to be able to be that little bit of comfort for them."
She urges other parents who find themselves in a similar situation to take one day at a time.
"Just be patient and stay positive. There is a light at the end of the tunnel," McDaniel says. "We would always say, 'Where is the light?' And then we finally saw it. Just trust the process.
"We are so thankful for what Dr. Morcuende and his team did for our girls. They will always hold a special place in our hearts."