Bestselling writer finds kindred spirits among UI students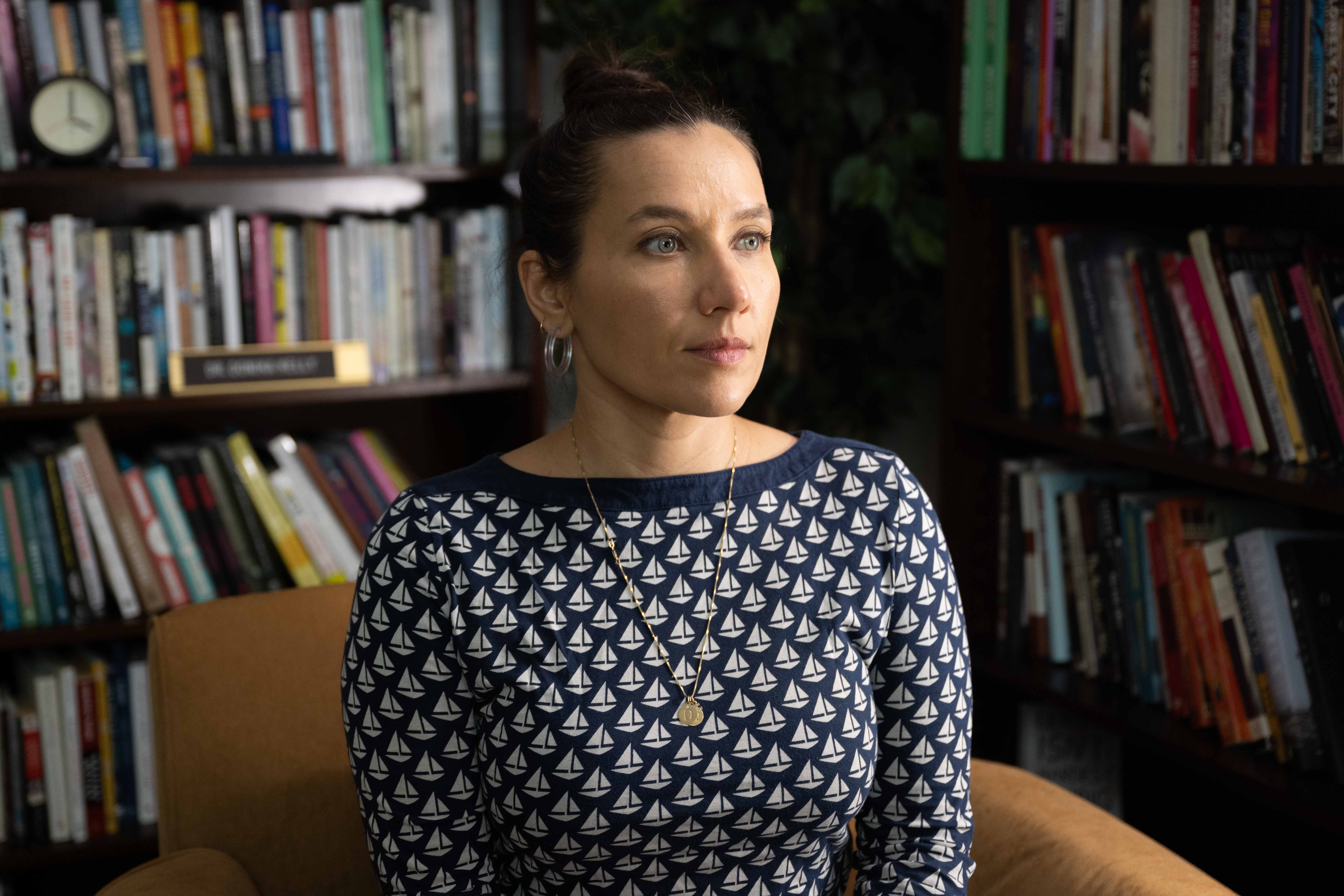 Since joining the University of Iowa English faculty in 2020, Melissa Febos has published two acclaimed books, received prestigious fellowships from the Guggenheim Foundation and the National Endowment for the Arts, and married her partner of six years. And, she has found a community of students she absolutely adores.
After spending more than 20 years in New York City, Melissa Febos was reluctant to relocate to a much smaller community.
"I really identified with the city and never imagined leaving," says Febos, who visited the University of Iowa community in 2019 to give a reading and teach a master class. "But when I came to Iowa City, I just had the time of my life. It was one of the warmest, most engaged, fun readings and campus visits that I'd ever done. It made a very good impression."
So, when John D'Agata, professor of English and then-director of the UI Nonfiction Writing Program, brought up the idea of Febos and her now-wife, award-winning poet Donika Kelly, joining the English faculty, they gave it serious thought. And they decided to go for it.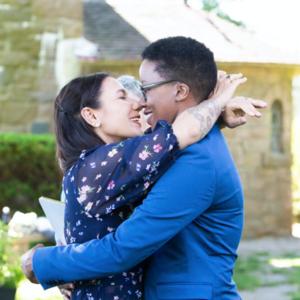 When the UI Department of English recruited author Melissa Febos to join the faculty in 2020, they also wooed her wife, poet Donika Kelly.
In January 2022, the writers learned they both were finalists for the National Book Critics Circle Award—Febos in criticism for Girlhood and Kelly in poetry for The Renunciations—with Febos taking home the literary honors in March.
"I would have been thrilled, and not surprised, for Donika to be a finalist, but for both of us to be named finalists? I absolutely did not expect that. What a ludicrous gift for us both to be recognized in that way," Febos says. "It's been so great to have a partner in this Iowa adventure. I don't think either of us would have considered coming here alone, and it's been such a surprising and fun time."
(Photo courtesy of Melissa Febos)
Febos has no regrets, despite arriving on campus in the middle of a pandemic. What she has encountered in Iowa City has been friendly people who wave as they pass, outdoor spaces in which to enjoy long walks, indoor living space to store as many cases of fizzy water as desired, and writing students with whom she has created a community that is both professionally and personally meaningful.
"Although it was challenging to come to the University of Iowa only to have to teach fully online for the first year due to COVID, by the end of that first year, I felt so much love and connection with my students," says Febos, who teaches undergraduate English and creative writing majors as well as graduate students in the Nonfiction Writing Program. "I was so proud of the community that we built in the virtual space, and it taught me something new about what a community is and what connection is made of and how resilient we are and how possible it is to adapt that desire and that effort to any situation under any set of conditions."
Febos, who says she knew in elementary school that she wanted to be a writer, had long searched for that community. She left her family home in Massachusetts at age 16 to move to Boston and take classes at Harvard Extension School, and then went to New York to study at the New School and Sarah Lawrence College. Since then, she has taught writing at SUNY Purchase, New York University, Utica College, and Monmouth University, among others.
Her books include the 2010 memoir Whip Smart; Abandon Me, a 2017 collection of lyric essays; Girlhood, a 2021 bestselling collection of essays about the values that shape girls and the women they become; and Body Work: The Radical Power of Personal Narrative, which was published in March 2022.
Girlhood, which The New York Times Book Review described as "a feminist testament to survival," was named a notable book of 2021 by NPR, Time, and The Washington Post. In March 2022, Febos learned the book won a National Book Critics Circle Award for criticism.
Febos shares what she loves about teaching, her students, and Iowa City, as well as what's next for her and her writing.
Girlhood clearly has resonated with people. How do you feel about the attention?
It's funny because I've been writing for so long, and to me the rewards of writing really come primarily from the practice of it. By the time I finish writing a book, I've already experienced the most valuable part of it. That said, it's so nice to be recognized. The response to my books has always been generous, but I have not been a person to win a lot of prizes.
In Girlhood, I was just writing the thing that was in my heart and mind to write, and I think it lined up with a moment in which people were ready for the kind of conversation that I had been having with myself and other people while I was writing that book. It was lucky timing—when the obsession of a writer is mirrored by the interests and obsessions of a larger number of people. It was weird to have moved here and started this new job and then suddenly I was on morning television shows broadcasting from my desk. 
What do you enjoy most about teaching? 
When I was a kid, I hoarded books and made my bedroom into a library. I wrote my name in all of the books and made little borrowing cards like we used to have in the library, and then I would force my family to borrow my books. I would prescribe what books they should read. I have always wanted to tell people what to read, to give people the things that I am excited about reading, and then have a conversation about it.
So, it feels like a gift that I'm able to do that in my job. We read things and talk about them, and also talk about the practice of writing and how valuable that process is to us, separate in many ways from our ambitions to publish. I have my undergrads write a reflective statement to put in their portfolio—something I cribbed from my wife—and I absolutely love these little narratives of how they incorporated into their work the things we talked about in class and how it changed their perception of their work. To think and talk with a community of young, talented people and watch them grow and integrate those processes into their lives and work is such a thrill. It never gets old. 
What do you most want to impart on your students? 
I want to impart that writing, though it is challenging and their practice ought to be rigorous, should also be the site of pleasure and insight; that writing has a value in their lives that is utterly distinct from their ambitions to publish a book or to be revered or whatever it is that they imagine in the future; that writing can serve a purpose in their lives, for the whole length of their lives, that brings them value and insight and joy that is totally independent of publishing. 
What sets the University of Iowa apart for writing students? 
When I studied creative writing, I was so hungry and so ambitious and so certain that I wanted to build a life with this artistic practice at the center of it. I wanted it to be a space where I could combine my curiosity about so many things and integrate it into this holistic way of living. There were other students who shared that drive, but not many.
I have never taught at a school with this concentration of students who have that same devotion and interest and drive, where they just know that this kind of work is the work of their lives and the work of their hearts. It is a teacher's dream to work with a roomful of students like that. They are the most talented, skilled students I've ever worked with, but I think, even more importantly, they are the most earnest, devoted students. They just want to soak it all up, and so we meet each other at this shared place where it feels like so many things are possible. 
What are you enjoying about Iowa City now that you've been here for a couple of years? 
I suspected I would like living here, but I'm surprised by how quickly it felt like home. I really like everything about Iowa City. I grew up in a place that was similarly full of nature. After living in a metropolis for a long time, it feels like a homecoming to live in a place where I can walk around my backyard with my shoes off and listen to the birds and the bugs and the wind. It's a really beautiful place to live. I've spent many hours in Hickory Hill Park, which is near our neighborhood.
After living in New York for so long, the novelty of the space here has not worn off. I still just troll around the Hy-Vee like I'm at an amusement park. For the first few months, I bought so much seltzer because I had been deprived of stocking up on seltzer in New York. You just didn't have the space for it, and you had to carry it on your back. The space here is thrilling. The expanse of the sky is totally thrilling. We stood out in our driveway recently and watched the lunar eclipse, and I felt so lucky to be here. 
Oh, and the rumors are true: People are really friendly here. It was disturbing when I first arrived. I would go for jogs early in the morning and pass people in City Park, and they would wave and say, 'Hi, how are you doing?' And I would wonder, 'Have we met?' It was really weird, but within a month or so, I was one of those people waving.
What is your latest book about, and what do you hope readers get from it? 
It's called Body Work: The Radical Power of Personal Narrative, and it's a distillation of some of the subjects and ideas that I have been talking about in my classes and thinking about throughout my experience of publishing books and writing. It combines a memoir of my experiences as a writer with some philosophical material that's drawn from my experience teaching and thinking about writing and the ways we talk about writing. 
It speaks directly to the persistent concerns I've seen in my students over the years and tries to articulate the ways I have found to answer those concerns and support them. For example, every time I teach, I have students who fret about writing from personal experience and fear that they will be seen as self-indulgent or narcissistic, or that their life experience hasn't been profound or exotic or traumatic enough to warrant an audience. Their concerns seemed so persistent, so universal, that I knew they reached beyond my particular students. 
What projects are on the horizon? 
I'm a person who fears I will die before I get to all of the things I want to write about, which absolutely will happen, so I just need to reckon with that fact. I'm working on another essay collection and also a book about female celibacy throughout history as a path to liberation. I'll be on leave all of next academic year [the Guggenheim Fellowship provides funding for artists, scholars, and writers to pursue creative projects for up to a year], and I plan to spend it researching and writing this new book and really sinking into that. After publishing two books in two years, I'm ready to go into the writing cave and disappear for a little while. But I will be really happy to see my students when I come back.