Nursing alumna helps NYC take on pandemic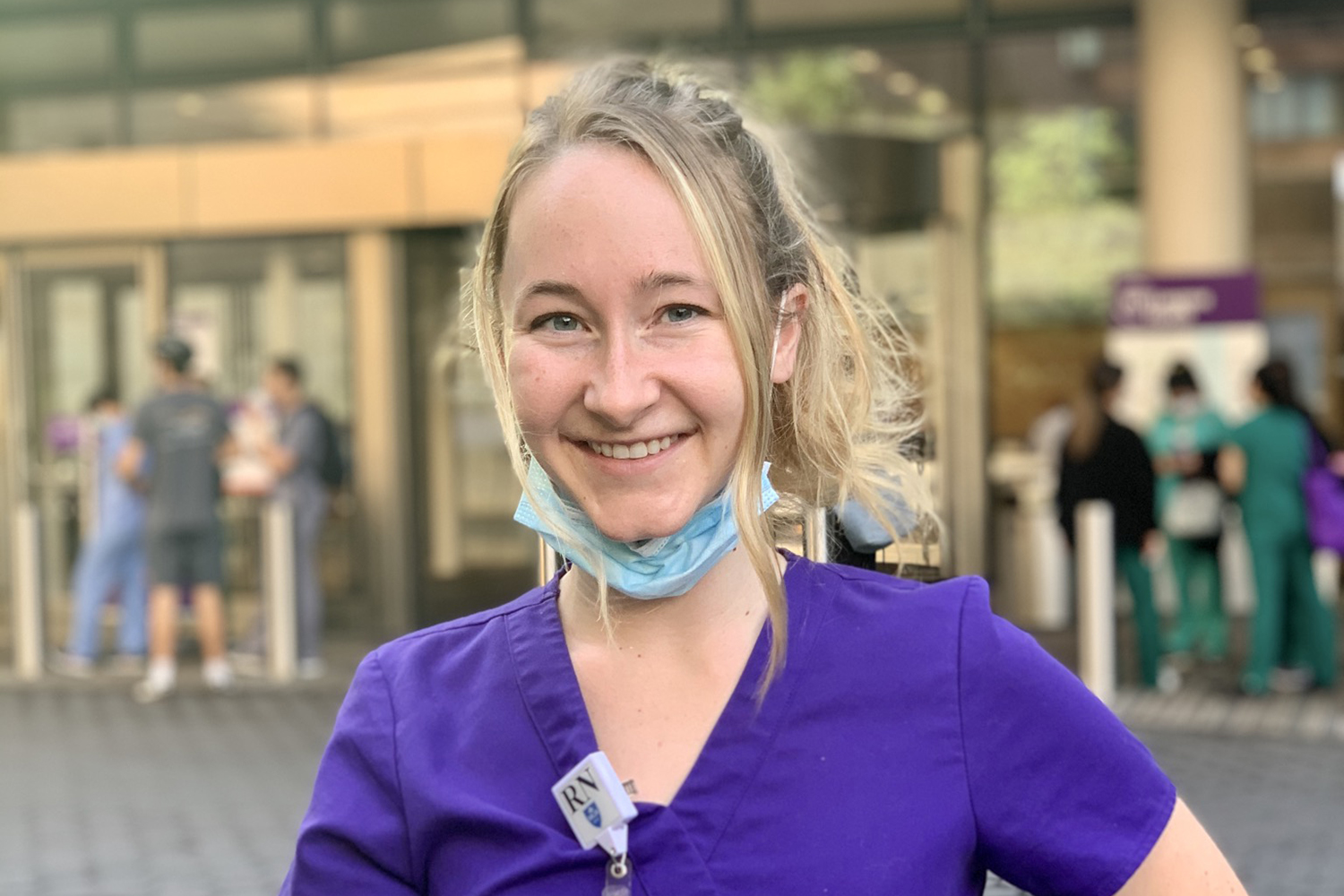 When Lucy Bucket saw New York getting hit hard, she knew where she had to go to help.
Lucy Bucket wanted to be a part of history. As a nurse, that meant she knew where she had to be as COVID-19 spread across America this spring.
"When it became clear New York City was overwhelmed with patients, I wanted to go and help," says Bucket, a 2014 Iowa College of Nursing graduate who now works as a traveling nurse. "I couldn't put myself in their shoes and not do something to help."
She moved to New York and on April 13 started an 8-week assignment working in the ventilator care unit at the Langone Medical Center of New York University in Manhattan. An intensive care unit nurse, Bucket tended to patients who survived the worst of the virus and were being weaned off their ventilators. The work was a challenge, she says, not only because of the sheer volume of patients but because of the nature of COVID-19. While some people compared it to a cold or the flu, it was for many far worse. 
The University of Iowa College of Nursing is routinely recognized as one of the elite nursing schools in the country, and it is the smallest in the Big Ten. Several program areas rank among the nation's best, including clinical nurse leader, nursing service administration, adult/gerontology acute care, primary care, and anesthesia.
"It doesn't act as expected, so the strategies to get patients off the ventilator don't work well for many of them," she says. Patients with other diseases who need breathing assistance are often on ventilators for only a few days. But COVID-19 causes so many health problems that patients are on a ventilator for weeks on end, leaving the diaphragm and other abdominal muscles atrophied and weakened to the point where they require extensive therapy for the patient to relearn how to breathe.
"We like to say we have them do lung push-ups," she says.
Many of the patients also contend with mental health issues and are increasingly agitated as their sedation is reduced, another mysterious symptom of the disease.
"They struggle to get to a mental state where they're calm enough to do the rehabilitation," she says.
Obviously, she says nothing she learned in her Iowa nursing classes prepared her to care for people in a hospital overwhelmed with pandemic patients for days on end.
"But they prepare you to help," she says. "An important thing we learned during this pandemic is that you have to work together and pitch in to help, and that was something we learned in our classes and clinicals over and over again."
Though most of her patients were in recovery, some still died and that's always difficult to deal with, she says. But every day at 7 p.m., she tried to make it out to watch the nightly appreciation, a line of firefighters, police officers, and neighbors who line up along the street outside the hospital to clap, cheer, and honk their horns in appreciation for the front-line health care workers' efforts.
"An important thing we learned during this pandemic is that you have to work together and pitch in to help, and that was something we learned in our classes and clinicals over and over again."
2014 University of Iowa College of Nursing alumna
Bucket worked at University of Iowa Hospitals & Clinics for two years after graduating in 2014, then became a traveling nurse in part to see places she hadn't visited before. She'd worked at hospitals in Boston and Southern California, and had just wrapped up an assignment in Palo Alto, California, when it became clear how widespread and dangerous COVID-19 was going to be.
"None of us thought this was going to be as serious as it became," she says. A planned vacation to India and Thailand was canceled and she made her way across the country to a rented Airbnb walk-up in Brooklyn's Clinton Hill neighborhood. Her boyfriend drove her into work every day across the Manhattan Bridge and brought her back home across the Brooklyn Bridge. She said the streets were mostly empty because of the quarantine, so traffic was not a problem.
She brought her 6-year-old golden retriever, Tuck, who spent his days running around Prospect Park, a mile from their house. She relaxed with yoga and bike rides to Rockaway Beach.
She wasn't been able to see many sites between working 12-hour shifts and the quarantine shutting down most businesses, so the Statue of Liberty, Empire State Building, or a Broadway play will have to wait for another visit.
In the end, her work paid off. The city reported zero COVID-19 deaths on June 3, the first time that had happened in months, just three days before her contract at Langone expired on June 6.
What's next on Bucket's list? At this point, she's not sure. She returned to Cedar Rapids, Iowa, to spend the summer with her mother after a two-week quarantine at a hotel. She hopes to take a vacation later in the summer and then head off to her next assignment in the winter. She's not sure where yet. California or Hawaii or somewhere else warm, maybe.
Wherever she goes, she says it will be difficult to feel like she made as much of a difference as she did while making history in New York City.
"Everyone working there did their absolute best for the patients, and I was proud to be a part of it," she says.