Offering what no classroom can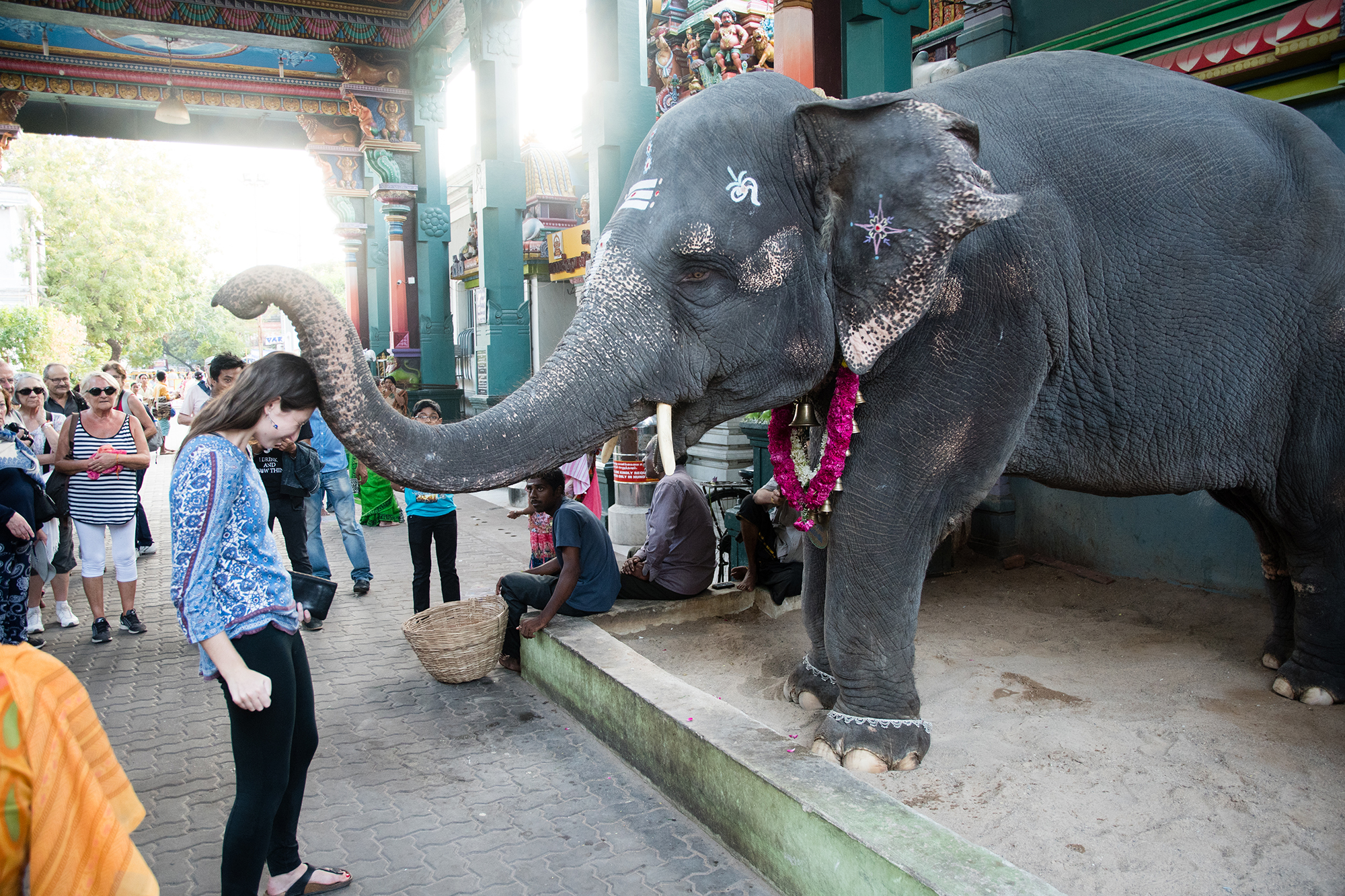 The award-winning India Winterim program matches University of Iowa undergraduates with India's best organizations.
Dozens of University of Iowa students and faculty each year choose to spend three weeks of the cold Midwest winter in the warm, sunny regions of India as part of an observational learning program called India Winterim. The goal of the program is to educate and inspire students by having them observe firsthand the efforts and methods of exceptional Indian organizations.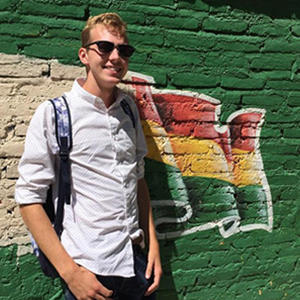 Hawkeyes have never been afraid to explore a new frontier.
Opportunities to study and learn internationally exist for all Iowa students. Last year, Hawkeyes in 65 different majors studied in 75 countries worldwide.
LEARN MORE >>
"I'm looking for who is doing extraordinary things and asking, 'How can we learn from them?'" says Rangaswamy Rajagopal, program founder and UI professor of geographical and sustainability sciences. "All my programs in India have people struggling in extraordinarily difficult situations. They're trying to overcome those difficulties and make life better. What better model is there from which our students and faculty can learn?"
India Winterim differs from conventional study abroad programs because of its focus on observational learning. With support from International Programs' Study Abroad Office, Rajagopal has spent many summers researching and connecting with public and private nongovernmental organizations (NGOs) in India that are recognized as being exceptional in their field. He then provides students with opportunities to directly observe and learn from those best practices.
"We have Nobel Prize winners, CEOs of large businesses—especially nonprofits—and internationally renowned doctors all opening up their doors to this program," says Rajagopal.
In 2016, India Winterim was selected from among 1,300 worldwide members of the Institute of International Education to receive the Andrew Heiskell Award for Innovation in International Education. Rajagopal reports that India is undergoing a period of technological, institutional, educational, and social change that creates a unique window of accessibility to organizations doing vital work. Students enrolling in the program apply for classes addressing topics such as health care, architecture, and social work, and the class then matches those students with NGOs in various locations across India.
Students meet face-to-face with the doctors, engineers, and social entrepreneurs managing these organizations and observe their innovative and often award-winning efforts. The first India Winterim course, offered in 2006, observed the pioneering work of N. Sethuraman, a renowned urological surgeon who was issuing micro loans to more than 400,000 women, following a model pioneered by his his friend and Nobel laureate Muhammad Yunus at Grameen Bank.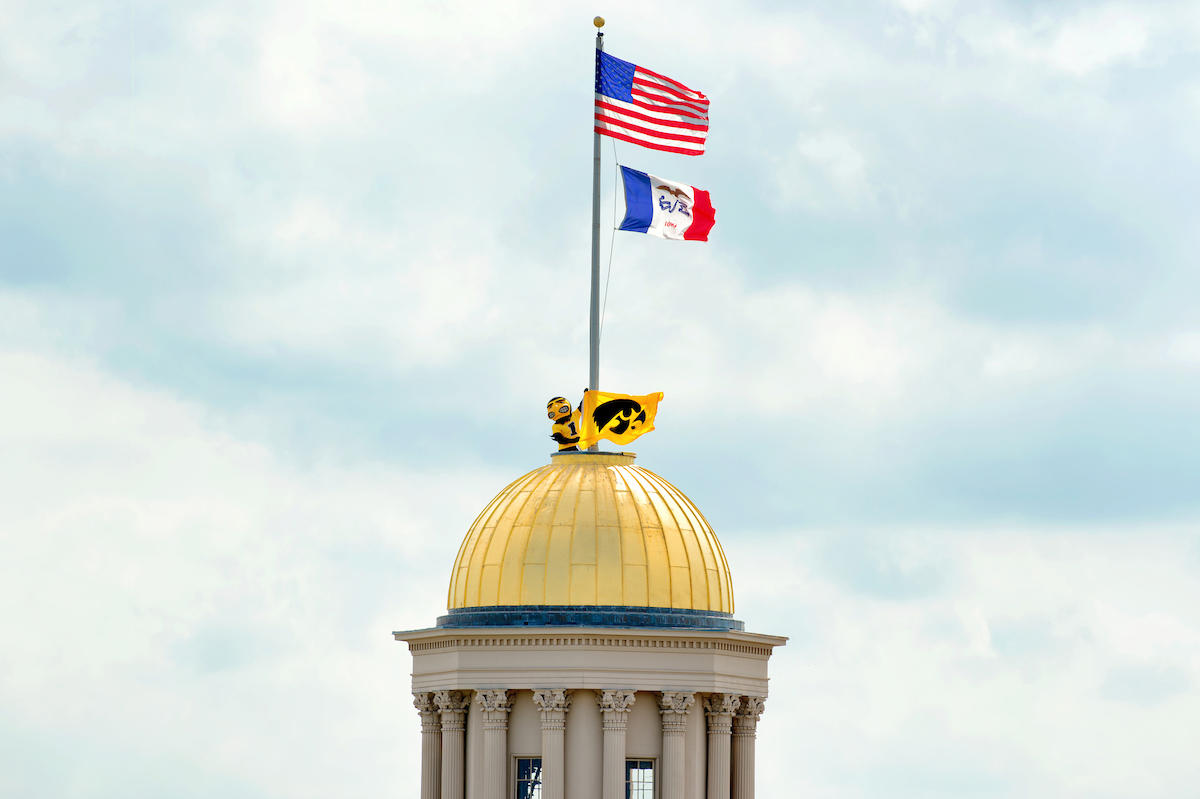 At the University of Iowa, every single Hawkeye learns how to build their own path and bravely go wherever it leads.
LEARN MORE >>
"That's just not an experience that you get in a classroom," says Helaina Thompson, a fourth-year triple major in health science, journalism, and engaged social innovation from Solon, Iowa. Thompson says she enjoyed her 2015 Winterim experience so much that she returned to India in 2016 for an independent-study final capstone project.
In the 11 years since the program began, more than 1,100 UI students and faculty have participated, including Mitchell Kelly, clinical professor in the College of Education, who, like Thompson, was so enthralled by his first visit to India that he returned four times, bringing his wife and three daughters with him. His son plans to participate when he turns 18.
"It's opened my eyes to the world in a way that I probably never would have dreamed of," says Kelly. "I grew up in poverty, and when you grow up like that you don't really expect to ever travel so far. My favorite thing to do while I'm there is just look out a window and just when you think you've seen it all, you see something new. It happens the entire trip, every trip."
Kelly says that almost all of the 60 UI students he's accompanied to India have told him the experience was life changing. Kelly says his daughters have become more conscious of the world and now are more politically active.
Rajagopal says one of the best things about Winterim is that participants become inspired, each in a different way.
"We want every student to realize they have the potential to change the world," he says.
"Exposed to the global condition"
Since its inception in 2006, during which 23 undergraduates participated, the program has offered more than 50 courses taught by about 40 faculty and has sent more than 1,100 UI students and faculty to India. Participating NGOs in India volunteer their time to answer questions from the students who are there to observe them.
There are three secrets to the program's popularity and success, Rajagopal says. First, the program only works with organizations that aspire to or already have achieved excellence.
"All the other study abroad programs are courses at institutions of higher education in other countries," he says, "and that means you are limited by the walls of the academy. We reduce the classroom experience and increase the direct observational opportunities of organizations at the pinnacle of their field."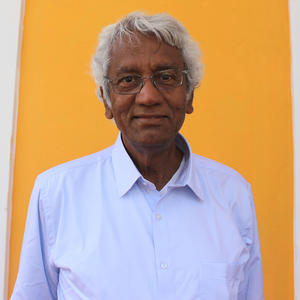 Rangaswamy Rajagopal, founder of the India Winterim program, has organized and directed between 150 and 200 workshops and seminars on topics ranging from environmental science to big data, economics, entrepreneurship, technology, and ground-water protection.
The second secret is the program's dedicated UI faculty and administration, who thrive in interdisciplinary and cross-cultural contexts and support the program through scholarships and inter-departmental cooperation.
The final secret is engaged students. The program only accepts students in good academic standing and asks for a personal statement to demonstrate preparedness and maturity for the heightened responsibilities of international study and travel.
"We are looking for students yearning to change the world," Rajagopal says.
The program is supported by multiple scholarship programs, but Rajagopal reports that the price can still be limiting to many. Depending on air fare, the pre-scholarship cost to a student varies from $5,500 to $6,000, but the UI often is able to offer up to $4,500 in scholarships to selected students to significantly reduce their out-of-pocket costs.
An average of 100 students and faculty participate every year, but Rajagopal hopes to increase that number to 500 and beyond, and he is actively campaigning to raise money for scholarships.
"We need more students to get the opportunity to be exposed to the global situation," he says, "and we need to give an opportunity to as many students as possible because different seeds sprout in different ways. You don't know if the quiet student in the back of the classroom is going to become an exceptional scientist, entrepreneur, artist, or a social reformer."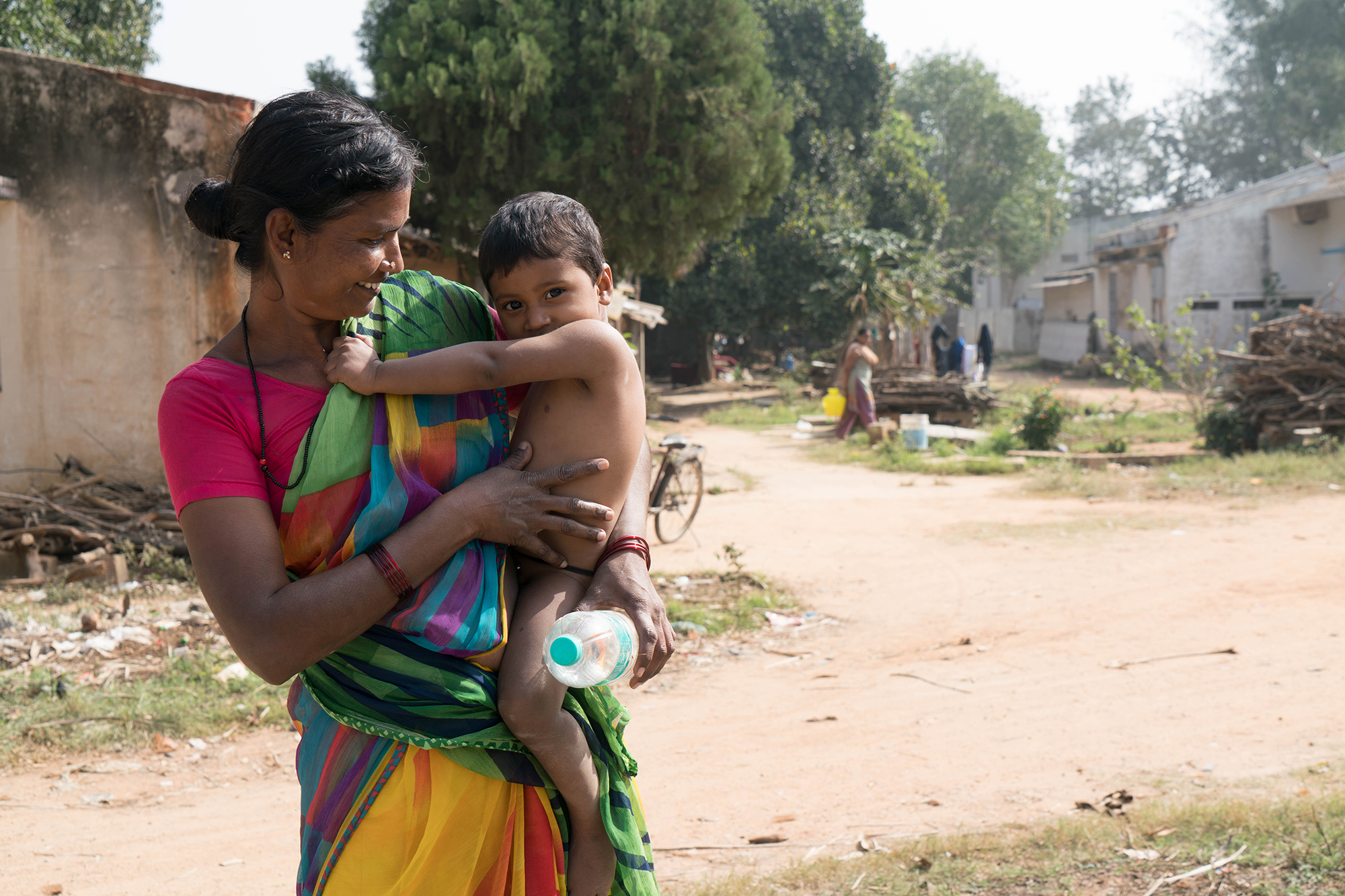 "I didn't really know what to expect"
"I'd never really left the time zone before," says Benjamin Nelson, a UI sophomore from Burlington, Iowa, studying economics and philosophy. "I didn't really know what to expect."
Nelson says he always wanted to study abroad, but his job as vice city council liaison for UI Student Government requires him to spend his second and third year in Iowa City, and he didn't like the idea of spending a semester abroad during his last year of college.
Because India Winterim is offered during winter break, however, Nelson was able to take part, and since his return he has become a ready advocate to others considering it.
"We are going to India to learn. In the process of seeing other people do good, you become more knowledgeable. Students become more equipped to go on to do great things."
India Winterim founder and University of Iowa faculty member
"To anybody that's thinking about going on the Winterim program, don't do it if you're not willing to get out of your bubble," he says. "If you are looking for a way to have completely new experiences, then definitely, definitely go."
Nelson's India Winterim experience placed him and several other undergraduates in Pondicherry, a former French colony on India's southeastern coast. On their second day, the students gathered to hear presentations from several participating social entrepreneurs describing the NGOs with which they worked. As an economics major, Nelson says he was drawn to the Samugam Foundation, an organization that provides a school and home for children from tribal groups and spurs economic development in low-income communities. Along with a few other students, he was assigned to observe Samugam over the next three weeks.
Like most students in the program, Nelson experienced culture shock from the many differences between life in Pondicherry and life in the Midwest.
On an average day, he and his fellow students awoke in their hotel along the beach to a 7:30 a.m. room service breakfast, which consisted of toast and an omelet. At about 10 a.m., Nelson made his way to the offices of Samugam, which involved navigating streets with traffic codes that he says are "alien to what we have in the U.S."
"They drive kind of how we walk," says Nelson, describing his morning commute on streets with no traffic lanes or sidewalks. The road was thronged with cars, busses, trucks, and motorcycles, each maneuvering around the others in a manner Americans might describe as swerving or cutting people off but is a normal part of traffic in Pondicherry. Honking horns were common, he says, not as an angry protest, but as a way of reminding other drivers of one's presence on a packed road.
Students worked with their NGOs until lunch, which generally involved eating at one of the many local restaurants, and though Pondicherry is speckled with French restaurants, Nelson says, "You really learned to deal with really spicy foods."
After lunch, students returned to their NGOs to continue learning about and observing the organization's methods and techniques, and when the work day finished, they explored the city or went back to the hotel and lounged on the beach. Nelson recalls a vast open-air market that he describes as "an outdoor Hy-Vee," and five temples built by architects from five major civilizations of the ancient world. A temple with Byzantine columns stood near a temple with lions carved in the style of Chinese artisans.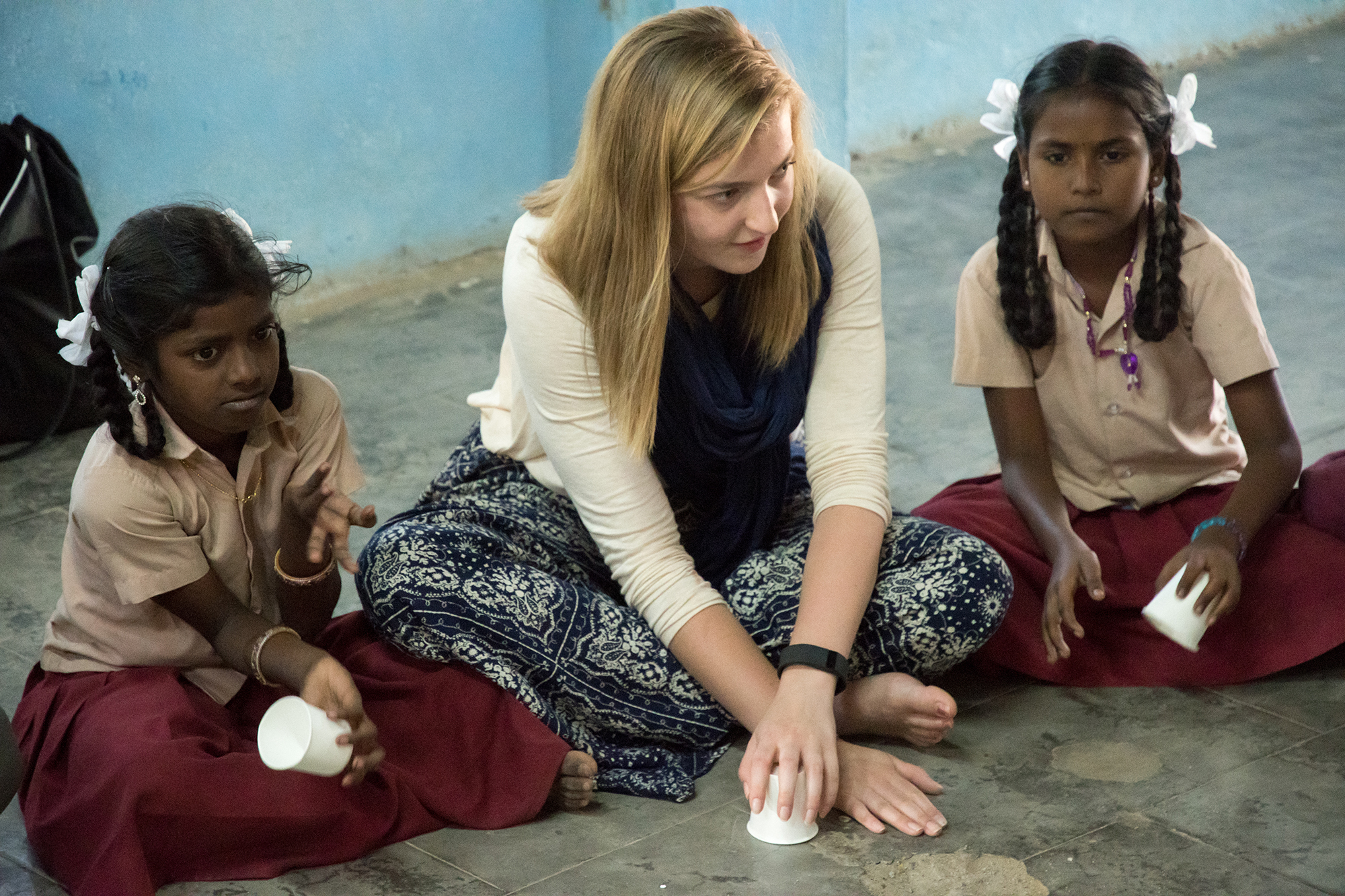 "A time to get inspired"
In the last two months of 2016's fall semester, Helaina Thompson's final semester of college, she returned to Pondicherry where, like Nelson, she stayed during her previous Winterim experience. Thompson traveled to India on her own to complete an independent-study final capstone project, and because she was taking online courses that semester, she was able to live in India while she finished her degrees.
Thompson returned to follow up on the independent project inspired by her first visit. She had observed the NGO Sanjeevan, which provides palliative care to more than 500 patients in the Pondicherry area. At the time, Sanjeevan had no online or social media presence and was in need of a website, a Facebook profile, and content for both to raise its public profile and support its medical efforts. In Thompson's follow-up visit, she helped Sanjeevan fill those needs.
Before her Winterim experience, Thompson says she felt she needed to choose between her interests in health science and journalism, but after observing Sanjeevan she recognized a way to combine the two, which led her to apply to graduate programs in public health.
Thompson says that many students like herself find clarity through their Winterim experience about which careers to pursue.
"Going to India was a time to get inspired," she says. "I realized over the last six months or so that there's this whole area of public health that's about creating strategic campaigns to influence the public to become healthier or make healthier decisions."
For Benjamin Nelson, the most memorable moment of his program experience happened on the street one afternoon. A man who lost his fingers and toes to leprosy and whose voice sounded like "he was gargling gravel" poked Nelson on the arm, begging for rupees, the currency in India. Nelson never before had been face-to-face with such poverty, and though he knew it existed, he says he'll never forget looking the man in his blood-shot eyes and feeling the man's scabbed knuckles on his arm.
"That was the most uncomfortable but perspective-gaining moment that I've ever had," he says.
Still in his second year at the UI, Nelson isn't certain what career he'd like to pursue after college, but he says his Winterim experience convinced him that he wants to advocate for basic human rights so that no one is forced by their socioeconomic condition to suffer like the man he encountered on the street.
Thompson says another reason she returned to India was because she missed the day-to-day life in the country, and she's tried to bring that back to Iowa with her. She cooks with more vegetables now, and she walks and rides her bike more.
Most of all, she continually challenges herself and other Winterim participants to consider "how people in India are living richly. Maybe not financially—but what is rich about India that we can take home and make our own lives better?"
Rajagopal says he is thrilled by all of the positive takeaways students get from the experience, and he reiterates that the primary purpose of the Iowa Winterim program isn't for UI students to help others—at least not immediately. At its core, the program is an educational one.
"We are going to India to do good to ourselves," he says. "We are going to India to learn. In the process of seeing other people do good, you become more knowledgeable. Students become more equipped to go on to do great things."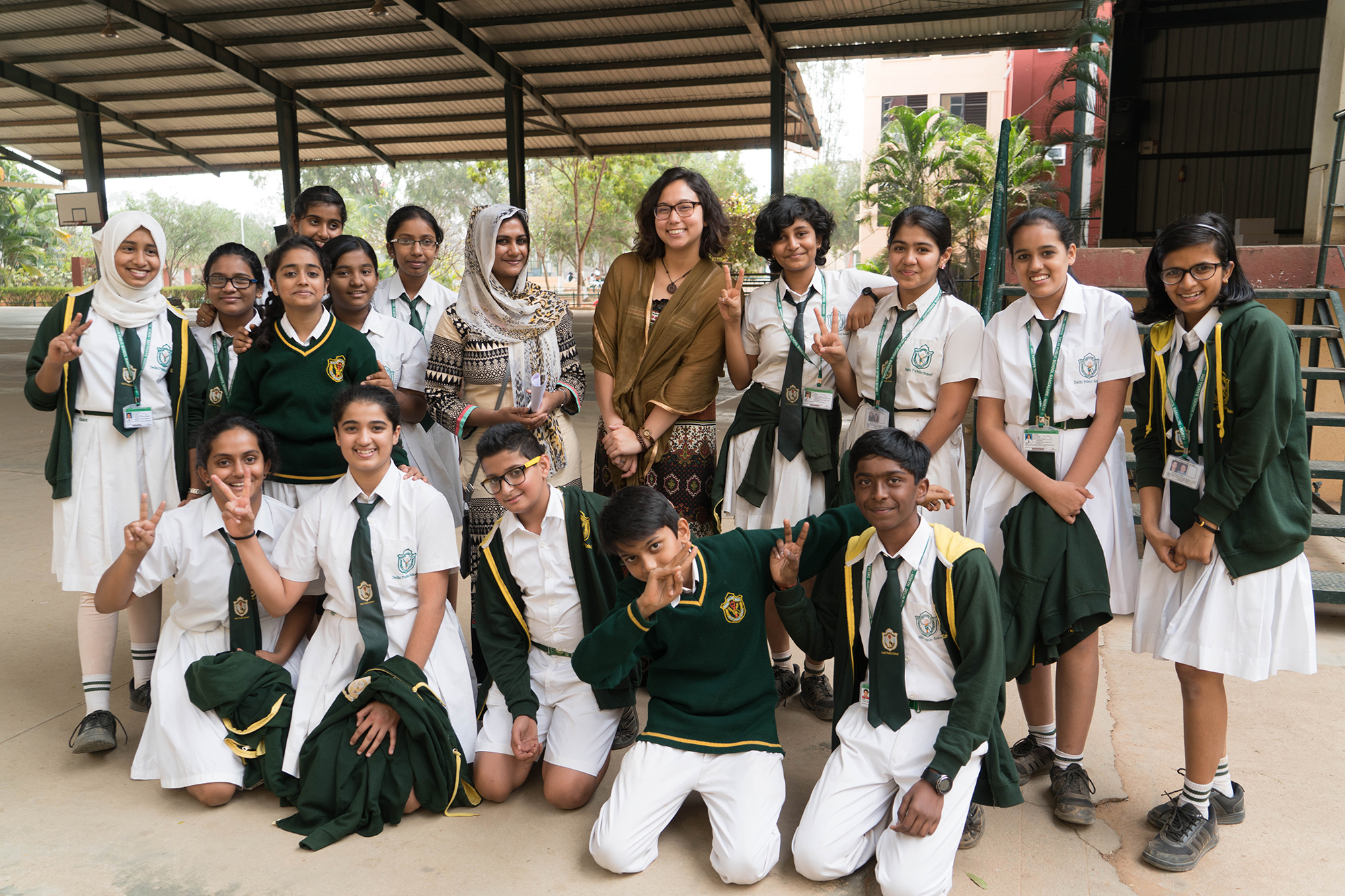 Story by Cristóbal McKinney
Photography by Helaina Thompson and Mei-Ling Shaw Williams
Video by the Office of Strategic Communication