Psychological and brain sciences to get new building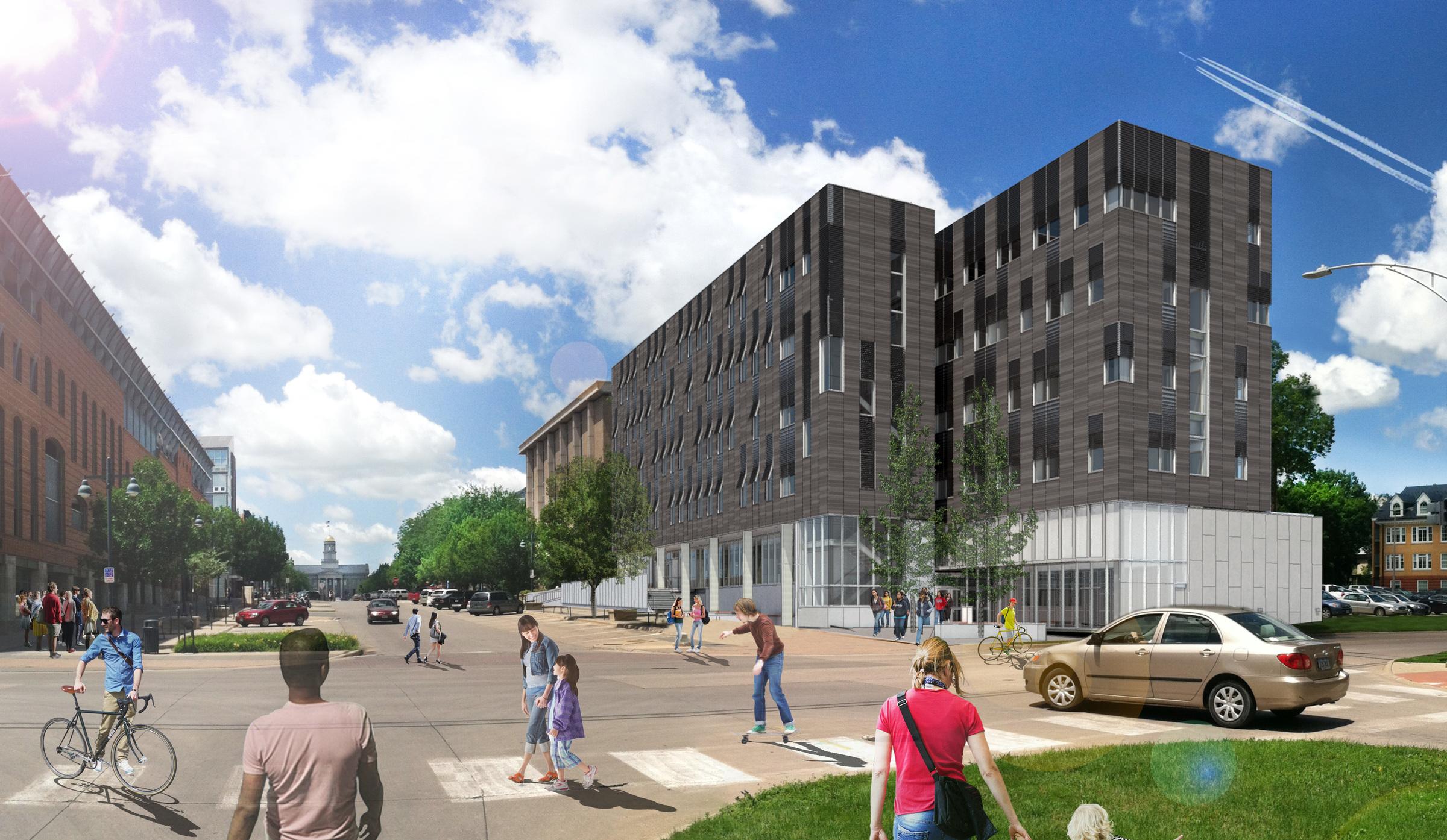 Psychology has long been one of the most popular undergraduate majors at the University of Iowa, and it also boasts a sizable graduate program.

With the UI's renewed emphasis on neuroscience—the 2016 establishment of the Iowa Neuroscience Institute and the 2017 introduction of an undergraduate major in neuroscience—faculty, staff, and students in the Department of Psychological and Brain Sciences soon will enjoy a new campus headquarters.
The department, which has more than 1,400 declared majors, is currently housed in three buildings near downtown Iowa City: Spence Laboratories, built in 1968; Stuit Hall, built in 1915 and renovated in 2011; and Seashore Hall, originally built in 1899 as the university's first hospital. The new six-story, 66,470-square-foot Psychological and Brain Sciences Building will be built to the east of Spence Labs—providing direct connections between the two buildings—and its construction will include razing a portion of Seashore Hall.
With completion tentatively set for 2019, the building will better support the changing nature of the growing academic discipline, says Mark Blumberg, department chair and F. Wendell Miller Distinguished Professor.
"We will be positioned to better prepare students for what modern psychology is all about," Blumberg says. "The new building will collect our faculty in one place and have state-of-the-art classrooms and cutting-edge labs, and—for the first time in anyone's memory—will provide commons space for our students. It will be easier to navigate, more integrated, and more functional. Not only will we be able to maintain the strength of our department, we'll also be poised to participate fully in the university's investment in neuroscience."
The Department of Psychological and Brain Sciences in the UI College of Liberal Arts and Sciences is one of the oldest and most distinguished psychology departments in the country. Its award-winning faculty members generate about $7.7 million in annual external grant funding and help generate more than 22,000 student credit hours per year.
The new building will serve as a gateway to the east side of campus, with glass doors flooding an interior plaza with natural light to welcome students and visitors. There will be open spaces, classrooms, and administrative offices on the lower and ground levels, and the upper floors will include faculty offices, dry laboratories, and additional learning commons space. Conference rooms and breakout rooms will facilitate collaboration.
The field of psychology, Blumberg says, has grown more sophisticated, with increased reliance on technology. Some experiments, for example, require specialized equipment to track eye movements or measure brain activity. The UI's commitment to neuroscience will mean more collaboration across campus departments, such as biology, psychiatry, and neurology, and the improved space will help facilitate that endeavor.
"The university has committed to hiring more faculty in our department who investigate the processes and mechanisms of learning," Blumberg says, "and we plan to make the most of this opportunity while building even stronger ties with faculty across campus."
Produced by the UI Office of Strategic Communication