Shaping the next wave of documentary filmmakers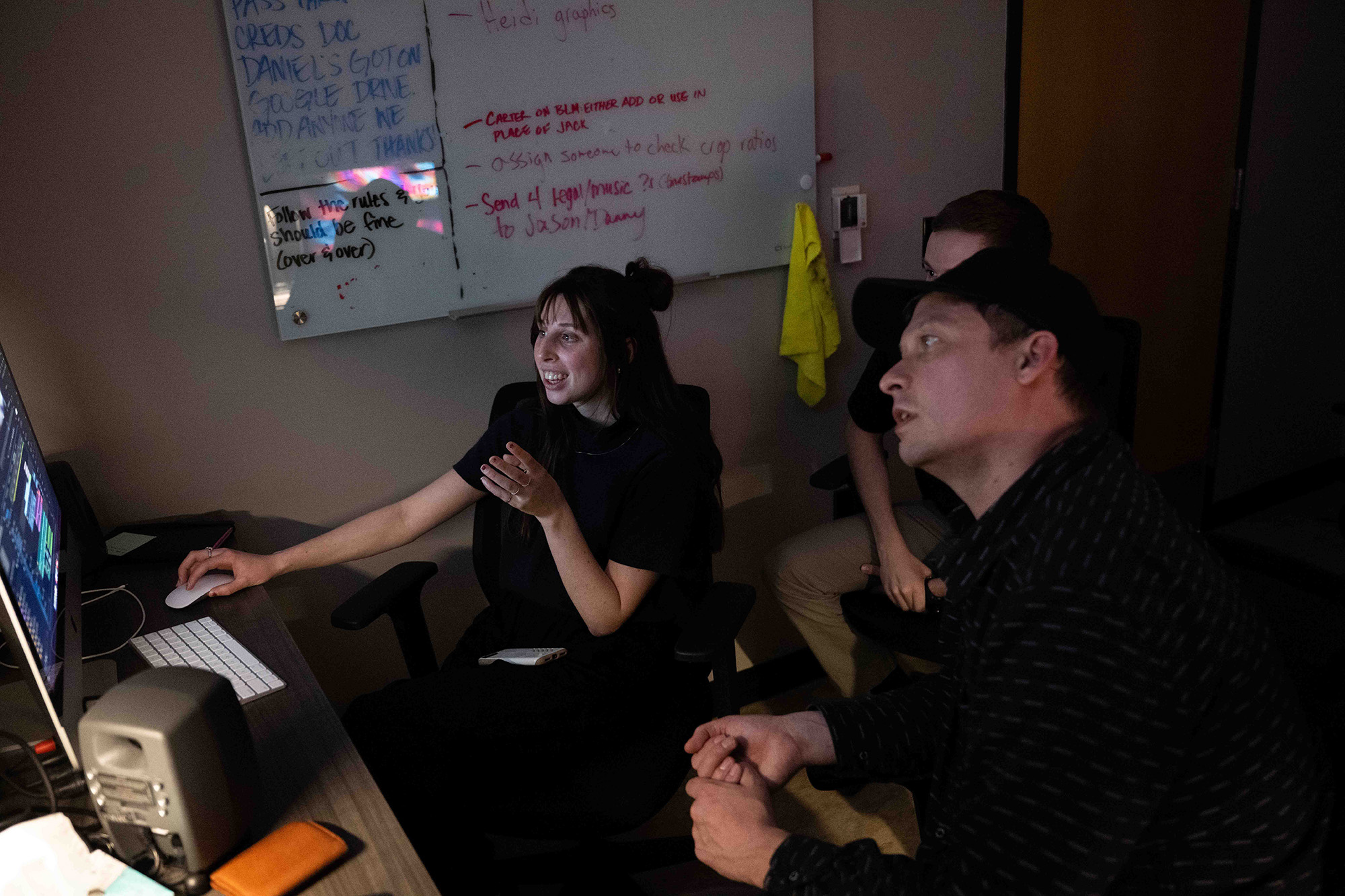 As the Daily Iowan Documentary Workshop debuts its second feature-length film, it joins a long legacy of training storytellers on the University of Iowa campus.
Jenna Galligan and John Richard edit Lost in the In-Between: Graduating into 2020, the Daily Iowan Documentary Workshop's second feature film.
Jenna Galligan fell in love with documentaries at the Oneota Film Festival in her hometown of Decorah, Iowa, which she attended every year with her dad. She chose the University of Iowa in large part due to its film program.
Even though she was excited to actively engage in visual storytelling, she admits that she expected much of her college experience would consist of sitting in class.
"But it was a lot less time in the classroom and a lot more time behind the camera," says Galligan, who graduated in May 2022 with bachelor's degrees in journalism and cinematic arts. "And I'm so glad it worked out the way it did."
Much of that time behind the camera was due to the Daily Iowan Documentary Workshop, which debuted its second feature-length documentary, Lost in the In-Between: Graduating into 2020, on May 4 to a sold-out audience at FilmScene. Its first film, Chasing Greatness: Wrestling Life, premiered in March on the Big Ten Network.
Two films, one similar theme
On the surface, the Daily Iowan Documentary Workshop's first two feature-length documentaries tell very different stories. But Ryan Adams says Lost in the In-Between: Graduating into 2020 and Chasing Greatness: Wrestling Life have more in common than you might think.
"The first film, Lost in the In-Between, is an intimate look at how the graduating class of 2020 at Iowa handled going into the world amidst a global pandemic and major world events," says Adams. "Meanwhile, the wrestling film is a behind-the-scenes look at how Iowa wrestling tackled their 2021-22 wrestling season.
"But both films show what it takes to persevere through adversity."
Galligan worked on both films, serving as an assistant director and editor on Chasing Greatness and director and editor of Lost in the In-Between.
The DI Documentary Workshop allows student filmmakers and photographers to work alongside seasoned professionals behind the camera in the field and in the editing studio.
"The goal of this workshop is to train directors, so the students are involved in all aspects of the process," says Danny Wilcox Frazier, a documentary photographer and filmmaker who serves as the workshop's director and The Daily Iowan's photo and film coach. "Any of them can leave here and be hired for any job on a film set, whether nonfiction or narrative. They're ready to work. That's the goal."
When the idea of the Daily Iowan Documentary Workshop was conceived in fall 2019, Wilcox Frazier thought it would take several years to develop a curriculum, renovate a studio, and fundraise before any filming would actually begin.
But then COVID-19 hit.
Daily Iowan Publisher Jason Brummond suggested that the workshop follow a group of graduating University of Iowa students as they navigated their first year after college amid a global pandemic.
"I thought it was a brilliant idea," Wilcox Frazier says. "COVID was a complete disruption to all our lives, but we had a job to do. We had a role to play within our community. And that role just kept intensifying through news events that happened over the course of the year that we made this film—the murder of George Floyd and the Black Lives Matter protests, the election, January 6th. These students covered it all."
The workshop students traveled across the country following 10 new Iowa alumni from May 2020 to May 2021. Before they could get to work editing the film, the workshop received permission to film the Iowa wrestling program's 2021-22 season.
The unprecedented access included every team gathering, practice, dual meet, and tournament. And at least one workshop participant was present to film every single moment.
"The last few years have been insane," Wilcox Frazier says. "And then to add that second film, that was absurd. But the students, all of us, made it happen."
As the team got to work on the wrestling film, the Big Ten Network agreed to partner with the workshop, marking the first time that BTN had partnered with a student media organization on a documentary.
"The opportunities that we've had here are second to none. I'm very grateful for what John (Richard) has done to help us develop as filmmakers and what Danny (Wilcox Frazier) has done to develop us as storytellers. Going forward, I hope that the workshop, as well as myself, continue telling stories that matter to others and help make the world a better place."
Daily Iowan Documentary Workshop participant from Independence, Iowa
Ryan Adams says he had always hoped to work on a major film project sometime during his career but never thought he'd have multiple opportunities to do so in college—or to work with a major network in the process.
"It felt like a big responsibility, and it felt like an awesome opportunity because we were not just showing a film, we were telling a story," says Adams, who is from Independence, Iowa, and graduated in May 2021 with bachelor's degrees in journalism and cinematic arts. "We were showing something that not a lot of people have been able to see, to have an inside look at what it takes to produce a program that's been famous for its excellence for decades, and to bring individual stories to the surface. It was a big responsibility, but it was awesome."
Daniel McGregor-Huyer echoes Adams' feeling of responsibility.
"We've got to be sure we're representing our characters correctly and representing who they are and what their personality is," says McGregor-Huyer, who is from Mahtomedi, Minnesota, and will graduate this month with a BA in cinematic arts and a certificate in disability studies. "They all have stories that are worth telling, and they each have left a significant impact on their communities and people's lives. So, it's a big responsibility, but I think it's a responsibility that has paid off."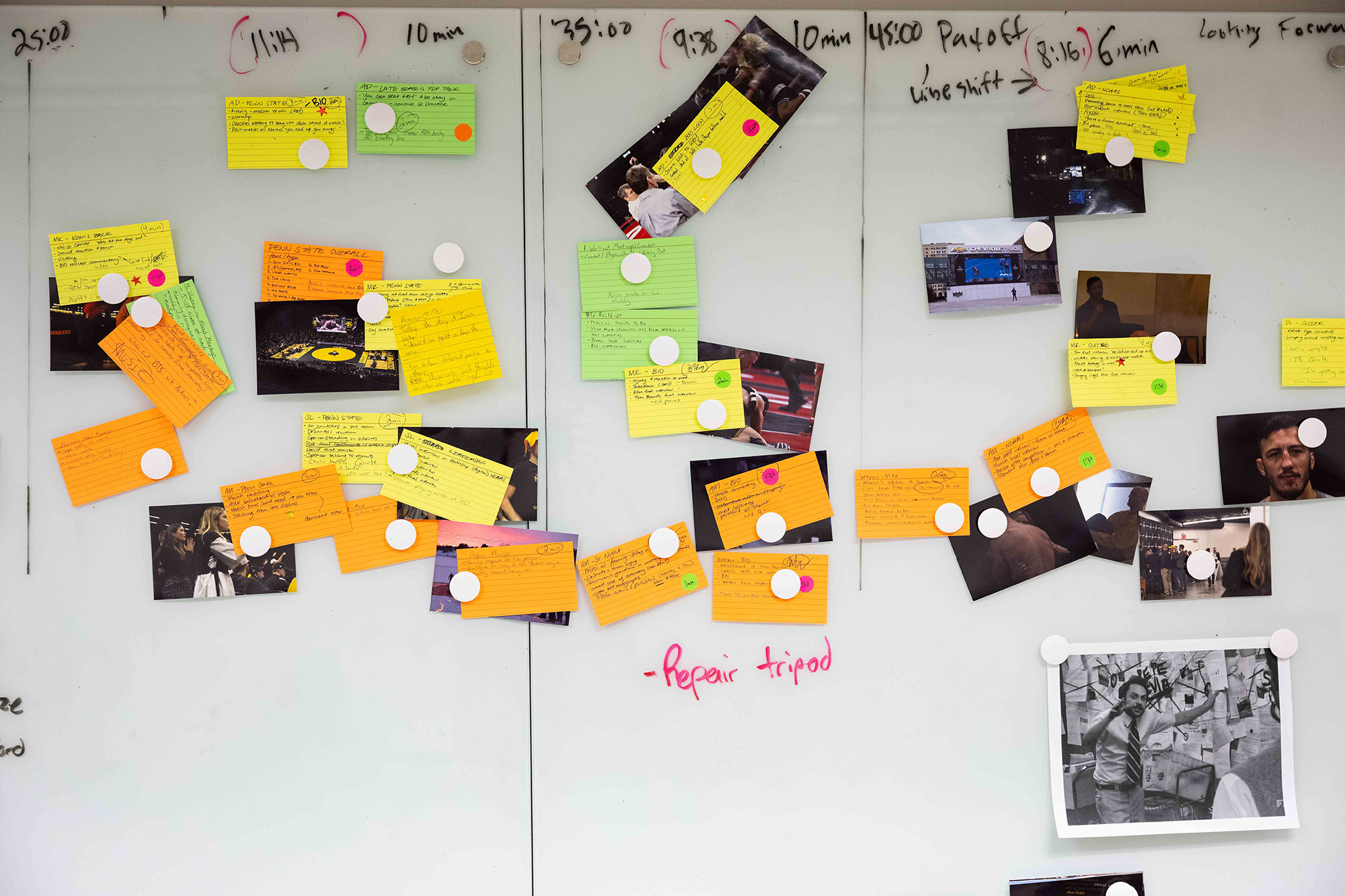 Learning new skills and building close bonds
After wrapping the wrestling documentary, the workshop participants turned their attention back to Lost in the In-Between.
"We took a lot from what we learned on Chasing Greatness and brought it to Lost in the In-Between," McGregor-Huyer says. "They are different types of films, but we could apply many of the skills from one to the other. We knew we could make the film feel like it's a story that's unfolding before our eyes, transporting the audience to these individual stories and bringing them along on their journey."
Adams, who stayed on campus to help finish the films after graduating, says the workshop has honed his storytelling skills.
Countless award-winning screenwriters, filmmakers, playwrights, journalists, translators, novelists, and poets also are Hawkeyes. The University of Iowa's programs shape the landscape of American storytelling.
"I'm better able to see the nuances in a story," Adams says. "I'm better able to find what the story is and to collaborate with others to figure out what the story is and then tell that story."
Meanwhile, Galligan says she is grateful for the chance to improve her communication skills.
"We've all done a lot of work in terms of synthesizing our workflow in the way that we communicate with each other," says Galligan, who also stayed on campus after graduating to finish the films. "I think the way that I communicated previously didn't always allow my ideas to get across to other people. And I'm still working on it, but being able to practice that with people who care about me and people whom I care about has been a real treat and a joy."
John Richard, a documentary filmmaker and editing coach for the DI Documentary Workshop, says he has many goals for what students take away from their experience in the workshop, but one in particular stands out.
"I hope that they trust their own creative voice a little more," Richard says. "I hope they feel more empowered to take on a project or be a part of someone else's project."
Throughout the making of the two films, the workshop participants developed a close bond.
"There were some 20-plus-hour days filming on the wrestling project, and some were equally as long editing, but it was nice to be able to share that with this team," Adams says. "Just when you didn't think you could give any more, we somehow managed to push even further. That's probably what I'll remember most about this."
Wilcox Frazier says the team often quoted Iowa wrestling coaches Tom and Terry Brands to each other, but one in particular sticks out to him when he thinks about the students he worked with.
"To quote Terry Brands, 'I hate using the word "proud," but I sure am proud of them,'" Wilcox Frazier says. "I admit there were times I didn't know how much more we could throw at such young professionals. But I couldn't imagine doing all this with a different team."
"To quote Terry Brands, 'I hate using the word "proud," but I sure am proud of them.' I admit there were times I didn't know how much more we could throw at such young professionals. But I couldn't imagine doing all this with a different team."
director of the Daily Iowan Documentary Workshop
Paving the way for the future of visual storytelling
Documentary storytelling has experienced a boom in popularity over the past few years, thanks in large part to streaming services. But traditional media companies are increasingly recognizing it as a powerful storytelling platform.
Brummond says when he was a student reporter and editor at The Daily Iowan in the 2000s, the main focus was on which news to put on printed pages. But as news consumption and news reporting became increasingly digital, the DI adapted and evolved, launching one of the first college newspaper websites in the country in the mid-'90s and DITV in 2005.
"The Daily Iowan Documentary Workshop is our new endeavor, and it makes so much sense for us, given our long success in visual storytelling," Brummond says. "The importance of good local journalism and multimedia storytelling has not changed over the decades, but how news and stories are told is constantly changing. We expect to be a leader and innovator in that space."
Brummond says he takes a lot of pride in The Daily Iowan's role within the larger storytelling legacy at the Writing University.
"The DI's primary objectives are to produce quality news for the University of Iowa and Iowa City communities and to provide a professional learning environment for student journalists," Brummond says. "The workshop accomplishes those goals at the highest level. The experiences we have provided in our first two feature-length films are rare and incredible opportunities for University of Iowa students—including the ability to learn from and work with top-level professionals.
"We want to help shape the next generation of storytellers and filmmakers."
What's next for the Daily Iowan Documentary Workshop?
After completing two feature-length documentaries in three years, Daily Iowan Documentary Workshop leaders say they expect the workshop to take a well-deserved summer break but return to work brainstorming ideas in the fall.
Help students tell more stories
You can help support the Daily Iowan Documentary Workshop by making a directed gift through the University of Iowa Center for Advancement or by contacting DI Publisher Jason Brummond at jason-brummond@uiowa.edu.
"There are so many opportunities and so many great stories on this campus," Richard says. "And I think the success of these first two films will open doors to being able to do a lot of different things."
They also will be seeking more opportunities to get Lost in the In-Between in front of more audiences, including submitting it to film festivals.
Six students worked on Chasing Greatness and 11 on Lost in the In-Between, most of whom already worked for The Daily Iowan.
While Daily Iowan students will continue to play a large role within the workshop, Wilcox Frazier says they hope to grow within the university community.
"We want to work with students who are interested in film scores. We want students from poli sci, anthropology, law school, the Writers' Workshop," Wilcox Frazier says. "We have a wealth of expertise at the University of Iowa. We have people with unique life experiences and perspectives that should be shared and learned from. My goal is to bring those individuals together around a common goal of learning through the documentary practice and making work that has a profound impact in our community and beyond."
As Adams reflects on the completion of two films and three years' worth of work, he says he looks forward to seeing what the next generation of workshop participants accomplish.
"The opportunities that we've had here are second to none," Adams says. "I'm very grateful for what John has done to help us develop as filmmakers and what Danny has done to develop us as storytellers. Going forward, I hope that the workshop, as well as myself, continue telling stories that matter to others and help make the world a better place."