Competitive on the court and in the classroom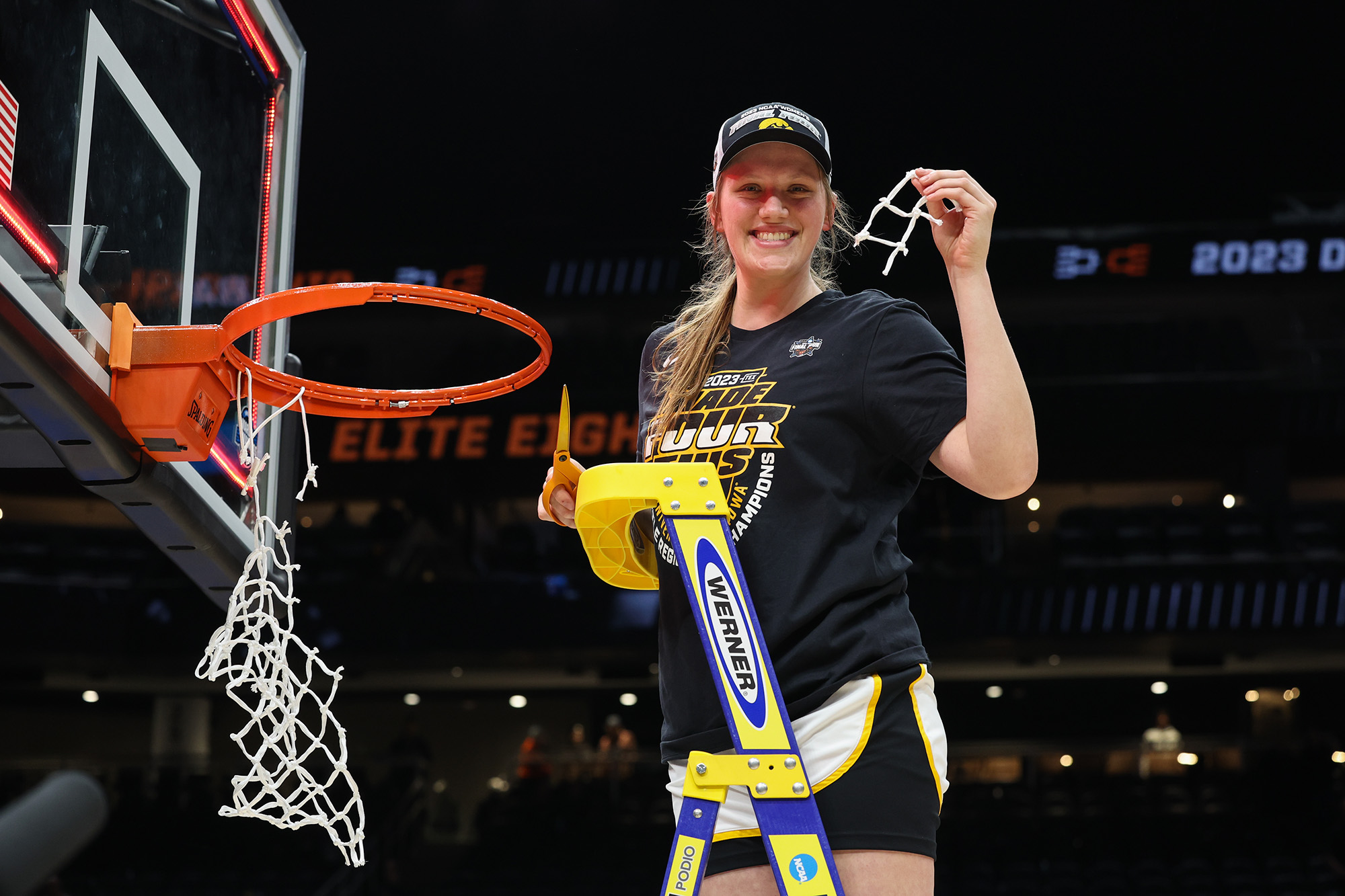 University of Iowa women's basketball player Sharon Goodman takes academics as seriously as she does her teamwork, earning the admiration of her peers as she goes through the daily grind of sports and school.
Caitlin Clark won every major national player of the year award as she led the University of Iowa women's basketball team to the NCAA championship game in March, but another Hawkeye also accomplished an impressive feat: Center Sharon Goodman was recognized for having the highest cumulative grade-point average of all the student-athletes competing in the 2023 NCAA women's Final Four.
Goodman, from Lime Springs, Iowa, won the Elite 90 Award from the NCAA for earning a 4.0 GPA. She also earned Academic All-Big Ten honors and was named a Big Ten Distinguished Scholar. She says she holds herself to high standards and is a self-described perfectionist.
"I take most things that I'm doing pretty seriously, and I like to have my work done," says Goodman, a senior with at least two seasons of basketball eligibility remaining, who is majoring in health studies and plans to study nursing. "I value school—it's important, and I want to do well. When you have other responsibilities outside school, whether it's athletics or a job, it's a challenge to balance everything, but I think it's one of the things that you learn to do. You adapt. Sometimes being busy forces you to manage your time."
Hawkeye basketball player Sharon Goodman says her faith plays an important role in her life both on and off the court, and she cherishes the community she has found in The Salt Company, one of more than 30 spiritual and religious student organizations at the University of Iowa.
"God has blessed me with abilities to be able to be here, and I'm going to use them to try to impact the people around me, whether that's on the court or the sideline or in the community," she says. "He is the inspiration behind why I do what I do and is what grounds me."
Goodman, who wears jersey No. 40 for the defending Big Ten Tournament champions, missed her sophomore year due to injury, but that didn't keep her from being a team player. Last season, during the team's championship run, she competed in 13 games.
"Even though I wasn't out on the court as much this past season, being able to see my teammates, who have worked so hard the past three years, make history and play on the highest stage was amazing," Goodman says. "Even though we lost the championship game, we lost gracefully, and I loved seeing the joy on my teammates' faces and on those of the fans."
Goodman says she loves playing a team sport and getting to know her teammates, whom she counts among her good friends.
"Being part of a team makes everything so much more special, whether it's coming back from a hard loss or making it to the Final Four, or when I tore my ACL," says Goodman, who was able to navigate her rehabilitation alongside a teammate with the same injury. "Everything is so much sweeter when you're doing something together as opposed to doing something individually."
At Crestwood High School, Goodman lettered in basketball, volleyball, and track but didn't expect to play Division I college basketball, even after helping lead the Cadets to the 2018 Class 3A state title with a 26-0 record.
"Iowa first reached out to me after my freshman basketball season—and they were the first college to do so. That was special," says Goodman, who also was high school valedictorian. "Plus, I knew I would be able to do almost anything if I came to the University of Iowa, and since I hadn't made any decisions on career direction, that was an important factor in deciding where to go."
Inspired to explore health care fields by her sister, a nurse, Goodman found that she loved what she learned in her human physiology and anatomy classes.
"Growing up, I didn't think a career in the medical field was for me, but once I got to Iowa and started taking anatomy classes, I flipped," she says. "I had Kelli Taeger, a health and human physiology professor, for a few classes and she was very involved. She worked with me on my basketball conflicts and was also excited to watch our games. She is one of my favorite professors on campus."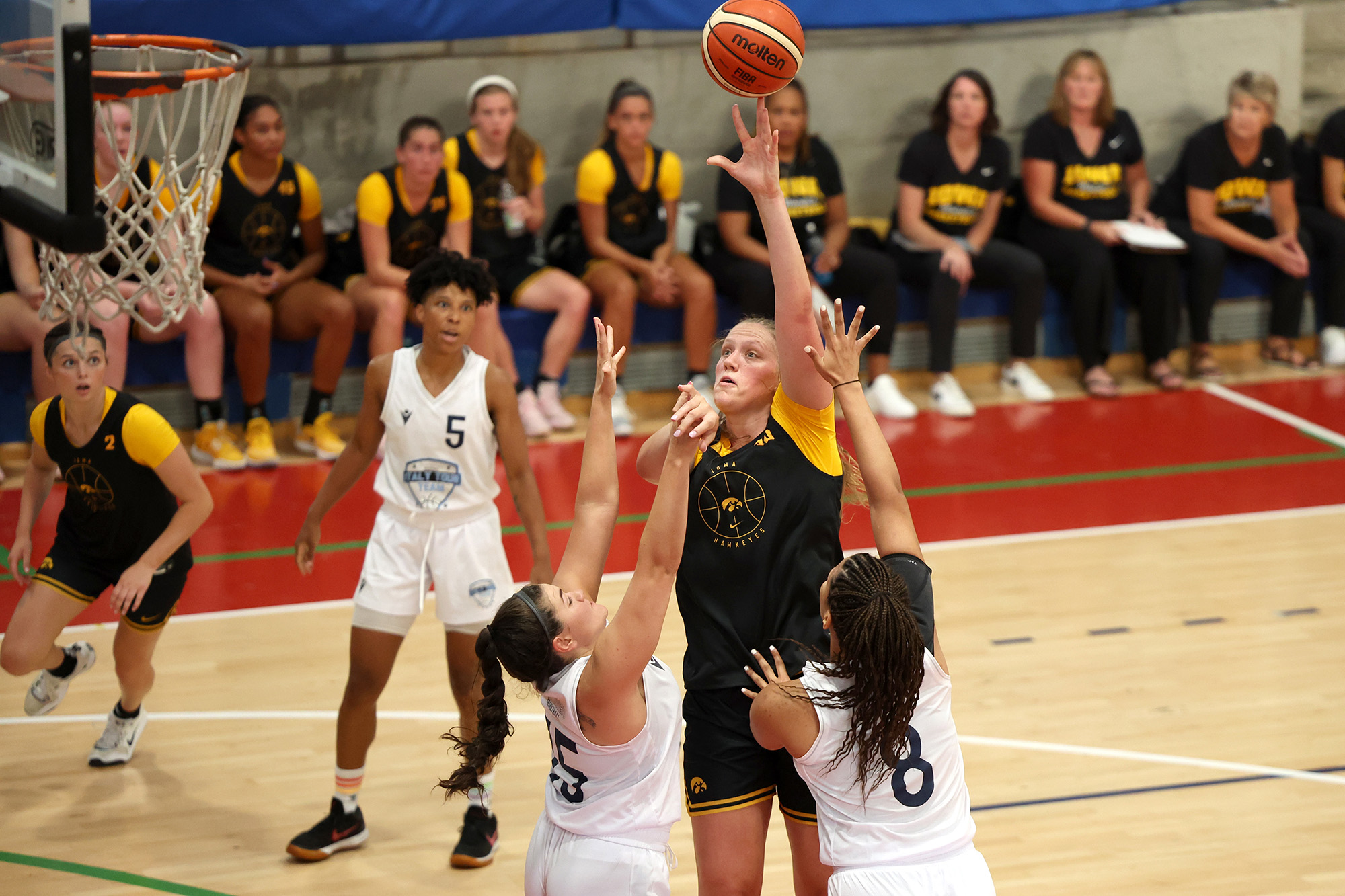 On the best advice from head coach Lisa Bluder:
"She always says, 'Be where your feet are.' If you are where your feet are, you can't worry about your schoolwork or think about that test during practice. It's the same in class—I can't be thinking about the game that night or how practice is going. And if you're with your friends, don't be on your phone. Be present in the situation that you're in. That's good advice for anyone."
On what she has learned from being a basketball player:
"I can't even begin to say all the ways that it prepares you for life—it teaches you how to work hard with other people, how to develop resilience, and how to have grace when things go wrong."
On what attracts fans to Iowa women's basketball:
"I think what drives people in is the way that we carry ourselves and how we interact as teammates. The love that we have for each other comes across in the energy we exhibit on the court and from the sidelines."
The team's successes over the past few years have required a lot of hard work, Goodman says.
"We are very blessed to get scholarships and meals and all the gear, but I think the daily grind is probably harder than most people think," she says. "They see the games from the outside and not so much all the work that goes into them—the tough practices and the long workouts. They see the highs, but not necessarily the lows."
Iowa associate head coach Jan Jensen says Goodman is the perfect representative of the women's basketball program.
"Sharon is positive and selfless and truly celebrates the success of each and every teammate, just as she does her own," Jensen says. "Her heart is so big. She is a role model, a tremendous student, a hardworking athlete, and a wonderful person in all realms. We're excited to see her growth and impact on the court this season."
Coming off a historic season that saw Iowa in the championship game for the first time, Goodman says she and her teammates are able to keep things in perspective.
"It amazes me when we run out into Carver on a Thursday night and it's full. We take that support very seriously—we know that we're playing for something that is more than basketball. So many people look up to us, especially girls, and that grounds us and helps us not get too caught up in the successes," she says. "Basketball is a blessing, but it is not everything. There is so much outside of it and so much in the future for me that isn't basketball."