Graduate spotlight: Brian Segura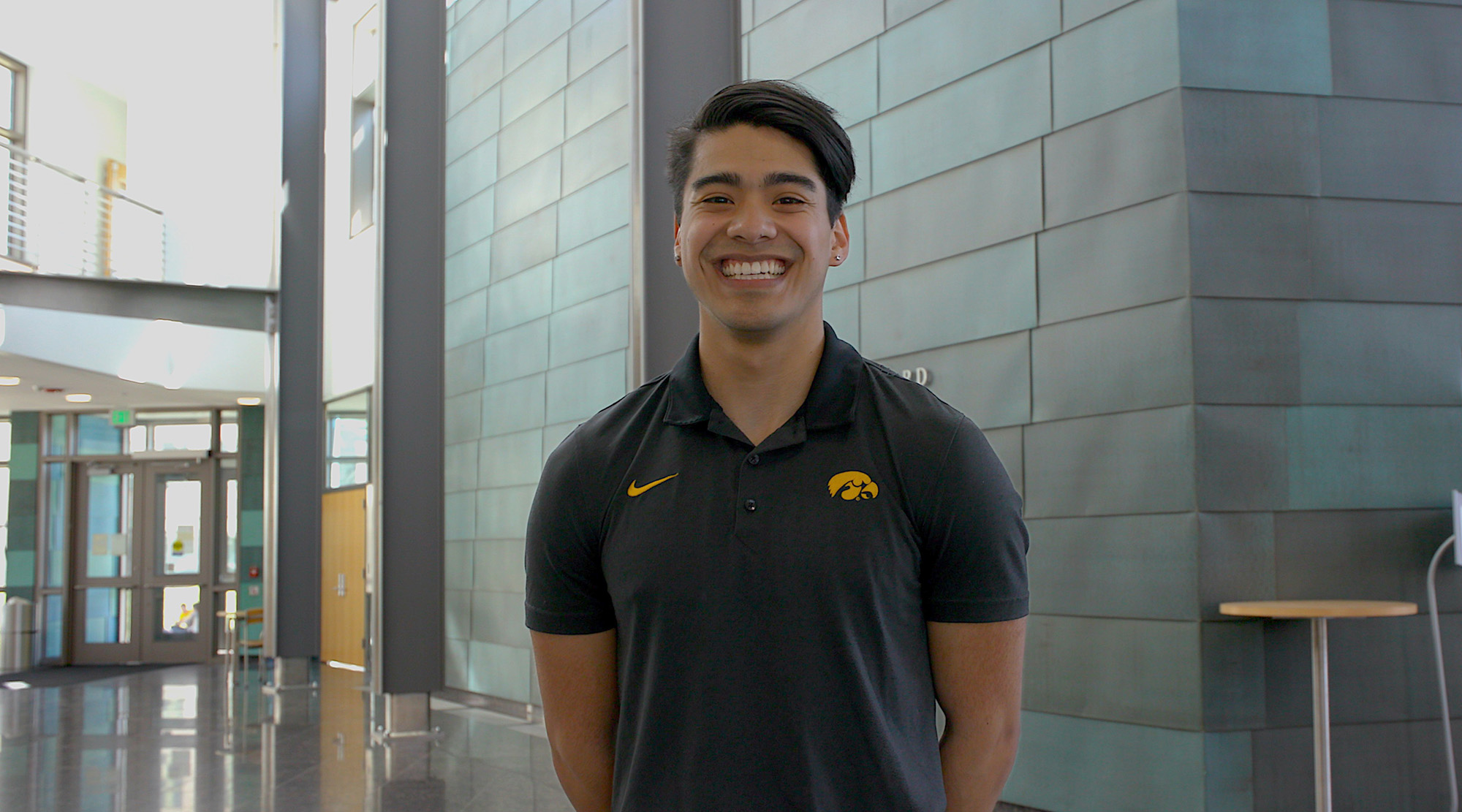 Brian Segura was raised a Hawkeye, but he says it was his campus visit that really cemented the fact that the University of Iowa was where he was supposed to be.
"It just felt like home," says Segura, who grew up in Streamwood, Illinois.
As a campus tour guide, Segura hopes to share that feeling with prospective students.
"I love when they ask why I chose Iowa, or what are my favorite things to do on campus, or how are the professors," Segura says. "Talking about what I've done and showing them that it's something they can do as well is awesome."
Hometown: Streamwood, Illinois
Degree: BS in exercise science, minor in psychology
What's next: Pursue a Doctor of Physical Therapy at the University of Iowa.
Segura is graduating with a BS in exercise science and a minor in psychology, and will stay in Iowa City to pursue a doctorate in physical therapy at the University of Iowa.
"Anytime I'm traveling and wearing my Iowa gear, I hear people say, 'Go Hawks!' Hawkeyes are everywhere," Segura says. "It means a lot to know you're coming from a school that has so much pride. Whatever we do, whether it's medicine or business or whatever we graduate with, we're proud to be Hawkeyes because of the experiences we've had."
What are some of your earliest memories from campus?
I remember kind of being, not necessarily overwhelmed, but kind of overwhelmed in an exciting way with moving in, getting ready, meeting new people. It was nice seeing everyone gathering together in this big community. I met some of my current roommates within that first day of moving in.
Why did you want to study exercise science and physical therapy?
I have played sports my whole life. And as my mom says, I'm kind of injury prone. So, it kind of made sense to do something that I have had experience with. But also, I really love the connections that you get to make as a physical therapist with your patients. That was the real draw.
What was your most memorable experience at Iowa?
My most memorable experience is being a part of the tour guide program here at the university. It was one of the first things I got involved with when I got on campus, and it helped me get out of my comfort zone. At the same time, it helped me develop professional skills that will help in the real world. Also, a lot of people I consider my best friends have come from that program, and if I hadn't gotten involved in it, I may have never met them and had these great people around me that I do now.
What is your favorite thing to do on campus?
Like I said, I have played sports my whole life, so the Campus Recreation & Wellness Center is probably my favorite thing. I love being able to go in there and hang out with friends, play basketball or volleyball, or actually go and work out. It's my de-stresser but also one of my favorite things to do.
What are some of the organizations you've most valued being a part of at Iowa?
The Pre-PT Club was really helpful. It brings people in from the outside to talk about the discipline, or what this or that school is looking for, and helps set you up for the next chapter of applying and then going to PT school.
I also have loved being part of the Iowa Track and Field Club. I ran track in high school. I was nowhere near good enough to go D1, so this was my way of continuing a sport and hobby that I absolutely love while also meeting people who have that same experience and that same kind of love for the sport.
What is one of the most valuable things you have learned at Iowa?
I've learned to be comfortable in the uncomfortable. Being able to get into those experiences where you're not too sure, maybe you're a little hesitant, but just kind of diving headfirst into it. Because a lot of those times, those opportunities have turned into something amazing where I think, "If I didn't do this, maybe I wouldn't be where I am now or have had the experiences that I've had."