Graduate spotlight: Daniel McGregor-Huyer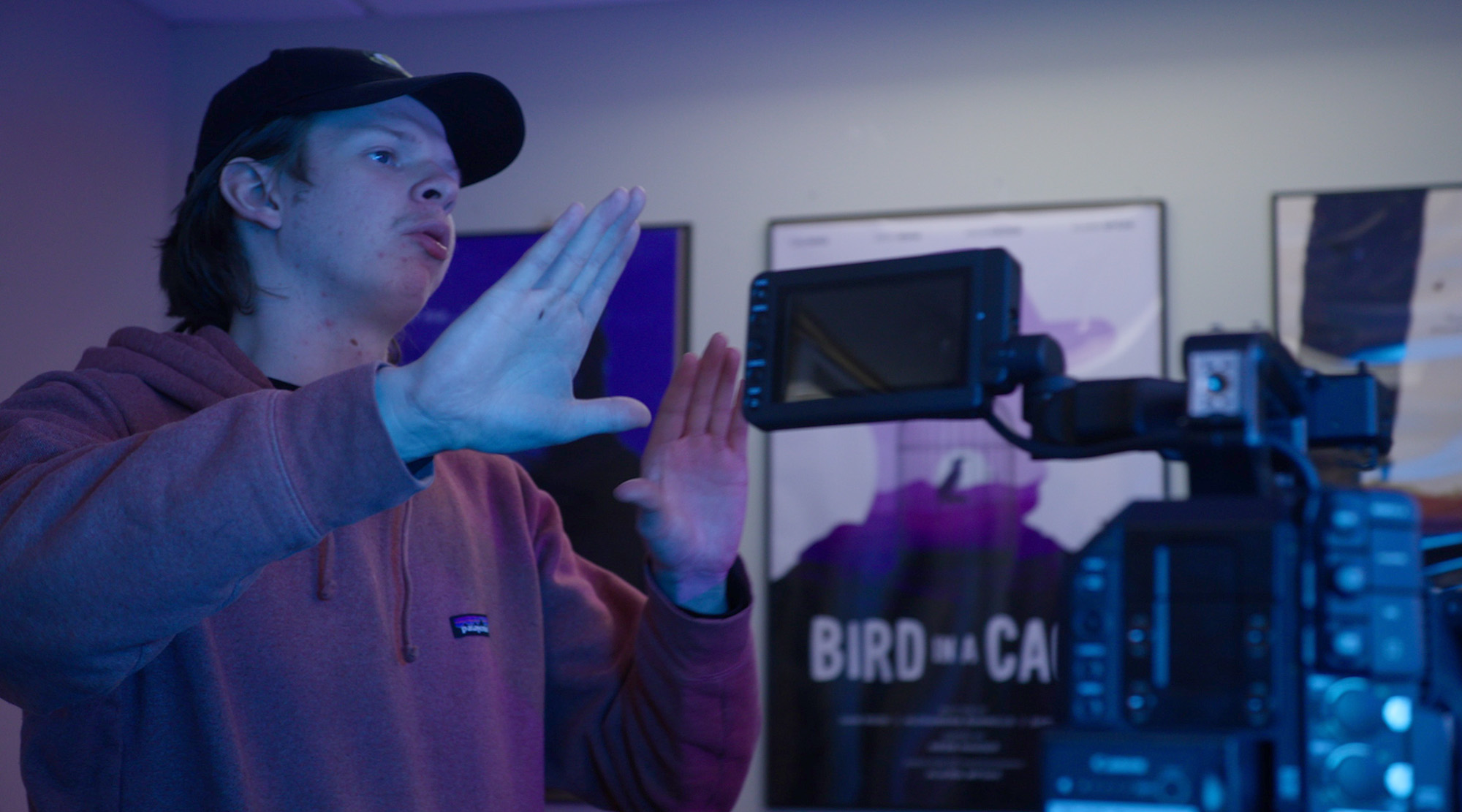 Daniel McGregor-Huyer graduated from the University of Iowa REACH program in 2020, but felt he had unfinished business on campus.
"I felt like I was on the right trajectory when everything came to a halt," says McGregor-Huyer, who grew up in Mahtomedi, Minnesota.
So, he says he took a gamble and applied as a traditional student at Iowa. He was accepted and will graduate this month with a BA in cinematic arts and certificate in disability studies.
Another gamble that he says paid off was working at The Daily Iowan.
"I'm not a journalism major, but they gave me opportunities to do something historic," McGregor-Huyer says. "I never anticipated that I would cover two of Iowa's greatest athletes, Spencer Lee and Caitlin Clark, in one year. I never anticipated having three videos win Iowa Newspaper Association awards or help get two feature films out in the world."
Hometown: Mahtomedi, Minnesota
Degree: BA in cinematic arts, certificate in disability studies
What's next: Traveling to Ghana with UI REACH.
Those two feature films came about through his participation in the inaugural Daily Iowan Documentary Workshop. The first of the workshop's feature documentary films, Chasing Greatness: Wrestling Life, premiered in March on the Big Ten Network. The second, Lost in the In-Between: Graduating into 2020, debuted May 4 at Iowa City's nonprofit cinema FilmScene.
McGregor-Huyer served in multiple roles on the films, including editor, assistant editor, director of photography, cinematographer, and transcription writer. He says he learned a lot from the workshop about how the film industry operates and how to effectively weave multiple stories into one.
"We've got to be sure we're representing our characters correctly and representing who they are and what their personality is," McGregor-Huyer says. "They all have stories that are worth telling, and they each have left a significant impact on their communities and people's lives. So, it's a big responsibility, but I think it's a responsibility that has paid off."
Why did you choose the University of Iowa?
I wanted a fresh start and the REACH program (nested in the UI College of Education) offered that. It has been a great resource for me. I wouldn't be in this room today if it wasn't for them. They are basically rock stars. This is a program that is very innovative. They've helped a lot of students who are now doing great by themselves out of college. They're part of the reason I came back. I felt like giving back to them was the right calling.
What is your earliest memory of campus?
The first day my anxiety was a bit high. I think it happens to everyone because you're leaving one part of your life and going into the next part of your life. I could not sleep that night and at 4 a.m. I decided to go for a walk and take my time and embrace campus a little bit.
Eventually I stopped and watched a beautiful sunrise. And it felt like something new started, and I've felt very at peace with this community ever since.
Why did you want to study cinematic arts?
I've always had a love for cinema. I've always liked the immersion of film. I loved Fantasia growing up, and it always made me feel like I'm not even in the room anymore. I'm just in whatever this film was offering me. And that was something that I kept falling in love with.
I always want to be a storyteller and a filmmaker and tell stories that can leave significant impacts on people, whether it's visually or just from a story standpoint. And that's why I love cinema.
What have you been thinking about as you come to the end of your undergraduate career?
It's not a matter of the person in the mirror. It's a matter of the people who are behind you and pushing you every single day. Some of the best photographers and videographers I've ever worked with come from this space. Some of the best friends I've had are in this space. And some of the best people within this community, even if I had never interacted with them, have left impacts on myself. And I think it's always great to talk about everybody who's been there to push you and help you give everything that you've got.