Graduate spotlight: Mara Frieden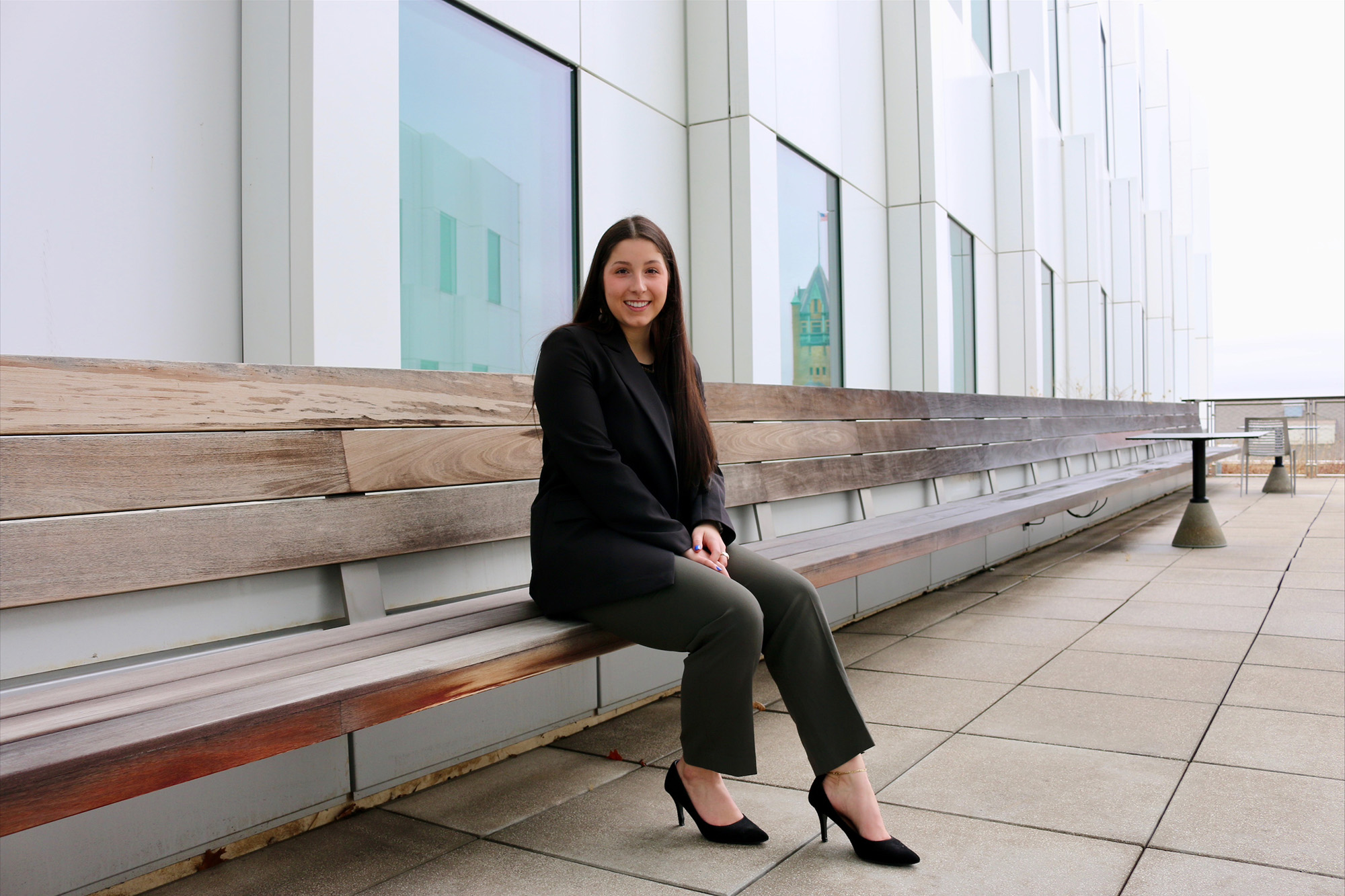 Samantha Buol and Regan Day
Mara Frieden knew she wanted to study business but wasn't sure about which specific areas of the field she was most passionate. She says direct admission to the University of Iowa Tippie College of Business allowed her to quickly discover the perfect fit.
This month, the Decorah, Iowa, resident will graduate with a double major in marketing and management, with a minor in communication studies, and take a position on the John Deere product launch team.
Hometown: Decorah, Iowa
Degree: BBAs in marketing and management, minor in communication studies
What's next: Working on the product launch team for John Deere, with her first rotation based in Moline, Illinois.
In her four years, Frieden took advantage of many opportunities with the Iowa business community, including being a member of Women in Business, the Tippie Business Honor Society, and Beta Gamma Sigma Honor Society. But she says the most memorable experience of her college years was participating in the Marketing Institute.
"It was an incredible, almost real-world experience," Frieden says. "I became so close with the team over three semesters of work. And we've stayed in touch with the client we worked with—Cambio Money, a financial startup company. It was really cool to see our work come to life and have that experience before even graduating. It helped a lot with the interviewing process and networking. So, that experience, both the professional side and the networking social side, are something that I'll carry with me forever."
When did you know you wanted to come to the University of Iowa?
I knew that I was going to come to Iowa the day that I toured campus. I had been touring numerous schools, but Iowa, as soon as I stepped foot on campus, it felt right. Oddly enough, it was snowy and not very nice out when I toured, but I loved that there was a big campus that felt like home.
What is your earliest memory of campus?
My earliest memories of campus are from the overnight stay for orientation. I remember going with hometown friends and connecting with new people and going to the rec center and pursuing all of the late-night activities. So, I have memories of us playing basketball, being in the hot tub, enjoying all of the activities that were offered.
What has surprised you about Iowa?
I would say the biggest surprise was how such a big university and big campus could feel so much like home. A lot of people said that when I was touring, but it seemed hard to believe because there are so many people here, and I thought it would be difficult to find my niche or collective groups that I could be a part of. But when I came to the university, it was easy and almost happened naturally to find groups that were supportive and made me feel part of them. I feel as though it's a small campus in a big area.
What do you like to do on campus to relax?
I love to use the Campus Recreation and Wellness Center. Being outdoors or working out in the CRWC are just so good for stress relief and allowing myself to take time for myself each day to move my body and let go of any stressors that I'm holding on to. If I'm not working out or experiencing any of the sports available to us, I like to just sit on campus in the sun and enjoy some quiet time.
How has resilience played a role in your college years?
Resilience definitely resonates with me and a lot of my peers because of the turbulent times that we have experienced throughout our college education. Resilience, to me, means getting back up when you fall down, because you're going to fall down. But having people around to support you when you fall is important. And you learn from it, and you try again.
I'm thankful for the peers who have been resilient with me, as well as the mentors that I've had who have allowed me to be resilient.
What are you thinking about as commencement nears?
I'm reveling in all the memories and looking forward to everything that's to come. I've had amazing experiences, and it's not a sad thing that those are over. I'm just happy to have experienced them and look forward to all the new memories that are coming.