Student veteran returns Iowa's welcoming gesture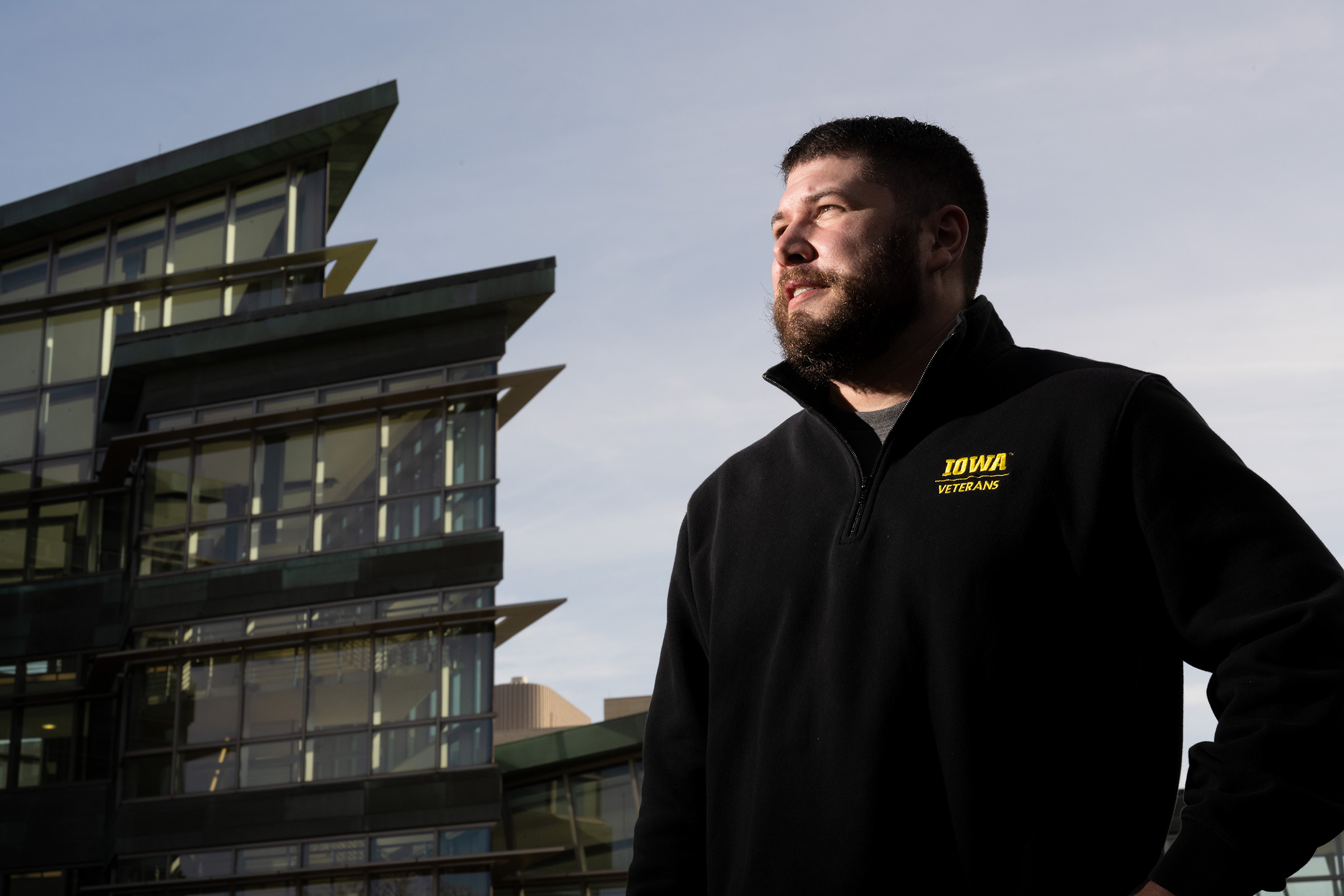 Jacob Schillo received a warm welcome for his military service when he visited the University of Iowa. The doctoral student in genetics—who was named a 2021 Tillman Scholar—has returned the gesture by creating programs to help student veterans succeed academically.
University of Iowa's 2021 Tillman Scholar
The Pat Tillman Foundation has announced that Jacob Schillo is among the 2021 Class of Tillman Scholars—60 leaders selected from a group of thousands of talented applicants. United by their military service, academic passions, and desire to make an impact, they join a growing network of leaders who are dedicated to service beyond self.
Jacob Schillo knew he had found a home nearly from the moment he visited the University of Iowa.
Schillo was an Air Force veteran looking at graduate programs in genetics. When he interviewed on campus at Iowa in 2016, the university sent a representative from the student veteran community to greet him.
"Iowa was one of the only institutions where I interviewed that immediately thanked me for my service," Schillo recalls. "At the time, I was still living on a military base, and all of my friends were military. It's something that's relevant to me still. So that really went a long way. Iowa really made an effort to make my service an important element of the conversation with me."
It's fair to say Schillo has returned the welcoming gesture, through his continued service to student veterans at Iowa, with an emphasis on helping student veterans succeed academically.
Schillo refuses to take much credit, but the Fort Dodge, Iowa, native was a main force behind the creation of the Veteran Peer Advisory Program in 2017, an initiative intended to ease veterans' transition from the military to college. Since the program's creation, each incoming student veteran—Schillo estimates there are about 100 each semester—has been automatically enrolled. The program has also secured a donation from Collins Aerospace to help it expand.
"When military members leave the service, they often describe losing two things: their families and their purpose," Schillo says. "With the Veteran Peer Advisory Program, we want to keep them in college until at least they finish their degree."
"Iowa really made an effort to make my service an important element of the conversation with me."
Air Force veteran and graduate student in genetics at the University of Iowa
The Veteran Peer Advisory Program aims to ease veterans' transition from the military to college. Interested in getting connected to a peer adviser or becoming a peer adviser?
But Schillo has more plans for student veterans. He started a professional-development initiative, the Veterans Innovation Series, geared toward graduate or professional student veterans, where they can meet and talk to each other and hear from successful military members outside Iowa describe their careers.
"There may be misunderstanding or lack of knowledge about what it means to be military connected or affiliated," Schillo says. "This is a good opportunity to imagine what it means to be a military veteran and successful."
Schillo joined the Air Force right after high school, enthralled with the idea of becoming a pilot and further spurred to serve by the 2001 terrorist attacks. The service doesn't allow new signees to fly fighter jets, and he was assigned as a nuclear weapons specialist. Broadly speaking, he helped maintain the safety and efficacy of our nation's nuclear arsenal.
"It's a pretty narrow career field," Schillo says, with a laugh. "Saying that, it's actually one of the most active missions the Air Force has. Nuclear weapons are a deterrent used to guard the United States and our allies."
After serving six-and-a-half years mostly at an Air Force station in Minot, North Dakota, Schillo decided to stay local, enrolling at Minot State University. There, he found purpose in his studies when he joined the lab of biology professor Heidi Super, who was studying the genetic reasons for high relapse rates among patients being treated for leukemia.
"That really helped my transition from the military, doing something that I felt was important again," Schillo says.
Schillo graduated from Minot State with degrees in biology and chemistry. Shortly thereafter, while at the American Association for Cancer Research meeting in New Orleans, he spied a poster talk by a postdoctoral researcher at Iowa. He learned the researcher worked with Adam Dupuy, associate professor in the Department of Anatomy and Cell Biology, and requested to meet Dupuy at the poster session.
"Jake is willing to work with just about anyone. And to some extent his military background, being a member of a team with a single goal in mind, is a real advantage to meeting his career goals."
associate professor in the Department of Anatomy and Cell Biology
Take the first step to joining the Hawkeye family!
Iowa will prepare you, challenge you, and change you. You will change the world. We accept applications year-round.
"We briefly discussed what he was doing, the list of projects he was working on," Schillo says, "and that was enough to convince me to go to Iowa."
What intrigued Schillo was Dupuy's research into the genetic entanglements in human cancers. Now in his fourth year in graduate studies, Schillo works with a genetic screening tool called "Sleeping Beauty" to better understand how and why certain cells mutate and become resistant to cancer treatments.
"I want to be where there is a great need," Schillo says about his involvement in cancer research. "I want to be able to utilize my skills the best, and this is one of those approaches that allows me to do that."
Dupuy says Schillo's military experience and maturity shine through in his disciplined, efficient approach to his research.
"When he comes into the lab, he's focused and ready to get done what needs to be done," Dupuy says. "It's what I tell students all the time: Learning how to manage time is important. Jake already knew that."
Ultimately, Schillo would like to land a faculty position at a research college or university. Were that to happen, it would fit in neatly with his growing résumé of mentorship, leadership, and being a team player.
"Biomedical research is too complex to be done alone. You need to work in integrative teams," Dupuy says. "Jake is willing to work with just about anyone. And to some extent his military background, being a member of a team with a single goal in mind, is a real advantage to meeting his career goals."