A sound career choice for sisters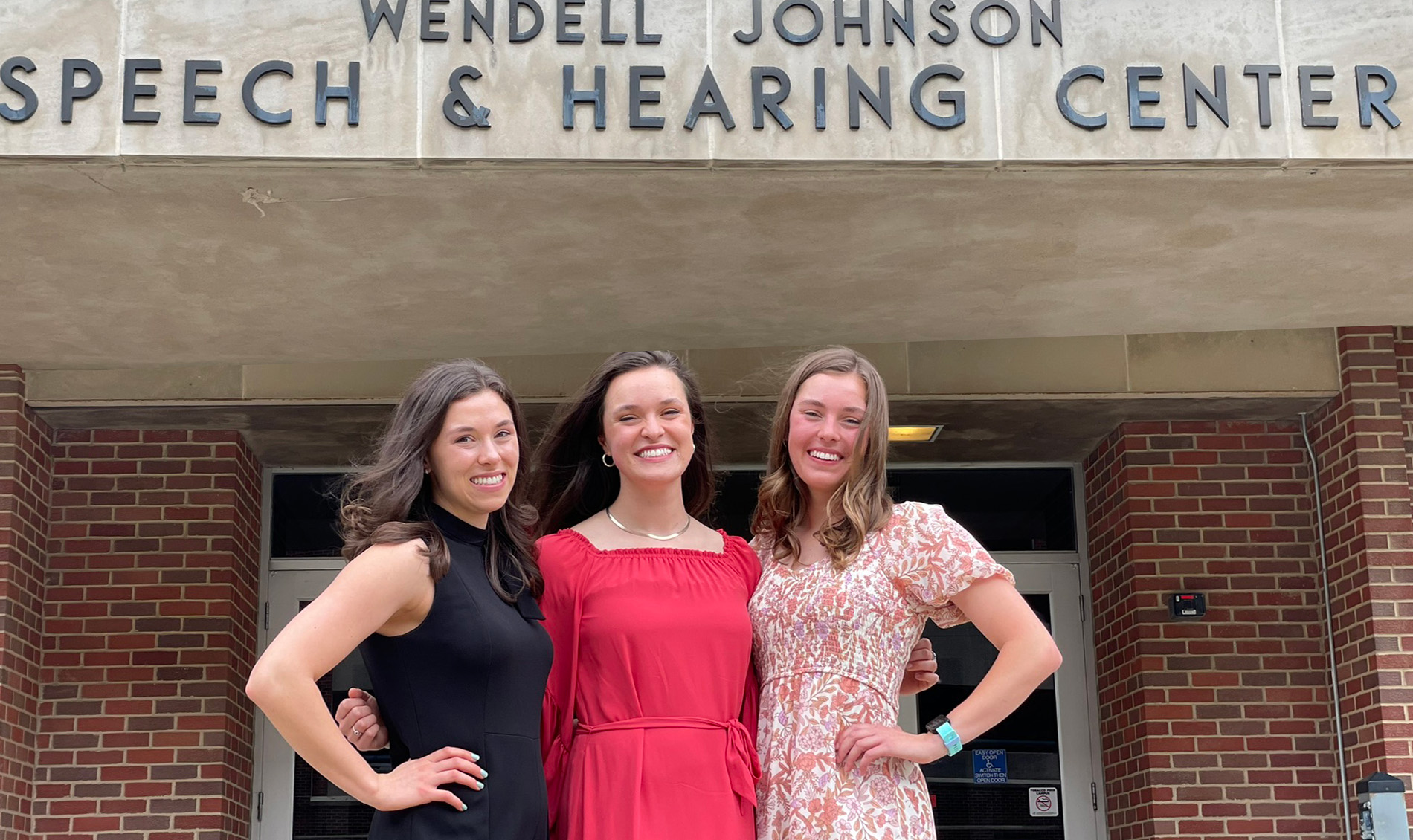 Not only did all three sisters in one family study audiology and speech-language pathology, but each also earned admission to the highly ranked and highly selective clinical doctoral program in audiology at the University of Iowa.
Julie Ostrem and Jill Tobin
Sisters (from left) Hailey, Sarah, and Katie Kingsbury are pursuing careers as audiologists. All three earned admission into Iowa's esteemed AuD program.
Sarah, Hailey, and Katie Kingsbury of Naperville, Illinois, have always been close. They attended Miami University of Ohio, majored in speech pathology and audiology, and were accepted into the University of Iowa clinical doctoral program in audiology. The last is no small feat—each cohort in the No. 2-ranked program consists of just six to 12 students.
Sarah, the oldest, was the first to graduate, earning an AuD from Iowa in 2023, but she was not the first to become interested in audiology. Hailey, the middle sister, now in her third year at Iowa, claims that. She had speech therapy as a child and aspired to emulate her beloved therapist. Taking classes in American Sign Language further developed her passion for the field.
"I find joy in the intervention side of audiology—listening to patients, identifying solutions for their needs and concerns, and counseling them," Hailey says. "I also love the challenge of problem-solving difficult situations and finding creative solutions that are unique to each patient's needs."
Katie, with a background in running and coaching, was split between audiology and physical therapy. Learning American Sign Language in high school, however, solidified her decision to pursue audiology.
"It combines my interests in science, medicine, and acoustics, and has a component of helping people," says Katie, who recently started her first year in the UI program. "Being the youngest and seeing my sisters doing it made me realize a career in audiology was a really good fit for me."
Iowa an attractive option for all
Opportunities to learn from leaders in the field, collaborate on research projects, and see patients in the Wendell Johnson Speech and Hearing Center make Iowa a top audiology program, the Kingsburys say.
"I could see myself in the program after my grad school interview with the Iowa faculty," Sarah says. "They are brilliant. They pioneered some of the advances in the field, and you see their names in the textbooks we read. Yet, they are so humble. We call them by their first names. It's a very congenial environment, and that drew me here."
"The Iowa faculty are brilliant. They pioneered some of the advances in the field, and you see their names in the textbooks we read. Yet, they are so humble. We call them by their first names. It's a very congenial environment, and that drew me here."
2023 Iowa audiology graduate
Faculty members lead by example, Hailey adds, and that pushes students to excel.
"I wouldn't have gotten some of the leadership roles I've had without being in this program," says Hailey, who serves as president of the National Student Speech Language Hearing Association (NSSLHA). "That's because our clinical and didactic faculty are active in professional organizations—they model what it means to be a leader in the field. Audiology means clinic but it also means advocacy, legislation, and outreach, and they try to expose you to all those areas."
Hearing about her sisters' experiences at Iowa convinced Katie to apply to the AuD program as she completed her undergraduate studies. She says she was excited to be able to work with patients shortly after arriving on the UI campus.
"Unlike some other programs, Iowa starts you in clinic pretty much on Day One," says Katie, who is a state officer in the NSSLHA. "There is a training period, when you do case simulations and hands-on learning with classmates, but being able to see a patient within the first few weeks of grad school really helps you develop as a clinician. One reason I enjoy the field of audiology is creating interpersonal connections with patients."
Same degree, different paths
Although the Kingsbury sisters are pursuing careers in audiology, they say the field is wide, offering a range of specialty areas in both research and clinical work.
"There's a lot of scope within the field," says Sarah, now a research audiologist in Mayo Clinic's Aerospace Medicine and Vestibular Research Lab in Scottsdale, Arizona. "Do you like building relationships with a patient and seeing them consistently through a large life change? Cochlear implant services could be for you. Do you like putting together the pieces of a puzzle and collaborating with others to solve medical mysteries? Then vestibular assessment could be your thing. I went into research because I wanted to see how audiology could overlap with other fields, like aerospace medicine and innovation."
Did you know?
The University of Iowa programs in audiology and speech pathology are among the best in the nation, with the audiology program ranked No. 2 and speech pathology ranked No. 6 by U.S. News & World Report. They also are among the oldest, thanks to the pioneering work of Carl E. Seashore, who served the university as head of the psychology department and the dean of the Graduate College.
In the UI Department of Communication Sciences and Disorders, students can earn multiple degrees, including a Bachelor of Arts in Speech and Hearing Science, a Master of Arts in Speech Pathology and Audiology, a clinical Doctor of Audiology, and a Doctor of Philosophy in Speech and Hearing Science.
At Iowa, Sarah learned firsthand how to establish and develop a lab as the first research assistant hired by Ishan Bhatt, associate professor of communication sciences and disorders, when he started the UI Audiogenomics Lab. She also investigated diet-related risk factors for tinnitus.
Hailey worked in the Audiogenomics Lab as well and is interested in research, but she hopes to continue seeing patients and aims to become a clinical instructor at a university.
Katie sees herself practicing in a hospital setting with either cochlear implant or vestibular patients as part of a multidisciplinary team of health care providers: "You don't just come in and flip a switch and figure out what's wrong with a patient. It requires problem-solving, and that is very appealing to me."
"Each of us is good at something different within the field," Sarah says. "It's been really fun talking to each other about different cases."
There are no other audiologists in the family—their mom is a product manager, and their dad is an engineer—but they do have a connection to Iowa: Their grandpa Jack Stephenson played football for the Hawkeyes in the 1950s, and their grandma Sally Stephenson earned an Iowa degree in speech pathology.
"That's not the reason we came to Iowa, but it's a little piece of family history," Sarah says. "One of my favorite memories was when my grandpa came to my graduation—it was a wonderful, full-circle moment."
Hailey says she didn't intentionally follow in Sarah's footsteps.
"People assumed I chose Iowa because my sister went here, but I wanted to come here because of the opportunities available," Hailey says. "Sarah and I hoped that Katie would come here, but we also knew that she was going to choose the place that was right for her, and I'm glad it was Iowa. Even though we have this shared Iowa experience, we've been able to find our place and make our mark."
A graduate student … and something more
The Kingsbury sisters agree that the University of Iowa community is dynamic and fun, with opportunities and resources both on and off campus to feed their interests outside graduate school. Sarah, for example, took voice lessons through the UI School of Music as a nonmajor and performed in a campus production of the opera H.M.S. Pinafore. Outside of class, she worked as a certified therapeutic horseback riding instructor and published a book of fiction.
Hailey took organ lessons and had the opportunity to perform on the Klais organ at Voxman Music Building. She also serves as a graduate assistant for the Iowa Summer Writing Festival.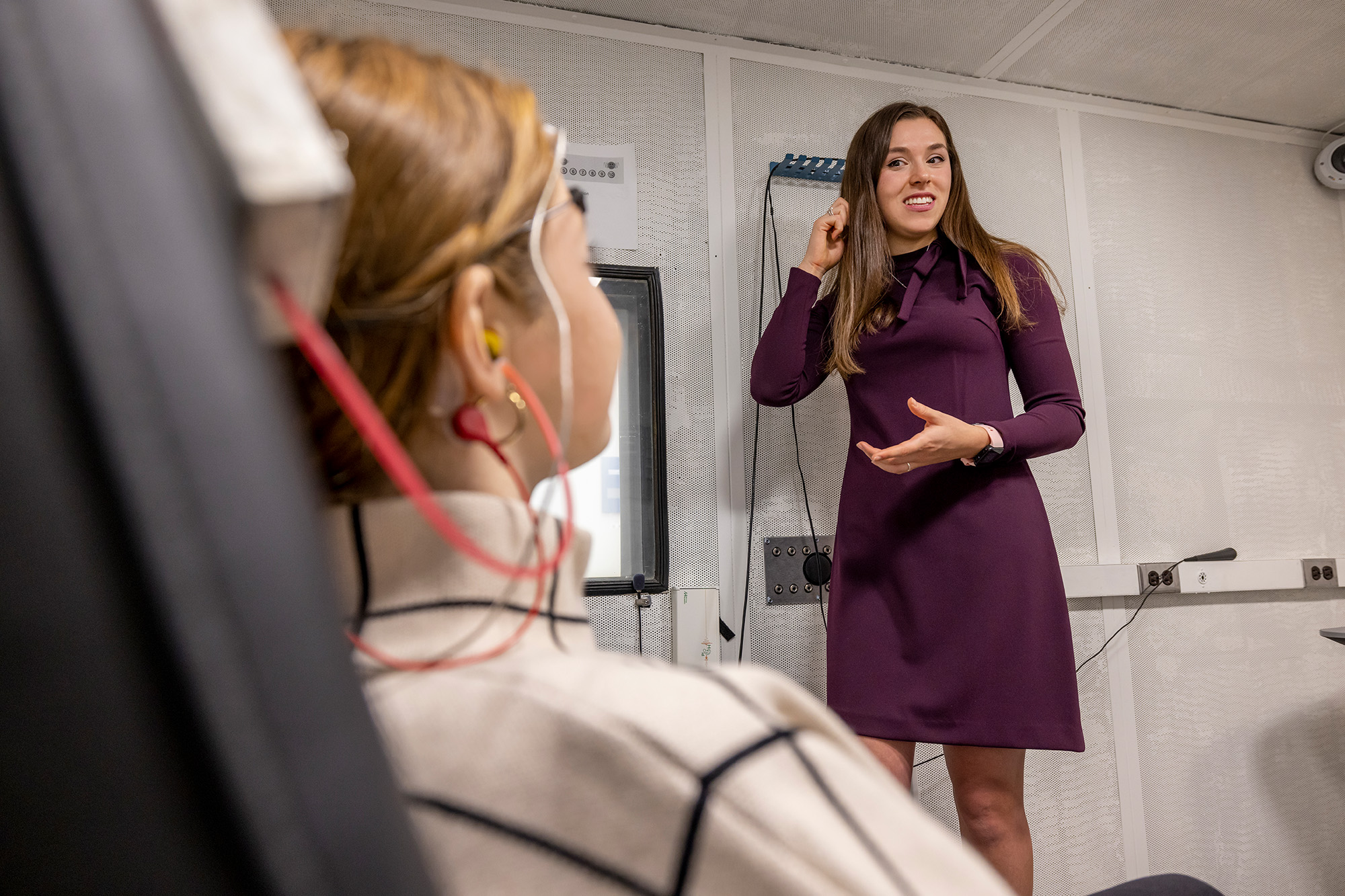 "Much of my daily life is focused on audiology—clinical work, research, classes—but I've also been involved in other areas," Hailey says. "Working with the Iowa Summer Writing Festival was life-changing. I got to meet attendees from across the world, and I also got to take a class myself. These other experiences make you realize how much the University of Iowa offers."
Katie, although relatively new to Iowa City, plans to connect with the campus cross-country club in the spring and coach Girls on the Run at a local elementary school.
A needed boost
Bhatt says it is rare to have siblings accepted into the same program, let alone a small and highly selective one like Iowa's, and says all three Kingsburys possess just what the profession needs.
"They have the unique ability to move this profession forward with all their skill sets, enthusiasm, and energy. It's been wonderful to witness," he says. "Clinical audiology has been a thriving profession for decades, and we need young, talented, and creative clinicians, such as the Kingsbury sisters, to continue providing excellent clinical services."
Elizabeth Walker, associate professor of communication sciences and disorders, says all three sisters are remarkable individuals who show great leadership and initiative: "I'm sad that Katie is the youngest because that means we won't have any more Kingsburys coming through our program."
Proud of what her older sisters have accomplished, Katie says she looks forward to advancing through the program and becoming an audiologist. And she already has a built-in support network.
"While we didn't go into the same field for each other, we can now share it together. If I'm having a problem or struggling with a client, I have people I can call on, and I think that is something that has allowed us to, in some ways, accomplish more," she says. "We can relate to each other and have unique experiences."