Nursing excellence honored once again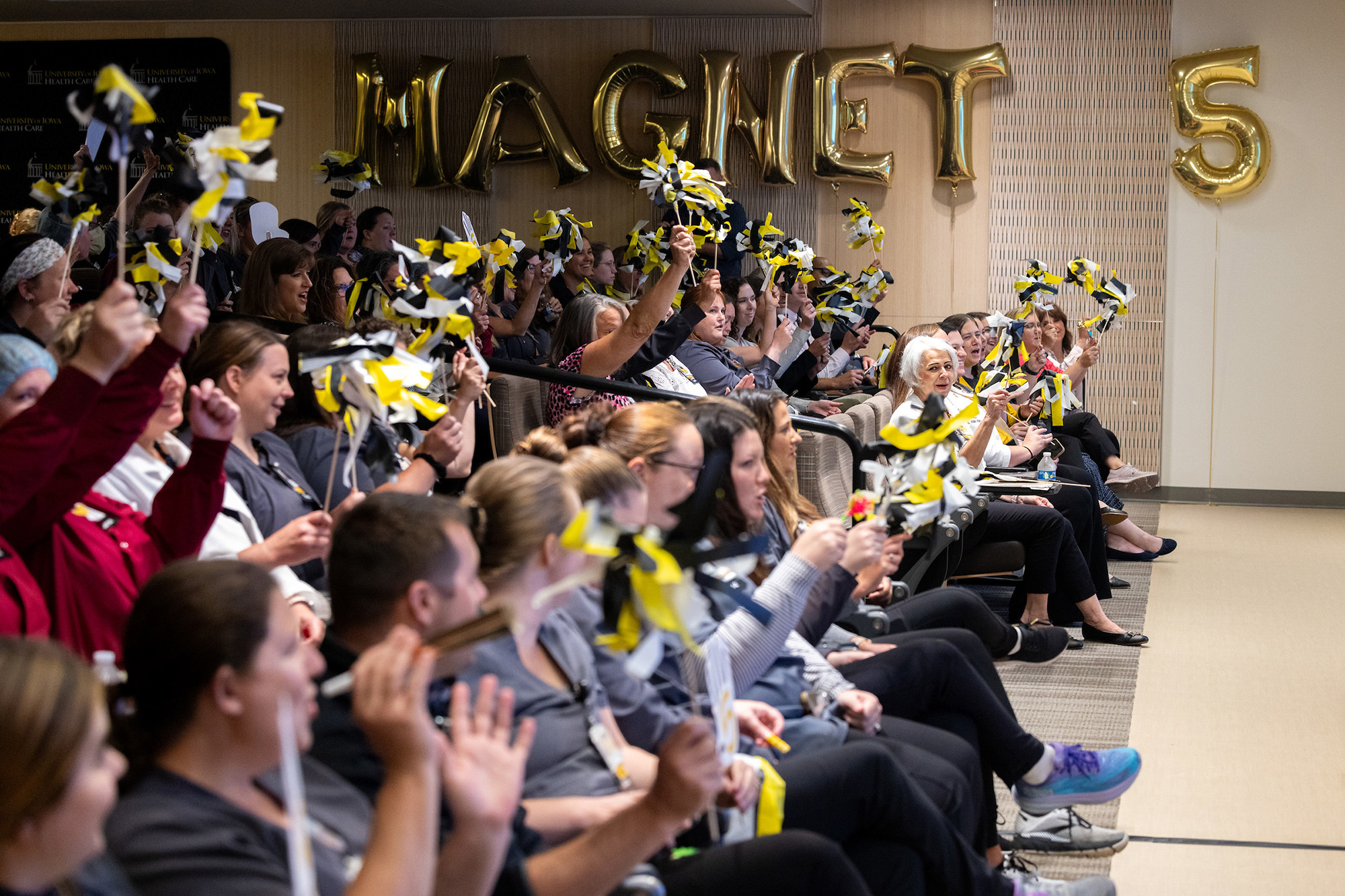 The University of Iowa Hospitals & Clinics nursing team has been recognized with a fifth consecutive Magnet Recognition Program designation, joining a select group of organizations nationwide to achieve that streak.
UI Health Care Marketing and Communications
University of Iowa Hospitals & Clinics has once again been honored with a prestigious designation from the American Nurses Credentialing Center (ANCC) Magnet Recognition Program, earning a fifth-consecutive Magnet designation.
Magnet designation is earned following a rigorous review application and onsite evaluation process of all aspects of a nursing department. At a Magnet-designated hospital, nurses are committed to maintaining the highest standards of care in an environment that values quality, safety, satisfaction, and education.
UI Hospitals & Clinics joins the top 7.67% of Magnet-designated hospitals in the country (fewer than 50 organizations) that have achieved five or more designations.
Interested in joining our nursing team?
If you want to work with extraordinary nurses in an exciting and challenging environment, consider what the Iowa difference can do for you and your career. We offer many career opportunities for talented nurses eager to make their mark.
"We continue to lead the way for excellence in nursing—in Iowa and nationally," says Kim Hunter, DNP, MBA, RN, NEA-BC, interim CEO and chief nurse executive, UI Hospitals & Clinics, and interim associate vice president, UI Health Care. "Our nurses are experts in their field and serve our teams, patients, and communities with excellence and compassion. I could not be prouder of our success."
In 2004, UI Hospitals & Clinics was the first hospital in Iowa and the first in the Big Ten to receive Magnet designation. Now, it is the first hospital in these two groups to receive the designation five consecutive times.
"Our nursing and health care team is so deserving of this Magnet designation and recognition. We could not have accomplished this without the dedication of the team," says Tacia Bullard, MSN, RN, CNL, Magnet program director. "Magnet has a rigorous review process that requires thorough documentation of excellence in care and an onsite evaluation of all aspects of UI Hospitals & Clinics nursing."
"Nurses are a driving force behind the growth and success of UI Health Care," says Hunter. "We're in every part of our organization. We celebrate with patients. We comfort them. We provide care and we provide hope. We are the embodiment of UI Health Care's mission of changing medicine and changing lives."
Here is a look back at three UI Health Care nurses who have received the DAISY Award, which celebrates nurses who have demonstrated extraordinary clinical skill and compassionate care.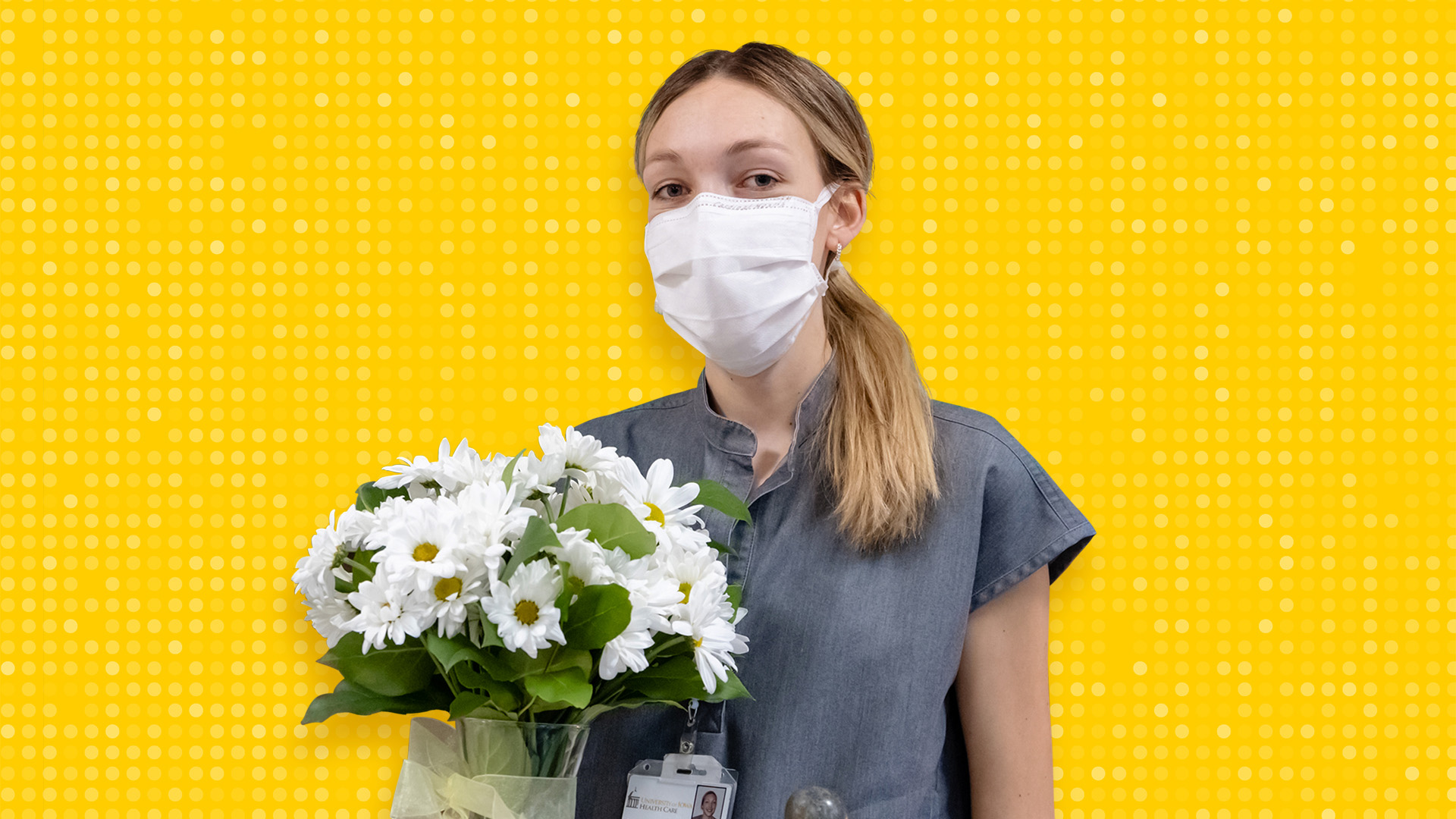 'She cared for my soul': A cancer nurse's impact on her patients
Shaving your head while going through chemotherapy doesn't have to be a traumatic memory. In fact, UI Hospitals & Clinics nurse Katie Steichen, BSN, RN, BMT-CN, believes it can be a moment to honor and empower her patients.
"I tell patients that we're going to make this an experience for them," Steichen says. "It can be something that's meaningful."
Steichen's efforts to change the narrative around losing hair during chemo treatments included throwing what one patient called a "party" with some of their favorite music.
For that same patient, Steichen's positive philosophy carried her through some of the hardest days in the Adult Stem Cell Transplant Cellular Therapies Unit. Steichen says that while patients don't have control over their diagnosis, she wants to empower patient's ability to choose.
"My patient didn't have a choice whether her hair would fall out, but she got to choose how she wanted to experience losing it," Steichen says. "I wanted to honor that."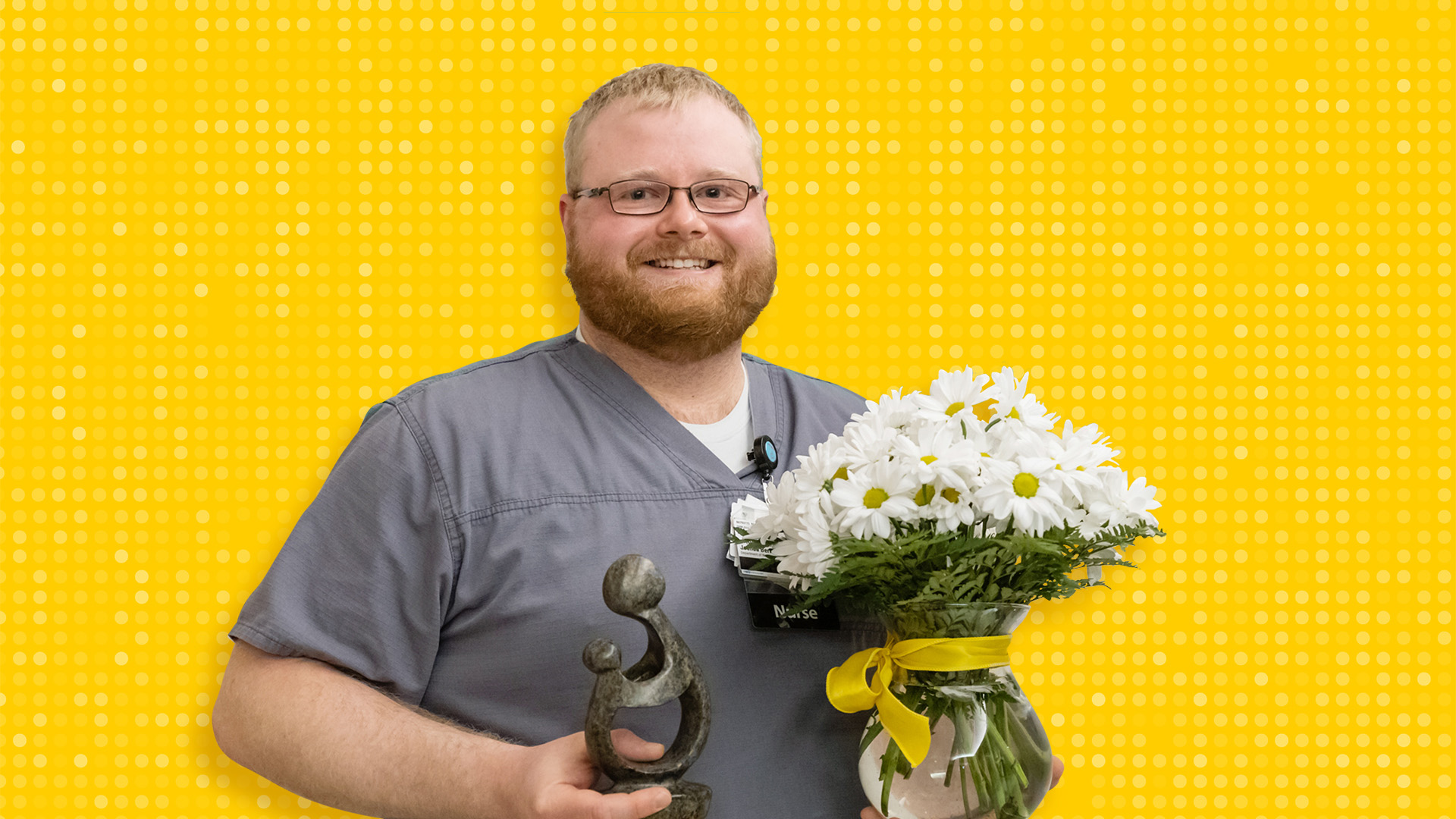 SNICU nurse forms connection, provides comfort for grieving family
Connecting with patients is a quality that often stands out in exceptional nurses. Josh Bern, BSN, RN, a staff nurse in the Surgical and Neuroscience Intensive Care Unit (SNICU) at UI Hospitals & Clinics, formed a strong connection with the family of a patient who had experienced a traumatic brain injury.
With the patient on life support, Bern worked to meet the family's every need. As the patient's mother tells it, he far exceeded that measure.
"Our son wanted to be an organ donor. The day of his donation surgery, Josh informed us he got another staff nurse to cover his shift so he could be by my son's side during the surgery," she says. "I can't begin to explain the comfort our family had knowing Josh would be with him as our son gave his gift of life to others."
Months later, Bern still speaks emotionally about the experience.
"I formed a connection with this family," Bern says. "I had to follow them through this journey."
Bern is grateful for the support offered by his team that allowed him to connect with the patient's family.
"You become very attached to your team. You realize you're all there for the same goals and you all have the same mentality," he says. "We carry each other's weight; you're never carrying it alone."
MICU displays excellent teamwork to earn DAISY Team Award
UI Health Care's Medical Intensive Care Unit (MICU) team has always been known for taking on the challenge of caring for the most complex and challenging cases among patients. The last few years have exemplified their commitment to compassionate care and evidence-based practices.
"When the COVID-19 pandemic first hit and everyone was unsure about how to care for patients with COVID-19, the MICU nurses were the first ones on the line to care for these patients," writes Sarah Hackbarth, MSN, RN, CCRN, interim nurse manager of the MICU.
For Hackbarth, who nominated her colleagues for the 2022 DAISY Team Award, the team culture of excellence has remained steady since she first started as a new graduate nurse almost eight years ago.
The DAISY Team Award celebrates the work of every member of the team, from nurses and physicians to social workers and dietary staff. Leaders of the unit say everyone contributes to the unit's overall success. Over the past year, the unit has onboarded new team members and welcomed 31 nursing students—a third of which chose to come on full-time in MICU.
"It's easy for leaders to say we value teamwork, but nothing is more demonstrative of the culture of effective teamwork than a third of our most recent nursing students choosing to work in MICU after graduation," says Kevin Doerschug, MD, MS, the medical director of the MICU. "This award means a lot to our team. It shows that true success comes from a sense of camaraderie and mutual respect."