Iowa professor protects disadvantaged from floods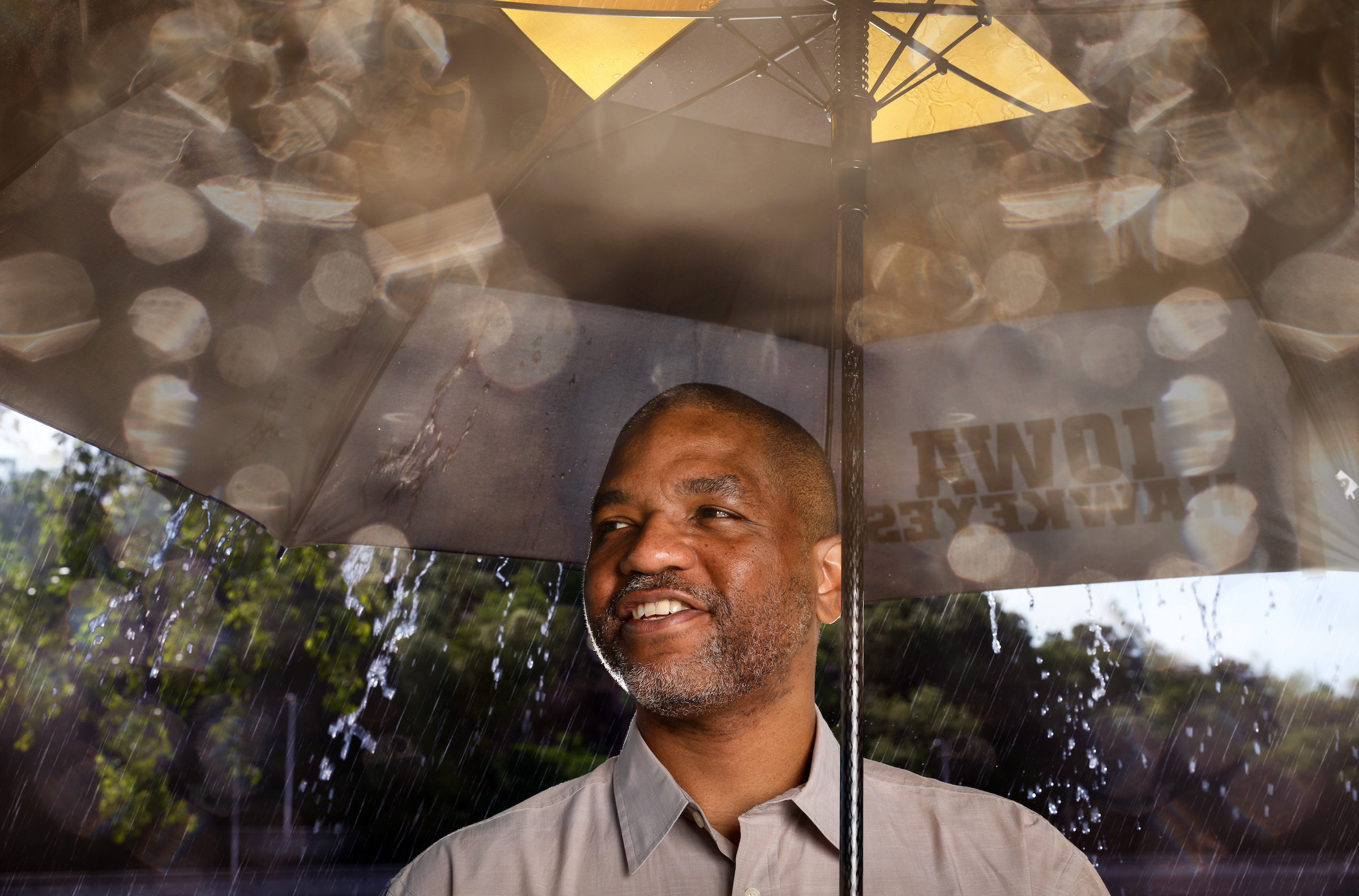 Devastation after Hurricane Katrina led Eric Tate to a career change and a new focus.
When IIHR—Hydroscience & Engineering researcher Eric Tate hears about a hurricane that's about to slam into the coast, he doesn't immediately think of pelting rain, strong winds, and dangerous waves. Most likely, he's thinking about a community's low-income neighborhoods, which his research shows are more likely to be negatively affected by big storms and flooding.
An expert in geographical and sustainability science, Tate conducts research that connects the dots between a storm's impact, including flooding, wind damage, and physical destruction, and the lives of people who live in its path. Tate started his career as an engineer and worked for a time as a federal contractor, but when he heard about Hurricane Katrina's lethal blow to low-income and minority neighborhoods in New Orleans in 2005, he quickly changed course.
"Most of the time with floods, we're thinking about damage to buildings and structures such as roads and bridges. We're think about losses in terms of the money it will take to rebuild a city center," Tate says. "But Katrina was about people. My research focuses on the social side of flooding. Where are the people who are most at risk? Who are they? What kinds of things do we need to account for in terms of emergency planning? How do we accurately model this?"
"It's pretty easy to locate floodplains, but where, in terms of societal aspects, are the most vulnerable people, the people who will need the most help to survive a flood?"
IIHR—Hydroscience & Engineering researcher
Demographic information such as annual household income, Medicaid and Medicare rosters, and whether families are receiving welfare services help Tate construct elaborate computerized models with many layers of data—data that, when reviewed together, often reveal complex stories of racial segregation, misdirected development, and unfair housing practices. Buried in these stories are people who, come the next hurricane, could be at risk of displacement, injury, or even death. 
"It's pretty easy to locate floodplains," Tate says. "But where, in terms of societal aspects, are the most vulnerable people, the people who will need the most help to survive a flood?"
Tate arrived on the UI campus in 2011 as part of the UI's Water Sustainability Initiative, which resulted in the hiring of 10 new faculty members with water-related expertise but very diverse academic backgrounds, including mass communication, occupational health, and chemistry. The hires were made as part of a concerted effort by the UI to intensify water-related research, with the goal of solving some of the world's toughest environmental and water sustainability problems. 
"The idea was to build on Iowa's already strong reputation in water," says Jerald L. Schnoor, a civil and environmental engineering professor who oversees the Water Sustainability Initiative, referring to the UI's long history in hydroscience research, dating back to the early 1900s. "This effort, including the important research that has come out of it, has definitely increased the university's national and international reputation as a hub of water research."
Water Sustainability Initiative faculty members hold more than 20 active grants from agencies such as the National Science Foundation, U.S. Department of Agriculture, U.S. Department of Housing and Urban Development, U.S. Department of Education, Nuclear Regulatory Committee, and Nature Conservancy. For Tate, joining the UI team has meant conducting research that breaks through typical academic boundaries. 
"If not for this position, I'm not sure that I'd be working in academia," Tate says. "I wasn't sure that I'd be able to find a place on a university campus that would allow me to do the kind of work I wanted to do. At Iowa, I work with really talented people who have expertise in very different areas. I think this type of collaborative work across departments and across campuses is really the future of research, because big problems in this country—or the world, for that matter—don't sit within one discipline."

Tate's research has taken him to India to study ancient rainwater-harvesting techniques and deep into the Midwest's agricultural communities to study the effects of recent changes in farm practices, including reduced tillage and improved fertilizer management, on localized flooding. He's also testing long-used flood models to see if they are accurate in identifying areas most at risk during floods. 
"A lot of communities use computer models to identify flood areas, and once they've identified them, they request federal aid to help these areas become more flood resilient," Tate says. "But are these models actually identifying the areas that need this aid the most? What if we're spending money in areas that don't actually need it, or need it less, and missing the areas that need it the most? If that's true, then that's the real disaster." 
For Tate, images of families stranded on rooftops and wheelchairs and walkers abandoned in raging floodwaters are hard to shake. He hopes his work to test the accuracy of flood models will either prove their usefulness or result in improvements that will help communities protect the poor, the elderly, the disabled, and the homeless.
"Just look at Hurricane Katrina and you see the human impact of improper planning," Tate says. "But why is it disproportionately the elderly, or minorities, or the poor who suffer as a result of flooding? For me, there is an urgency to trying to understand social vulnerability and floods."
Produced by the Office of Strategic Communication