Alumnus finds rewarding surgical career in rural Iowa
As a teenager, University of Iowa graduate Jesse Van Maanen knew he wanted to be a surgeon. What he didn't know is that he would end up practicing in a hospital 10 minutes from where he grew up.
courtesy of Jesse Van Maanen
In high school, Jesse Van Maanen was assigned to research and write a paper on a potential career. Shortly before it was due, he was in the hospital recovering from an appendectomy—and gaining inspiration.
"Just before my 16th birthday, I fell ill with appendicitis and needed surgery," says Van Maanen, who grew up near Pella, Iowa. "After the surgery, it just clicked: I loved science, anatomy, and fixing problems, so I decided to research general surgery and speak with local surgeons. The more I learned about the field, the more I wanted to be a surgeon. In medical school, I did my best to get as much out of every subject and rotation as I could, but I always knew that the operating room was the place for me. Surgery was my calling."
The Roy J. and Lucille A. Carver College of Medicine is a highly ranked medical school where students learn to become accomplished clinicians and top-flight researchers and educators. Students come to Iowa to study medicine in a program that uses case-based learning as the basis of their education.
Van Maanen, who earned an MD from the University of Iowa Carver College of Medicine in 2016, is one of three general surgeons at Mahaska Health in Oskaloosa, Iowa, a community of nearly 12,000 close to his hometown. As a child, he traveled to Iowa City with his family a couple of times each fall to attend Hawkeye football games, and he fell in love with the campus and city. After attending Trinity Christian College in Illinois for his undergraduate studies, Iowa was his first choice for medical school.
"I knew that I wanted to be a Hawkeye. I sensed the camaraderie among students when I interviewed—it was a culture of support, like a family, and they were so welcoming of us interviewees. I didn't feel that with every school I visited. As soon as I received my acceptance letter from Iowa, it was a done deal," he says. "That honesty and intentionality held true throughout my time at Iowa, not only between fellow students, but also with my professors. Everyone wanted you to succeed."
The proximity of University of Iowa Hospitals & Clinics, with more than 250 specialty and subspecialty clinics, was a huge perk, Van Maanen says.
"During clinical rotations, we were able to practice and hone our skills—and see cases that might be one in a million," he says. "Everyone at the hospital, from the doctors and specialists to the nurse practitioners and physician assistants, was used to having the medical college close by. Having students around wasn't a nuisance; it was an expectation. That partnership is a huge benefit for students because the moment you show up, they're ready for you. You can hit the ground running, and that furthers your learning."
Knowing he wanted to remain in his home state, Van Maanen took advantage of the college's programs that provide extra training in rural medicine. He was part of the inaugural Rural Iowa Scholars Program (CRISP), which aims to address physician shortages in rural Iowa, and for his summer Medical Education Community Orientation experience, he spent two months at Mahaska Health learning firsthand the issues facing providers in a rural setting. The latter experience led to a job offer.
"Surgery in a rural community affords a broad scope of practice," Van Maanen says. "If you train well, you have the privilege to work on a great variety of cases that may not otherwise be possible when there is a specialist around every corner."
"During clinical rotations, we were able to practice and hone our skills—and see cases that might be one in a million. Everyone at the hospital, from the doctors and specialists to the nurse practitioners and physician assistants, was used to having the medical college close by. Having students around wasn't a nuisance; it was an expectation."
a 2016 UI Carver College of Medicine graduate
On a typical day at Mahaska Health, a critical access hospital (meaning a maximum of 25 inpatient beds), Van Maanen might perform half a dozen endoscopies, an appendectomy, a cholecystectomy, a cesarean section, and a hernia repair. He also frequently treats benign and malignant conditions involving the thyroid, parathyroid, breast, colon, small intestine, gynecologic system, and skin, and covers for trauma and acute-care surgical needs.
"The key to being a good and safe general surgeon is knowing when to operate and, even more importantly, when not to operate," he says. "That goes for surgeons in rural and urban areas. The importance lies in knowing your own limits, as well as the limits of your facility. Some cases I refer out because it's in the best interest of the patient."
Iowa's CRISP prepares doctors for rural practice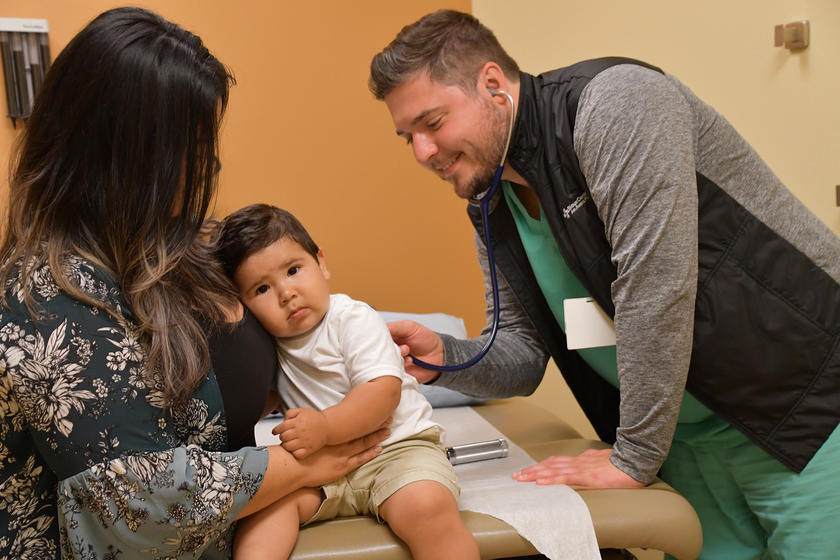 To address the physician shortage in rural Iowa, the University of Iowa offers special training and opportunities to students in the UI Carver College of Medicine.
One such program is the college's Rural Iowa Scholars Program (or CRISP), directed by Michael Maharry, clinical associate professor of family medicine. By pairing medical students with mentors and offering field experiences relevant to rural physicians, the college hopes to inspire more students like Jesse Van Maanen to pursue rural medicine, Maharry says.
"Jesse's path to his career is a true example of what we are trying to achieve with the CRISP program," Maharry says. "We are always looking for ways to expand the number of well-trained doctors returning to rural Iowa in order to further improve the health of their neighbors."
Many residents of rural communities don't want to travel for health care, Van Maanen says.
"If appropriate, everyone benefits from regionalized care. People often feel more comfortable in familiar environments, especially when dealing with something as personal as medical care. They know where to go and they know the providers—they see them at the store, in church, and when bringing kids to school," he says. "The continuity you're able to establish is valuable and instills trust in your patients. That benefits hospitals both small and large, allowing the urban centers to focus on more critical patients and not become overrun with the care appropriate for local facilities."
Timothy Breon, Mahaska Health's chief medical officer and general surgeon, mentored Van Maanen and is proud to see him thriving.
"I have someone stop me nearly every day to offer up a compliment on Dr. Van Maanen—he is conscientious, considerate, consistent, and on task to improve the quality of life of the people of our community and surrounding areas with his service," says Breon, a 1997 Iowa graduate who also is from the Oskaloosa area. "He understands the demands and rewards of being a surgeon in a rural community and is working hard to help upgrade and expand our surgical services to meet the needs of our people for the foreseeable future."
Van Maanen says being able to practice in his hometown community benefits him as well.
"My whole family is here. I'm the oldest of five, and my parents live in the house my dad grew up in. We are all within 20 minutes of each other, and many of my childhood friends live in the area. That speaks to the kind of place this is," says Van Maanen, who welcomed a second child in 2023. "Plus, it's a great place to raise a family. The schools are great. People are kind. There's space to roam. At the beginning of my journey, I didn't know I was going to end up this close to my hometown, but I did know that rural Iowa was the place for me."