The first 50 form a strong foundation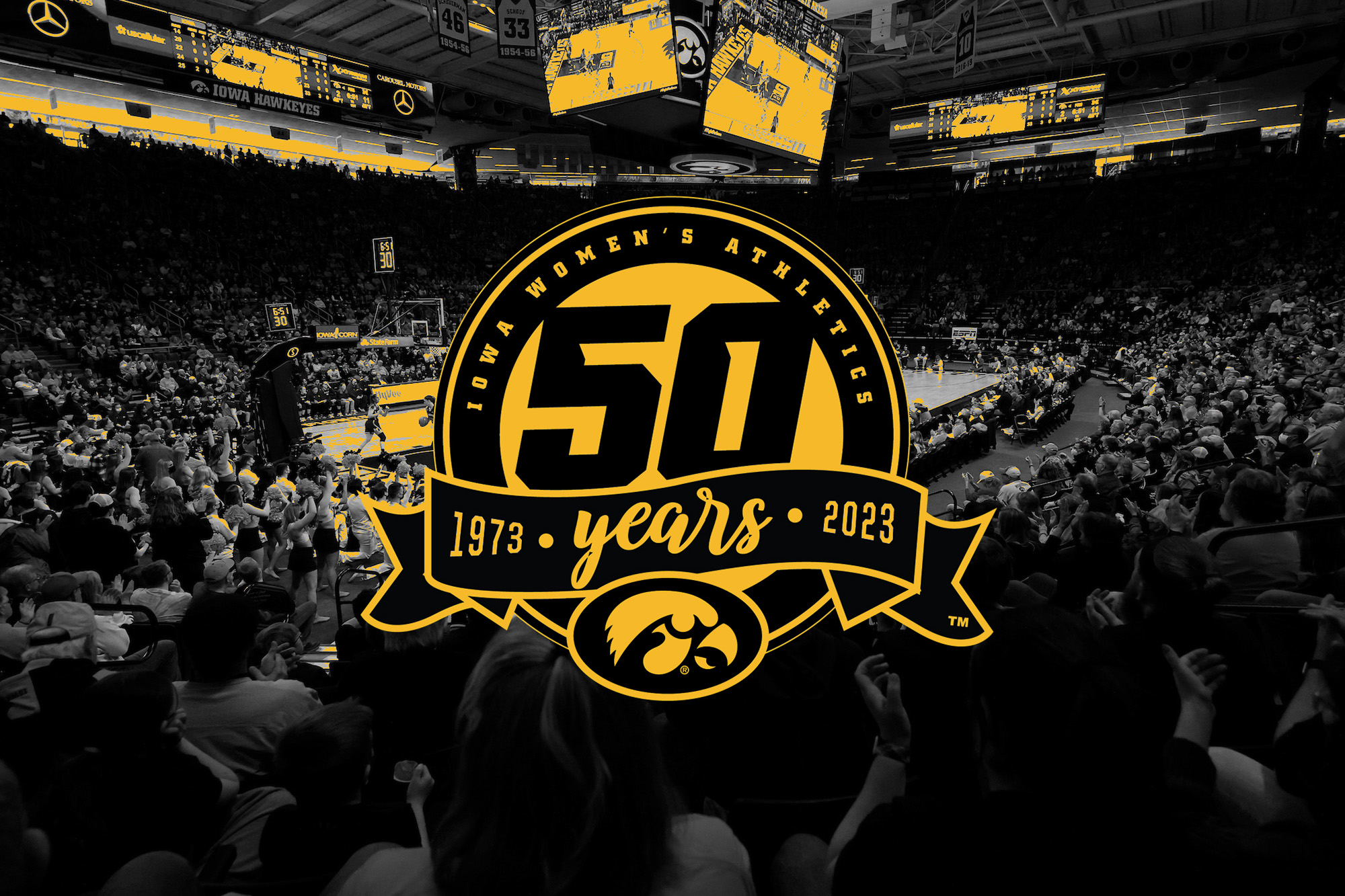 Fifty years after the University of Iowa elevated 12 women's club sports to varsity status, the Hawkeye community will celebrate all that has been accomplished, but also look toward the next 50 years.
UI Department of Intercollegiate Athletics
Fight for Iowa women's video
Fifty years ago, the landscape of women's athletics in the United States—including at the University of Iowa—changed forever with 37 words.
Following the adoption of the landmark legislation Title IX on June 23, 1972, the UI elevated 12 women's club sports to varsity status. Today, more than 400 female UI student-athletes compete for Big Ten and NCAA titles in world-class facilities across campus—and that number will grow in 2023-24 as Iowa, the first Power Five school to add the sport, competes in women's wrestling.
"We still have work to do, but we should celebrate the hard work that women—and men—have put in over the past 50 years to elevate and grow women's sports," says Barbara Burke, deputy director of athletics, senior women's administrator, and chief operating officer in the UI Department of Intercollegiate Athletics. "I grew up and played in the Title IX era and I have seen so many positive changes, opportunities for growth, opportunities for young women; it's just been tremendous how far we've come."
Celebrating 50 years of Iowa women's athletics
Sept. 2: Iowa Women's Wrestling Autograph Session, 10–11 a.m., FRYfest, Hyatt Regency Hotel & Conference Center exhibition hall, Coralville.
Sept 2: Stories on Christine Grant and 50 Years of UI Women's Athletics Panel, 1:30–2:30 p.m., FRYfest, Hyatt Regency Hotel & Conference Center exhibition hall, Coralville.
Sept. 3: Celebration of Iowa Women's Athletics at Kinnick Stadium during the Iowa vs. South Dakota State football game. Along with current female student-athletes being recognized on the field, new videos featuring women's athletics will be shown.
Sept. 9-15: FilmScene's The Chauncey showing Unshakeable Belief: The Dr. Christine Grant Story.
Throughout the 2022-23 academic year: Every women's team will dedicate a game to the 50-year anniversary.
May 6-7, 2023: The year will culminate with a weekend of events for current and former coaches and student-athletes and featured guest Debbie Antonelli, a college basketball analyst who works for ESPN, Big Ten Network, CBS, and Fox.
Keep up to date on 50-year anniversary events throughout the year
The University of Iowa kicked off a yearlong celebration of 50 years of Iowa women's athletics Aug. 24 with the premiere of the athletics department-commissioned documentary Unshakeable Belief: The Dr. Christine Grant Story for Hawkeye coaches, staff, and student-athletes. Festivities will continue Sept. 2 at the annual FRYfest and Sept. 3 at the first football game of the year at Kinnick Stadium.
Throughout the year, the University of Iowa will highlight and celebrate the individuals and teams who have contributed to the past 50 years of Iowa women's athletics. But as the community celebrates all that has been accomplished, it also will look toward the next half-century.
"Personally, I look forward to the day when we can stop putting the word 'first' in front of things. I think we'll really be making progress when we are able to knock that word right out," Burke says. "We want to make sure we are leaving our programs on solid ground for the next 50 years. We want to make sure we have mechanisms in place that continue the great work and provide for the next generation. And we want to have a workplace environment where your gender identity doesn't matter, just that you're a Hawkeye."
Burke, who founded HERkys in 2017 to honor Iowa's proud tradition in women's athletics and help empower the next generation, says numerous investments in women's athletics facilities are planned over the coming years. In 2021, the university celebrated the opening of a new Women's Soccer Operations building, made possible by a donor. Construction of a new facility for the women's and men's wrestling teams is underway and several other new facilities are in the early planning stages, including a women's gymnastics and spirit squad training center and a field hockey operations building. Planning also has begun for renovations to Pearl Field, home of Hawkeye softball.
Before and after Title IX passed, female student-athletes across the country had a fierce advocate on the University of Iowa campus: Christine Grant, Iowa's first—and only—director of women's athletics.
"What Dr. Grant did for our university and for all women who have participated in athletics here at Iowa is nothing short of amazing," says Lisa Bluder, head coach of the Iowa women's basketball team. "She battled for all of us women to have the same advantages that men were receiving from participating in sport. Can you go from virtually nothing to close to the top of the mountain? That is where we have traveled."
Burke says Grant was instrumental in pushing initiatives for girls and women in sports, and she deserves thanks for a lot of the progress made not just at the University of Iowa, but across the country.
"There are now so many more opportunities for women to have leadership positions in intercollegiate athletics, and we're very proud of the female leaders that we have in our department," Burke says.
Along with high-ranking officials in the athletics department and coaches who have taken their teams to the heights of their sports, Burke notes three leaders in particular: Jennie Sertterh, director of sports medicine; Patricia Espe-Pfeifer, director of sports psychology and student-athlete mental health; and Kammy Powell, head football athletic trainer.
"I'm not sure any other Power Five school has women in all three of those positions," Burke says.
Bluder says the better that women and girls are treated in sports, the more likely they are to continue to compete.
"We must investigate ways to develop and retain more female leadership in coaching and administrative roles," Bluder says. "When 52% of female C-suite executives played university-level sports and 80% of female Fortune 500 executives played competitive sport at some point, you begin to understand the value of women in sport and the necessity of embracing our women who are competing. These women are our future leaders and we need to encourage them."
Burke urges female student-athletes to be passionate and proud of the work they do—and to do what they can to help lift the generation of women who come after them.
"Sport programs for women at this level are not that old compared to those on the men's side, so we don't have the same broad base of support," Burke says. "It's important that when women leave our program that they give back. That could mean financially or providing mentoring, internship opportunities, or attending events—whatever they can do. We have a responsibility to empower the next generation of athletes and leaders."
While women's athletics at Iowa continues to grow and evolve, one thing won't change, and that's the motto: "Win. Graduate. Do it right."
"Hawkeye programs have had tremendous success over the last two years, and despite dealing with COVID and the impact that had on the entire operation, five women's teams won championships," Burke says. "That's amazing, and it tells me we're doing something right. That means they're being supported mentally, physically, and athletically. They have great competitive opportunities and financial support. I think all of those play into the success of our programs across the board."
Golden moments in Iowa's women's athletics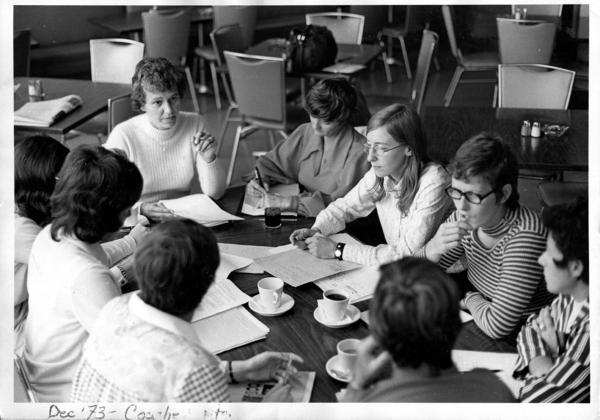 Iowa elevates 12 women's sports club teams to varsity status and Christine Grant is named director of women's athletics.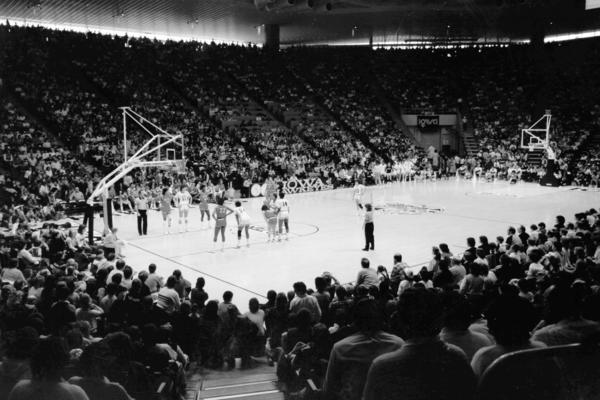 An overflow crowd of 22,157 filled Carver-Hawkeye Arena for an Iowa women's basketball game against Ohio State.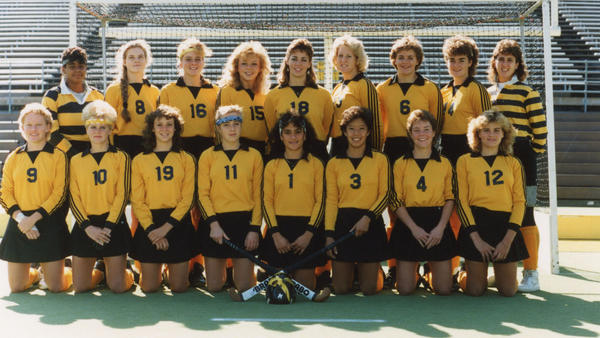 Iowa field hockey becomes a national powerhouse, winning its first NCAA championship under coach Judith Davidson.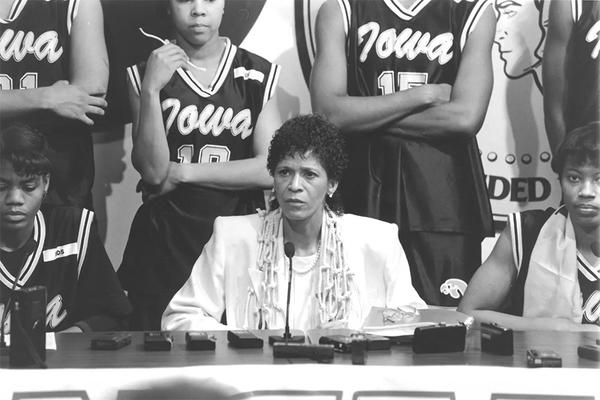 The Iowa women's basketball team reaches the Final Four under coach C. Vivian Stringer.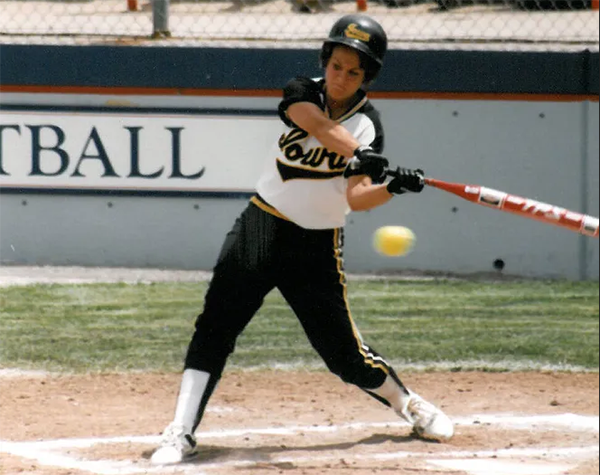 Iowa's softball team earns a berth to the Women's College World Series, the first of four appearances at the event in seven seasons under coach Gayle Blevins.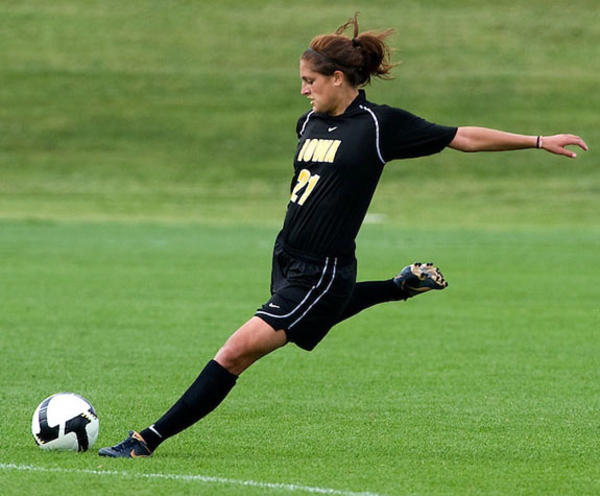 Iowa adds women's soccer to its roster of varsity sports.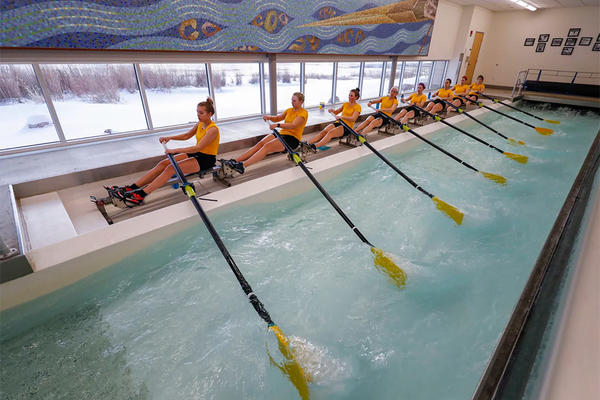 P. Sue Beckwith Boathouse opens for Iowa rowing, the first dedicated women's athletics facility.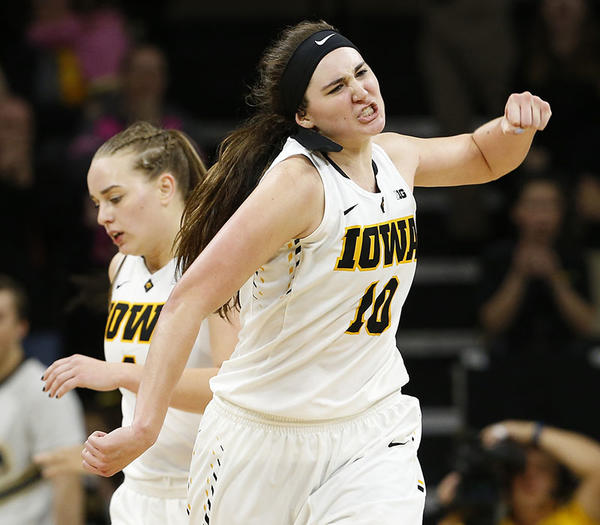 Iowa women's basketball center Megan Gustafson is awarded the Naismith Player of the Year.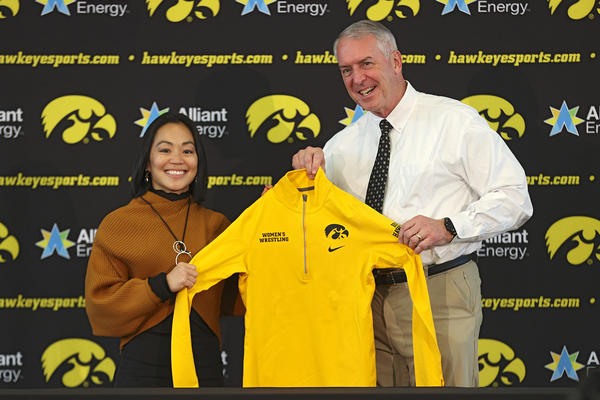 Iowa becomes the first Power Five school with a women's wrestling program.
"No person in the United States shall, on the basis of sex, be excluded from participation in, be denied the benefits of, or be subjected to discrimination under any education program or activity receiving federal financial assistance."
Title IX of the Education Amendments Act