Hawkeye keeping athletes at the top of their game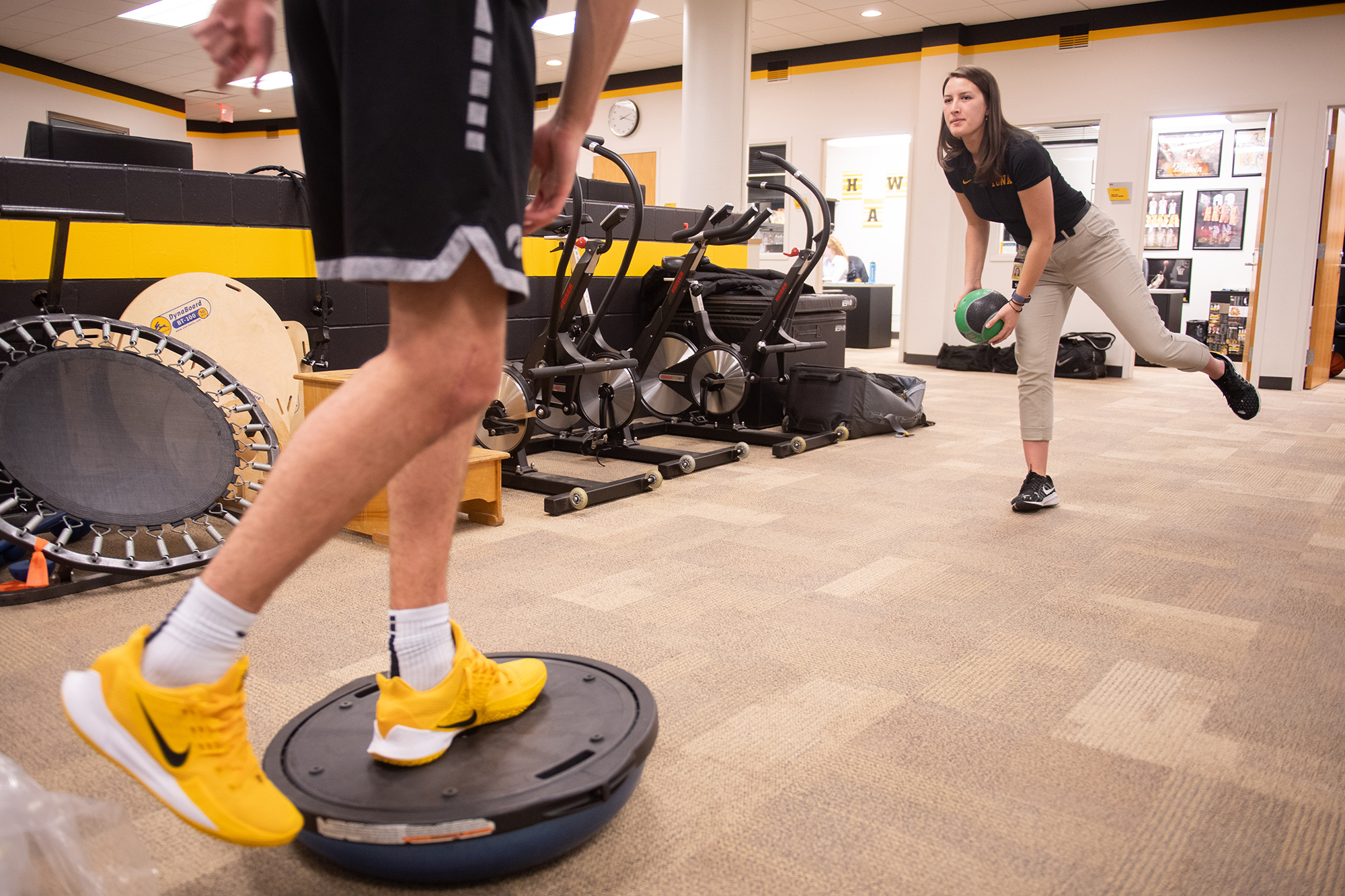 Zoe Hicks wanted to combine her fascination with the human body with her love of sports. The Californian found that opportunity as an athletic training student for the Hawkeyes.
The Hawkeyes may have lost to Stanford in the 2016 Rose Bowl, but they won over at least one new fan that day.
Zoe Hicks applied to the University of Iowa because of its reputation for having excellent athletic training and physical therapy programs. The La Puente, California, resident had just been accepted to Iowa when she received an invitation to a Rose Bowl tailgate.
"I got such a good vibe from all the alumni and current students I met," Hicks says. "It seemed like somewhere I could see myself going."
Soon after, Hicks visited Iowa with her mother and sister. Even the bitter winter weather couldn't deter the Southern California woman from falling in love with the campus.
More than 400 students from California call the University of Iowa home.
"We liked how inclusive it felt," Hicks says. "Everyone was so nice and welcoming. 'Iowa Nice' is a real thing."
The fourth-year student will graduate in May with a BS in athletic training and is spending her final undergraduate year as an athletic training student for the men's basketball team. After rotating through nine sports over the past couple of years, Hicks says she appreciates the opportunity to work with one sport for an entire academic year to see how things operate in season as well as during the offseason.
She says the wide range of experiences she's had at Iowa opened her eyes to the possibilities in athletic training.
"Every experience has been great," Hicks says. "I haven't found one that I didn't like. I never saw myself working tennis before, but after spending time with the teams, I found it's something I do enjoy and could maybe see myself doing. It's taught me to be open to everything."
As an athletic training student, Hicks does everything from taping athletes before practices and games to helping to create and execute rehabilitation plans.
"It's very immersive," Hicks says. "I do everything the athletic trainers let me do."
Brad Floy, athletic trainer for men's basketball and men's golf, says Hicks has been a huge help to the basketball team and himself this season.
"We are in the midst of a successful basketball season, even though Zoe and I have had to deal with a large number of injuries and illnesses," Floy says. "Coach McCaffery and the players are very appreciative of the contributions she has made to help them, while at the same time they are helping her learn a great deal.
"Zoe is a high-character individual with boundless positive energy. She epitomizes all the good things this university is about."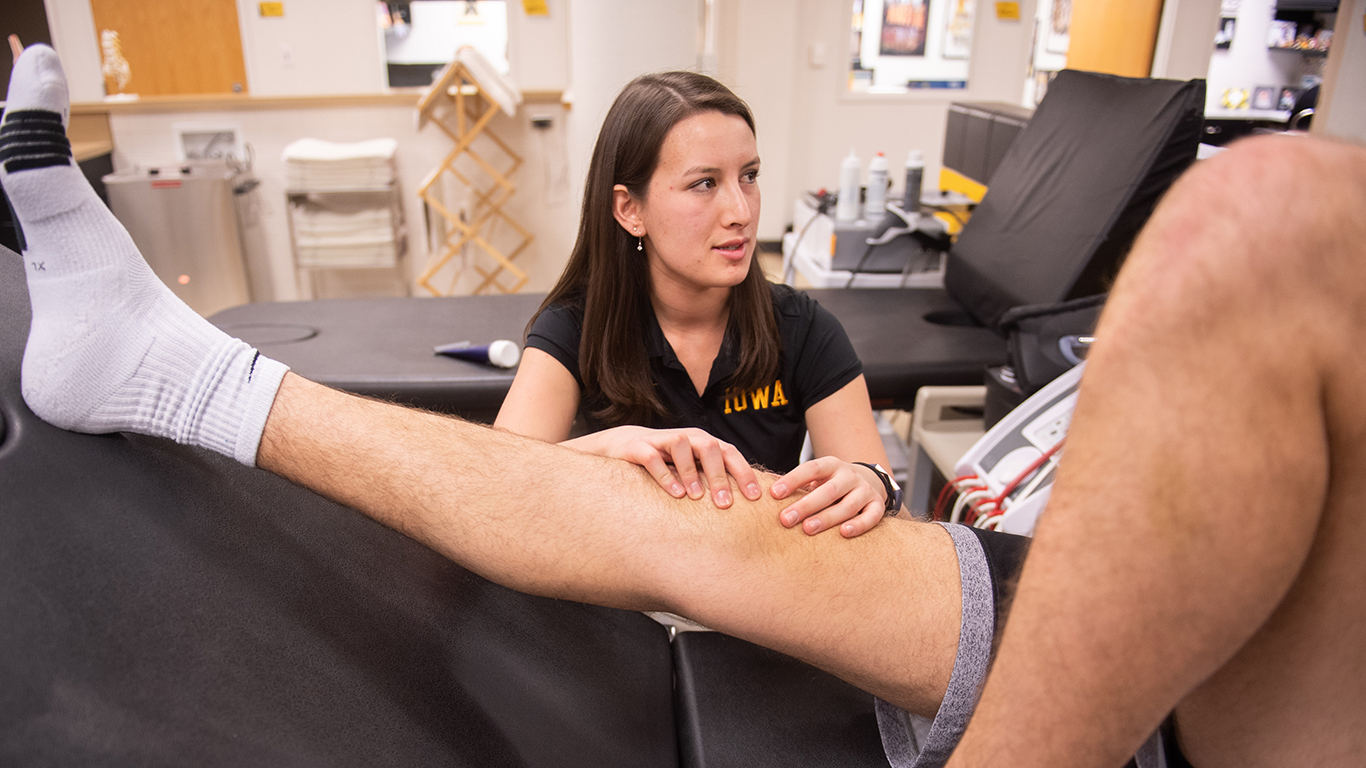 "Family and friends at first would ask, 'Why Iowa?' I said, 'Because it feels right for me.' You have to be true to yourself and how you feel. Coming out of high school, there can be an expectation of what people want you to do. Follow what is good for yourself, not what is good for everyone else. For me, that was Iowa."
University of Iowa undergraduate
Hicks has seen a little bit of everything during her athletic training rotations, including helping with rehab after hip surgery, torn ACLs, and shoulder injuries.
Floy says Hicks also played an integral role in helping save a life in January. After a student manager for the basketball team collapsed during practice, Hicks called 911 and grabbed an automated external defibrillator, which is commonly used to resuscitate people experiencing cardiac arrest, for Floy to use.
"It was scary," Hicks says. "But Brad knew what he was doing and was super calm, which kept me calm. You never want that to happen to someone, but it was a good learning experience. Reacting to something like that is not easy to practice, but if I ever see it again, I'll know what to do."
Hicks says having a hospital on campus makes a big difference, not only for the athletes who need medical attention after an injury, but also for the athletic training students.
"We have to do a general medicine rotation, and students at other schools sometimes have to go far away to get that training," Hicks says. "Here, not only is it convenient, but it's one of the best medical programs around, which is a great experience in itself."
BA in HHP + MS in Athletic Training
Pre-athletic training students who major in health and human physiology (exercise science track) may potentially earn their bachelor's and master of science in athletic training (MSAT) in five years. This option, known as Undergrad-to-Grad (U2G) program, is the best fit for exercise science students who know from their first semester they want to pursue an MSAT.
Despite graduating in May, Hicks' time at Iowa isn't coming to an end, having been accepted into Iowa's Department of Physical Therapy and Rehabilitation Science.
"I've met so many professors, friends, and colleagues who have just made my experience here so great," Hicks says. "Brad and all the athletic trainers and physical therapists I've worked with have been so influential on my future. That was a big draw for me to stay here for grad school."
Hicks says she took a sports medicine class in high school and worked with the school's athletic trainer, but the story of why she wanted to go into athletic training and physical therapy in the first place is a familiar one.
"It's the old story of 'I got injured and then wanted to go into the profession,'" Hicks says. "I worked with a PT for two years in high school and over the summer after my freshman year at Iowa, and he made a big impact on my life. I saw how he helped everyone and the amount of caring he put into everyone.
"Also, I'm fascinated with the human body and I love sports, so it's a mixture of all my interests."
The dream is to work for an NBA team, but Hicks says she also would love to work at the collegiate level. Wherever she goes, she expects to encounter a number of Hawkeyes along the way. She's already experienced that firsthand during a summer internship with USA Volleyball, where the director of sports medicine is UI alum Aaron Brock.
"It really can be about who you know, and the Hawkeyes have a wide network," Hicks says.
Hicks, who is a first-generation college student, says she appreciates her family's support over the years—even though they were a little sad she was going so far away.
"My mom and family have always been supportive and pushed me from a young age to attend college," Hicks says. "My mom has always said to find somewhere you love and we'll figure out a way to make it possible."
Hicks urges high school students to be open to all possibilities and to follow their hearts.
"Family and friends at first would ask, 'Why Iowa?'" Hicks says. "I said, 'Because it feels right for me.' You have to be true to yourself and how you feel. Coming out of high school, there can be an expectation of what people want you to do. Follow what is good for yourself, not what is good for everyone else. For me, that was Iowa."