Al-Amin does it all in sport and recreation management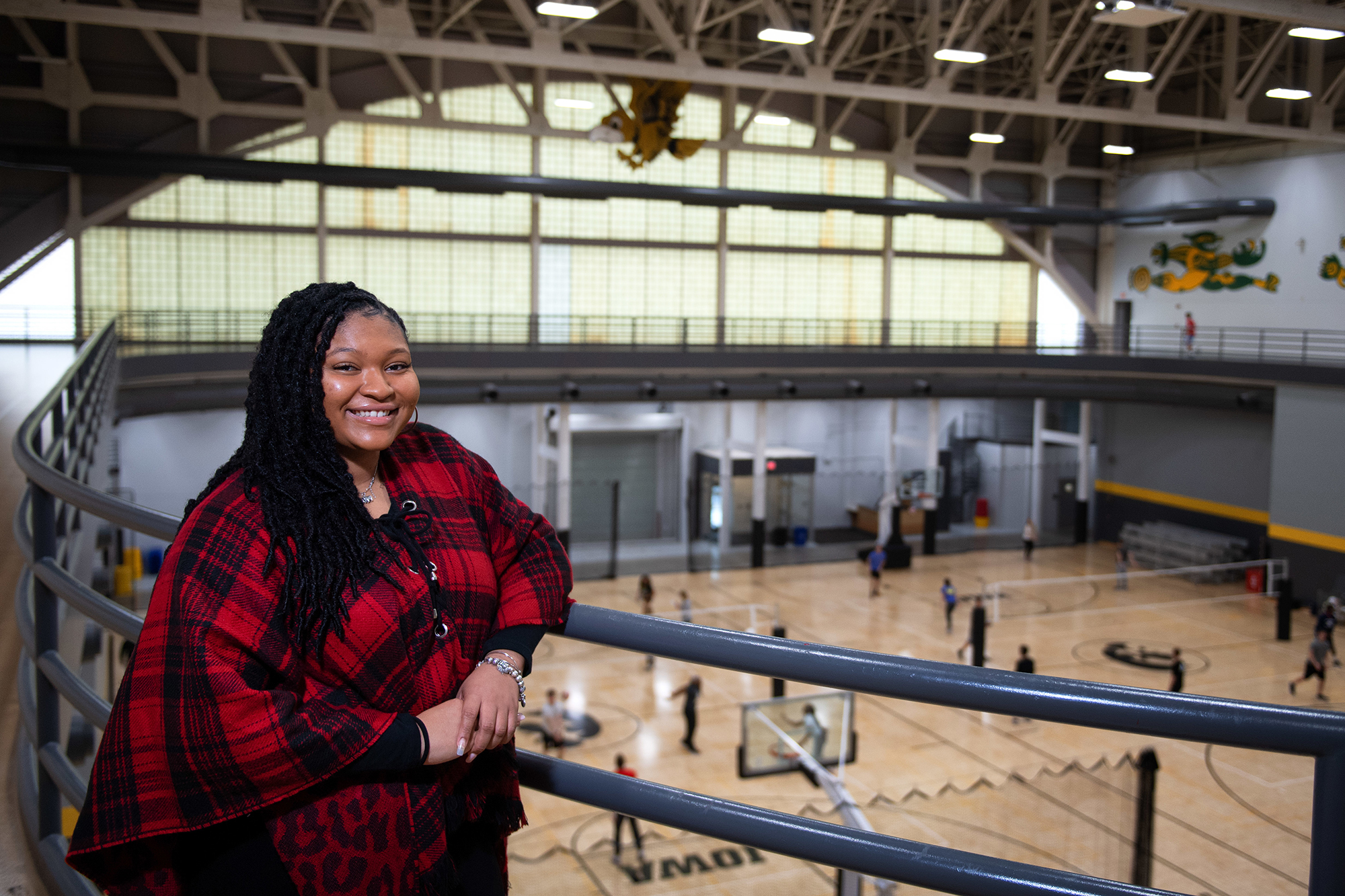 Anytime there is an opportunity for involvement, Takayla "T.K." Al-Amin answers the bell. The University of Iowa undergraduate has held leadership roles and worked with professional sports teams and local athletic organizations, experiences that will serve her well as she looks forward to a career in the sports industry.
Takayla "T.K." Al-Amin loved sports growing up in Matteson, Illinois. But while she decided in high school that she could no longer compete as an athlete at any level above a pick-up game, she still found ways to be a part of her teams. She could be a manager or a trainer, or even just a big fan.
"I learned there were still opportunities to be involved in athletics, and that I could still have a career in sports," says Al-Amin. 
That career interest eventually brought her to the University of Iowa to study sport and recreation management. 
"T.K. is a role model among her peers. She has demonstrated what is possible when students get involved early and often and authentically connect with their faculty members for mentoring. Her career prospects are limitless."
director of the University of Iowa Sport and Recreation Management Program
"I knew the program was unique and would provide me with opportunities for the future," Al-Amin says. "It was a smooth transition—and the moment I got here, within my first semester, I had opportunities and experiences that helped prepare me for what I want to do in the future." 
Those experiences started right off the bat: Sports-business symposia, sales workshops, and field trips to professional sports teams in Chicago, Indianapolis, and Des Moines gave her immediate opportunities to check out potential careers and build her professional network. 
Al-Amin also had internships, so many that she has to stop and think about them: Gameday operations and the Fans First Practicum at Kinnick Stadium for the football team. Ticket sales and marketing for other Hawkeye athletic teams. Taking Back Football, a Coralville-based youth football camp. Ticket sales coordinator for the Frisco RoughRiders minor league baseball team in Texas. A stint working with the NFL's Atlanta Falcons community relations department. 
"T.K. is a superstar in the Sport and Recreation Management Program," says Dan Matheson, associate professor and the program's director. "When she arrived on campus, T.K. immediately became involved in all the experiential learning opportunities the program offered and never slowed down. She was first in line for every field trip the program offered and took multiple practicum courses that worked with sporting events on campus."
Matheson says that when the department's faculty assembled elite students for special field trips to networking events in places like Las Vegas and Indianapolis, Al-Amin was always at the top of the list.
"She has a tireless work ethic, outstanding event-planning abilities, and a perpetually positive attitude," Matheson says. "T.K. is a role model among her peers. She has demonstrated what is possible when students get involved early and often and authentically connect with their faculty members for mentoring. Her career prospects are limitless."  
Al-Amin's course work also put her in touch with Anna Jensen, a lecturer in the UI Department of Health and Human Physiology and director of the Sport and Recreation Management Office of Field Experience. Al-Amin sees Jensen as both a mentor and a friend.
Career opportunities abound
Students with a degree in sport and recreation management can find a variety of career opportunities including community recreation, intercollegiate athletic departments, high school programs, the commercial fitness business sector, and minor and major league sport teams.
"Anna has been a great resource and has really been very supportive," Al-Amin says. "She's someone I go to for advice about everything, whether it's if I should add or drop a class or what should I have for lunch. I can send her a text message and she'll reply. She's helped me determine what internship opportunities will help me in the long run or will be a better networking experience."
"I've had the chance to work closely with her both in and out of the classroom, and at every turn, when someone needed to report early or stay a little longer, she would volunteer," says Jensen about Al-Amin. "She was eager to learn why things were the way they were and how to improve systems, organizations, and experiences for both fans and classmates. I don't know what she will end up doing in her next stage of work and professional development, but I know she will continue to impress and inspire those around her."
Al-Amin's time at Iowa has been about more than just sports. She's also on the Student Advisory Board of the Pomerantz Career Center and is the chapter president of the Delta Chapter of Delta Sigma Theta Sorority, Inc. She says she consistently learns about leadership and managing personalities, and is helping to expand the sorority's value on campus. She also frequently participates in events at the Afro-American Cultural Center. 
Her advice to new students is to get involved as soon as they can.
"I love my major. I love my sorority. But it's important to find friends outside the department, too," she says. "The moment that I got here, any time I saw an event, I was going to go—regardless which organization was hosting it or what cultural center I had to go to."
Al-Amin graduates this spring with a BA in sport and recreation management and a certificate in event planning. Her next step is business school, where she plans to pursue an MBA to help fulfill her goal of working in professional sports administration. Ultimately, she wants to help plan the ESPY Awards ceremony for ESPN.
She says she's loved her experience at Iowa so much that it even spread to family members.
"My parents have definitely lived vicariously through my experience, and they've been down here for a lot of football and basketball games, and they love Homecoming and Family Weekend," she says.