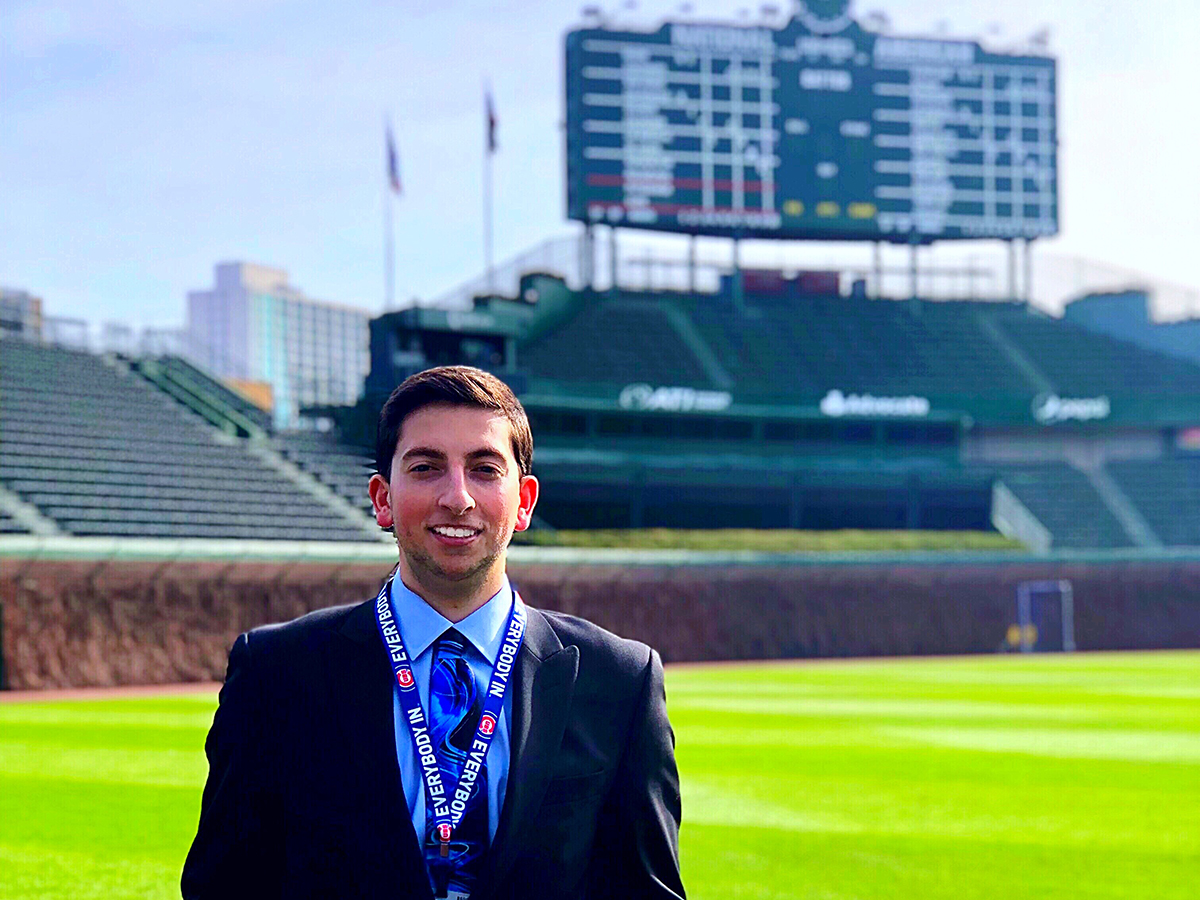 Jared Mandel grew up playing baseball. At the University of Iowa, not only did he have the opportunity to pitch for the Hawkeyes, he prepared for a professional sales job within the organization he loves: the Chicago Cubs.
As a young boy growing up north of Chicago, Jared Mandel got to enjoy Cubs baseball from a unique perspective: seated in a TV truck outside Wrigley Field as his uncle operated cameras for WGN Sports.
"Watching the games with my uncle instilled in me a love for the Cubs—I got to see the game through a different lens," says Mandel, who was a pitcher for the Hawkeye baseball team and earned a University of Iowa degree in sport and recreation management in 2016. "I always knew baseball would be a big part of my life, and I wanted to work for the Chicago Cubs."
If you are interested in a career in professional sport front offices, college athletics departments, league offices, sport marketing agencies, campus recreation, or municipal recreation, The University of Iowa offers a BS curriculum in sport and recreation management. The degree is a strong foundation for pursuing a master's degree in sport or recreation management, an MBA, or other advanced degrees.
In 2019, Mandel saw his dream become reality when he accepted a job with the Cubs organization as a group sales representative. In this role, he works with more than 500 clients to arrange group experiences inside one of Major League Baseball's most historic ballparks. He helps facilitate corporate outings, family reunions, birthday celebrations, bachelor parties, and more, and also works with the organization's marketing and communications teams to schedule special ticket offers for groups such as first responders or alumni of a particular college.
"I love building memories for people and helping them experience what Wrigley Field has to offer," says the Illinois native, who lived in the Chicago suburbs of Evanston and Mundelein. "There are so many things about the ballpark that make going to a Cubs game a special experience—the hand-operated scoreboard, the ivy-covered outfield walls, the lively atmosphere. Whether the Cubs win or lose, the fans are always out there cheering."
"Working in baseball sales is a fast-paced environment, and I gained important skills for navigating it as a student-athlete at Iowa."
University of Iowa graduate and group sales representative for the Chicago Cubs
Unfortunately, the coronavirus pandemic is keeping fans out of the stands during MLB's modified 60-game 2020 season that runs from late July to late September. Mandel and his team members are using the time to plan ahead for the 2021 season, which starts April 1, and determine what health and safety measures clients want to see in place before entering the ballpark in the spring.
Although January through March is the busiest time for ticket sales staff in a normal year, Mandel says the work is steady year-round and doesn't offer much downtime. Mandel says he loves his job, and is grateful for the preparation he received at Iowa—both in the classroom and on the field.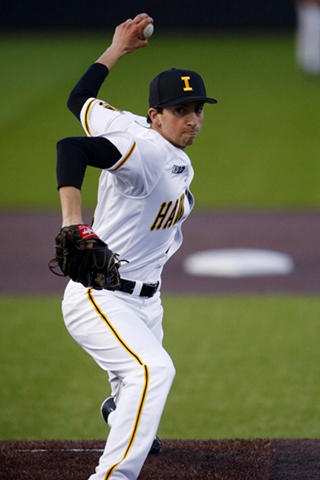 Jared Mandel was a pitcher for the Iowa Hawkeyes and an Academic All-Big Ten selection in 2016. He earned a BS in sport and recreation management and now is a group sales representative for the Chicago Cubs.
"Working in baseball sales is a fast-paced environment, and I gained important skills for navigating it as a student-athlete at Iowa," he says. "My first year on campus was a big adjustment. I quickly gained time-management and organizational skills, and learned how to balance my academics with my baseball commitments. Working with advisers at the Gerdin Athletic Learning Center really helped me build the best schedule and communicate better with my professors."
Mandel enrolled at Iowa as a business major—and he did earn a minor in business administration—but when he met Dan Matheson, the director of the UI Sport and Recreation Management Program, his academic plans changed.
"I knew I wanted to end up in sports, and Dan made it clear that he could help get me to the next level," Mandel says. "He had worked in baseball and knew a lot of leaders in the industry. He did so much for me and my peers, and he still serves as a mentor to me. With the curriculum it offers, the speakers it brings in, and Dan's firsthand knowledge, the program really puts students in a great position to succeed."
One of the program's strengths, Mandel says, is that it offers multiple opportunities for students to get real-world experience while still in college. He pursued a practicum with the San Diego Padres as an undergraduate and then served in an internship with minor-league affiliate South Bend Cubs after graduation.
Favorite Hawkeye memory
One of Jared Mandel's favorite University of Iowa memories was the 2016 Big Ten baseball championship game with Ohio State when he was a senior on the team: "Although we came up short, there were thousands of people in the stands and most were Iowa fans. It was a great experience."
Sports during a pandemic
Former Hawkeye pitcher and Chicago Cubs employee Jared Mandel says the coronavirus pandemic has underscored for him the value of sports: "They bring people together and give them a reason to get excited. I think even though baseball is just on TV this year, it will help people take their minds off the pandemic."
"I didn't know exactly what I wanted to do, so I wanted to try different things. Although I had a finance internship with the South Bend Cubs, I did everything from helping the grounds crew to assisting the merchandising department," says Mandel, who took jobs with the San Francisco Giants and the Los Angeles Angels before joining the Cubs. "It was an awesome experience, but I learned that I wanted to get back into sales and help create memories for fans at the ballpark. That's what drives me to get up in the morning and go to work."
Matheson says the UI program enrolls more than 550 students and helps steer them to fulfilling careers ranging from recreation directors in rural Iowa communities to general managers for professional sports teams.
"Part of what makes sport and recreation such an exciting industry is that there are jobs that appeal to every interest area. At Iowa, we help students identify which jobs appeal to them and the steps they can take to get those jobs," Matheson says. "By taking advantage of the educational and experiential opportunities we offer at Iowa and showing patience, along with a willingness to relocate to pursue additional experiences after graduation, Jared set himself up to return to his roots in the Chicago area for a dream opportunity to work for the Cubs organization."