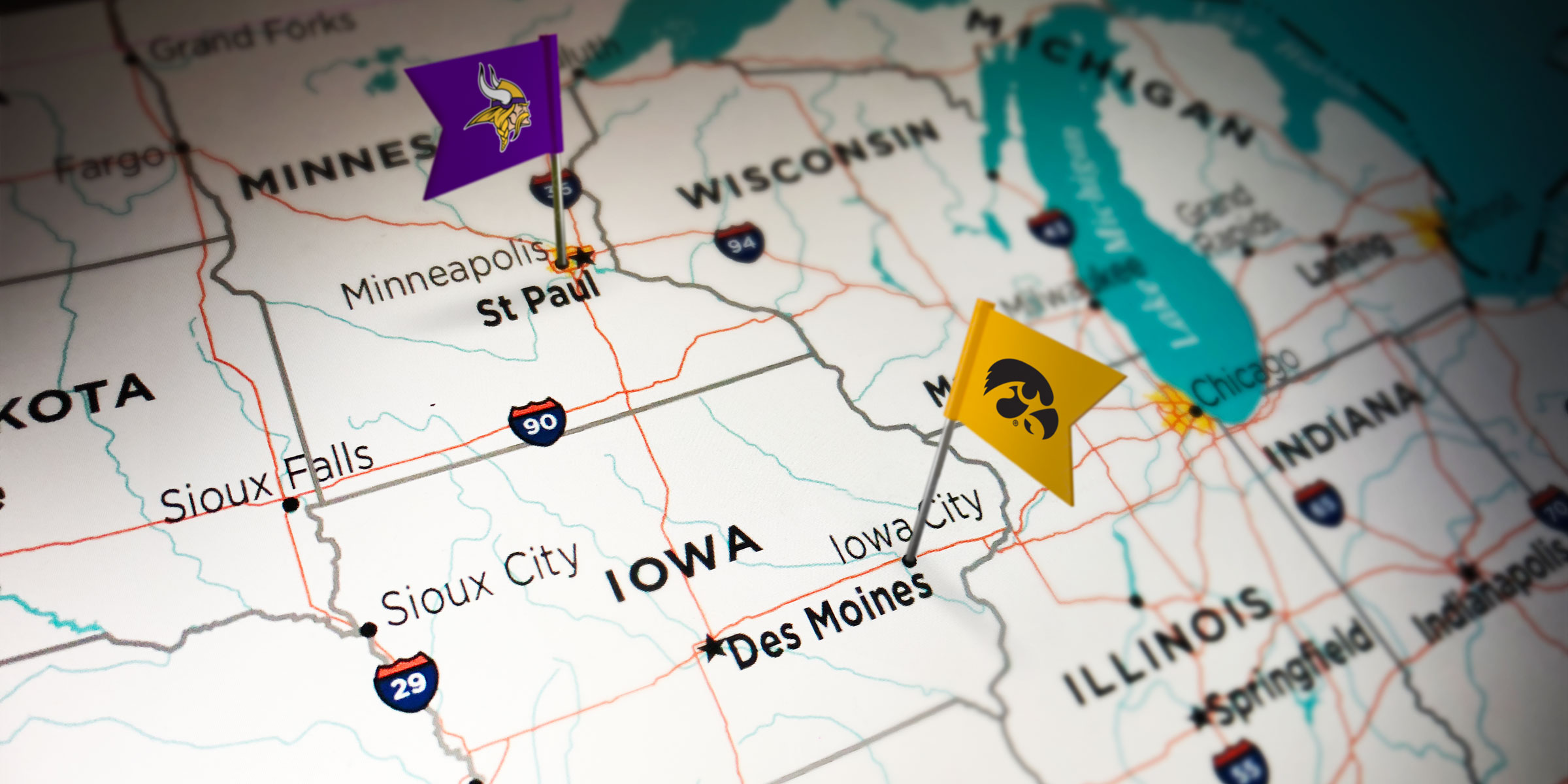 A small but loyal contingent of University of Iowa graduates populates the administration of the Minnesota Vikings. Working for the NFL team gives them an opportunity to bond—and to use their education in areas like law, ancient civilization, physical education, and business to help the organization thrive.
Take the first step to joining the Hawkeye family!
Iowa will prepare you, challenge you, and change you. You will change the world. We accept applications year-round, and are currently admitting new students for the following fall semester.
On Monday mornings in the fall, one is likely to hear football chatter in the hallways of the Minnesota Vikings headquarters in Eagan, Minnesota—what went well on the field that weekend and what didn't. But those conversations could just as well cover what happened on the gridiron for the Hawkeyes as for the Vikings.
Of an administrative staff numbering close to 200, nearly a dozen are University of Iowa graduates. That tie is something that makes a great job even more fun, says Karin Nelsen, vice president of legal and human resources.
"Even though we studied in different disciplines and we were on campus in different years, being UI alumni is something that connects us forever," says Nelsen, who earned a law degree from Iowa in 1993. "It's fun to have that camaraderie."
Although 1994 Iowa graduate Dannon Hulskotter insists he wouldn't hire someone solely based on their UI diploma, the organization's vice president of marketing and fan engagement admits he enjoys seeing that Hawkeye connection on a résumé.
"University of Iowa graduates often are a great fit for the Minnesota Vikings," he says. "They are easy to talk to and hard-working, and we share a similar culture and similar values. It's great seeing how many Hawkeyes are interested in coming to the Vikings—and to Minnesota. It's exciting to see them head north and cross the border."
Nelsen and Hulskotter, along with two of their colleagues on the Vikings staff, recently spoke about their work with the NFL organization and their experience on the UI campus.
Produced by the University of Iowa Office of Strategic Communication
Clarity Guerra and Matt Jansen