Turning good games into goodwill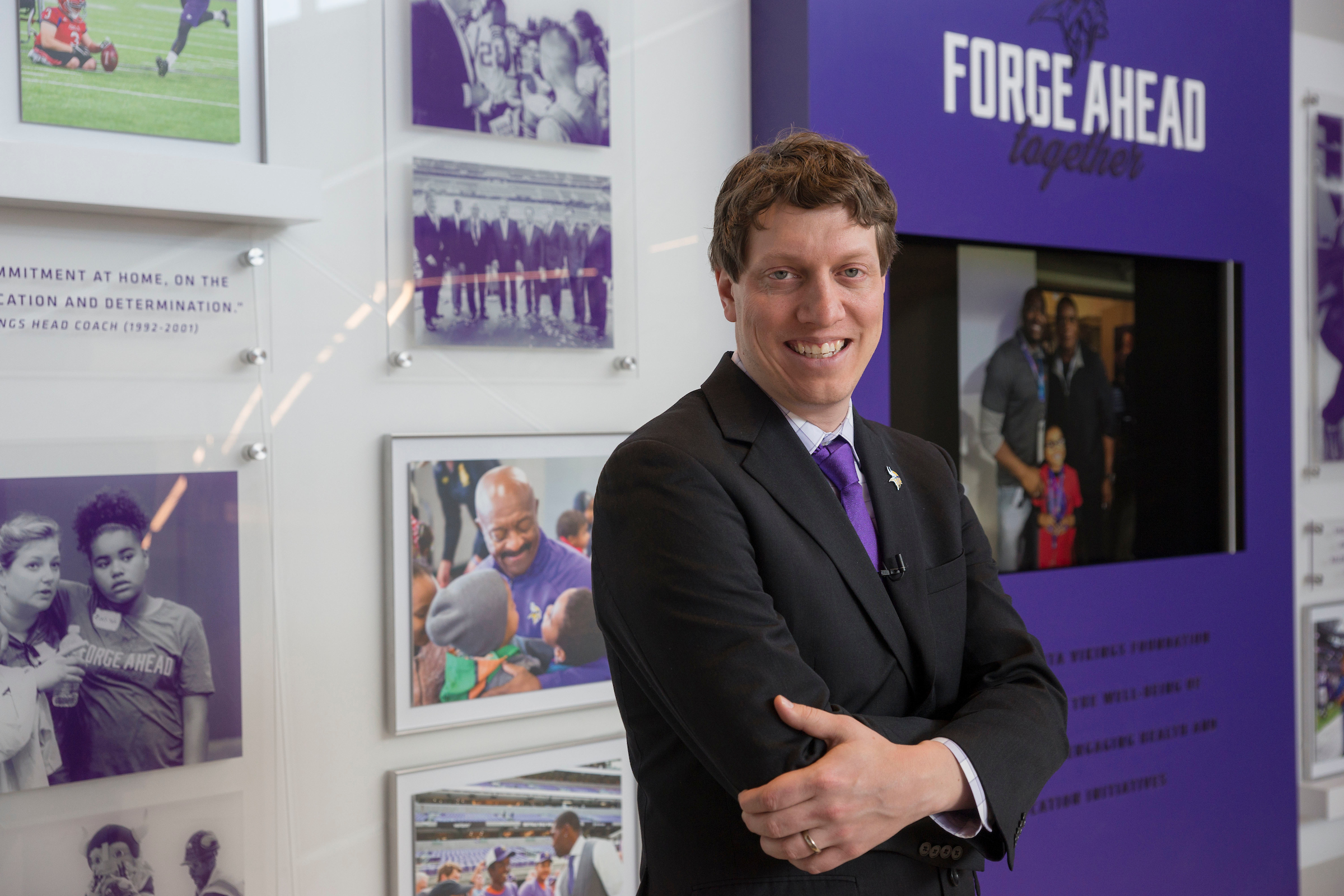 Brett Taber has successfully drawn from his University of Iowa education to elevate the game-day experience for fans of the Minnesota Vikings—and to leverage that connection for social good.
From: Ames, Iowa
Year graduated: 2007
Area of study: BA in anthropology and ancient civilization
Thanks to a University of Iowa anthropology graduate and the course he took in Norse mythology, the resonant, bone-chilling horn that sounds before every home game played by the Minnesota Vikings has a historically accurate name: the Gjallarhorn.
The sounding of the giant horn marks the beginning of each contest and has been a Vikings tradition since 2007, when Brett Taber was in his first week as marketing coordinator with the organization.
"I was sitting at the back of the room as the staff was discussing this brand-new horn that was going to be a signal moment of the Vikings games, and they were wondering what to call it," he says. "I was fresh, new, and not wanting to say anything, but eventually I had to raise my hand and say that in Norse mythology they called it the Gjallarhorn. And everyone turned and looked at me and said, 'What?' I was like, 'I studied mythology at the University of Iowa.'"
The name stuck, and the horn has become a permanent staple at the stadium—it follows an increasingly rapid drum beat that is punctuated by the crowd chant of "Skol!" Special guests are invited to sound the horn at each game. Naming the horn was just one way Taber has drawn upon his UI education in anthropology and ancient civilization in his work. The 2007 graduate later was consulted on the Vikings runes that are displayed in the team's new U.S. Bank Stadium and locker rooms.
"Attending the UI gave me an opportunity to be a global citizen and to expand my worldview, and that's something that I value."
Executive director for social impact and executive director of the Minnesota Vikings Foundation
Now, as the organization's executive director for social impact and executive director of the Minnesota Vikings Foundation, Taber oversees community relations and philanthropic endeavors. One area of focus on the social impact side is maintaining connections with former players and creating mentoring opportunities, and the foundation works to advance youth health and wellness initiatives and bridge educational achievement gaps.
Taber says his work has been influenced not only by his UI coursework but also by his experience on campus working with the Iowa Spirit Squad and the athletic marketing department.
"I learned how you can use sports and athletics to create that impactful moment that happens on game days, something that's going to resonate with fans for years to come. I've been able to translate that experience at Iowa to my work here with the Minnesota Vikings in the NFL," Taber says. "We have a tremendous platform with the Minnesota Vikings brand to create substantial good in our community. Leveraging that power is what my job is."
The Ames, Iowa, native was drawn to the University of Iowa in part because his two older brothers attended the UI, but also for its academics.
"I always wanted to be a classical archaeologist. I was fascinated by history," says Taber, who had the opportunity during his first year on campus to accompany UI associate professor of classics Glenn Storey on a research project in Rome. "Traveling with him allowed me to see a career pathway and what I could do to impact this world instead of just regurgitating facts. That experience really made it come to life for me. I'll never forget him and the opportunity that he gave me."
Although he didn't pursue work as an anthropologist, Taber says he feels the impact of his UI education every day as he works to strengthen community ties.
"Being a Hawkeye instilled in me a sense of community. Everyone on campus cared about me and was invested in me as an individual—and I felt that through all my interactions, whether it was with staff, faculty, or other members of the community," he says. "Also, attending the UI gave me an opportunity to be a global citizen and to expand my worldview, and that's something that I value."
Taber says he finds his work in professional sports to be fulfilling.
"I enjoyed sports, but I thought I was going to be off digging on-site in Europe, exploring the mysteries of our past," says Taber, who earned an MA in athletics administration from University of St. Thomas along with a Certificate in Sports Philanthropy from George Washington University. "But what I enjoy about this job is that I am able to use a platform in the NFL and with the Vikings to create meaningful good. And that's something that I see every day, whether it's in the eyes of a young fan during a community event or inside the stadium in front of 66,000 people.
"That's something you don't necessarily get in other career areas—and it's something that the University of Iowa prepared me for."