Using football to engage and empower young fans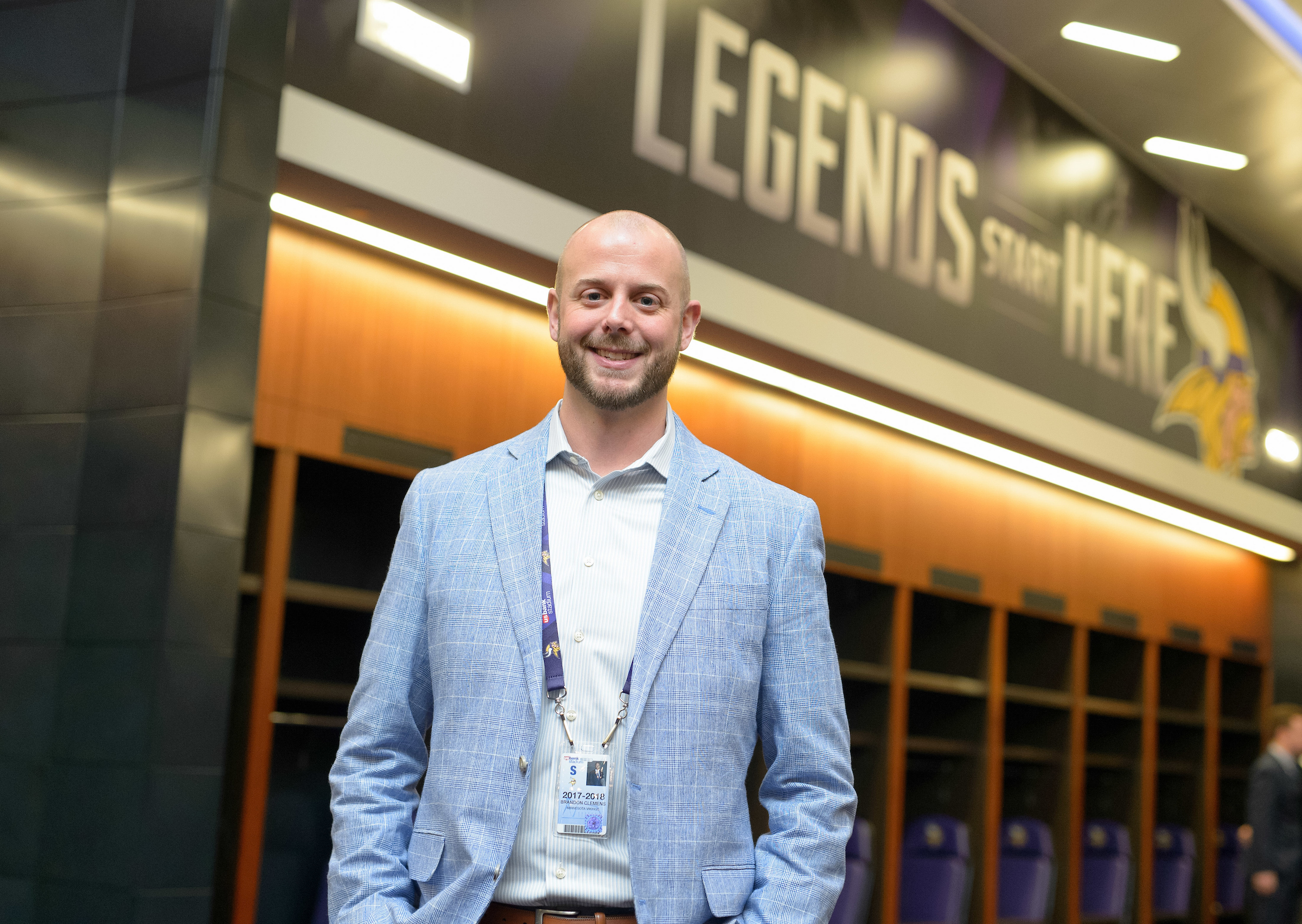 A love of sports and a broad education at the University of Iowa that touched on entrepreneurship led Brandon Clemens to a job overseeing youth programming for the Minnesota Vikings.
From: Union, Iowa
Year graduated: 2010
Area of study: BA in interdepartmental studies with a Certificate in Entrepreneurial Management
Bullying prevention programs. A TV show for kids. Summer camp. A youth health and wellness campaign. A STEM education initiative. These are some of the areas Brandon Clemens focuses on for work—in his job with the NFL's Minnesota Vikings.
The 2010 University of Iowa graduate is the organization's senior manager for youth marketing. He enjoys working with kids in a variety of venues, from community events with Vikings athletes to special programming in area schools—and leveraging the team's brand for good.
"We have a great brand that resonates well with members of our community, and I think with that comes a responsibility to give back and make a positive impact wherever possible," says Clemens, who grew up in the small central Iowa town of Union. "Not only do we provide kids with opportunities to engage with the team, we introduce them to different career opportunities. For example, our STEM education programs offer outlets to kids who may or may not be interested in football but who like connecting with the Vikings because it's their hometown team. I enjoy creating programs for youth that encourage them to excel in a career they didn't think was possible."
"From a marketing perspective, I learned a lot working with the cheerleaders, the dance team, and Herky. They are great tools for going out into the community and promoting the UI—that's essentially what I'm doing here with the Vikings."
Senior manager for youth marketing
The Vikings organization opened a state-of-the-art headquarters and practice facility in 2018 in Eagan, Minnesota, and is planning to add a 16,000-square-foot STEM lab on the 40-acre campus. The lab will include classroom space, interactive exhibits, and a curriculum that ties STEM to football for students through grade 8.
"People see us as an NFL team, and we certainly are a football team—and our success on the field somewhat dictates our success off the field—but I think people would be surprised by how active we are in the community," he says.
Although Clemens loves sports—he interned and later worked for the Kernels, a minor league baseball team based in Cedar Rapids, Iowa—he says he didn't plan to pursue a career in sports. Nevertheless, he says the skills he picked up as an interdepartmental studies major at the University of Iowa prepared him for the work. He took a variety of business classes, including marketing and accounting, and earned a Certificate in Entrepreneurial Management from the Tippie College of Business.
"Some of my business professors forced me to think outside the box using an entrepreneurial mindset. I didn't have a desire to start my own business, but that mindset opened my eyes to different opportunities. And it really helped me tackle some of the challenges that I have in my job today, such as working with limited resources or limited time," says Clemens, who has been employed with the Vikings since 2013. "It's about taking something from nothing and making it into something grand. That's what we do here with the Vikings—we're taking every resource we have and expanding it into its greatest possibility."
Clemens says at Iowa he had meaningful experiences outside of class too. The time he spent volunteering with UI Dance Marathon and working with the Iowa Spirit Squad continue to influence his career.
"The willpower and strength that those young patients at the UI children's hospital have empowered me to excel. If they can fight through what they're fighting through, I think that we can fight through anything. That really gives me strength," says Clemens, who wears a Dance Marathon lapel pin and bracelet. "From a marketing perspective, I learned a lot working with the cheerleaders, the dance team, and Herky. They are great tools for going out into the community and promoting the UI—that's essentially what I'm doing here with the Vikings."
Produced by the UI Office of Strategic Communication