Iowa law school 'a game-changer' for Vikings VP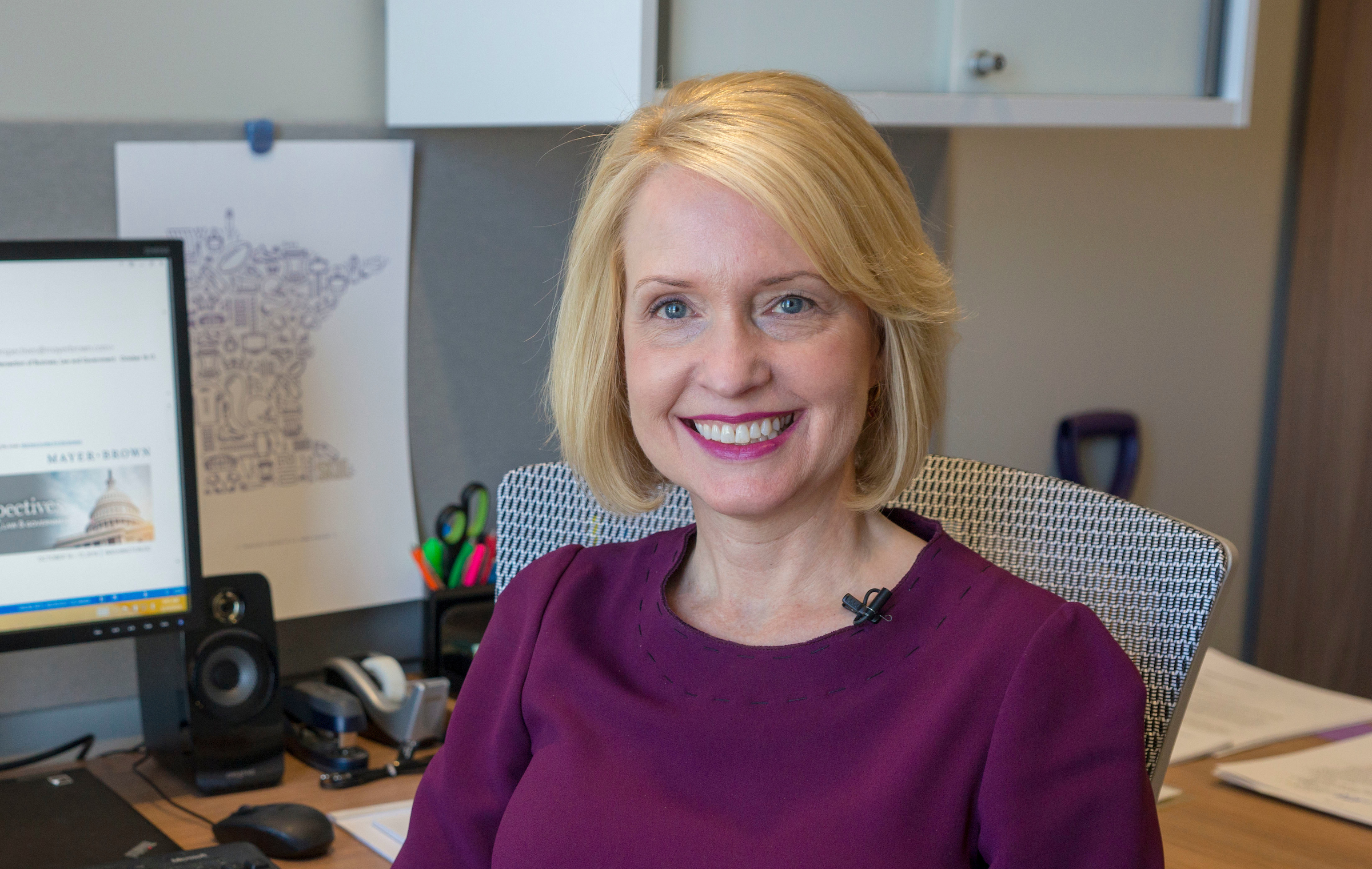 Karin Nelsen was unsatisfied in her career as a CPA when she decided to enroll in the University of Iowa College of Law. The education and mentoring she received on campus propelled her to a dream job with her home-state NFL team.
From: Southwestern Minnesota
Year graduated: 1993
Area of study: Law
Growing up in southwestern Minnesota, one thing was certain for Karin Nelsen: Sundays in the fall were for football. Minnesota Vikings football, to be precise. She and her brother would plop down in front of the TV with their father and watch the team's games every week.
Several decades later, Nelsen is leading the Vikings organization as vice president of legal and human resources. The 1993 University of Iowa law graduate joined the organization in 2016 after 18 years as a lawyer with Cargill, a Minnesota-based international food conglomerate that sent her to Russia, Switzerland, and Singapore. A few years after returning to the U.S. to serve as the company's North America general counsel, the Vikings hired her.
"I really grew as a lawyer and as a leader at Cargill, and I had the incredible opportunity there to live outside the U.S. for six years, but working for the Vikings really is a dream come true. I've carried that love of football since childhood," she says. "I love that I get to wear so many different hats with the Vikings. I'm a lawyer, but I also have HR expertise and I have a passion for philanthropy and helping the community. I get to work in all those areas of the organization every day."
"I am very certain that the course of my life would be much different had I not gone to the UI College of Law. It was a game-changer for me." 
Vice president of legal and human resources
The Minnesota Vikings organization is much more than a football team, Nelsen says. In addition to the plays on the field, it is a sophisticated business that engages in complex transactions. It also is involved in philanthropy and service projects.
"This organization truly cares about the community," she says. "That goes not only for our owners and leadership but also our entire employee base. What we're able to do in the community because we have the brand of the Minnesota Vikings is really incredible. I hoped it would be that way, but it has been much more than I expected."
Nelsen says she feels welcomed being a woman in a male-dominated industry.
"It's challenging sometimes, but it is not much different than working in corporate America, where not enough women are in leadership roles. But that is changing," she says. "In this organization, we're really trying to move that needle and accelerate that progress. Of our nine vice presidents, three are women. That's a tribute to the culture of this organization and to its leadership and ownership."
Before heading to law school, Nelsen studied accounting at Minnesota State University, Mankato. She was a CPA for three years but didn't feel a passion for the work. Because she had been encouraged by one of her undergraduate professors to consider law, she came to Iowa City to check out the UI College of Law. It was love at first sight.
Nelsen says she works every day to replicate with the Vikings the friendly environment she found on the UI campus.
"I saw in the first week of classes what it meant to have caring professors and a caring student body. Although law school is competitive, it didn't feel cutthroat at Iowa. It felt very warm and inclusive, and that helped teach me how I wanted to be as a lawyer," she says. "I hope that is how I've practiced for 25 years and how I teach and mentor young lawyers. I cannot emphasize enough how much the University of Iowa changed my life."
To give back to her alma mater, Nelsen serves on the board of the Iowa Law School Foundation.
"I am very certain that the course of my life would be much different had I not gone to the UI College of Law. It was a game-changer for me," she says. "If, through the foundation, we help just a few students each year to have the same opportunity I had, that will make me feel really good."
Produced by the UI Office of Strategic Communication