Creating a culture of access to care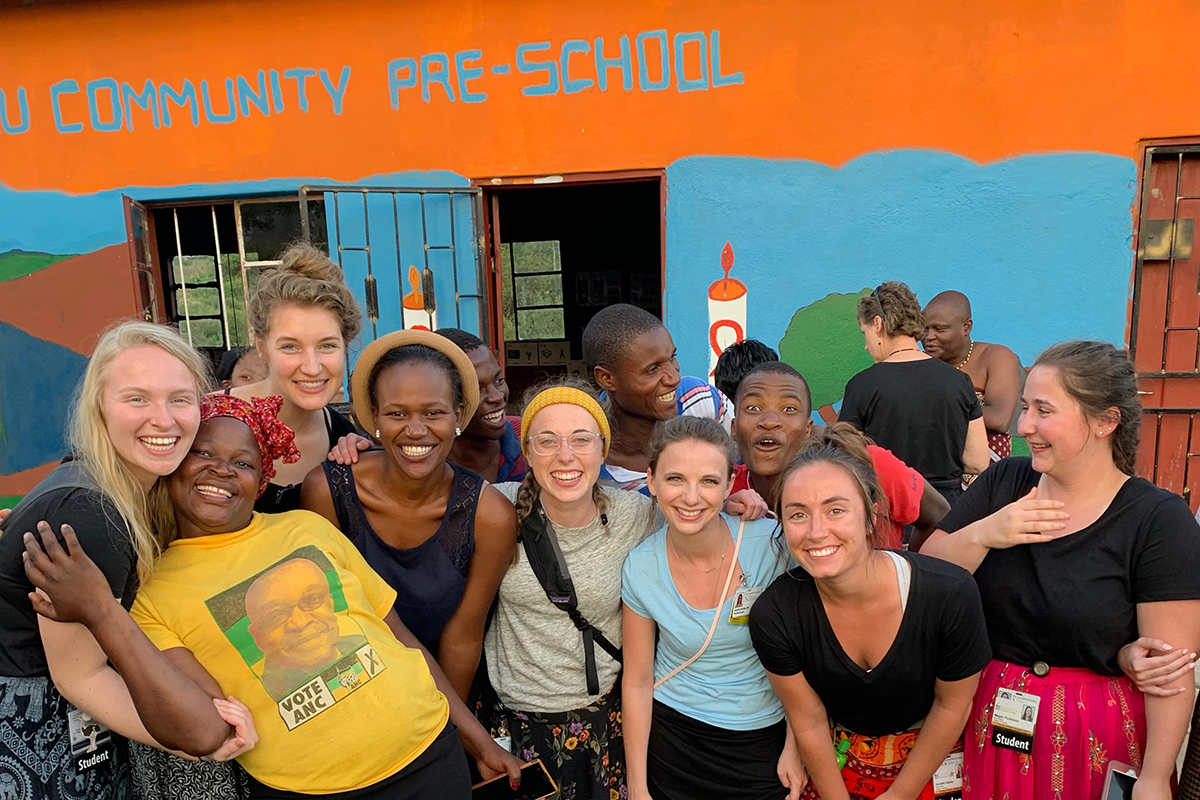 The multiple study abroad experiences completed by recent University of Iowa nursing graduate Megan Lough shaped her career prospects—and her outlook on life.
Capping her stint at Iowa, Megan Lough (above, and third from left in the top photo) spent the final two weeks of her last semester completing an intensive two-week practicum on community and public health in Eswatini, where she and a cohort of 12 Iowa students focused on community assessment, health promotion, disease prevention, and nursing management of chronic health conditions.
Megan Lough knew she would get a quality education at the University of Iowa College of Nursing. The school had popped up when she searched for the best nursing colleges. What she didn't expect was how her academic experiences abroad would unveil her true passions in health care.
"I have a greater worldview because I went to the University of Iowa," says Lough, a native of Eagan, Minnesota. "I understand diversity more. I am able to see the value of an environment that continually cares about teaching and learning and researching and being innovative."
By the time she graduated from Iowa with a Bachelor of Science in Nursing in 2019, Lough had spent five months in Peru studying Spanish, five weeks in Colombia performing nursing research, and two weeks in Eswatini, a small country in southern Africa where she learned about community and public health nursing. These experiences, she says, helped her determine the kind of nurse she wants to be.
"I'd like to use my Spanish abilities to go out into Hispanic communities, hear their stories, find out what they need, and be able to provide a medical service to them in a way that is culturally appropriate," says Lough, currently a nurse in the cardiovascular surgery progressive care unit at Mayo Clinic in Rochester, Minnesota.
Lough had studied Spanish in high school and wanted to continue that cultural experience in college, so she consulted with UI Study Abroad staff, who connected her to a semester-long program in Peru. She enrolled at Pontifical Catholic University of Peru in her sophomore year.
"I took mainly language and culture classes there, and one of the classes counted as a Gen Ed requirement at Iowa, but my main goal was language learning," she says. "The experience opened my eyes to a culture that I'd never experienced before. It forced me outside my comfort zone and taught me to be flexible and adaptable. In America, everything is structured and on a time crunch, but there everything is relationally driven. For example, if you're late, it's not a big deal. People just want to spend time together."

"The nursing curriculum at Iowa has prepared me to get the job that I want—not just a job that does a lot of good and is needed, but a job that does good, is needed, and fits my personality and my passions."
2019 graduate of the University of Iowa College of Nursing (at right in photo)
Lough's next experience abroad focused on research. Having served as a research assistant during her first two years on campus, Lough worked with her mentors in the College of Nursing to identify and develop her own research topic: barriers to health care access in Iowa's Hispanic migrant communities. She completed a pilot project studying farmworkers with Type 2 diabetes and determining the risk factors that prevented adequate management of the disease.
Excited to build on her research knowledge, Lough applied for and received a Stanley Undergraduate Award for International Research, which led to a five-week study of patients in Colombia with Type 2 diabetes. She compared the findings with those from the Iowa population. As Lough's faculty adviser, Professor Ken Culp guided and encouraged her through the project.
"I feel it's important for students like Megan to get a global perspective on inpatient and outpatient care," says Culp, who has seen an increase in nursing students pursuing clinical experiences abroad. "Studying in Colombia was a tremendous opportunity for her to get a wider perspective than she would get just focusing on patients here in Iowa."
Capping her stint at Iowa, Lough spent the final two weeks of her last semester completing an intensive two-week practicum on community and public health in Eswatini, where she and a cohort of 12 Iowa students focused on community assessment, health promotion, disease prevention, and nursing management of chronic health conditions. Highlights included assisting a nurse midwife with a birth, partnering with an organization providing reusable menstrual pads so young girls can attend school, and engaging with youth about HIV/AIDS prevention.
Nursing faculty facilitated Lough's travels by adapting course materials so that assignments could be completed beforehand. Making study abroad feasible in an already rigorous curriculum is a team effort—and is something the college encourages, says Anita Nicholson, associate dean for undergraduate programs in the UI College of Nursing.
"These are life-changing experiences for our students," says Nicholson, who teaches the practicum in Eswatini. "The United States is a wonderful melting pot. What our students learn abroad, they bring back here. Seeing firsthand the challenges those populations face helps students understand the challenges here and prompts them to advocate for even more access to health care, especially among populations experiencing homelessness or mental health issues. It shows them how, as nurses, they can be part of the solution."
Lough says the international opportunities enhanced her nursing education.
"As a nurse, I'll be interacting with people of all different cultures and backgrounds and socioeconomic statuses. To be able to go somewhere and exclusively learn about connecting with people of different cultures allowed me to build an empathy that would have been more difficult if I had been in the United States the whole time," she says. "Studying abroad jumpstarted the process of understanding different cultures and being able to connect with people who have lived different lives than I have."
Since graduation, Lough has had opportunities to interview with several top health care facilities, and she looks forward to a rewarding career.
"The nursing curriculum at Iowa has prepared me to get the job that I want—not just a job that does a lot of good and is needed, but a job that does good, is needed, and fits my personality and my passions," she says. "Because when you're passionate about something, you serve that area better and you are more invested."
Produced by the UI Office of Strategic Communication