Providing new hope through old glasses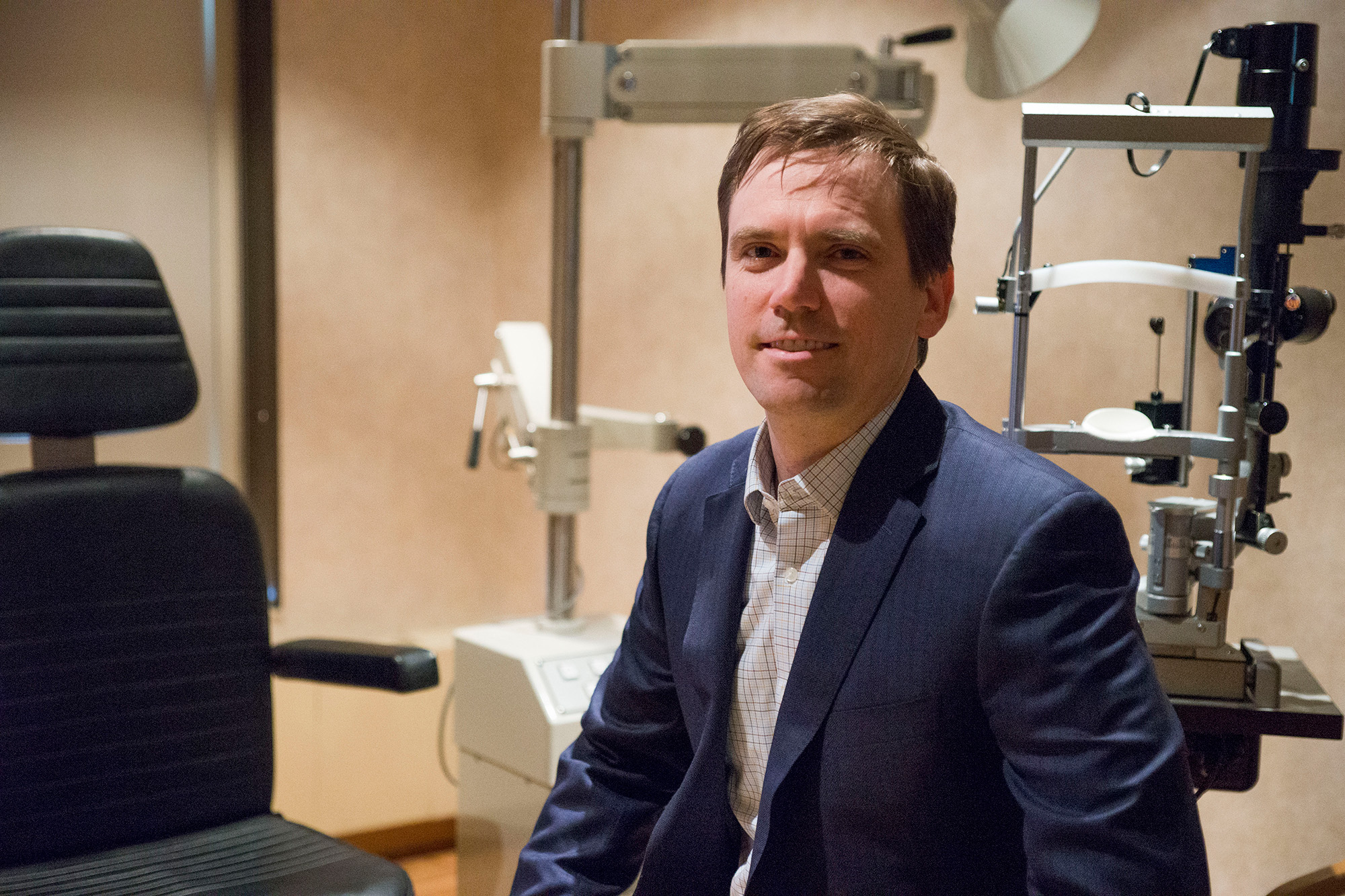 As a pediatric ophthalmologist in St. Paul, Minnesota, Jeffrey Lynch sees as many as 40 patients a day. As the CEO and founder of an online eyeglass-recycling service called ReSpectacle, he has helped improve the vision of more than 30,000 people in underserved communities around the world.
Clarity Guerra and David Scrivner

It was during a two-week mission trip to Peru that Jeffrey Lynch first came up with the idea of starting an eyeglass-recycling website. It was 2006, and he was a University of Iowa student studying medicine and public health. He traveled to South America because he wanted to help provide medical care in a developing country.
While there to help teach modern cataract surgery to local surgeons, Lynch observed that many of the patients didn't need surgery at all. They simply needed a pair of glasses—and they couldn't get them.
"We did not have a good way to connect the donations we had to the people who needed them most," Lynch says. "There are millions of possible eyeglass prescriptions that are very specific to the individual, so one of the challenges in recycling glasses is finding an appropriate match. On top of that, there's a challenge in finding a style that the recipient would find acceptable."
"Everybody understands the value of good vision. For those in poverty, it's hard to climb the ladder out of poverty without fundamentally having clear vision."
The Iowa City native, who completed a dual MD-MPH program at Iowa in 2006, tackled these problems in 2011 by creating ReSpectacle, a nonprofit organization that facilitates the redistribution of donated eyeglasses. It catalogs donations in an online database and uses a unique algorithm to match the glasses with those who need them. Users make a selection and the glasses are shipped for free.
"Glasses are one of the greatest inventions in the history of humankind as far as medical interventions. Everybody understands the value of good vision. For those in poverty, it's hard to climb the ladder out of poverty without fundamentally having clear vision," says Lynch, who secures donations and grants to fund the organization. "Having clear vision gives one different educational opportunities, different economic opportunities, and different job opportunities that can improve quality of life. In our society, glasses are often taken for granted by those who can afford to purchase them. In some corners of the world, even in the United States, there are people who can't afford this basic necessity."
pairs of glasses distributed domestically to all 50 states
pairs of glasses distributed internationally to 37 countries
ReSpectacle accepts donations at 26 chapters across the U.S., including one at UI Hospitals and Clinics. Chapter volunteers, many of whom are medical students, measure, describe, and photograph the donated glasses and then post listings in ReSpectacle's online database. Website users enter their prescription and the algorithm determines percentage matches among the site's inventory of roughly 35,000 pairs of glasses.
Anyone can use ReSpectacle to obtain eyeglasses, provided they have seen an eye doctor and have a current prescription. The majority of users, Lynch says, indicate they have an annual income below the poverty line. To date, the organization has distributed more than 20,000 pairs domestically and 12,000 internationally—to all 50 states and to 37 countries. Lynch says he enjoys the camaraderie among volunteers, recipients, and donors.
"It's a positive experience for those who donate their glasses. It's a positive experience for those who volunteer their time and talents to the organization, and of course it's a positive experience for those who receive the glasses and benefit from improved vision," he says.
Inspired to pursue medicine, in part, by his parents—his mother was a pediatric nurse and his father worked in pathology—Lynch says one of the things he enjoys most about eye care is being able to offer to most patients something that will make them better.
"It might be something as simple as a pair of glasses or an updated prescription, or something more complicated like a surgical procedure to help realign the eyes or improve the vision," he says. "It's rewarding to continue to follow kids and families as they grow."
Want to donate a pair of glasses? Search the ReSpectacle database? Or simply learn more about the organization?
Lynch earned an undergraduate degree from Loras College in Dubuque, Iowa, and returned home to attend the University of Iowa Roy J. and Lucille A. Carver College of Medicine and the College of Public Health.
"I really enjoyed growing up in Iowa City, and the university's medical school has a great reputation for preparing students for the residency of their choice," says Lynch, who completed a fellowship in pediatric ophthalmology at the UI in 2012. "The University of Iowa gave me the educational foundation to pursue the things I wanted to pursue in the future. The public health classes had more of an emphasis on population-based health and helped prepare me for medical school, where we learned to care more for individuals."
Lynch says of the more than 250 million people with low vision worldwide, more than half could have their sight corrected with glasses—something many people are ready to donate. By facilitating the process, he hopes ReSpectacle can help put a dent in the need.
"In affluent communities, and in most parts of the United States, there is an abundance of people who are willing and eager to donate glasses that no longer work for them and are collecting dust in a closet. Whereas in impoverished areas of the world, there's a deep need for this resource that is unmet at this time," Lynch says. "One of my goals for ReSpectacle was to remove as many barriers as possible between the donations and the people who can benefit from them, and each year it doubles in size. Seeing ReSpectacle grow and thrive gives me great personal satisfaction."