UI alumna leads Shedd Aquarium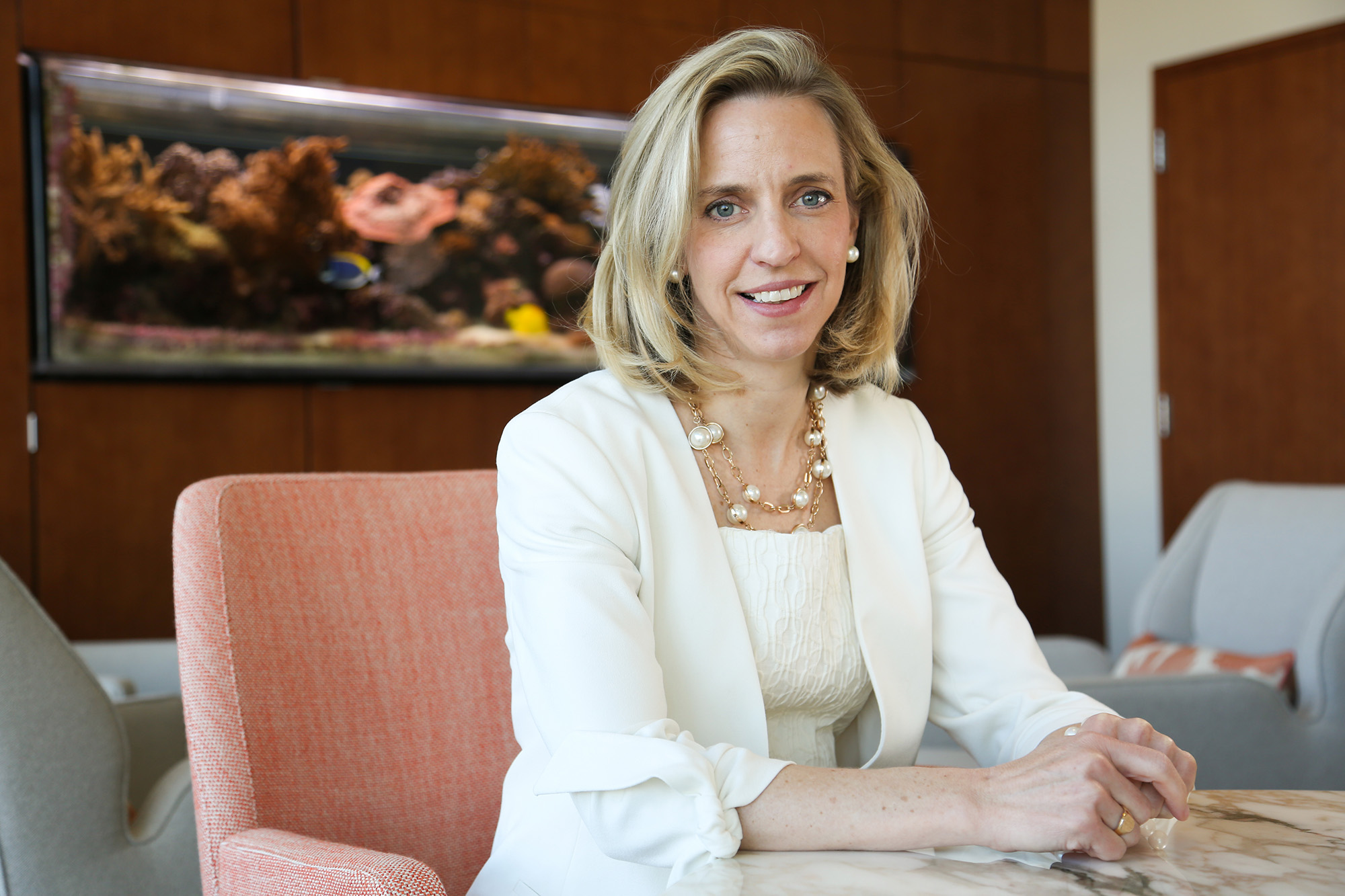 Bridget Coughlin says her biochemistry education and training at the University of Iowa gave her the tools necessary to run one of the largest aquariums in the world—and fed her passion for science.
Photography and videography
Take the first step to joining the Hawkeye family!
Iowa will prepare you, challenge you, and change you. You will change the world. We accept applications year-round, and are currently admitting new students for the following fall semester.
"Let's go see sharks!" says Bridget Coughlin as she jumps up from a chair in her office.
The University of Iowa graduate has just concluded an interview about her role as the president and CEO of Chicago's Shedd Aquarium and she is eager to show off the facility. She is relatively new to the job, having been appointed in 2016, and as she enters the exhibition area, she immediately engages visitors.
"What fuels me is when that habitat glass is dirty at the end of the day because people's faces have been pressed against it," says Coughlin, who earned a PhD in biochemistry from Iowa in 1999. "Or eavesdropping on their conversations and hearing them say things like, 'Why do you think the fish is doing that?' or 'There's the rescued otter we read about in the newspaper—look how well he's doing!' That's when you realize what you are doing for generations of marine stewards."
Every year, more than 2 million people visit Shedd Aquarium, which is perched along Lake Michigan between the Field Museum and Adler Planetarium. On site are some 32,000 animals, including beluga whales, piranhas, stingrays, corals, sea horses, turtles, and sharks. Aquarium staff members conduct research in the Great Lakes region and the Caribbean and perform outreach via conservation and sustainability programs.
Running one of the largest indoor aquariums in the world is not exactly what Coughlin envisioned herself doing as she embarked on a career as a research scientist, but she says the work suits her.
"Connecting people to science is really my passion, and there's no better place than the aquarium to do that," she says.
Prior to her work at Shedd Aquarium, Coughlin served as vice president of strategic partnerships and programs and adjunct curator at the Denver Museum of Nature and Science. She also spent five years with the National Academy of Sciences, where she was the managing editor of the scientific journal Proceedings of the National Academy of Sciences, and has led research teams funded by the National Institutes of Health, the Howard Hughes Medical Institute, and the Woods Hole Marine Biological Laboratory.
Coughlin became interested in science and nature at a young age. In fact, she says she had "really dirty pigtails and fingernails" as a child because she spent so much time outdoors.
"The dirt was my first lab. I tinkered out there and watched the seasons change," says Coughlin, who grew up near Denver, Colorado. "I think that was a gateway to developing a natural affinity for science."
"The idea that I could do research in the middle of the heartland that could have a translational benefit across the globe was really appealing. Without having to squint too hard, I could see how really intense, basic biochemical research would make a positive impact globally."
President and CEO of Chicago's Shedd Aquarium
Despite that love of science, Coughlin didn't imagine it as the base of a career and she attended Knox College in Illinois on a theater scholarship. Things changed, however, when she enrolled in her first science class as a sophomore.
"When I started to do real research for class—real de novo generation of knowledge for the scientific world—and I had my first Drosophila fruit fly genetics lab, I failed to show up at rehearsal," she says. "The associate dean called me in to say both lab work and theater work would take a lot of time and that I needed to pick one. So, I picked Drosophila over the playbill."
As she looked at graduate programs, Coughlin focused on the research areas she was most interested in and then fine-tuned her search based on faculty research projects. The University of Iowa's John Donelson, now a professor emeritus of biochemistry, caught her attention.
"He was working on Chagas disease, a parasitic disease that was under-researched and underrepresented in the medical community because of the population it impacted—a largely lower-income, rural population in Central and South America," she says. "The idea that I could do research in the middle of the heartland that could have a translational benefit across the globe was really appealing. Without having to squint too hard, I could see how really intense, basic biochemical research would make a positive impact globally."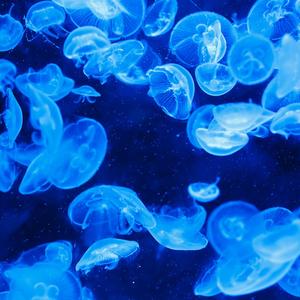 Check out more information about the many animals and plant life at Shedd Aquarium. 
At the University of Iowa, Coughlin says she learned about much more than advanced science and scholarship. She picked up skills that successfully led her from bench research to nonprofit management.
"I learned how to budget, manage, and forecast funding—that's critical to my job now. And I learned communication skills. I had lots of opportunities as a graduate student to hone my skills by giving lectures and teaching, and I had no idea at the time how valuable that would be. I am the chief communicator here at Shedd. I talk frequently about the aquarium and represent it in the community," she says. "Thirdly, I learned collaboration. I was in one department at the UI, but I could hop across the hall and talk to people—or even take a class—in a different department. In hindsight, these were the best core building skills I needed to hold this job."
Coughlin says she is energized by what she and her staff of 650 are able to accomplish at the aquarium. Not only does she want to see an uptick in field research, she wants to better connect that research to visitors. Plans are underway to renovate some of the galleries and add more hands-on exhibits.
"We want to really connect the animal world to the human world because it is all one," says Coughlin, who in 2017 was a member of the U.S. delegation to the Our Ocean Conference in Malta and advocates for the elimination of the single-use plastic that is entering waterways and threatening aquatic life. "Somehow, we've gotten disconnected, but we think through changing some of our exhibits, making them more participatory and more science-based, we can bridge that connection. Our mission is to spark compassion, curiosity, and conservation for the aquatic animal world."
Coughlin says her UI education nurtured her natural curiosity.
"I learn every day on this job, whether about a particular ecosystem or habitat or a new fish or new welfare standards or how we can invest our funds to ensure the financial stability of this organization for the next 100 years," she says. "Strong academics, like what I encountered at the University of Iowa, played a huge part in teaching me to constantly learn."